51st Thessaloniki International Film Festival
Back to Basics: New Director, Old Ways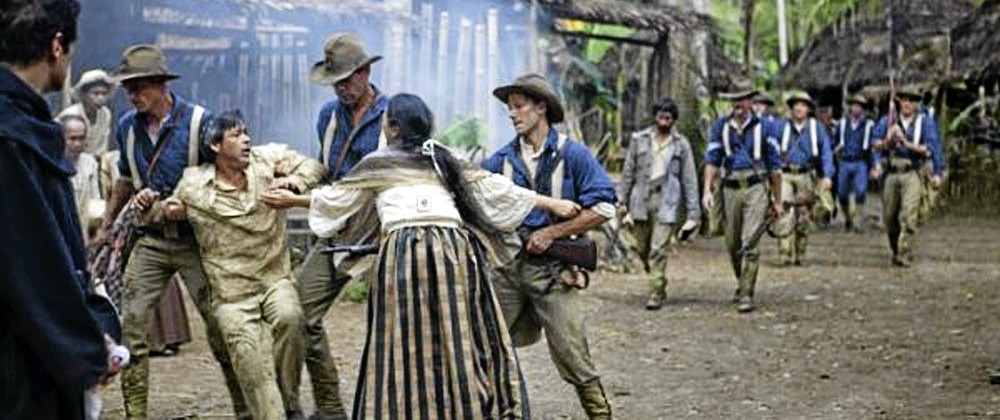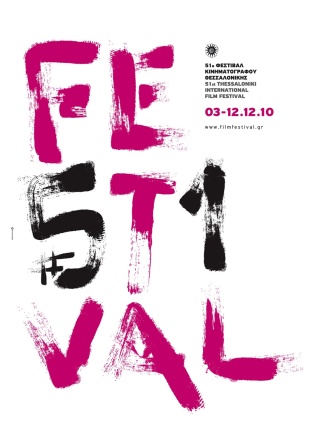 Amidst Greece's poor financial state, the International Monetary Fund's harsh directives, and strikes organized by every section of the working force, Thessaloniki managed to organize its 51st Film Festival with a number of significant changes and I am not referring to the shrinking of the budget, which is the first thing that comes to mind.
Despoina Mouzaki, who served as TIFF director for five years (2005-2010), resigned and the position was assigned to Dimitris Eipides. Eipides is no stranger to the TIFF as he has been a valuable executive of the organization for the past 17 years (in 1993 he introduced the New Horizons section, which became one of the most important and popular Festival sections and in 1999 he founded the Thessaloniki Documentary Festival –Images of the 21st Century (TDF)– for which he has been serving as President since its inception. [1] Eipides' first decision as TIFF director was to move the late November Fest to the December 3-12 slot. The core sections of the Festival (the International Competition section, reserved to first and second features, the Independence Days and Balkan Survey sections, as well as industry initiatives such as the Balkan Fund and the Crossroads co-production event) remained intact, while some of last year programs were cut. The result was a welcome tightening of the budget, reduction in the number of films, and a focus on independent productions, which for the majority of Greek journalists is without question synonymous with "artistic value." At the same time, the fest lost the Hollywood aura it had begun to adopt via the glamorous overseas guests such as Oliver Stone, Francis Ford Coppola, John Malkovich – to name but a few – and consequently did not draw the same coverage from foreign journalists, whose number was significantly lower despite the publicized Susanne Bier tribute and a retrospective of the 2010 Palme d'Or Thai winner Apichatpong Weerasethakul.
The results of the 51st Fest "strategic" moves were translated, according to Eipides, to a 77% general theater attendance and 91% for the International Competition and the Special Screenings (which included John Sayles' Amigo, Tom Tykwer's Three, Ken Loach's Route Irish, Thomas Vinterberg's Submarino and Michael Winterbottom's The Trip, among others). However, the director did not provide any statistical data from previous years in order to prove whether or not the fest was indeed financially successful.
So, a new question arises: Do we want an "extrovert" Festival with international allure which still manages to maintain a cinematic integrity through the search for new film voices, or an "introvert" Festival which will boast fewer titles, but significant film narratives which even fewer people will have a chance to see? The answer is not simple and since I purposely avoid discussing the intricate behind-the-scenes Festival, I will, once again, concentrate on what a film festival should be all about: the films themselves.
The 51st TIFF opened with Danny Boyle's 127 Hours, but the film that stole the show was the 5-minute short Addio Città, Goodbye City, by Emmanuil Papadopoulos, a wonderfully conceived and executed ode to the city of Thessaloniki, in the tradition of the 1930s city symphonies. The use of the tilt-shift photography made well-known places and monuments seem anew and appreciated under a new light, while the minimalist piano accompaniment intensified the perhaps nostalgic intentions of the filmmaker.
127 Hours is already considered another critically acclaimed achievement by Boyle and has already been nominated for 3 Golden Globes, and 3 Independent Spirit Awards, among many other nominations. Based on Aron Ralston's true story, it narrates the 127 hours the 27-year-old adventurous hiker fought for survival when he got trapped in a narrow slot in Blue John Canyon in Utah. The film is undoubtedly an impressive cinematic exercise in how to deal with a small, confined space, rely on a single actor and telling a story with a few uttered words. As usual, Danny Boyle's trademark editing, music and energy pervade the narrative and push the viewer to the sought after emotions. Although James Franco really does an amazing job at portraying the different layers of the at first fearless explorer who realizes the end is near, I could not help but wonder why all these survival tales, from classics, such as Deliverance (1972) and Cast Away (2000) to box-office successes, such as I Am Legend (2007) are all stories about men who have to confront life-or-death situations and during their struggle re-assess their existence. And it was that thought that came to mind during the screening that made me look at this year's International Competition films from a different perspective.
International Competition: Few but Strong Female Voices
It has become commonplace to "judge" or talk about films taking for granted the gender of their makers, because they are usually male. This year, I became interested in observing what happens in a fest that promotes fresh faces that represent cinemas of a great variety of countries. The 16 films of the International Competition section brought new directors to the spotlight from Australia to Greece and from Norway to Iraq. However, only 5 of the films (31%) were directed and/or co-directed by women. This fact proves that the Hollywood insistence on male filmmakers and protagonists is not an American prerogative but a global status quo. That is why I chose to discuss 4 of the International Competition films which were directed by women. This decision was not solely based on gender – which would again be prejudicial – but also on the cinematic merits of the films themselves, which were, in my opinion, among the best ones of the section, despite the expected disinterest they received by the Jury.
Donkeys, directed by Morag McKinnon, written by Colin McLaren, UK/Denmark, 2010
Donkeys is the second part of the Advance Party Project, an experiment directed and envisioned by Lars von Trier involving the making of three Scottish films that use the same characters played by the same actors. Donkeys' director, Morag McKinnon explained that "while the filmmakers may feel restricted by the rules (which are basically based upon Dogma), the rules would end up inspiring their creativity and that the directors would learn to love the restrictions." [2]
The film tells the story of 64 year-old Alfie, a cranky pensioner who hasn't talked to his daughter and granddaughter in 10 years. As his health begins to deteriorate, he keeps his mouth shut and makes plans to move to Malaga, Spain, with his closest friend Brian. However, he realizes he needs to make amends with his family. His daughter does not want to welcome him in her life again but she does compromise when she sees that her teenage daughter wants to bond with her granddaddy. Family secrets emerge as the story unfolds but the dramatic subtexts are presented with much needed doses of humor, proving that drama and comedy can mix in fiction as they always do in real life with surprisingly satisfying results.
James Cosmo, known internationally from his film roles as Campbell in Braveheart (1995) and as Father Christmas in The Chronicles of Narnia: The Lion, the Witch and the Wardrobe (2005) does an absolutely brilliant job as the stubbornly proud, grumpy, insensitive yet full of untold feelings Alfie. Along with his "partner in crime," Brian – also portrayed beautifully by Brian Pettifer – they form a hilarious odd couple delivering vitriolic lines and imbuing the grey of the small town and their otherwise unmemorable lives with humor and zest. A lovely mixture of black comedy and family drama, Donkeys is an absolute must-see.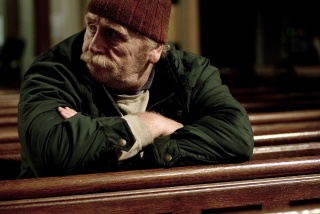 Attenberg, written and directed by Athina Rachel Tsangari, Greece, 2010
For the second year running, a Greek film becomes the talk of the fest and continues a string of both domestic and international successes after last year's Dogtooth, Plato's Academy, and A Woman's Way. Attenberg is the story of twenty-something Marina – Ariane Labed, recipient of the Volpi award for best female performance in the 67the Venice Film Festival – who has grown up with her architect father in a small and unrecognizable industrial town. She seems almost cut off from the reality of the rest of the world and with the exception of her strange friendship with Bella (Evangelia Randou) and her close relationship with her terminally-ill father, Marina observes human behavior from afar. She reluctantly practices French kissing on Bella since sex disgusts her and passionately watches Sir David Attenborough's documentaries on mammals. The film comments on contemporary alienation and the political implications the industrial invasion had on the Greek psyche and landscape through the discussions Marina has with her father, who calls her "an optimist modernist bourgeois." However, what really captures the viewer is the strictly formalistic mise-en-scène, the strange conversations Bella and Marina share, their weird choreographies while the sing French songs dressed in similar clothes, and the new words Marian invents. Attenberg could be simply the story of a daughter who takes care of her cancer-stricken father. Fortunately, it is so much more.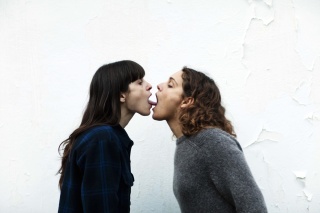 Limbo, written and directed by Maria Sødahl, Norway, 2010
Based on the director's scattered childhood memories, Limbo is set in the 1970s. Sonia (Line Verndal) and her two young children move to Trinidad to be with the family's breadwinner, Jo (Henrik Rafaelsen), who has been already working there as an oil engineer for six months. In these new and unfamiliar surroundings, Sonia is suddenly introduced to a novel way of living. Although she now has a maid, attends luxurious parties with her husband, she can't help but feel bored and empty all the time as she realizes her new environment, and especially her husband's colleagues abide by a quite perverse code of ethics in order to survive away from their real homes. She makes a friend in Swedish Charlotte (Lena Endre), who has moved so many times with her husband Daniel (the always charismatic and reliable Bryan Brown) that she exists on autopilot. The sunny exteriors of Trinidad are a harsh contrast to the bluish interiors of Sonia's new home and intensify the depression that starts to settle within. The film is not only beautifully photographed and attentive to the details of a past decade regarding settings and costumes but is, more importantly, an insightful exploration of the female psyche. What do women do when their only outlet is raising their children, or in Charlotte's case a few more drinks and a couple of lush evening gowns? Sonia and Charlotte are two strong women who represent two sides of the same coin. Although the first seems to gradually "lose" it and the latter appears stronger and more adaptable, the tables are turned towards the end and tragedy eventually completes the narrative circle. Maria Sødahl's Limbo is an impressive study of female idiosyncrasy, assisted by both Line Verndal's and Lena Endre's subtle and at the same time haunting performances. Although the story takes place in a past and for some a forgotten or not even recognizable era, it can also be read as a comment on the contemporary alienation between couples and the vacant existence many women still have to lead. Maria Sødahl wonders herself: "What has really changed after these decades?" Not much, unfortunately. Betty Friedan's 1950s "desperate" housewives are still among us and that is why Limbo contains powerful moments that are hard to watch, since female audiences rarely have a chance to see such a wonderful, however hurtful, exploration of a woman's journey from sanity to depression to realization.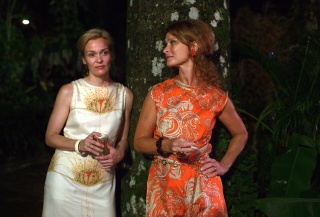 Zephyr, written and directed by Belma Baş, Turkey, 2010
Zephyr is a resolute and a little unusual 11 year-old girl, who lives with her grandparents in their home in the countryside. Her father is never mentioned while her mother is an activist who travels the world to help every cause imaginable and leaves her for long periods of time. When the mother does finally come back, it is only for a few days before she says goodbye to Zephyr again. Although Baş's sensitively directed and cinematographically "photogenic" film ends with a violent coming-of-age act, it basically examines the life of a young girl who craves for the family structure but never lets it show. Zephyr spends her time in nature, usually on top of a hill where she can watch the country road, her eyes filled with hope of seeing her mother returning to her. She takes notice of the lessons her granddad gives her about life and death in his mushroom-picking walks but she mostly stays silent, observing what goes around her. However, when she understands her mother is going to abandon her again, she decides to take matters into her own hands. Zephyr is not simply a tale about abandonment, childhood, and motherhood but more importantly the nature of feelings that can build up and erupt without any warning. Just like the mist covers the little houses of the heroes' community, so does it settle on the little girl's heart with unforeseeable consequences. Nature may be beautiful and serene, but it can also be dangerously deceptive and cruel. Human nature is not far behind.
The Awards
International Jury
The five-member International Jury called to judge the films of the International Competition section and to award the Golden and Silver Alexanders plus a number of additional awards, was presided by the Greek film critic Michel Demopoulos, and included Iraqi director Mohamed Al-Daradji, Palestinian director Scandar Copti, American-Iranian producer Behrooz Hashemian, and the Managing Director of the Austrian Film Commission, Martin Schweighofer.
Best Feature Film Award – Golden Alexander (20.000 euros): Periferic (Outbound) by Bogdan George Apetri, Producer Alexandru Teodorescu, Screenwriters Tudor Voican, Bogdan George Apetri – based on an idea by Ioana Uricaru & Cristian Mungiu, Romania/Austria, 2010.
Special Jury Award – Silver Alexander (10.000 euros): Attenberg by Athena Rachel Tsangari, Producers Angelos Venetis, Iraklis Mavroidis, Yorgos Lanthimos, Athina Rachel Tsangari, Maria Hatzakou, Screenwriter Athina Rachel Tsangari, Greece, 2010.
Special Jury Award for Originality and Innovation – Bronze Alexander (5.000 euros): Jean Gentil by Laura Amelia Guzman and Israel Cardenas, Producers Pablo Cruz, Bärbel Mauch, Israel Cardenas, Laura Amelia Guzman, Screenwriters Israel Cardenas, Laura Amelia Guzman, Mexico/Dominican Republic/Germany, 2010.
Best Director Award to Marian Crisan for Morgen, Producer Anca Puiu, Screenwriter Marian Crisan, Romania/France/Hungary, 2010.
Best Screenplay Award to Marek Lechki for Erratum, by Marek Lechki, Producer Marek Lechki, Poland, 2010.
Best Actress Award to Ana Ularu in Periferic (Outbound), by Bogdan George Apetri, Producer Alexandru Teodorescu, Screenwriters Tudor Voican, Bogdan George Apetri – based on an idea by Ioana Uricaru & Cristian Mungiu, Romania/Austria, 2010.
Best Actor Award ex aequo to Andras Hathazi and Yilmaz Yalcin in Morgen by Marian Crisan, Producer Anca Puiu, Screenwriter Marian Crisan, Romania/France/Hungary, 2010.
Artistic Achievement Award to Zefir (Zephyr), by Belma Bas, Producers Seyhan Kaya, Birol Akbaba, Screenwriter Belma Bas, Turkey, 2010
The FIPRESCI awards were bestowed to Morgen by Marian Crisan, Producer Anca Puiu, Screenwriter Marian Crisan, Romania/France/Hungary, 2010 in the International Competition Section 2010 and to Apnia by Aris Bafaloukas, Producers Ari Bafalouka, Elisavet Tsouhtidi, Screenwriter Yiannis Tsiros, Greece, 2010, in the Greek Films 2010 section.
The Hellenic Parliament TV Channel bestowed The Human Values Award (7.500 euros) award to Los Labios (The Lips) , by Ivan Fund & Santiago Loza, Producers Ivan Eibuszyc, Ivan Fund, Santiago Loza, Screenwriters Ivan Fund & Santiago Loza, Argentina, 2010 (Independence Days ID-10 section).
Endnotes
1 However, Eipides' work is not limited to Greece. In 1971, and after his studies in English Literature and Theatre at the University of San Francisco, as well as Stage Direction at the American Academy of Dramatic Arts in New York and the London School of Film, he co-founded along with Claude Chamberlain the Montreal Festival Du Nouveau Cinema, of which he was the director for the next 14 years. Since 1988, Eipides has been working as senior international programmer at the Toronto International Film Festival, while since 1995 he has been the program director of the Reykjavik International Film Festival. In 1999 he was presented by FIPRESCI with an honorary award for the quality and originality of the New Horizons section and in 1993, the Iranian Minister of Culture honored him in recognition of his role in the promotion of Iranian cinema internationally.
2 The director's quotes, along with all the quotes found in this article are translations of interviews that appeared in the TIFF newspaper The First Shot.