It Might Get Loud
Three Generations of Guitar Heroes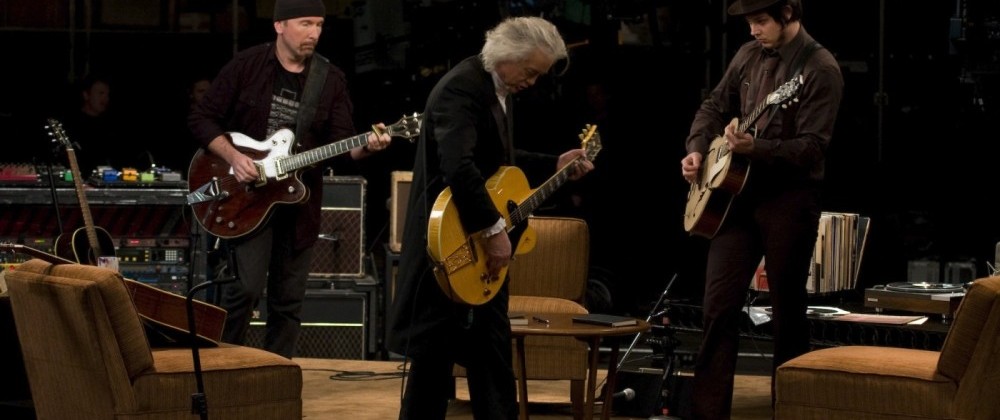 The electric guitar. Those three words have expressed so much and shaped the popular music field since the 1940s. Something about its shape, size, mystique and aura makes it the quintessential 'cool' rock instrument. The guitar, with its curves, sheen, myriad of shapes and sizes is the musical 'sexy beast'. If you ask any electric guitarist why they started to play most (if they aren't liars) will tell you it was to be popular with the girls (or just plain popular). The documentary It Might Get Loud, by Davis Guggenheim (An Inconvenient Truth, 2006), brings together three iconic rock guitarists from three different generations, Jimmy Page ("The Yardbirds," Led Zeppelin, b. 1944), The Edge ("U2," b. 1961, David Howell Evans), and Jack White ("The White Stripes," "The Ranconteurs," b. 1975), to essentially talk about their shared love of the electric guitar. This is not a discussion of the technical aspects of the guitar (though there is some of that), or a confession of their favorites 'axes' (though there is some of that), or a biography of each figure (though there is some of that), or a history of the instrument, or a mutual admiration club sit-in (though there is some of that). It is simply about three very different human beings (an Englishman, an Irishman, and an American with Polish and Canadian descent) brought together to share their personal experiences of their music, their relationship to their instrument, how they developed their own 'voice', and their creative processes. What makes this film unique is that it encompasses so much about popular music (blues, blues-rock, rock, folk, rockabilly, skiffle, punk) without feeling pedantic or 'educational'.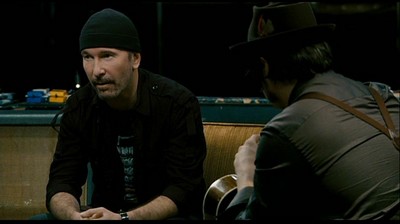 At first one would not think that such different guitarists/musicians could hit it off, but after some initial formalities, that is exactly what transpires, which might have a little to do with director Guggenheim's mise en scène decision to place them in a comfy mock living room in the middle of a studio: they really do seem like three pals sitting around exchanging 'chops' and hanging out.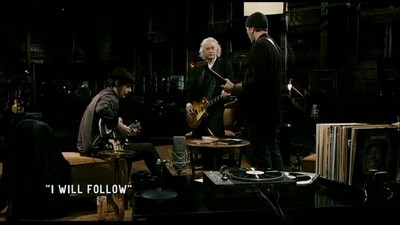 Although a large portion of the film sees the three together, there are also individual sections, with air time split pretty evenly among them (perhaps Page gets a bit more time, which is reasonable given his pedigree as a central figure in arguably the greatest rock and roll band of all-time). The Edge visits his high school reminiscing about an early gig, discussing the importance of the social, political and economic climate of Dublin in the 1970s, 1980s to his music. White also contextualizes his punk attitude to living in Southwest Detroit during the 1980s, and living in an all-Latino area where, "it was uncool to play a guitar. To play an instrument was the most embarrassing thing you could probably make up. Hip hop, house music, that's what everyone wanted to hear. DJ's and rappers." Page gives us a peek into his English estate house Headley Grange (used as a popular recording studio in the 1960s, 1970s), and his expansive record collection (the scene of him playing air guitar to Link Wray's "Rumble" is sure to raise a smile). And talks about his formative interest in art (a desire shared by his fellow British guitar God contemporaries, Eric Clapton and Jeff Beck). And White revisits some of his stomping crowds, including Austin, Nashville, Tennessee, and Detroit, and talks about how his first band grew out of his job at a furniture factory, where he was taught the skills of upholstering alongside punk music by Brian Muldoon. He began to play guitar, write music, and eventually record his first album with Muldoon, called "The Upholsterers."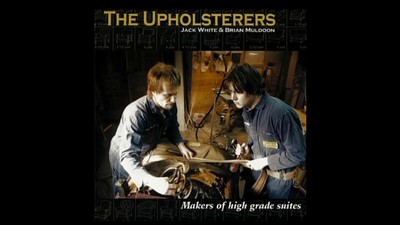 The changing role of the guitar is reflected in the generational differences. The Edge admits that over his career he often felt the guitar was slipping away as a musical force in popular music, only to find it reinvigorated and reinvented by some new guitarist, band, or musical form. This is reflected in White's earlier comment about how "uncool" it was to play an instrument in the Latino neighborhood of Detroit where he lived, a stark contrast to the earlier comment about the electric guitar's sex appeal and the experiences of The Edge and Page. There is still, clearly, an aura around the guitar, which is felt in the way each of them give a mini overview of how they came to meet their favorite axe: The Edge discusses his first trip to New York where he went to a guitar shop and his future Gibson Explorer guitar beckoned him from a row of guitars hanging on the store wall; White talks about getting his Kay guitar as a form of payment when working at his brother's thrift shop. And Plant remembers the thrill of bringing home his first Fender Stratocaster (you never hear of pianists or drummers talking about their instrument with quite the same nostalgia or emotion).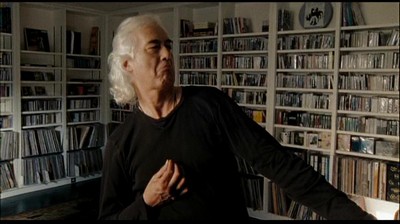 The film has a substantial (though not overwhelming) amount of archival footage and photographs, of the three musicians/bands but also other guitarists who influenced them (like Link Wray, Lonnie Donegan, Blind Gary Davis, The Buzzcocks). One of the most priceless of these is footage of a very young Page (about 16) playing guitar on a television show in a 'skiffle' band and then responding to the host's question of what he wants to do when he grows up with "I'd like to do biological research." Music fans can thank God Page was not a Nostradamus! And footage of a young The Edge in a teen band playing a song called "Street Mission."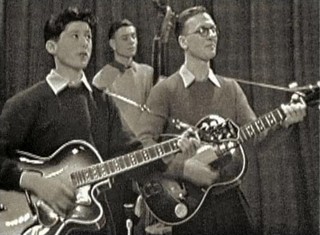 The film begins in Nashville with White building a primitive guitar with a plank of wood, nails, a single string, a pickup, a coke bottle as a bridge, and a metal slide. After playing a few bars of very grungy, slide blues, he sheepishly says to the camera, "Who said you need to buy a guitar." Later in the film The Edge recounts his own experience of making an electric guitar with his brother, from scratch. The opening cuts to the three of them driving to the Hollywood studio where they are to meet, each speculating on what might happen when they meet (White facetiously predicting that a fist fight may break out). This then cuts back to footage of each of them in their musical milieus, The Edge listening to early tape recordings of his guitar tracks, to snippets of concert footage. The selection of White to represent the youngest generation is an interesting choice. He is the youngest but his musical influences stretch back as far if not further than Page or The Edge. His sound, rougher and more primitive, harks back to the early blues pioneers and, like many of them (Robert Johnson, Blind Lemon Jefferson, Charley Patton, and White's personal favorite, Son House), and unlike The Edge or Page, he is a singer/guitarist and front of his band. Guggenheim's editing underscores some of the irony when he cuts from The Edge's guitar technician talking about The Edge's heavy reliance on sound effect pedals, processors, etc., to White stating that technology has harmed the evolution of the guitar and takes away from emotion, creativity and truth. His 'old school' personality is reflected in one of the highpoints of the film: a scene where White and his sister /band member Meg play for seniors at the Chelsea Mission House in London. Whereas most musicians of his generation are forward looking, White reveals that when his interests began to lead him to older music, "I had to reassess what backwards meant in my mind."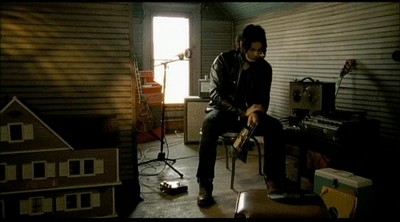 Davis plays liberties with any rigid definition of the documentary in the decision to cast a young boy as Jack White's 'nine year-old' self who, dressed head to toe in all-black like White, interacts with his older self, listening to the sort of advice that White claims he would have wanted at that age. These scenes, semi-comical, reflect White's impishness and invoke the magical, pseudo-supernatural quality often associated with the blues.
Another highlight of the documentary is watching the musicians exchange guitar licks, 'learning' each other's songs, and jamming on them. So we have a scene where White plays the by now iconic percussive guitar opening of U2's "I Will Follow"; and White leads The Edge and Page into a rendition of his "Dead Leaves and the Dirty Ground"; the three of them 'sliding' along to Zeppelin's "In My Time of Dying"; and perhaps the film's most priceless moment, the absolute look of sheepish joy on the faces of The Edge and Jack White when Page begins to play the guttural opening of Zeppelin's heavy blues anthem, "Whole Lotta Love".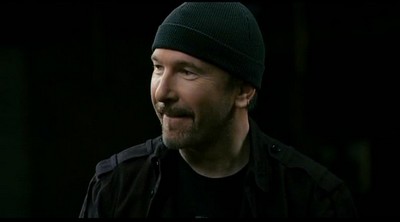 It is always extremely difficult if not impossible for anyone to explain how the creative process works. The great cultural thinker Arthur Koestler, in his book The Act of Creation (1964), came close in his own not very scientific way by describing the physiological processes behind the "act of creation" as 'bisociation': the difference between one plane (routine, everyday) and two plane thinking, which is when the balance of emotion and thought is disturbed and the mind is fused into creative thought. According to Koestler, all creative activity, whether music, painting, writing, acting, or mathematics, is similar in that "it consists in the discovery of hidden similarities" (Koestler, 27). When Page is asked about his writing process –which leads to Page's discussion of "Stairway to Heaven"– the best he can come up with is the proverbial "creative spark" (an even less scientific expression than Koestler's "bisociation") and the necessity for "total concentration." Page's discussion of "Stairway to Heaven" (like how it necessitated using the double neck six string/twelve string guitar on stage) brought back fond memories of the dozens of teenage school and house parties I attended that ended with that 'anthem' to the 'hopeful' last slow dance (oddly enough, or maybe not, Page describes that song as being written to build to a crescendo, "like an orgasm"). Any time we hear artists talking about their creativity it is usually disappointing and only reaffirms the ludicrousness of even trying to articulate it in words, although Guggenheim comes perhaps as close as possible in a scene toward the end (starting at about 73 minutes) where he weaves together a montage of splendorous nature shots, culminating in a narrow clearing in the woods which is used to metaphorically depict The Edge's voice-over narration describing his own song writing as achieving that "clarity of vision" which leads to a concert performance of The Edge's classic U2 song, "Sunday Bloody Sunday."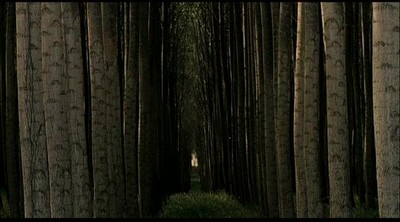 The one thing the three guitarists agree on is the belief that for a guitarist to leave their mark and stand above the rest, their playing must be an expression of a personal attitude, something which starts in the brain, moves through the arms, fingers, and onto the fret board. Attitude can express itself in many ways, some physical, like the color, shape or customization of their guitar, the selection of strings, pick (or decision not to use one), or in the sound, the sustain, vibrato (or as Page calls it, "veebrato"), and the all-important TONE. The same five notes played by any guitarist with an attitude will sound different, unique to their TONE. If one word would express the attitude of the three featured guitarists, I'd say angry (White), reactive (The Edge) and confident (Page).
People who were lucky enough to catch the film at a film festival would do well to search out the DVD or Blu-Ray release of the film which contains some worthwhile additional material, including a commentary with Guggenheim, Producers Lesley Chilcott and Thomas Tull, the Press Conference at the Toronto International Film Festival, with all three performers in attendance, and some tasty deleted scenes.