Iran 2000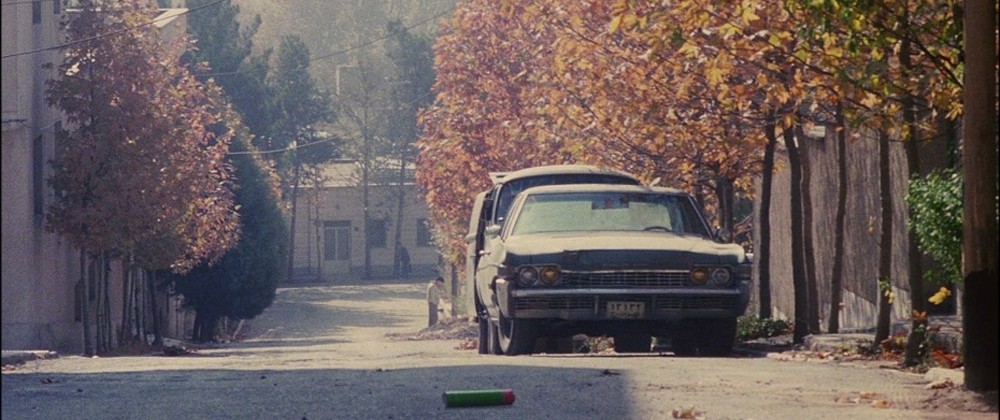 Although it may be more appropriate to call the 1990s the "decade of Iranian cinema," since that is when important Iranian film directors like Abbas Kiarostami and father and daughter Mohsen and Samira Makhmalbaf received international recognition, it seems to me that by designating 2000 "the year of Iranian cinema" we recognize an incredible diversity of interests and forms in that troubled nation's cinema, hitherto unseen.
I have been following the coming-of-age of post-revolutionary Iranian cinema for quite a few years now. I first became aware of its existence and the Iranian people's fervent interest in film shortly after I arrived in Montreal to take-up a post at Concordia University. It was mid-winter, early February 1990, and I barely managed to secure a ticket for Bahram Beizai's Bashu, the Little Stranger, a film that was already 3 years old, and yet was able to fill a 700 seat auditorium (with about 699 Canadian-Iranian immigrants and refugees, …, and myself). Whereas Montreal's "Festival of New Cinema" regularly showcased new films from Iran, my next memorable encounter with this major, resurgent cinema came in September 1992 during Toronto's Festival of Festivals. I saw a Kiarostami film for the first time, Zendegi va Digar Hich (then entitled in English, Life and Nothing More), and it was love at first sight. From the very first shot, with the camera viewing cars stopping at and passing a tollbooth, perpendicularly, as if from another booth or a surveillance position, I knew I was watching something unique. From then on, I actively sought out screenings of his films, and have yet to be disappointed with any of them. It took me a while longer to warm up to Makhmalbaf, though. In the same February, 1990 series at the Concordia University Hall Building auditorium, I had seen this director's Dastforoush (The Peddler, 1987), again with a near-capacity crowd. But, at that time, I was not impressed by what I found to be an excessively exaggerated form of surrealist melodrama. I was finally convinced of his importance with a retrospective mounted by the Conservatory of Cinematographic Art at Concordia University in January/February 1997. That same year, the World Film festival featured Iranian cinema and Majid Majidi won the first of his two Grand Prix d'Amériques as director of Bachehaye Aseman (Children of Heaven). And, with Canadian distributors, especially Mongrel Media in Ontario willing to take a chance on Iranian films, the future looked promising at the beginning of the new millenium.
The first opportunity to watch a number of Iranian films in 2000 came with the 24th Hong Kong International Film Festival, which showed Kiarostami's latest, Bad ma ra khabad bord (The Wind Will Carry Us) and "Children of Paradise," a series of seven features and three short films made for and about children or young adults.1 Imagine my surprise when I found myself in the company of numerous Chinese children with their teachers, who were making daytime trips to watch films in Farsi with English sub-titles!! Doubtless, youngsters in Iran watch their own films, but this was the first time I had ever seen more than a handful of school children in an auditorium ready to watch some of the best "childrens' films" in the world. The series gave me the opportunity to see Amir Naderi's Davande (The Runner, 1985) on the big screen. Previously, Iranian students of mine had enabled me to view parts of this important work on terrible quality video copies, but it was really exciting to finally see this dynamic, seminal film produced by the Institute for the Intellectual Development of Children and Young Adults. The story is very simple: Amiro (Madjid Niroumand), apparently orphaned or abandoned by his parents, has to survive on his own devices. He lives in a broken down, landlocked old fishing boat, and collects cans and bottles to sell so that he can eat. Naderi travelled and shot footage all over his country to create an amazingly unified geography of an oceanside wasteland, where nothing seems to grow. In a dog-eat-dog world, Amiro has to fight other boys for the garbage apparently thrown from oil tankers, culminating in a brilliant final scene where he runs against his foes in order to reach a solitary block of ice set against a backdrop of fire. The Runner is a literal title, and the end of the film presents a very positive image of Amiro's sheer joy at winning his prize after running himself into the ground. Clearly, this is the film which injected camera movement into the mix of Iranian film style (and hence gave Majid Majidi his best ideas). It is as if neither Amiro nor the camera ever stop moving until The Runner's ecstatic conclusion.
Two days later, at 10:30 on a Sunday morning, I found myself on Hong Kong Island, in the suburbs, at the Sai Wan Ho Civic Centre Theatre amongst even more children ready to watch three short Iranian films, none of which had Chinese sub-titles! One of these was Nan va kucheh (Bread and Alley), Abbas Kiarostami's first film made in 35mm black and white for the Institute for the Intellectual Development of Children and Young Adults in 1970. It is amazing how so much of his filmmaking mastery was already in place, and how he could sustain audience interest over ten minutes with such a simple anecdote. A young boy, on his way home, is frightened by a stray dog in an alleyway. Eventually he finds the answer to his dilemma-how to get home safely-by feeding the dog some of the bread he has bought for his mother. The focus on a child solving a problem over the course of a journey would become the staple narrative device of the Iranian children's films, and it was introduced here, some thirty years ago. Although Bread and Alley contains an intense, suspenseful, shot-reverse shot, point-of-view editing style which is uncharacteristic of Kiarostami's mature style, one can sense the young director exploring the medium of film here, searching for appropriate cinematic techniques. Ziarat (Pilgrimage) was the surpise film in this package. Directed by Mehdi Jafari, an experienced photographer and cinematographer, this 29 minute new film (1999) was gorgeous to look at and contained an irony at its core. A boy, Davood misses the bus taking a group of top students to a holy shrine. He sets out on foot and visits the grave of a relative. On his journey he experiences the beauty of the world around him. For the boy, then, the 'pilgrimage' is natural rather than religious. Not surprisingly, the kids' favourite of the three films turned out to be Akharin abadi (The Last Village, 1993), a medium-length (41 min.) film directed by Majid Majidi. Much more conventional than other Iranian films, this one recounts the adventurous story of getting books to a village at the end of a travelling library's line while sending the didactic message that children should read. Majidi certainly demonstrates his penchant for action in The Last Village, and cleverly inserts the story within a story of a teacher reading to his class.
Of the rest of the series, I had seen Samira Makhmalbaf's remarkable first feature, Sib (The Apple, 1998) on previous occasions, and I would catch Majidi's Rang-e-khoda (The Colour of Paradise, 1999) on release in London, England in August, but I did view yet another film with a Kiarostami connection, Bid-o bad (Willow and Wind, 1999), directed by Mohammad Ali Talebi. Kiarostami wrote the script. Typically, this film finds yet another boy on a journey. Like Pilgrimage, this boy's journey allows him to discover the natural world, but here the encounter is rendered quite dramatically. He is responsible (with a friend) for breaking a pane of glass in a schoolroom window, and he is made to find and install a replacement. He has to seek out a glazier in a nearby town and returns, carrying the large pane of glass on his bicycle. This difficult adventure is rendered more perilous by the force of the wind and rain. Ironically, it is only when he arrives back at the school, that the glass breaks, and the film ends. Not quite in the same league as similar films directed by Kiarostami-e.g., Where Is My Friend's House? (1987)-and written by him-e.g., The White Balloon (1995)-it nevertheless succeeds in translating the physicality of the boy's struggle with nature onto the cinema screen.
I felt very fortunate to be able to see The Wind Will Carry Us at the Hong Kong Cultural Centre as a gala presentation and experience a large, mostly local, audience appreciating yet another great film directed by Abbas Kiarostami.2 Somehow he devised yet another variation on his "art-road movie" structure, going to a Kurdish region where villages are built into cliffs and where the roof of one house functions as the patio of another. "The engineer" and his crew have travelled from Tehran, perhaps to record a funeral ceremony from a "disappearing world." They seem to be waiting for the death of an old woman, who is always kept off-screen. The visitors from the city struggle to cope with this strange environment, whereas the local inhabitants are completely in tune with it. A recurring motif is the engineer's ringing cell-phone which he can only hear properly by driving his Land Rover to the top of the hill. There he encounters a grave digger, also off-screen. The comic play with the proximity of death is balanced by the presence of nature, which is, perhaps, more gloriously on display here than any previous film by Kiarostami. As usual, trees appear only in isolation, but the grass is lush and verdant. Near the beginning, a plastic football bounces down a village alleyway and the camera pans and tilts to follow its path which is paralleled by a bubbling stream. It's as if gravity, rather than the "wind" of the title is a driving force here, especially because the "engineer" has to continually scale the mountain against it. At the very end of The Wind Will Carry Us, after the strangers leave, we are privileged to view the Kurdish ceremony-the old woman has died. It's as if Kiarostami is giving the audience of his film the benefit of the doubt: those who have understood the film correctly then are deserving of witnessing Kurdish traditions (albeit, from a distance).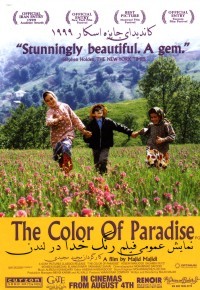 Summer 2000 saw the North American release of The Wind Will Carry Us as well as Majid Majidi's The Colour of Paradise. Majidi is rapidly becoming something like the Stephen Spielberg of Iran in his ability to emotionally move both domestic and foreign audiences through his mastery of the medium of cinema. He also has the distinction of directing the first Iranian film to win an Oscar nomination: Children of Heaven in 1999 for Best Foreign Language Film. The Color of Paradise focuses on the struggles of an eight year old blind boy, especially with his unsympathetic father. Far less sentimental than his previous film, this one retains its predecessor's dynamism and emotional affectiveness. The boy (played by a blind, non-professional actor) returns home in the mountains from school in Tehran, only to find that his father doesn't want him around. Cleverly, Majidi translates the boy's physical relationship with the world in a boldly visceral way, ending in a desperate fight for his and his father's lives in churning rapids. And, in a brilliant coda, the "colour of paradise" is revealed to be monochrome, black and white.3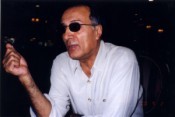 Abbas Kiarostami
Arguably, the film "event" of the year 2000 in Montreal was having Kiarostami head up the main competition jury at the World Film Festival. I struggled to obtain an interview over the duration of the festival and finally the great director graciously granted me a half hour of his time through Concordia University film production graduate, Shahin Parhani. Parhani translated Kiarostami's answers to my questions, and a transcript appears on Offscreen (Meeting Abbas Kiarostami). Accompanying his visit was a near-complete retrospective of his feature-length films-nine of ten-which allowed me to view his first feature, Mossafer (The Traveller, 1974) and a documentary, Awaliha (First Graders, 1984). The second of these was not as interesting as the later, Masheq shab (Homework, 1988), which, through the testimony of nervous, often tearful, stressed-out children, indicts both the authoritarian school system in Iran and the concomitant terrorizing tactics of parents, forcing their children to do their homework. First Graders only really works as a criticism of Iranian education through repetition, of the ritual of increasingly absurd morning exercises, the stream of children passing through the principal's office, and through the absence of actual education that is on view. Surprisingly, the principal becomes quite a sympathetic character because his values are good: he tells the students not to "rat" on one another and to only visit him when something bad has been done to them by another , but not to "snitch" on someone doing something to a third party. The Traveller was a revelation. This extraordinary debut feature not only introduced Kiarostami as a film artist, but also presented the prototype for the Iranian children's film. In it, a boy, Qassem Julayi (played by Hassan Darabi) is so desperate to see a football game in Tehran that he resorts to stealing money, after trying to raise the bus fare and ticket price by selling first his stamp album and fountain pen, and later a very old camera. The boy's criminal tendency is an atypical ingredient, but, he is nevertheless sympathetic, and when he falls asleep and misses the match after spending so much effort to get there and buy the ticket, the denouement is much more than sad, almost tragic (and prefigures the end of Willow and Wind)
.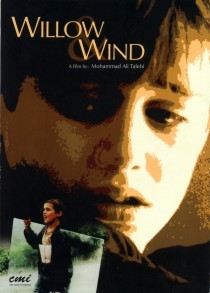 Most remarkably, perhaps, The Traveller introduces the running motif to Iranian cinema (see Kiarostami interview linked above), most notably where the camera tracks alongside Qassem when he only has two minutes to catch the bus, which was due to leave at 11:00pm at night: his napping almost caused him to miss it. Stylistically the film introduces some trademark Kiarostami static compositions: in the backyard, with the camera set up perpendicularly to the wall, looking straight at a doorway through which characters enter and exit (but never the camera); clothes are drying on a line in the foreground, while Qassem's mother talks to another woman, their backs to the camera. In other perpendicular shots on the street we view action taking place in the background through windows. But, uncharacteristically for Kiarostami, The Traveller (like his first short film, Bread and Alley) contains many perceptually subjective shots. For example, when Qassam is thinking of how he is going to be able to find the 10 Tomans he needs for his ticket-it will actually cost a lot more-we see separate shots from his perspective of his mother's bracelet, his father's watch, and money placed under the carpet.
Part two of this article will contain discussion of the remaining films shown at the World Film Festival, and those shown at Montreal's New Cinema/New Media Festival.
To read Part 2: (Iran2000: Part 2)
Notes
1.The eight programmes were only shown once in the Film Festival per se, but then were screened once or twice more at the Broadway Cinematheque, encouraging people who don't normally support the festival to see these films. Two other Iranian films which had been featured in previous editions of the HKIFF were shown outside the festival as part 2 of "Children of Paradise," Children of Heaven and Jafar Panahi's The White Balloon (1995).

2.I saw this film initially at the October, 1999 Nouveaux Cinémas Nouveaux Médias festival in Montreal, under the title Le vent nous emportera, where it won the Best Feature Film prize, even though it was shown only once.

3.As this essay was being completed, we learned that Majidi's latest film, Baran dominated the awards of the 19th International Film Festival, winning Best Film and Best Director in the national, Iranian competition (and three other awards) as well as Best Director in the International Cinema section of the festival. Afshin Tarbiyat suggests that this film, about an Afghan Immigant boy working on a construction site in Tehran could well be influenced by the Dardennes brothers' La Promesse.