Inside the Homo Studio: with Jenni Olson
Queer Perspectives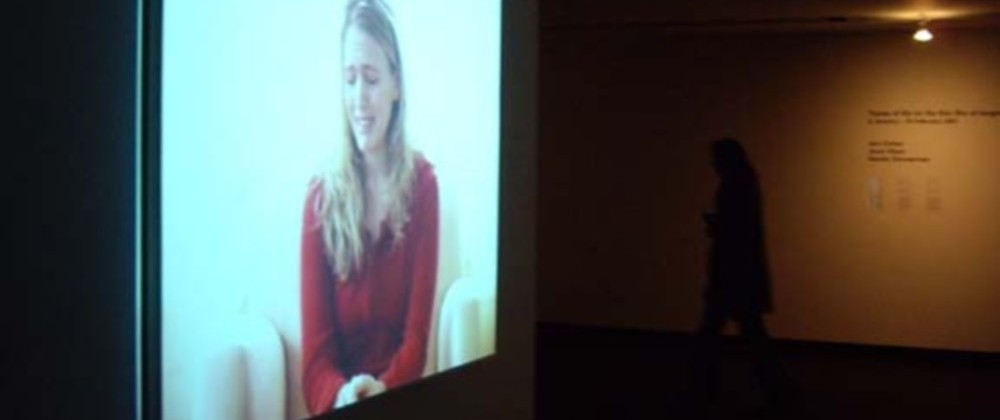 "What are you rewriting? A lifelong preoccupation with Control and Virus."
William S. Burroughs, February, 1985 [1]
Historically in artistic media of the Western tradition, the production of works is determined by those willing to financially support them. For the longest time, it was the Church, and (to verbally quote Peter Sellers): "Brilliant artists painted things that were way over their heads." Unfortunately –and even though many of the great Masters of the ages were homosexual– the usual dominant structures of power and the will to hold it ensured a more-or-less consistent front of White, masculine Hetero-normativity for the players, and the margins for the rest. Though, the Ziggurats of patriarchy crumble continuously, leaving agency exposed –agency that is now, as it should be, gradually being rescued by able and willing and informed, well, homos. But this is neither a critique of Western civilization, nor an attempt to over-intellectualize what is a core issue in 2006. (With fortune, that opportunity will present itself in due time.) It is, indeed, an interview with perhaps the hardest-working and most humble Lesbian in the film industry.
Self-representation is central to the work of Jenni Olson: the San Franciscan Writer, Curator, Director, Producer, Trailer enthusiast, Film-historian, Mother, Partner, (and not all necessarily in that particular order). In addition to seven programmes of movie trailers from Jewish, Black and Queer cinema, she has directed several shorts and a feature film entitled The Joy of Life, which premiered at the 2005 Sundance Film Festival, detailing the history of the Golden Gate Bridge as a suicide signpost. She has published a book of Queer cinema poster and print media, is the custodian of PlanetOut.com, the largest Queer entertainment website in the U.S., was the co-director of the San Francisco International Lesbian & Gay Film Festival, as well as the Minneapolis/St. Paul Lesbian, Gay, Bisexual and Transgender (LGBT) Film Festival, for which she serves as a consultant. Jenni is now the director of consumer marketing for Wolfe Video/Wolfe Releasing, an independent distributor of LGBT film and video. And the list does go on. I had the distinct pleasure to see –and write on– Afro Promo, which paid an honored visit to Montréal's Cinéma du Parc earlier this spring. And if that did not suffice, am privileged to have had the following conversation, which is now shared here.
Jenni Olson
Offscreen: I'll start with the old stand-by: Where did you grow up? What are some of your early formative memories? And what were some of your first encounters with cinema?
Jenni Olson: I grew up in a suburb of St. Paul, MN and the first film I recall seeing was Mel Brooks' The Twelve Chairs, which came out in 1970 so I would have been like 7 or 8 years old. It was at the Midtown Theatre which was a total dump. I also went to a lot of Spaghetti Westerns at the Har Mar Mall 1 & 2 (I loved the Terence Hill/Bud Spencer Trinity films). But mainly I watched Hollywood classics on TV. I loved James Cagney, Buster Keaton, The Marx Brothers, Fred Astaire — these were the formative role models of my early childhood.
Offscreen: What drew you to the medium of film, and in particular, the curation of trailers?
Jenni Olson: When I came out in 1985, I read a book called The Celluloid Closet by Vito Russo, and recognized the importance of gay images for gay audiences. This became a personal and political passion for me, and I began programming gay and lesbian films on campus. I also decided that I wanted to physically possess films —and trailers were the cheapest things I could find. My first purchase was a 35mm trailer for The Killing of Sister George which cost me $5. From there I was hooked, and as I gathered more gay and lesbian trailers together, I set upon the idea of playing them together as a sort of window on gay film history, which would be very entertaining and educational.
Offscreen: What is your relationship to the Promo cycle of trailer collections? Do you consider your collections to be new texts —i.e. do you weave the trailers together to form a loose narrative or meaning from one to the next? If so, would you say you are the author of these collections?
Jenni Olson: I usually say curator. I think author would give me too much credit, but curating certainly involves many creative decisions, and one has a vision for organizing things in a certain way to help audiences make certain connections, or derive certain kinds of pleasures through the proximity of one trailer to another. As a curator, if you do your job well, you become sort of invisible, and people have such a good experience they don't even think about it.
Offscreen: On "AfroPromo," you worked with Karl Knapper. What is your professional and personal relationship like? Why have you chosen to work with not only LGBT trailers, but Black and Jewish ones as well?
Jenni Olson: Recognizing the importance of gay films for gay audiences, I also became interested in the general under-representation of so many other audiences/identity-based groups, and have always been interested in unearthing historical representations of those groups for contemporary audiences. Karl and I met when I was programming the San Francisco Lesbian & Gay Film Fest, and he was the president of the board. He has an encyclopedic knowledge of film and we hit it off from the beginning. Black trailers seemed like an obvious realm to explore. We felt certain that we would find lots of great material and we really went through more than one hundred trailers to narrow it down to the ones we selected for the program. In many cases, there were film trailers we simply could not find (like Shaft, for instance which is one of the most obvious films missing from the program). I have been a big fan of the Jewish Film Festival here in San Francisco for many, many years and my partner is Jewish and I have been very involved in Judaism and Jewish culture for a long time. So this was a particular area of interest for me as well. At one point, I began gathering trailers for an Asian trailer program (which are still in a big box at Oddball Film + Video which houses my collection) but I finally decided I had to stop and do some other things in my life. Actually I also have two "camp" trailer programs: "Trailer Camp" and "Bride of Trailer Camp" which both have a kind of queer sensibility, curatorially. In fact, "Bride of Trailer Camp" is especially interesting from a Feminist perspective as a lens on the representation of women in film. And then there's Jodie Promo…!) And I also have a Spike Lee trailer collection on the side! Which reminds me, I'll be needing to buy 2 prints of the trailer for Inside Man!
Offscreen: Speaking of collecting, where do your trailers come from? You must have access to some wonderful stockpile? Do you ever encounter resistance with your re-appropriations?
Jenni Olson: There is a collector's paper called The Big Reel —that's my main source. The truth is I am not actively collecting right now. I am just too busy with other things. I assume you mean copyright issues. The trailers I have released on DVD have all had copyright searches done so that I am not violating anyone else's intellectual property. I have not done the same with my other collections, which only play occasionally at film festivals —it would be prohibitively complicated to research and they are essentially playing in the venues for which they were originally produced. Hopefully boosting DVD sales and rentals in the process!
Offscreen: As a film historian/archivist/curator, what is your relationship like with your material? Do you feel a strong responsibility to the material you collect and transmit?
Jenni Olson: Yes, I have always felt that it was my responsibility to discover and preserve actual film prints, and archive the cinematic representation of marginalized communities —queer, Jewish, black, etc. Especially material that is not available or distributed in any other way. This is one of my life-long passions that I never have enough time for (we talked about my being a filmmaker, right?) I am now on the advisory board of the Outfest Legacy Collection at UCLA Film & Television Archive, and have been gradually transferring the most significant film prints in my collection over to them. I have many rare vintage undistributed features, educational shorts and ephemeral films. More than 100 titles —mostly queer. (And my queer movie poster archive —pretty much every LGBT film ever released— is now part of the collection of the LGBT Historical Society of Northern California).
Offscreen: Can you tell me a little about how The Joy of Life came about? And, how can we see it?
Jenni Olson: The Joy of Life is coming to DVD in July across North America! The best place to buy it is direct from frameline.org, my distributor. I'm pretty much still working on getting it out into the world, which could be a full-time job in itself.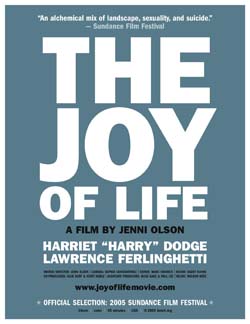 Offscreen: Do you ever find day-to-day opposition in/to your work and/or family? If so, how do you deal with it?
Jenni Olson: We're very lucky to be in San Francisco where there is much more awareness and understanding and embracing of diverse family structures.
Offscreen: Addressing the notion that opposing forces, definitions or delineations, on some level, serve to reinforce each other, do you ever feel like your work falls upon deaf ears? Do you work with those deaf ears in mind, or 'damn the torpedoes'?
Jenni Olson: The work I'm interested in doing (as an archivist/historian and as a filmmaker and writer) will always be of interest to smaller, shall we say select, audiences. There are times when I wish I could reach more people in a bigger way but it's just a fact that my work doesn't really fit so much within the mainstream. It makes me very happy to have smart people who care about art and culture and history and such connect with my work in very intense ways. And I'm proud to be doing what's important to me and to know that it is important to others too.
Offscreen: What is your gauge of success?
Jenni Olson: I take much joy in bringing historical representations of marginal groups to contemporary audiences. Film is such a powerful medium, and it is a unique pleasure to see ourselves represented.
Offscreen: What turns you on?
Jenni Olson: Smart femmes.
Offscreen: What turns you off?
Jenni Olson: Lingerie.
Offscreen: What makes you smile?
Jenni Olson: My kids and my partner are the first things that come to mind. But also a film, any film that is actually a film if you know what I mean.
Offscreen: What makes you frown?
Jenni Olson: Bush, the war in Iraq, global warming, the narrative conventions of broadcast journalism, which have turned current events into entertainment for the anaesthetized masses.
Offscreen: What is your favorite four-letter word?
Jenni Olson: Definitely fuck.
Offscreen: What is your favorite bedtime story?
Jenni Olson: Eloise in Paris is hilarious —I love reading it to my seven year-old daughter.
Offscreen: If you weren't a filmmaker, what would you like to be?
Jenni Olson: I like manual labor —maybe some kind of attendant on a ferryboat on the San Francisco Bay.
Offscreen: Elvis or Beatles?
Jenni Olson: Old, classic Bee Gees.
Offscreen: Salsa: mild or spicy?
Jenni Olson: Mild.
Offscreen: Is there a light at the end of the tunnel?
Jenni Olson: As Thich Nhat Hanh would say, "We are already here." We have all that we need to be perfectly happy right here and now in this very moment. All we have to do is realize this. We are at the end of the tunnel and there is plenty of light.
Please visit butch.org for further information, links and kinks.