In the Bright Shadow of Gandhi's Hope: Tragic Choices in Deepa Mehta's Water and Gurinder Chadha's Viceroy's House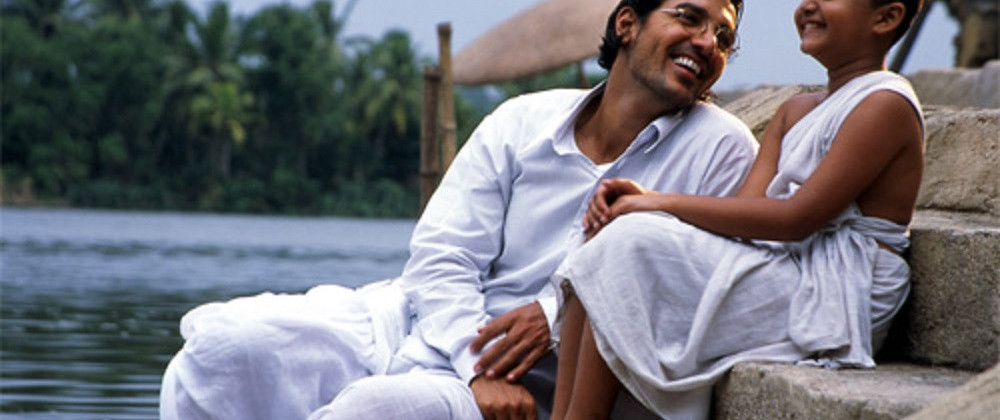 "From ancient grudge break to new mutiny, / Where civil blood makes civil hands unclean." –Shakespeare, Romeo and Juliet
"To be an Asian filmmaker is to be a different kind of filmmaker. A filmmaker who is informed by our racial history, our parents who still speak in their native tongue, our music and our visual memory. All this is excellent, I now think. What I was wary about, I now embrace." —Deepa Mehta, Variety, May 16, 2022
Water (2005) by Deepa Mehta
Gandhi (1982) by Richard Attenborough
Viceroy's House (2017) by Gurinder Chadha
India as a civilization, a place where humans dwelled together in organized society, may be 8,000 years old. A place of beautiful landscapes and human diversity, of ancient literature and philosophy, of great music, of a large film culture, it cannot be reduced to child brides and curry, dharma chants and dust, political scandals, and sacred cows—yet it often is. Water, a film about nature and society, about men and women, adult responsibility and childhood vulnerabilities, set in India and focused on the plight of widows, is a surprising, subversive work—one that inspired suspicion and sabotage while it was being made. Water (2005), which is set in 1938 Varanasi, India, was filmed in Sri Lanka, a Buddhist country, after attempts to film in India were disrupted by controversy, including death threats and the burning of the director in effigy; but the production design, of necessity, increased that country's resemblance to India. Directed by Deepa Mehta, the Canadian filmmaker of Indian birth and education, a quite unique filmmaker, who cowrote it with Anurag Kashyap, the film was photographed by Giles Nuttgens, edited by Colin Monie, with production design by Errol Kelly and art direction by Sumant Jayakrishnan. Mehta, who admires the work of various filmmakers, including Satyajit Ray, Luis Bunuel, Jean-Luc Godard, Bimal Roy, Guru Dutt, and Vittoria de Sica, has devoted herself to pursuing her own curiosity, and creating films about people who do not gain much attention, the marginal and the missing, films for intelligent people who may respond with their own curiosity and compassion. Mehta identifies what is political—what is subject to political forces and disagreement—in human relationships; and her films include: Martha, Ruth, and Edie (1988); Sam and Me (1991); Camilla (1994; Fire (1996); Earth (1998); Bollywood/Hollywood (2002); The Republic of Love (2003); Water (2005), Heaven on Earth (2008); Beeba Boys (2015); Anatomy of Violence (2016); and Funny Boy (2020). "When my plane lands in Toronto, I feel totally Canadian, and when it lands in Delhi, I feel totally Indian. So I'm fine, I'm really happy that I can feel completely Indian and completely Canadian," Deepa Mehta told Sukhmani Khorana, Bright Lights Film Journal (January 31, 2009).
The film Water features John Abraham as Narayan, a caring stranger, a handsome and sensitive son of a wealthy man, and Narayan meets Sarala Kariyawasam as the little girl Chuyia, an eight-years old child who was given in marriage to a man fifty years older than she. The film begins with leaves on water, and someone carrying buckets of water over his shoulder. Chuyia, married too young, becomes a widow before she even understands anything about life—she cannot even remember getting married. Her hair is cut to signify mourning and social withdrawal; and Chuyia is taken to a Hindu religious retreat, an ashram, for white-robed widows, for an impoverished existence, although she has parents and wants to be with her mother, but her father, following tradition, leaves Chuyia there with other abandoned females. The ashram, the religious retreat, is run by a fat, tough older woman, Madhu (Manorama, also known as Erin Issac Daniels), who says the girls and women share grief; and Madhu tries to tame the youthfully impulsive Chuyia (Sarala Kariyawasam), whose energy disrupts and sometimes delights the still, quiet life of the many older woman there. One dutiful woman, Shakuntala (Seema Biswas), puts a turmeric paste on the little girl's head for cooling (it's an antiseptic too). Shakuntala is a mysterious, hardworking faithful widow, and she seems to recognize the humanity of Chuyia as does a young woman, the delicately beautiful, long-haired widow Kalyani (Lisa Ray), who has a hidden puppy and welcomes the child, giving her Hindu prayer beads. One older woman is amused by the little girl's feistiness.
There is a gorgeous blue-gray light in the room that the women sleep in, but the loveliness is contrast to their lives. One old woman—Auntie (Vidula Javalgekar)—longs for sweets, she tells Chuyia. Chuyia (Sarala Kariyawasam) and the young widow Kalyani (Lisa Ray), with her dog, go to the Ganges river to bathe; and as the widows are considered cursed, polluted, others try to keep their distance (someone who bumps into Kalyani complains that now she must bathe again). When the wet puppy runs, Chuyia runs after it and enters town, and there meets a young man returning home, Narayan (John Abraham). The two young adults, Narayan (John Abraham) and Kalyani (Lisa Ray), meet through Chuyia. John Abraham and Lisa Ray are evidence for the belief that Indians are among the most beautiful people on the earth. The Bombay-born John Abraham, a model, actor, and producer, was born into a family of mixed ethnic and religious heritage (a Malayali Syrian Christian father from Kerala and a Parsi Zoroastrian mother from Gujarat), and he was featured in Jism (or, Body, 2003), Saaya (or Shadow, 2003), Paap (Sin, 2003), Dhoom (Blast, 2004), Kabul Express (2006), No Smoking (2007), Dostana (Friendship, 2008), New York (2009) Madras Café (2013), and Parmanu: The Story of Pokhran (2018). Lisa Ray, the Toronto-born daughter of a Bengali Hindu father and Polish Catholic mother, has appeared in Nethaji (1996) and Seeking Fear (2005), The World Unseen (2008), Toronto Stories (2008), Cooking with Stella (2009), I Can't Think Straight (2008) and 99 Songs (2019). Embodied by John Abraham and Lisa Ray, one does not doubt the attraction of Narayan and Kalyani. Narayan's family is wealthy, and that may inspire a clash of cultures, but he is kind; and he, a young lawyer, and a follower of Gandhi, brings gifts for his manservant.
Mohandas Karamchand Gandhi, has become a common subject, apparently: Gandhi, a Hindu of Gujarat, a lawyer who lived in London and South Africa, and engaged in peaceful civil rights protest, worked on behalf of poor laborers, and also adopted the simplest hand-spun clothing. The housemother, Madhu (Manorama), old and fat, whose husband died on top of her, is visited by the eunuch Gulabi (actor and musician Raghuvir Yadav, sometimes spelled Raghubir), dressed in feminine clothes, and he is a pimp; and Gulabi talks about Gandhi's radical views. Despite their low place in the social order, Gulabi and Madhu, are protective of it, fearing change, fearing threats to their income. Narayan (Abraham) and a friend, Rabindra (Vinay Pathak), see a passing boat with a widow going by, her face hidden; and his friend identifies her as a whore—and Narayan cannot see that it is Kalyani, whom he has met, liked, and found intriguing. The delicate, pretty and sensitive Kalyani, is sent out by Madhu, the housemother as madam, to make money for the ashram. Narayan seems skeptical that his friend could know whether the woman is a whore. The male friends discuss politics: achieving social change through peaceful protest? Passive resistance? Romantics make terrible nationalists, says Narayan's friend.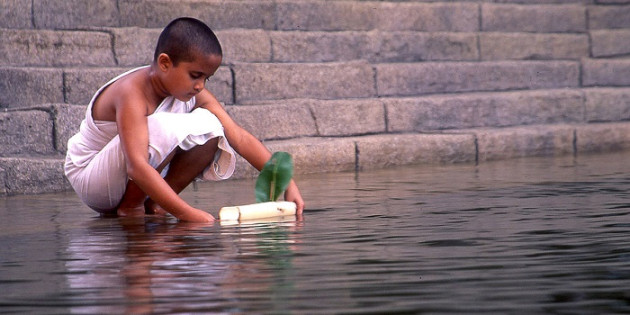 Water
When Chuyia and the hardworking widow Shakuntala (Seema Biswas) are at the river, Shakuntala goes to visit a religious teacher—and we begin to get a clue as to what may be at the root of her devotion, her humility and resignation—and young Chuyia asks where the house for male widows is; and the women—exiled widows—are outraged, although that seems the most natural of questions (how odd that tradition can make logic or sense seem mad). The widows eat a plain, simple meal each day; and Chuyia gives some of her food to the puppy.
Narayan (Abraham) visit the house of widows to see Kalyani (Lisa Ray). Shakuntala (Biswas) answers the door, rebuffs him; but Kalyani, who has been rinsing out clothes, drops water on him and they have a brief flirtation. Soon, it is raining—from a few drops of water to a shower—in the same way, a flirtation can become more: love. A song plays during the rain. Chuyia and Kalyani skip and play hand games. Narayan walks in town, hires a small boat to take him across the river. Begging is not the only way the women get money: part of their official and not so secret duty is to trade sex for money—and Narayan is told this by Rabindra. Surprisingly—unsurprisingly?—one of the widows is prostituted to a relative of Rabindra, and that woman is the one Narayan has become infatuated with: Kalyani, which Narayan does not know, although he is not far from where and when this is happening. Narayan and Rabindra talk, as Rabindra plays piano and sings in German (cultures always intermingle); and the men disagree about politics.
Shakuntala (Biswas) has been performing religious duties for years, the priest acknowledges—and he asks her if she feels liberated, but Shakuntala says that she still has not forgotten worldly desires. The widows beg outside a temple; and Chuyia is given money by a little girl—and Chuyia buys a sweet and gives it to the old woman—Auntie (Vidula Javalgekar)—who said she hungers for, and dreams of, sweets; and Chuyia is pleased to see the old woman eat it (the old woman remembers her wedding, when she was a child, and had sweets). The sweet-savoring old woman feels she is going to die, and is brought outside. (Is the tasting of sweets a fulfillment of her last wish; or has its rarity disturbed her digestion, or both?) She is brought outside so that if she dies, her spirit can roam free. Chuyia is asked to get holy water, and on her way back from the river she sees Narayan, who writes a note for Kalyani. The old woman dies, and Kalyani gives her own funeral savings to pay for the lady's cremation. Chuyia leaves the compound and Shakuntala seeks and finds her, and Chuyia tells Shakuntala that she, a woman seeking salvation or transcendence, is always angry—which acts as a corrective; and the two sit together and Chuyia admits that she knows she is not going home to her parents.
Kalyani shares Narayan's note with Shakuntala, which Shakuntala reads to the illiterate Kalyani: Narayan wants a meeting—and the infatuated couple do meet: Kalyani carries a light, a little clay pot of fire, to Narayan, where he plays a flute near an old tree with many swirling branches by the river. (The scene seems one of both romance and spirituality.) Kalyani looks like a goddess carrying light. Kalyani and Narayan talk; and he shares remembered mythology, and she says that she does not remember her husband, her childhood marriage. (It is devastating to think of how many girls are made to marry young—and misfortune means that sometimes their husbands die before the girls attain the maturity of women and they are exiled as widows.) All the old traditions are dying out, Narayan says; but Kalyani says that those traditions that are good should not die. (It is a fascinating and recurring insight that those whom tradition is not serving are yet reverent: is it because they do not know anything else?) Narayan asks, Who should decide what is good?; and Kalyani answers, You.
The ashram head Madhu (Manorama), calculating, dominating, gives Kalyani a new garb, saying when you are happy the clients are happy—and Kalyani says, This is an ashram, not a brothel. Narayan takes Kalyani for a carriage ride around town; and Narayan tells Kalyani that he has applied for a job in a different town, Calcutta (Kolkata). He says that he does not want to go anywhere without her. Kalyani tells Chuyia. Narayan talks about Gandhi with his mother. Gandhi, introspective, fasting, protesting, questioned political rule in South Africa and India—but Gandhi also questioned religious assumptions and moral values. Narayan's mother says to talk about truth is easy but to live by it is not. She wants an arranged marriage for her son; but he says that he has found his own girl.
Chuyia tells the fat widow, Madhu, that Kalyani will get married, upsetting the old matriarch. They argue about the likelihood of a wedding. Madhu reprimands Kalyani for thinking she can remarry—and locks her in her room. When Kalyani says that if her purity is important, why send her across the river to clients for sex? It is nobody's business—not even God's—how we survive here, says Madhu, an astounding statement. If one widow wants to marry, all the widows will want to marry, someone says. The other widows are appalled at Kalyani's aspirations. However, the river priest tells Shakuntala that a law was passed that widows could remarry—but we ignore laws that do not benefit us. Shakuntala then takes Madhu's keys and frees Kalyani. Kalyani leaves, bathes, and waits for Narayan, near the old sacred tree. Narayan arrives, and asks her to marry him—a moment of love and unusual hope. (The ashram widows, who, wearing white, otherwise have given up color, celebrate Holi, the festival of color—dry colors are put on faces, thrown at each other, welcoming the coming of spring, with its many blooms and colors.)
Narayan (John Abraham) takes Kalyani (Lisa Ray) for a boat ride—and they talk; and he points out his house and she realizes that she has been there, with his father. Kalyani cannot marry Narayan. Narayan and his father talk; and his father suggests that Kalyani be his son's mistress, rather than wife. Narayan tells his father that he disgusts him. Meanwhile, Kalyani considers returning to the ashram—she sees Madhu, they speak briefly, but Kalyani realizes she cannot return. Kalyani understands herself, her world; and she drowns herself.
Narayan (Abraham) goes to the ashram, but it is too late. There is a funeral pyre near the river for Kalyani (Ray). Chuyia (Sarala Kariyawasam), Shakuntala (Seema Biswas), and Narayan sit near the pyre. Narayan talks about the economics of exiling widows—exile is cheaper than maintaining them in the family home, having to share the inheritance or income. Narayan plans to get on the train that is taking Gandhi through their region: Gandhi, and the movement he is a part of, represents the possibility of social and spiritual change.
Gandhi as Political Activist and Prophet
Mohandas Karamchand Gandhi (October 2, 1869 – January 30, 1948) became the leader of the Indian National Congress in 1921, and worked on behalf of the poor, and for women and minority rights, and an independent India. The British government's rule in India lasted from 1858 to 1947, and its centerpiece was economic exploitation, following the dominance of the British East India Company, which entered India in August 1608 and ruled from 1757 to 1858 (the company's policies were the equivalent of law); and the Indians were used for cheap labor for long hours in bad conditions, their natural resources extracted from the land, with various taxes levied. Social conflicts were made worse by the British presence. Mohandas Gandhi wanted an India in which the citizens determined their own political fate, an India that accepted all religions (Hindus, Buddhists, Jains, Muslims, Sikhs, Christians, Zoroastrians). Gandhi, who wanted Indians to be able to make their own salt, led a public march against the British salt tax, and asked the British to leave India in 1942, and was imprisoned at various times for his efforts. The great-souled (Mahatma) Gandhi's hunger strikes were demonstrations of sacrifice for religious tolerance and against religious violence. Gandhi's defense of Muslims outraged some Hindu and inspired his assassin. Richard Attenborough's long-planned and plainly long (three hours), respectful biographical film of Gandhi's life and work— Gandhi (1982)—was celebrated and discussed, returning attention to a revered figure.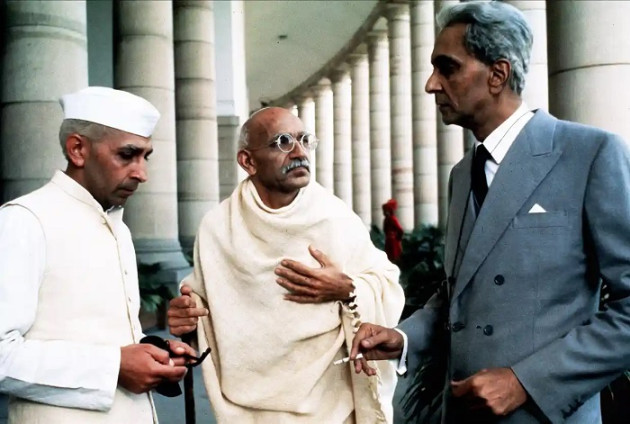 Sir Ben Kingsley as Gandhi, centre, with Roshan Seth as Pandit Jawaharlal Nehru and Alyque Padamsee as Mohammed Ali Jinnah
The Attenborough film shows as a young Gandhi who had studied in London and admired Britain in 1893 South Africa, until his sensibility is shaken when he is discriminated against as an Indian on a train, leading him to protest. He moves away from his own prejudices of class and color—with an enormous respect for the British—to achieve a more humane consciousness. (Gandhi does not seem to go so far as to fight on behalf of South African blacks. He might have spoken more against the Indian caste system, too.) Gandhi becomes involved in an Indian miners' strike before returning to India in 1915, where the British exploit and rule India as a colony; and there and then Gandhi organizes labor and social protests, which lessen some restrictions against Indians. Although peaceful, some protesters are killed, as in the 1919 Amritsar massacre. British clothes are burned—and Indians return to making their own. Gandhi is imprisoned for sedition. In Gandhi (1982), the actor Ben Kingsley played a Mohandas Gandhi who could be shrewd, sly, and sweet, with Roshan Seth as Jawaharlal Nehru, Saeed Jaffrey as Sardar Patel, and Alyque Padamsee as Mohammed Jinnah. Gandhi's wife Kasturba is played by Rohini Hattanqadi. The film was written by John Briley, its production designer was Stuart Craig, and it was photographed by Ronnie Taylor and Billy Williams, edited by John Bloom, and it has music by Ravi Shankar. "I suspect a lot of us know he was a great Indian leader without quite knowing why and such is our ignorance of Eastern history and culture we may not fully realize that his movement did indeed liberate India, in one of the greatest political and economic victories of all time, achieved through nonviolent principles," wrote critic Roger Ebert in the Chicago-Sun Times (January 1, 1982). Roger Ebert lauded the film for its intimacy and humor as well as its scale, for its conviction and moral assurance without denying the chastening reality of political conflict, and for Ben Kingsley's quiet yet persuasive performance and for its retinue of great British actors.
Some critics were more reserved in their responses. Writing for the New York Times, writer Vincent Canby, while acknowledging Gandhi's greatness and the talent of Ben Kingsley and the other Indian actors, found the film mostly affecting but sometimes perfunctory and silly, and said it is "a big, amazingly authentic-looking movie, very sincere and aware of its responsibilities in the panoramic manner of a giant post office mural. It has huge, rather emotionless scenes of spectacle that are the background for more or less obligatory historical confrontations in governors' palaces and, best of all, for intimate, small-scale vignettes from Gandhi's life" (December 8, 1982). Pauline Kael had qualms about the photography, the cropping of the imagery, and thought the film's interpretive treatment akin to that of a religious picture (The New Yorker, December 27, 1982). Canby and Kael both may be responding to the requirements—and sometimes impersonality—of an epic: a long narrative of an exceptional and excellent life; but what a film like this gives us are both biography and history, a portrait of a time and people(s), cultural observation, political analysis, a complete view of life. There were philosophical reservations to the film, too. "The difference between passive resistance against an essentially democratic foe and against a totalitarian enemy was not considered in the film and not really considered in Gandhi's philosophy," wrote Herbert London, arguing for self-defense, in the Washington Post (January 28, 1983).
Gandhi
Whatever one's doubts about the film, it is impossible for most of us not to be impressed by its ambition, its range of featured people, places, periods, and purpose, its marshalling of resources, and the rare story being shown: Gandhi, a small man, cast a large, bright shadow. Gandhi saw the beauty and bounty of India, its bustle, its bridle and bitter bargain with Britain—and he rebelled and shared that rebellion with other gifted and dedicated men and women, working against military threat and terror, determined to defeat arrogance and assumptions, to defeat industrial and financial exploitation, armed with little more than character, dignity, morality, and wit. Public knowledge of the brutalities with which the British responded to native protests changed the view of who was barbarian and who civilized. Of course, one should not learn all one's history or philosophy from film: one can begin, or continue, one's learning in schools and libraries.
Mohandas Karamchand Gandhi's sacrifices were challenging for his wife and children, especially for his eldest son; and Mohandas Gandhi was not perfect: instead, Gandhi was good (helpful and honest, moral, full of virtues)—and great (someone of both exceptional personal and public accomplishment, surpassing others). Gandhi was amusing, too (famously he was asked, "What do you think of western civilization?" He answered: "I think it would be a good idea"). "In Ben Kingsley, the young Anglo-Indian actor who plays the title role, the film also has a splendid performer who discovers the humor, the frankness, the quickness of mind that make the film far more moving than you might think possible," wrote Vincent Canby (New York Times, December 8, 1982). The American Academy of Motion Picture Arts and Sciences agree—Kingsley won the Oscar for Best Actor (and the film won Best Picture and its director Best Director, among other awards—including the British Academy Film Award for Best Film). Pauline Kael, in a review she thought enough of to reprint in her career retrospective For Keeps: 30 Years at the Movies (Dutton, 1994), had written, "Kingsley is impressive, the picture isn't. It's isn't a disgrace—it just isn't much of anything" (page 967); as Kael recognized the film's great subject but lamented its reverence, lack of dramatic force, and inexpressive imagery. Who was right, its celebrators or detractors? I cannot, here, agree with Kael—who I think did not forget the basic theatricality of film, its fakery, and found it hard to accept piety, which is not an ordinary attitude, and she looked for genuine moments of personality (of charm or wit or even truth) that defied artifice, circumstance, or expectations. However, some people, some things, are profound.
Peter Harlowe played Lord Louis Mountbatten (June 25, 1900 – died Aug. 27, 1979), the last viceroy of India, a governor in the British monarch's name, and the man who would negotiate independence for India, including the partition of Pakistan, in Richard Attenborough's film Gandhi (1982), but in Gurinder Chadha's Viceroy's House (2017) Mountbatten is portrayed by Hugh Bonneville. Lord Mountbatten, a cousin to the British king and a relation to diverse European royalty, was the child of Prince Louis of Battenberg and Princess Victoria of Hesse-Darnstadt; and he, exemplary in French and German, became a member and commander of the Royal Navy, an aircraft commander, commander in chief of the British Mediterranean fleet, then admiral, and chief of the United Kingdom Defense Staff, and governor and Lord Lieutenant of the Isle of Wight before he was assassinated by an Irish Republican Army man. His wife was the well-educated and aristocratic Edwina Cynthia Annette Ashley (November 28, 1901 – February 21, 1960), or Countess Mountbatten of Burma; and she was known for her adventurous spirit and charm, curiosity, intelligence, wit, and looks (Gloria Vanderbilt introduced Edwina to Louis). Edwina would be a bridge between the British and the Indians in India, through the mothers, wives and daughters of Indian men. However, there were rumors of the sexual eccentricity—impropriety—of both Louis and Edwina (rumors of heterosexual affairs and homosexuality on each side); but, of course, none of that is in Gandhi or Viceroy's House.
The director of Viceroy's House, and Bhaji on the Beach (1993), Bend it Like Beckham (2002) and, among other films, Blinded by the Light (2019), Gurinder Chadha is a British filmmaker, born in Kenya, of Indian parents, someone whose grandmother, a Sikh, was a survivor of the partition of India and Pakistan—in which 15 million people were forced to migrate—but Chadha's grandmother lost her baby daughter to starvation along the trek (one to two million people are thought to have died). Of the catastrophic partition, Gurinder Chadha told Kavita Dasani of the Los Angeles Times (August 25, 2017): "I've been dying to make a film around it for as long as I can remember," she said during an interview in Hollywood recently. "But I never had the courage because it was so personal. Also, who wants to talk about the Partition? Nobody!" In Gurinder Chadha's Viceroy's House, written by Chadha with Moira Buffini and Paul Mayeda Berges, and photographed by Ben Smithard, actor Hugh Bonneville, who seems cast for his charm, is Lord Mountbatten and Gillian Anderson is his wife Edwina. (The viceroy's house, designed by Edwin Landseer Lutyens, with construction beginning in 1912 and completed in 1929, has more than 300 rooms; and it is now the presidential palace.) Neeraj Kabi is an old, sad (and sweet), generously wise Gandhi, Tanver Ghani is Jawaharlal Nehru, full of energy and wit, and Denzil Smith is an intense, persistent Mohammed Jinnah; and the film focuses on accomplishing the independence of India and the probable partition of Pakistan—a liberation that may be, as well, a tragedy.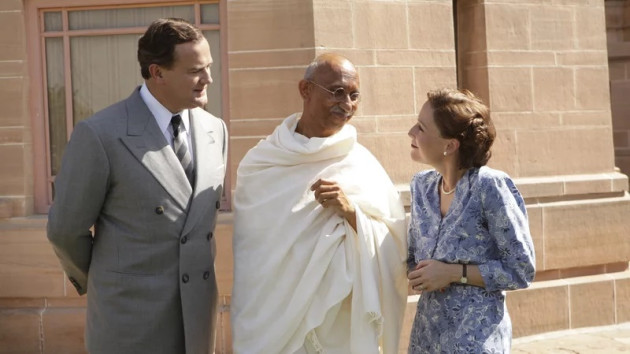 Viceroy's House
Lord Mountbatten tries to maintain the geographical integrity of India, as does Gandhi—but each finds it hard to surmount the cynicism of the British and some Indians. Various maps are offered and disputed—and Lord Mountbatten learns of one approved by Winston Churchill years before (the Churchill map—which will become known to the public as the Mountbatten plan—was designed to protect British business and industrial interests, such as oil, and to use Pakistan as a bulwark between the west and Soviet aggression. ("Maintaining oil stakes in the Middle East and securing air routes would become a major task for Britain once India was lost to it. Britain desperately needed a foothold in the Indian subcontinent where it could legitimize its presence as an ally of the newly created state of Pakistan. Leaders of the movement for Pakistan also appreciated the expediency of a British presence in the state. What could a militarily weak Pakistan do but allow British presence on its soil for a substantial period of time?," wrote Raghvendra Singh in India's Lost Frontier, excerpted August 9, 2019 in Quartz, an online international business news site.)
Viceroy's House is attractive and entertaining, but does seem a bit light: the production designer was Laurence Dorman, and editors Valerio Bonelli and Victoria Boydell, with music by A.R. Rahman. The film is not a documentary, but a drama, and some of its most effective scenes take place outside the executive mansion among the supporting players. There is an unexpected love story, too, between the Hindu man Jeet Kumar (Manish Dayal), a policeman become valet, and Muslim woman Aalia Noor (Huma Qureshi), an educated and elegant secretary, two old family friends. The South-Carolina born son of Gujarati parents, actor Manish Dayal, with an international business degree from George Washington University, appeared in The Hundred-Foot Journey (2014) with Helen Mirren, and in I'm Obsessed with You But You've Got to Leave Me Alone (2014), Rise (2022), and as a doctor on television in The Resident (2018 – 2023); and Huma Qureishi, who was born in Delhi to a Muslim family, owners of restaurants, graduated with honors in history from the University of Delhi, and was featured in Anurag's Kashyap's films Gangs of Wasseypur Part 1 and Part 2 (2012), and, also among other films, Luv Shuv Tey Chicken Khurana (2012), Ek Thi Daayan (or, Once There Was a Witch, 2013), Dayal and Qureishi form one of the most appealing screen couples ever. Their scenes are often photographed with a mobile camera, and as they, too, move about, their emotions seem full of transitions, encompassing affection, amusement, doubt, fear, worry, and sympathy.
"This subplot should be the heart and soul of the movie, but the love triangle isn't nearly as engaging as the political maneuvering. To its credit, the movie accomplishes a difficult task—making sense of a complicated period in history. Strapped for cash after the war, the British were desperate to extricate themselves from their colonial obligations without letting their reputation suffer. At the same time, violence between Muslims and Hindus was exploding across India," wrote reviewer Stephanie Merry in the Washington Post (September 7, 2017). Yet, the relations of Hindu and Muslim have a poignance in that they go up and down the whole society. Sometimes people who have worked or lived together for many years find that the person next to him has alliances or angers of which he has known nothing. Conflicts of consciousness and culture inspire violence.
How much knowledge do we bring to a subject? And does our knowledge—or ignorance—affect how we interpret it? Such questions matter in daily life—and in our regard to art. "Viceroy's House promises a lavish banquet of spicy dramatic material, but somehow ends up lukewarm and flavorless. Every character feels like a brittle caricature defined solely by their position in a simplistic schema that pits Brits against Indians, Hindus against Muslims, rulers against ruled," complained Stephen Dalton, complementing the motion picture's look but regretting its simplifications, in the Hollywood Reporter (Feb. 12, 2017).
Despite those reservations, I find Viceroy's House a lively and lovely film, one to be savored for its beauty, drama, and glimpse of history. Lord Mountbatten and his wife Edwina, arrive with their daughter Pamela in India, and the wondrous palace, from which he is to manage the transfer of governance from British officials to Indian leaders, such as Nehru, and civil servants. Simultaneous we see Indians—Hindu, Muslim, Sikh—trying to ascertain where they will fit into an independent India. Many in the Muslim minority do not want to be a part of India, fearing Hindu dominance and second-class citizenship. Hindu religion was born in India (or what is called the Indian subcontinent: India, Nepal, Bangladesh, Pakistan, Bhutan, Sri Lanka, and the Maldives), and Hinduism—Sanātana Dharma—recognizes many gods, who are depicted in paintings and sculpture, and its early believers wrote Sanskrit; whereas Islam was born in the Arabian Peninsula (Mecca), and influenced by Persians and Turks, and has only one god, whose presence has no physical form, and its text were in Arab. (The Hindus believe in reincarnation on the earth; and Muslims in physical death with a spiritual afterlife in heaven.) Despite shared customs of time and place, the genuine differences between the two groups were accentuated by native princes and then the ruling British. Could the two be reconciled in one nation? Or is the goal of political power prohibitive of shared civic culture?
There are four-hundred million Indians whose fate will be determined by the negotiations Lord Mountbatten will moderate, as depicted in Viceroy's House. Tensions have been increasing, sometimes erupting in violent riots of one religious community against another. The Mountbattens meet the Indian leaders, beginning with Nehru, who seems nearly cruel in his charm (full of clever, pointed remarks). Nehru, who says he spent nine years in British years, cites the division exacerbated by British rule, such as separate schools and textbooks for Hindu and Muslim. Edwina Mountbatten initiates meeting with the wives of the leaders—and she meets members of the household staff, such as the chef and cooks, who are usually hidden from view. As the Mountbattens become acclimated to the Viceroy's House, Jeet Kumar and Aalia Noor, old acquaintances, meet again—he a valet, she a secretary, in the palace: he, as a policeman, was kind to her father, bringing him food and medicine, and treating him with respect, after he was jailed for his political activities—and Jeet gave up being a policeman as he did not like seeing so many Indian leaders in jail. Jeet makes no secret of his love for Aalia, telling her he has tried to forget her for two years but cannot; and she rejects the possibility of their being together (she has been promised by her mother, now deceased, to another man, and her father expects the marriage). Jeet, at a social gathering of the local community, asks Aalia to dance, a controversial gesture that nearly begins a fight (an allusion to Romeo and Juliet —the eloquent and witty Shakespeare drama of warring families whose enmity causes the sacrifice of their loving children may have been best adapted in Renato Castellani's 1954 British-Italian motion picture Romeo and Juliet, awarded the Golden Lion at the 1954 Venice film festival, a film starring Laurence Harvey as Romeo and Susan Shentall as Juliet, with authentic settings and Leonor Fini costuming they give the effect of paintings come to life). Aalia's fiancé returns, unannounced; and he works for Jinnah, whom Aalia's father (Om Puri) calls a troublemaker. Yet, Gandhi suggests that Jinnah be asked to lead the first government in India, as a way of keeping the country together. All religions are here, says Gandhi, and division leads to havoc. Jinnah refuses this—and tensions increase around the country, and killing and rumors of killing abound (there are riots in Bombay and Delhi). One guard and palace worker attack a British foreman. Using a map Churchill approved, Mountbatten accepts the partition and Jinnah gets the Muslim country he wanted: Pakistan (Faith, Unity, Discipline, the motto). India remains, smaller but still large (Truth alone triumphs, its motto). "A plague on both your houses," cursed Mercutio as he lay dying, a victim of a feud, in Shakespeare's Romeo and Juliet (Act III, Scene 1); and, during partition, as millions moved to the nation they hoped to make a home, there are riots and indiscriminate violence—and lasting distrust between India and Pakistan.
Water as Accomplishment and Legacy
Midnight's Children, the imaginative interpretation of India's modern birth and the partition of Pakistan, through the eyes of a boy, Saleem Sinai, born with the new country, in the acclaimed novel by Salman Rushdie, thus far has stood the test of time. The filmmaker Deepa Mehta, the director of Water, brought Salman Rushdie's massive novel Midnight's Children to the screen in 2012, an impressively demanding project, and while some consider the film, which features the lives of two children—one born to the wealthy, one to the poor—switched at birth in a Bombay hospital, as beautiful but disorganized work and too long, it was nominated for Canadian Screen Awards. Deepa Mehta, the daughter of a film distributor and exhibitor, was born in Amritsar two years after Pakistan's partition, lived in New Delhi and Dehradun when young, and graduated from the University of Delhi with a degree in philosophy, first enjoying popular Indian cinema before discovering the work of Satyajit Ray, Ritwik Ghatak, Truffaut, Godard, Ozu, and Mizoguchi. Mehta wanted to become a filmmaker; and she worked for a company that made documentaries, then, while making her own documentary, she met and married Paul Saltzman, a Canadian documentarian, with whom she and her brother Dilip started a documentary production company, Sunrise Films, in Canada. (The marriage did not last long.) Other than Water, Deepa Mehta's other theatrical creations include: "California Aunts," about aunts who move in with a librarian, following her mother's death, in the anthology film Martha, Ruth, and Edie (1988), the other two segments made by filmmakers Norma Bailey and Danielle Suissa; Sam and Me (1991), Mehta's first full-length feature, about a young Indian man's becoming caretaker to an elderly Jew with whom he develops a friendship, a remarkable success in Canada; Camilla (1994), a car travel movie with an enchanting Jessica Tandy as concert violinist Camilla and Bridget Fonda as her driver Freda, going from Savannah, Georgia, to a concert of Brahms music in Toronto.
The Indo-Canadian production Fire (1996), inspired by a 1940s Urdu short story by Ismat Chughtai, is notable for being a rare depiction of love between Indian women, two neglected wives of men, sisters-in-law; Earth (1998), another Indo-Canadian work, this one about the India/Pakistan partition and the conflicts among Sikhs, Muslims, and Hindu, told through a girl's memories (the film's plot rhymed with news about intercultural battles in Bosnia and Rwanda); Bollywood/Hollywood (2002), a Canadian comedy with both romance and drama, featuring Lisa Ray, who appeared in Water as Kalyani, here as Sunita Singh with Rahul Khanna as Rahul Seth, two Toronto residents whose business relation becomes personal; The Republic of Love (2003), inspired by a Carol Shields novel, is about the expectations of love faced with its realities, starring Bruce Greenwood and Emilia Fox, and featuring Gary Farmer and Claire Bloom; and after 2005's Water, Heaven on Earth (2008), about an abusive arranged marriage between a Punjabi Indian woman and Indo-Canadian man; and, more recently, the gangster picture Beeba Boys (2015), inspired by a Canadian Sikh gang; Anatomy of Violence (2016), a drama inspired by the notorious 2012 Delhi gang rape of a woman on a bus; and Funny Boy (2020), a youthful cross-cultural gay love story. Deepa Mehta has continued to make documentaries as well as to work in television. (Her current partner is film producer David Hamilton.) Some of her work has inspired adulation, while the reception to other things has been more mixed—but I think Water is one of the best things I have seen.
Water allows us to see something of India by looking at the margins of society. We do not see the whole, but we do see significant contradictions—the kinds of contradictions that haunt every society. (Kai Schultz did a report on the vulnerable social conditions of widows in India in 2019 for the New York Times and what has been changing for them, as in 2012 the Indian Supreme Court mandated government make provisions of food, housing, and medical care for them; and Schultz profiled an $8 million home, Krishna's House, built to house some of the women in Vrindavan, India.) The conditions Water presents have not been obliterated yet—many widows still suffer poverty and physical and mental abuse. "The film is lovely in the way Satyajit Ray's films are lovely. It sees poverty and deprivation as a condition of life, not an exception to it, and finds beauty in the souls of its characters. Their misfortune does not make them unattractive. In many Indian films it is not startling to be poor, or to be in the thrall of 2,000-year-old customs; such matters are taken for granted, and the story goes on from there," wrote critic Roger Ebert in the Chicago Sun-Times (May 4, 2006). Such films enlarge our vision—and our capacity for human consideration and feeling—and conscience need not deny beauty. "Mustering a whole spectrum of luminous blues and greens, Ms. Mehta and her cinematographer, Giles Nuttgens, paint a vibrant world of lambent light and indigo shade. The lushness and texture of the ashram's surroundings are in stark contrast to the widows' unflattering white robes, which hang from their bodies like dirty bandages; but here even images of deprivation gleam like gold. Never has the Ganges (played here by a river in Sri Lanka) looked so inviting," wrote Jeannette Catsoulis in the April 28, 2006 New York Times, going on to say, "Shifting between romantic melodrama and spiritual inquiry, Water flows with the simplicity of a fairy tale." It may be that rare thing—an easily and immediately recognizable masterpiece. Variety's reviewer Eddie Cockrell called Water "profoundly moving" (September 8, 2005). It is.