Impressions Nitrate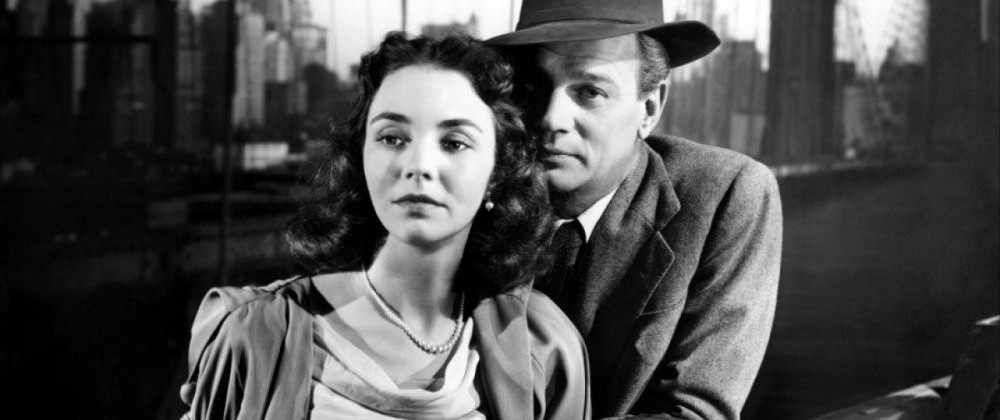 I was introduced to nitrate film while studying at New York University. I was assisting the late, great film historian/collector, William K. Everson, and he knew whenever they were screening nitrate prints at MoMA. This was certainly not common knowledge, and such information was never published. In any event, I got to see two D.W. Griffith nitrate prints Intolerance, and Broken Blossoms, and the Powell and Pressburger classic, The Life and Death of Colonel Blimp. It was great to see a beautiful yellow ochre/sepia version of Broken Blossoms, and very subtle tinting and toning of Intolerance, and, of course it was a real privilege to watch a British Technicolor print from the 1940s. So, my initial experience of nitrate was the opportunity to see great color on screen. But, I really didn't appreciate the process fully until 2012, when Graham Petrie the programmer of films for the Toronto Film Society August Bank Holiday weekend at GEH, managed to persuade the archive to let him show 2 nitrate prints: again, some great color; a lovely pastel shaded three-strip Technicolor nitrate print of William Wellman's Nothing Sacred, and Carol Reed's The Fallen Idol (both of which got shown again at the first "Nitrate Picture Show"). It was the second of these that was the revelation for me. Finally I got to see a beautiful black and white nitrate print, and learned for the first time where the term, "silver screen" came from. I had seen the film before, so, I didn't need to concentrate on the plot; and, I became absolutely fixated on looking at lights, and the reflections of light: on glass, and shiny metal and wooden surfaces, even bannisters of staircases. I realized that one's appreciation of nitrate was dependent mostly on the skill of the cinematographer —in this case the wonderful French master, Georges Périnal.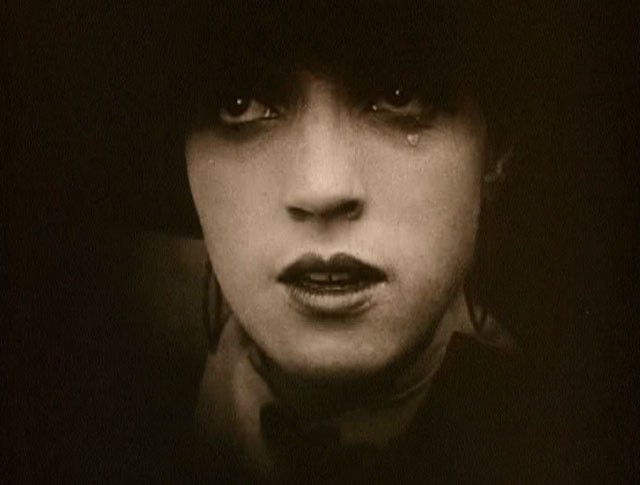 Intolerance
It was great to be among so many cinephiles for the "nitrate picture show," including professional archivists, technicians, film scholars, students and just plain "film lovers." Indeed it was great to hear applause at the end of many of the screenings, for the quality of the prints and for the projectionists. There were two huge highlights for me: Casablanca and Portrait of Jennie, the second of which I had never seen before. We all regard Casablanca as being a great "movie," the Hollywood "happy accident" where everythingdirection, script, ensemble actingseemed to come together and "work." Personally, I think that Michael Curtiz tends to be an under-appreciated director. But, I've never really thought that Casablanca was a particularly great "looking" film; until now, that is. I had seen it on screen in New York City, when I lived there in the late 1970s, early 1980s, and I've seen it many times on television, but, I can't believe that it has ever looked better than on May 1st, 2015, starting at 8pm in the Dryden Theatre. I hadn't ever noticed that Sam (Dooley Wilson), the piano man was wearing a velvet or silk jacket before. But seeing it and other clothes and jewelrythe sequin studded dresses of two "oriental" women at a table in Rick's American Caféshining in Arthur Edeson's lights; the tear developing in Ingrid Bergman's eyes; the rain falling into puddles on the street, at night, seen under the lamplight. Wow!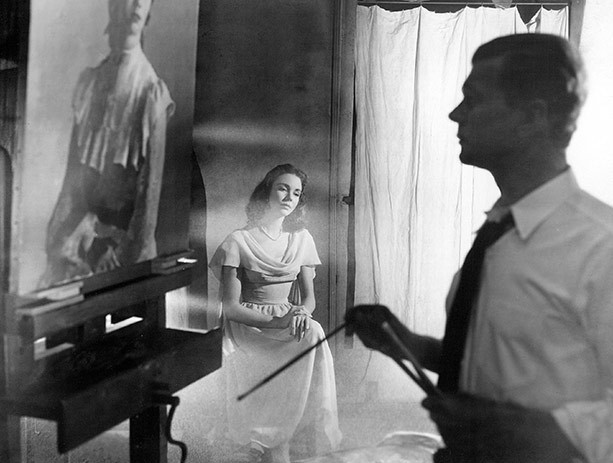 Portrait of Jennie
The other screening, of a film directed by William Dieterle (another under rated Hollywood director, in exile from Europe), Portrait of Jennie, was even more spectacular. We were informed in the program notes that "A rare occurrence in the sound era, this release print utilizes tinting, toning, and a single shot of three-strip Technicolor to round out its narrative." But, we weren't prepared exactly for what happens in the changeover to the last reel. It begins with a flash of lighting accompanied by a gradual opening of the proscenium curtains. The screen gets bigger and bigger until, we are watching a green-tinted and toned storm at sea. The projectionists must have had instructions to either put a wider-angled lens on the projector for the last reel or zoom-in the lens they had. They must have also put a 1.85:1 plate on, and done a lot of rehearsal. It is hard to believe that in 1948, they were able to take on such tasks… We clapped, and clapped. When I had realized in advance that Joseph August was the cinematographer, I was really looking forward to the screening. I wrote about his working with John Ford for my PhD thesis, and, I've always considered him to be the greatest "day for night" cinematographer, who can make the sun really look like the moon. The misty, dusky, snow-bound scenes shot in New York's Central Park have to be seen (on nitrate) to be believed and as the notes recognize, "Clarence Slifer for his splendid special effects, and Paul Eagler for his process and miniature photography which emerges in the impressive storm sequence at the end, for which a wide screen and added sound equipment were employed at the Hollywood preview," have to be applauded. As a footnote: David Bordwell told me after the screening that Joe August had died during the filming of Portrait of Jennie and that his role was filled by Stanley Cortez, the cinematographer for Orson Welles' The Magnificent Ambersons. It makes sense. I've long thought that the subtle beauty of Ambersons makes it a strong candidate for the "most beautiful" of Hollywood films. We now have another: Portrait of Jennie.
This article was originally published as a French translation on our sister magazine Hors Champ on August 13, 2015. Please visit to see a larger selection of frame grabs from the films discussed: http://www.horschamp.qc.ca/spip.php?article589