The 24th International Hong Kong Film Festival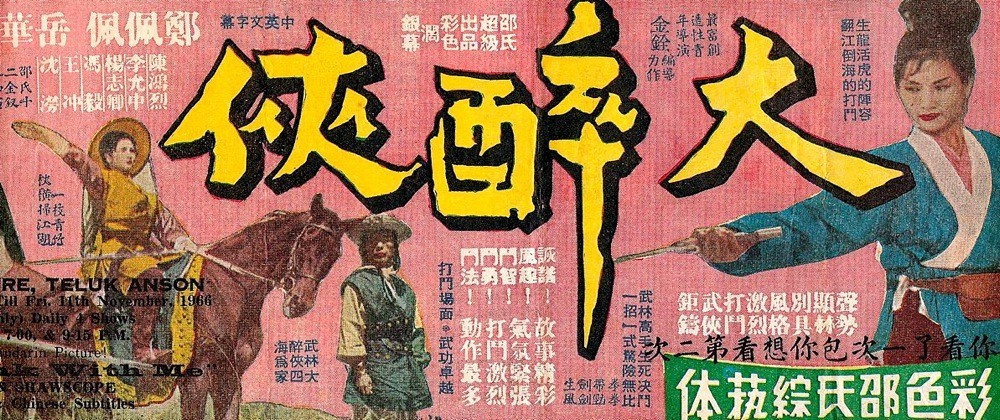 I was fortunate enough to visit the 24th edition of the HKIFF this April. It was my third such visit in four years. I missed last year when major retrospectives of the Hong Kong "New Wave" and the work of Johnnie To were mounted, but I was able to attend the 1998 tributes to the great Chinese writer Eileen Chang and wu xia pian master, King Hu. (I covered the 1997, 21st HKIFF earlier for Screen Machine, and Offscreen.)1(21st HKIFF Report) The King Hu screenings provided proof that this pioneer and innovator has been grossly overlooked, even in Hong Kong where he began his career in film. I must applaud the festival for producing a wonderful book commemorating the retrospective, Transcending the Times: King Hu & Eileen Chang, edited by Law Kar and featuring articles on Hu by Stephen Teo, David Bordwell, Ng Ho, Cheuk Pak Tong and Ma Guoguang and many memorial tributes to the late-director from his friends, colleagues and pupils including producer Raymond Chow, martial arts director, Han Ying, actress Zheng (aka Cheng) Peipei, and director Ann Hui.2 Finally, we have a substantial body of writing in English on King Hu's work to complement the seminal articles written by Tony Rayns.3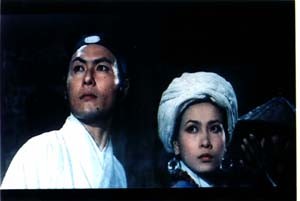 The Valiant Ones
As for the screenings, which were usually well-attended, one can say that they provided a fine representation of his films except for the two prints supplied by Shaw Brothers, who should be ashamed of themselves for not caring enough for their own films: The Love Eterne (1963, directed by Li Hanxiang, for which Hu was billed as "associate director") was quite faded, whereas, Come Drink With Me (1966), starring Zheng Peipei, which is arguably the most significant martial arts film ever made, was shown in a deplorable purple print, the only redeeming feature being its scope aspect ratio. For my part, I now consider King Hu to be one of the very greatest filmmakers from anywhere in the world, whose contributions to film aesthetics-converting the sound, colour, rhythm and movement of Traditional Chinese Opera into Cinema via astute design and co-ordination of mise-en-scene (on location and in the studio), camera setup/movement and editing-place him in the vanguard of cinema stylists. He should be considered alongside figures such as Miklos Jançso, Glauber Rocha, Robert Bresson, Santiago Alvarez, Andrei Tarkovsky and Jean-Luc Godard whose artistry has less to do with narrative and more with other aspects of film form or style. Unfortunately, experimental' or 'avant-garde' filmmaking has few admirers or practitioners in Asia, so that the dance and musical-like nature of Hu's work which is more painterly and poetic than novelistic or dramatic has mostly slipped by Chinese film criticism. (As an expatriate filmmaker who worked in the commercial film industries of Taiwan and Hong Kong, he remains virtually ignored in Mainland China.) Until the posthumous HKIFF series in 1998, he may have even been better known in Japan than in the Chinese speaking world: a number of his films were released on laserdisc there in 1988, and the only complete monograph on Hu was written and published there.4
During my most recent visit to Hong Kong, I was saddened to note that only the atypical, Hong Kong-made Painted Skin (1992) and the co-directed Swordsman (1990, in which only a few of Hu's shots remain) are the only examples of his work still available on video, whereas almost all of Akira Kurosawa's films can be found on DVD as well as VCD in China's Special Administrative Region. No doubt, almost all Hong Kongers who follow cinema closely admire Hu's Japanese contemporary much more than him, which is a shame, because in the worldwide scope of a history of film style, Hu's contributions may eventually prove to be even more significant than Kurosawa's (if film historians ever get a chance to see the former's work). I am hoping that Ang Lee's new 'serious' wu xia pian, which seems to have wowed everyone at Cannes, Crouching Tiger Hidden Dragon, will become so successful that co-star Zheng Peipei will encourage people to seek out King Hu's brilliant precursors. (For a brief biofilmography, see sidebar at end of article.)
I intend to write a lengthier appraisal of Hu's artistry in the future, but, for now, it would be good to get back to present-day Hong Kong. I wrote before about the incredible dynamism of the metropolis, where change seems to be the only constant; well, this time, I really did feel as if I was arriving in a new millenium. If ever I needed a reminder that Montreal and Canada may be lagging behind the times, my first hour or so in HK gave me it: the beautiful new airport, so spacious and air-conditioned all under (heaven?) one roof, with friendly courteous officials helping everyone onto the express train (also air-conditioned), computer monitors in every seat, more courteous helpers when I embark in Kowloon, leading me to the free buses, which would take me to my hotel, if I had one…. , not to mention that west Kowloon is now virtually unrecognizable (from only two years previous) with all the construction going on… My first thought?; a question: why on earth didn't they build a high speed train from Mirabel airport to downtown Montreal (and Ottawa)?; followed by the realisation that the opportunity has surely been lost and that we really are stuck with 'white elephants' that should never have been. Oh well…
The 24th HKIFF. It was delightful this time around to meet up with so many old acquaintances and meet so many new ones: I met people whom I knew previously only on-line by names such as "huckle" and "missfat" through the e-mail Chinese Cinema Digest talk group, and others whom I'd heard about such as Stephen Cremin and Ryan Law who freely disseminate valuable information on Asian cinema, and I finally met Stephen Teo, the writer of the first great book on HK cinema, who was so humble, friendly and supportive.5 It was exhilarating to be around so many people who 'love' film, in general, and HK cinema in particular. Of course, the fact that the festival put on a series of parties at the HK Arts Centre, celebrating "Independent" filmmaking helped the cause of socialising, and this year there were a number of parallel conferences and symposiums: The Hong Kong Asia Film Financing Forum at Harbour Plaza (April 13-17), The Second International Conference on Chinese Cinema at Hong Kong Baptist University (April 19-21) and a variety of (seven) seminars and forums planned to connect with the festival's different film series.
In addition there was a FIPRESCI jury in residence this year mandated to award a prize to an "upcoming Asian" filmmaker, and, along with the formation of a new umbrella organisation, the Leisure and Cultural Services Department (LCSD) overseeing all of the events, festival guests got tickets to the 19th Hong Kong Film Awards on Sunday, April 16th. Needless to say all of us gweilos, were there soaking up the atmosphere, and, quite a show it was, with Andy Lau finally getting a prize, as Best Actor in Johnnie To's An Zhan (Running Out of Time) much to the delight of his screaming fans. For me the highlights of the show were hearing and seeing Faye Wong sing, live, and witnessing a veteran of Shaw Bros. martial arts movies, Ti Lung, accept his Best Supporting Actor prize for his cop's role in The Kid. Oddly, he was one of the very few people to speak any English during the ceremonies. Perhaps he felt he owed something to his overseas fans of the past. In any event, it was great to see all the HK film personnel, stars and filmmakers alike, have so much fun, especially in their seeming delight in 'playing' their own language, Cantonese. At the end of it all, many of us managed to get into the hotel banquet where some "fanboys" and "fangirls" as we are all called (not necessarily in a derogatory way) tried to get some autographs.6 Clearly, the Dean of "fanboys" is David Bordwell, who, allegedly got every single winner to sign his programme. No slouch on the academic front, Professor Bordwell was introduced at the International Conference as the "world's greatest film scholar" (a deserved accolade) after which he delivered an absolutely scintillating and controversial paper on "intensified continuity" in contemporary HK and Hollywood cinemas and the universality of a "trapezoidal" long take style under the heading "Transcultural Spaces: Chinese Cinema as World Film." Very shortly after the festival, Bordwell's latest book was published, Planet Hong Kong: Popular Cinema and the Art of Entertainment.7 Already it looks to be worthy of the tag: '2nd great book on HK cinema.'(Bordwell's Website on Cinema)
As for the films, I would have to say that, relative to previous years, they were somewhat disappointing. I travel to the festival to watch Asian films, and as usual there were three main sections devoted to the continent, the self-explanatory "HK Panorama 99-00," a retrospective, entitled "Border Crossings in Hong Kong Cinema," and an Asian panorama, which this time was divided in two, "Asian Visions," and "The Age of Independents: New Asian Films and Videos."8 Additionally there was a section of Iranian films made for and about children, "Children of Paradise," and an extra HK retrospective, "Three Great Characters: Anthony Wong, Lau Ching Wan, Francis Ng." With more distractions this year, I saw fewer films: some 31 features and 13 shorts in 12 days. I arrived a bit late for the HK Panorama, but I was able to catch both of Johnnie To's films on view, Running Out of Time and Qiang Huo (The Mission). I had deliberately avoided opportunities to see these films on video prior to my visit because I wanted to watch them for the first time on the 'big screen,' and I was not disappointed.
In fact, To seems now to be more of a complete filmmaker than ever. Whereas his work of the previous two years as producer (Intruder, Expect the Unexpected and The Longest Night) and director (A Hero Never Dies and Lifeline) had demonstrated a tremendous flair for Film Noir stylistics, his two latest films add to the impression that he is the finest contemporary action genre filmmaker working anywhere in the world right now. John Woo would probably be most people's choice for this accolade, but, if Mission Impossible 2 is any indication, he seems to be running out of ideas. Johnnie To, like his HK counterpart, has been greatly influenced by other filmmakers. In an interview published in the accompanying series catalogue, he recognizes Kurosawa to such an extent that he couldn't have made The Mission without Seven Samurai's "movement within stillness."9 But in one of The Mission's amazing action set pieces, the shoot-out in Tseun Wan Plaza, this principle is stretched to an amazing degree. Anthony Wong plays the new leader of a group of young bodyguards (including Francis Ng and Roy Cheung) to a gang boss, who are ambushed in an empty shopping mall. As the bodyguards stand facing in different directions, outstretched arms pointing handguns à la Woo, the camera tracks laterally, replicating their staring gazes, as we, audience members, also struggle to pick out the assailants. The wide cinemascope frame, revealing many potential hiding places, enhances this struggle, and whereas we are privileged in discovering one rival gangster behind a pillar, it is still a shock when the reflection in a lone cleaner's cart alerts the bodyguards and triggers the gunfight. Kurosawa may be the 'master' of "stillness," but To has found a way to brilliantly dynamize its tensions through choreographing camera movement and Eisenstein-like, graphically conflicting compositional elements. When violence erupts in The Mission, it is as if To had read Bordwell's new book and decided to try a tour-de-force version of "pause-burst pause," a quality of exposition which the writer finds to be characteristic of HK action cinema.10
"Beat" Takeshi Kitano seems to be another point of reference for To, especially where the bodyguards 'play' while they wait for something to happen. They literally have nothing to do for long stretches in the film, and the director takes a chance on accentuating their silly waiting games. At one point, the young guys kick a paper ball around, creating some "action" where there is none. Indeed, it is in the stretching of genre conventions and situations that The Mission succeeds most decisively. In the same interview, Johnnie To says that The Mission is his "own creative calculation, while Running Out of Time is my commercial calculation."11 Here he is mainly talking about the casting of heartthrob Andy Lau in the lead. Yet despite this second film's commercial appeal, it retains an experimental edge. Andy Lau's character apparently only has four days to live with cancer, and risks his life incessantly in (often criminal) escapades over the four day duration of Running Out of Time. Lau Ching Wan plays a cool cop, unflustered by any challenge as the other of two 'heroes.' Thus an implausible yet 'classic' HK and John Woo-ish situation forms the basis for To's playing with genres. Clear allusions to earlier HK films (including Wong Kar Wai's), as well as situations from Brian de Palma's Mission Impossible and percussive style elements from US TV's "Homicide: Life on the Street" abound, and yet Running is ultimately an original work in its jazz-like, musical riff structure, complete with rapid montage, electronic, 'zippy' sounds and step-motion movements. Like The Mission, it is filled with amazing action sequences and great dialogue (a quality that sets To's work above Woo's, I feel).
Alongside Johnnie To who, arguably, peaked as a director in 1999, the rest of the HK Panorama demonstrated surprising diversity and strength for an industry under commercial siege and pressure from Hollywood.12 I had been able to view Sylvia Chang's reflexive Xin Dong (Tempting Heart) at an earlier festival, in Montreal last October, finding it to be, potentially, her strongest directorial effort to date. Chang herself plays the part of a film director who struggles with her screenwriter to do justice to the dramatisation of her own life and loves. The complicated structure of Tempting Heart, where flashbacks are intermingled with imaginary episodes-the film-within-a-film version, featuring Gigi Leung as the central character-and present-day scenes of pre-production, constitute the strength of the film to some observers and its weakness to others. As with Chang's previous authorial work, we are inevitably led to question the degree to which some plot elements might be autobiographical.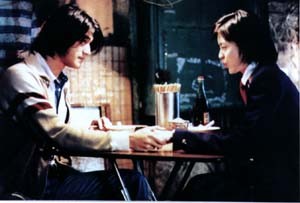 Tempting Heart
Baolie Xingjing (Bullets Over Summer), directed and co-written by Wilson Yip was a pleasant surprise, moving from witty and suspenseful scenes of stakeout to those of gangster genre action. Frances Ng plays a terminally ill gangster turned-cop who is able to stay in an apartment occupied by a comically senile woman played by Law Lan, because she believes him to be her "grandson." Moreover, his partner is amnesiac (Louis Koo). If anything, Lan was an even more popular winner of her HK Film Award (for Best Actress in Bullets Over Summer) than Andy Lau, showing that HK film people love their veteran performers. Audiences seem to be split on the relative merits of two 'high tech' espionage, action films on view, both of which were successful at the HK box office, Teijing Xin Renlei (Gen-X Cops, dir., Benny Chan) and Zi Yu Fengbao (Purple Storm, dir., Teddy Chen). Although, I admit that the latter film was much 'better made,' more consistent in tone and slick in style, I much preferred the former, despite its technical flaws and gaps and its often juvenile dialogue and 'young and dangerous' acting (e.g., Nicholas Tse and Daniel Wu). Both films are determinedly dynamic, but, the silly humour and slapstick action of Gen-X Cops provides a local grounding and something of a redemption. On the other hand, for me, Purple Storm is representative only of HK's move to imitate Hollywood, and there is virtually nothing in it reflective of the region's distinctive film culture. Also, my sense of déja vu at the film's opening came from its near-complete steal of the Korean blockbuster, Swiri (1999, dir., Kang Jegyu), replacing North Korean (communist) terrorists with the Khmer Rouge.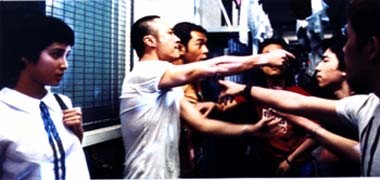 Bullets Over Summer
I arrived too late to catch most of the other Panorama entries, but on a subsequent flight from Montreal to Beijing I was able to glimpse Fruit Chan's Xilu Xiang (Little Cheung). This film has a less elevated critical reputation than his earlier Made in Hong Kong and The Longest Summer-the programme book describes it as "By turns brilliant and incoherent, sentimental and vulgar…"13-and yet, stylistically at least, it seems more controlled and ambitious than his first two films. Of course, watching Little Cheung panned & scanned and edited for content on a daytime flight with light obscuring the video image from both sides is not the ideal situation, but, I was struck by how Chan seemed to be striving for a distanced, objective/realist approach to the story of working-class HK life from a child's perspective. Most striking are the cluttered frames, always cramped yet full of life, albeit often chaotically so, at once reminiscent of a Bazinian Renoiresque long take/deep focus realism and conscious of a revisionist, working-class version of the historical style, perhaps to modify the recent Hou Hsiao-hsien/Taiwanese model. All in all, then, Hong Kong filmmakers seem to be in a creative mode, in the midst of trying to reclaim their native market.
Part 2 of this essay will survey the other Asian sections of the 24th HKIFF.
KING HU: BIOFILMOGRAPHY
King Hu (Hu Jinquan, or Chin-Chuan) April 29, 1932, Beijing-January 14, 1997, Taipei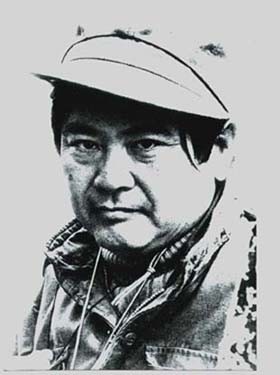 Educated at Hui-Wen Middle School and Beijing National Art College. Arrived in Hong Kong in 1950. 1950-54: worked as a journalist and tutor, then, entered the film industry as a set dresser. 1954-58: rose to prominence as an actor; producer of plays and administrator for Voice of America radio. 1958-65: contract with Shaw and Sons (later Shaw Brothers) as actor/scriptwriter; first film as a director begun in 1962 under the supervision of Li Hanxiang (or Han-Hsiang) The Story of Sue San, but disowned by Hu after production difficulties delayed the completion of shooting by nearly a year. 1966-69: employed as production chief of the Union Film Company (Taiwan). 1969-71: makes A Touch of Zen, leading to disputes with his producers. After mediation by Raymond Chow of Golden Harvest, the film is completed in Hong Kong in 1971 as Union releases Part One in Taiwan. The film is recut by Hong Kong distributors and released in 1972 as one single film, to little business. (But its reputation is restored by a successful screening of a three-hour version at Cannes in 1975.) 1971-75: founded independent company, King Hu Productions; signs a deal with Golden Harvest to make The Fate of Lee Khan and The Valiant Ones. In March 1977, Hu marries Zhong Ling, then signs with producers Law Hoi-muk and Wu Sau-yee to make Raining in the Mountain, and with First Motion Picture Company producer Wong Cheuk-hon to make Legend of the Mountain; both films are made back-to-back in Korea from August and wrapped in October 1978. 1980-85: Hu commutes between America, Hong Kong and Taiwan, working on many projects which failed to materialise, including "Igo Ono," or "The Battle of Ono" (on Chinese railway workers in America) which he was still trying to make when he died following heart surgery in 1997.
Feature films as director [all films made in Hong Kong except where noted]:
1963 The Love Eterne (Liang Shanbo yu Zhu Yingtai), King Hu: assoc. dir; dir.: Li Hanxiang

1964 The Story of Sue San (Yu Tangchun), Hu: executive dir; dir.: Li Hanxiang

1965 Sons of the Good Earth (Dai Ernu)
Cape and Sword genre – Wu Xiapian:

1966 Come Drink With Me (Da Zui Xia), with Zheng Peipei

1968 Dragon Gate Inn (Longmen Kezhan), with Shangguan Lingfeng [Taiwan]

1970 "Anger" (Nu), 2nd episode of The Four Moods (Xi Nu Ai Le)

1971 A Touch of Zen (Xia Nü), with Xu Feng, Shi Jun, Bai Ying, Roy Chiao, Samo Hung [Taiwan]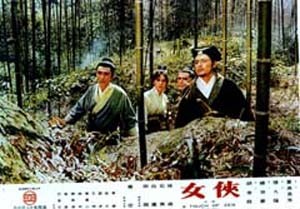 A Touch of Zen
1973 The Fate of Lee Khan (Yingchun Ge zhi Fengbo), with Li Lihua, Xu Feng, Angela Mao, Helen Ma, Hu Jin

1975 The Valiant Ones (Shan Zhong Chuanqi), with Roy Chiao, Bai Ying, Xu Feng

1979 Raining in the Mountain (Kongshan Lingyu), with Sun Yue, Xu Feng, Wu Mingcai, Shi Jun [Korea]
Legend of the Mountain (Shan Zhong Chuanqi), with Shi Jun, Xu Feng, Sylvia Chang [Korea]

1981 The Juvenizer (Zhongshen Dashi), contemporary comedy [Taiwan]

1982 All the King's Men (Tianxia Diyi), Tang dynasty drama [Taiwan]

1983 Part 1 of 3-part The Wheel of Life (Da Lun Hui), others dir. by Li Hsing, Pai Ching-jui [Taiwan]

1990 Swordsman (Xiao'ao Jianghu), co.-dir by Tsui Hark, Ching Siu-tung, Raymond Lee (and Ann Hui, uncredited)

1992 Painted Skin (Hua Pi zhi Yinyang Fawang) with Adam Cheng, Joey Wong, Wu Ma
Notes:
1. This report was originally published as a postcard from the "21st Hong Kong International Film Festival March 25-April 9, 1997" in Screen Machine, No. 4 (Montreal, 1998), pp. 70-71, along with individual reviews of Hou Hsiao-hsien's Goodbye South, Goobye (p. 40), Eddie Fong's Amorous Woman of the Tang Dynasty, 1984 (p. 58), Tang Shu-Xuen's China Behind, 1974 (p. 59), and the original Wong Fei-Hong film starring Kwan Tak-Hing, Whiplash Snuffs the Candle Flame, 1949 (p. 71). With kind permission of Screen Machine's editor and principal writer, Julien Fonfrède, the "postcard" was re-posted, as it were, on/by OffScreen.

2. Every year, the Hong Kong Urban Council and the Hong Kong International Film Festival have jointly published a retrospective catalogue alongside the actual film festival catalogue. These books have become collectors items, because they are the most valuable resource for information and criticism on Hong Kong Cinema. Many of them are still in print and can be obtained through the new Leisure and Cultural Services Department, Level 7, Administration Building, Hong Kong Cultural Centre, 10 Salisbury Road, Tsimshatsui, Hong Kong, China.

3. These include, "Director: King Hu," in Sight and Sound, Vol. 45, no. 1 (Winter 1975/76), pp. 8-13, and, "King Hu: Shall We Dance?," in Lau Shing-hon, ed., A Study of the Hong Kong Martial Arts Film (HKIFF/HK Urban Council, 1980), pp. 103-106.

4. Yamada Koichi, and Udagawa Koyo, King Hu buyo den'ei sappo: A Touch of King Hu (Tokyo: Soshi-sha, 1997).

5. Hong Kong Cinema: The Extra Dimensions (London: British Film Institue, 1997).

6. These terms were coined by Sam Ho, the English editor of Festival News, published by the Leisure and Cultural Services Department. This is the first year in which the HKIFF has published a newsletter, and the discussion about "fanboys" and "girls" took centre stage in Issue 3 (21.4.2000) and Issue 4 (25.4.2000), the final newsletter.

7. The book has been published by Harvard University Press in Cambridge, Massachusetts, U.S., and London, England. Along with Teo's book, above, everyone should get a copy, now.

8. Amazingly, under the auspices of the new LCSD, the festival published a set of four catalogues this year, the 216 page general festival catalogue, entitled The 24th Hong Kong International Film Festival: 12-27.4.2000, with a foreward by Richie Lam, the Head of Film Programmes, the 184 page catalogue of the Hong Kong Cinema Retrospective – Border Crossings in Hong Kong Cinema, edited by Law Kar, the 136 page Hong Kong Panorama 1999-2000, with an introduction by Asian Programmer, Jacob Wong, and a special re-publication of articles appearing in earlier catalogues entitled Hong Kong Cinema' 79-'89 (Combined Edition), edited by Li Cheuk-to, and running to 168 pages in length. If you stack the books in this order you will see a copy of the 2000 festival logo across the spines! The LCSD even published an additional booklet for The Age of Independents: New Asian Film & Video, with a foreward by (Jimmy) Choi Kam Chuen, the director of the Film and Video Department at the Hong Kong Arts Centre. As was the custom in the past, all of this material is bilingual: Chinese and English.

9. In an interview by Li Cheuk-to and Bono Lee, "Beyond Running Out of Time & The Mission: Johnnie To Ponders One Hundred Years of Film" [the name of his new film production company], Hong Kong Panorama 1999-2000, p. 48.

10. Bordwell argues that "pauses" dominate the Japanese, i.e., Kurosawa, roots of the style, but that HK directors are more adept at filming action, the "bursts" in between, than their predecessors; see Planet Hong Kong, pp. 221-31, 243.

11. Li-Cheuk-to and Bono Lee, op. cit., p. 50.

12. See Li Cheuk-to, "Asian Bearings and Post-97 Mentalities," in Hong Kong Panorama 1999-2000, pp. 13-15. For example, Li writes, "… 2000 is the pivotal year that will decide if the Hong Kong Industry will successfully recover. 1999 was certainly a dismal year for the theatre business. Not only did Hong Kong films plunge to new attendance lows (the top grosser was King of Comedy, which raked in less than HK$30 million, while the miracle of The Stormriders a year ago was never repeated) …," p. 13. Nonetheless, according to statistics presented at the end of the book, I calculate that 148 HK films were released in the region in 1999, a big increase from the period low of 84 in 1997 and '98.

13. The same description that appeared in the Programme and Booking Folder also appeared in the main festival catalogue, op. cit., p.37.