Gerry: Gus Van Sant Back in Form
An homage to the Hungarian long take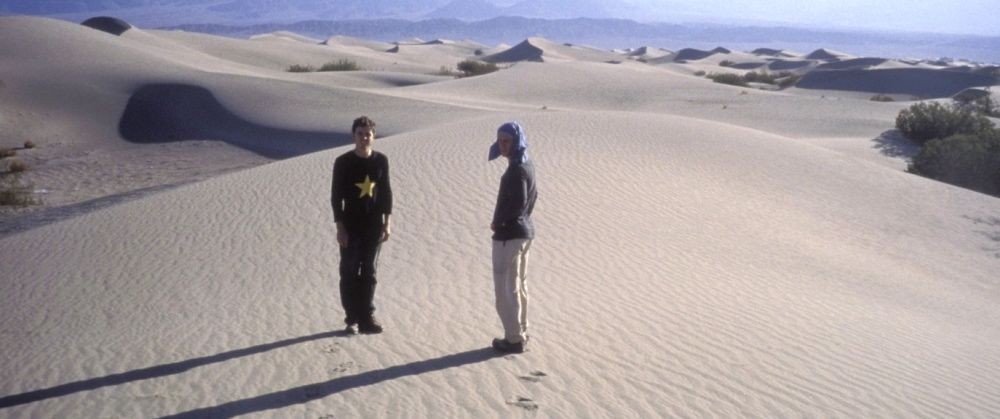 Gus Van Sant was, arguably, for a brief period of time, between his first feature, Mala Noche in 1987 through Drugstore Cowboy (1989) to the great, Shakespearean road movie, My Own Private Idaho, in 1991, America's finest film director. Apart from the elegant Nicole Kidman vehicle, To Die For (1995) and the vastly underrated Psycho remake in 1998, he hasn't done much else of note, …, until now, that is. There surely won't be a more interesting, innovative, and challenging U.S. film on our screens this year than Gerry. Made as a kind of homage to the Hungarian long take, miserabilist, Bela Tarr, and more aVant-garde than anything else he has done, Gerry is hardly the sort of film which will endear Van Sant to Hollywood producers, which is why it needs positive reviews if it is to achieve any audience at all.
First of all it should be noted that, from about ten minutes-in until just before the very end, there are only two human characters in the film, the titular Gerry (Matt Damon) and his buddy, another "Gerry" played by Casey Affleck. (The two actors co-wrote the script with the director.) But Damon and Affleck fans beware: they hardly talk at all, rarely make sense when they do, and become lost within the first fifteen minutes. In fact, from the film's first shot, as spectators, we grapple with the director's intentions, and we can easily find ourselves frustrated by trying to solve the film's "puzzle." The experience is not unlike that of trying to figure out the non-existent plot of Alain Resnais/Alain Robbe-Grillet's L'année dernière à Marienbad (1961), a "puzzle film" if ever there was one.
In the first shot of Gerry the camera views a car with two occupants, from behind. We gradually approach and then drop back. Again, as the duration of this "long take" becomes apparent, the camera nears the back of the car and veers over to the left hand side, as if we are watching from another car and are about to overtake. Normally, in a situation like this, we are meant to experience the view like an invisible observer, but, in this case, I became very aware that I am being put in the position of "travelling," so that when, finally, there is a cut to a reverse angle shot looking at Damon and Affleck (now clearly recognizable) through their car windscreen, I felt cheated that no following car was visible. Thus, my experience of watching Gerry (the title derives from Ben Affleck—his derogatory word for a guy who regularly "fucks up") is to look for continuity errors, or other "mistakes" and illusory tricks.
We are in a scrubland region with mountains behind— probably Arizona, but maybe California or Colorado —and after two more travelling shots, from the hood of their car looking forward, and its reverse angle, repeating the view of the film's second shot— the protagonists go for a walk. We notice the sign "wilderness trail," and we are led to expect something exciting, perhaps the Grand Canyon, at the end of their walk. They wander a little but one of them remarks that all trails lead to "the thing." After a race, filmed by a jerky camera —probably through a steadicam simulating a hand-held camera —they decide not to bother visiting "the thing." This disappointment to audience expectations will probably trigger the first large-scale walk-out (and many are sure to follow). The predominantly right-tracking camera is now reversed and the characters' movement heads left, to search for their car. But, after a while, they realise they are lost. They begin to plan strategy and in an extreme-long shot with each man standing on a mini peak fronting an unfamiliar mountainscape, they decide to go in opposite directions and meet back at a pre-determined spot. Gerry is filmed in cinemascope, and shots like these exploit the widescreen image, with each character near to a frame edge. In one of these shots, perhaps this one, our eyes are drawn to a black form deep in the background, in the dead centre of the frame. Is this a person? …, the director, perhaps?, one might wonder. As spectators, we begin to question the directions in which the characters move, and think about how much time is passing. I started to look closely at the length and angle of shadows in an attempt at discerning the direction their ever-changing route was taking. Absurd dialogue on animal tracks in the sand speculates that they will lead the guys to mating grounds and hence, water, and later they elect to head due south, but clearly, with the sun rising to their left, they are, in fact, walking due north.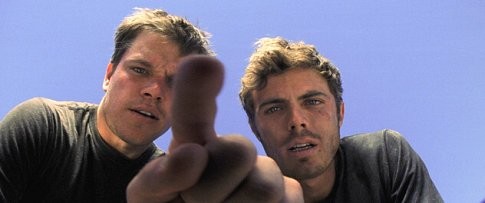 Throughout Gerry, one is drawn to reflect on other films, as much through the camera style as anything else. Van Sant and cinematographer Harris Savides seem to be trying every possible variation on shooting two characters walking through a deserted (and near-desert) landscape. We have the Tarkovsky's flatcar shot from Stalker (1979), where a long lens isolates Affleck and Damon's heads, side-by-side, in close-up, bobbing up and down in the frame as the camera tracks their movement, left. Nearing the end of their journey, in the above-mentioned, daybreak shot, the camera follows their slow, tired, relentless trudge from behind as the frame gradually lightens to reveal a desert floor, an exposition which is very reminiscent of a similarly desperate scene in Lawrence of Arabia (1962). When they collapse on the parched dead-flat white earth, I realised that we were either on the Utah salt flats or in California's Death Valley —it is apparently the latter, which was the location of the climax of Erich von Stroheim's Greed (1925). It is also very similar to the final locale of John Huston's Treasure of the Sierra Madre 91948), and when one Gerry gingerly attempts to strangle the other —perhaps a mercy killing— the links to both Hollywood works of Zola esque realism is complete.
To what extent the film is a work of "creative geography" is not clear.* I've read in one account that the film was a patchwork of scenes shot on three continents, and, in another, that its principal location became Death Valley, after failed attempts to shoot in Argentina! In any event, Gerry feels a bit like John Ford's The Searchers (1956), where the John Wayne character Ethan's journey appears to cover huge tracts of land over a number of seasons, without ever really escaping Monument Valley. It is possible that Gus Van Sant wanted to deliberately invoke the strange geography and convoluted time line of Ford's film, but, in any event, he succeeded in suspending me, lost in space and time, together with his protagonists. Gerry can stand alongside the films of Terence Malick as one of the greatest contemporary American narrative, landscape features.
* "Creative Geography" was one of Lev Kuleshov's montage experiments, where he took film footage shot in three very different Soviet cities and edited them together to provide the illusion of one unified city.