Korean Cinema in 2002
Korean film at Toronto International Film Festival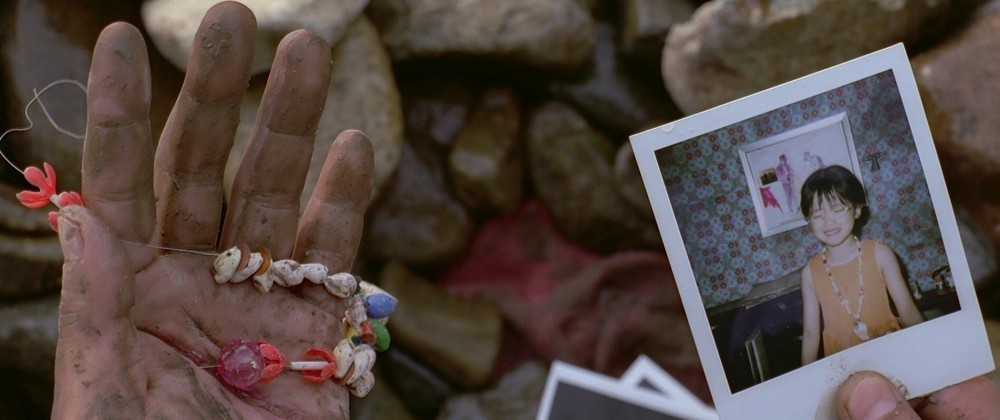 After a gap of 15 years the Toronto International Film Festival (TIFF) mounted an extensive programme of Korean films in 2002. On the evidence of this programme entitled "Harvest: South Korean Renaissance," it is unlikely that any other country in the world has produced a wider range of quality films this year. 1 ] In 1987, the late David Overby programmed an amazing contemporaneous retrospective of 37 East and Southeast Asian films, entitled "Eastern Horizons." This programme included 8 films from the Republic of Korea, 3 of which were directed by Im Kwon- taek, the most prominent Korean cineaste of the 1980s. 2 ] I must confess that, in September 1987, I devoted my limited time to viewing Chinese language films in Eastern Horizons, but, subsequently, I have been able to view, and properly appreciate 6 of Overby's selections on other occasions. My disinterest in Korean cinema was corrected at the 1988 Montreal World Film Festival, when I saw the award winning Adada (also directed by Im Kwon-taek). This festival has continued to show Korean films on a regular basis, mounting a 9 film national spotlight in 1998. 3 Also, it should be noted that Tony Rayns has almost single-handedly supplied the anglophone film reader with texts on Korean cinema through the 1990s, and has become one of the world's greatest film programmers with his "Dragons and Tigers" Pacific Rim programme at the Vancouver International Film Festival, which always showcases a number of new Korean films.
Over the last few years, Darcy Paquet has done sterling work in promoting Korean cinema through the trade journal, Screen International and his English-language website, "The Korean Film Page," while a few other journalists, including Chuck Stephens and Derek Elley have joined the small ranks of English-language, Korean film supporters. But, Korean cinema has still yet to find its place on the map of World cinema art. One could argue that this is because there has never been a breakthrough film like Akira Kurosawa's Rashomon which inspired a wave of interest in Japanese cinema with its success at the Venice International Film Festival in 1950 and Chen Kaige's Yellow Earth which sparked the "discovery" of China's "Fifth Generation" with its screening at the Hong Kong International Film Festival in 1985, followed by Zhang Yimou's Red Sorghum winning the Golden Bear top prize at the 1988 Berlin festival. Perhaps 2002 will prove to be Korea's breakout film year, with Im Kwon-taek's Chihwaseon winning the Best Director award at Cannes and Lee Chang-dong's Oasis winning no fewer than three awards at Venice including the Special Director's (Jury) Award and the FIPRESCI (critics') prize. Both films screened at Toronto, with Chihwaseon becoming the very first Korean film to obtain a Gala slot.
Chihwaseon continues in the vein of the bulk of Im's mature work, since Tchakk'o (1980) in being set in the past, structured through a series of flashbacks, and shot by the extraordinary veteran cinematographer, Jung Il-sun (or Chong Ilsong*). 4 Apart from its stunning beauty (like Im and Jung's previous collaboration, Chunhyang , 2000), what is most remarkable about Chihwaseon is how the life of a late-19th century painter is transformed into a story of rebellion. The artist in question is Jang Seung-ub. The film depicts him as being from the lower classes. Early in his life, he finds a mentor in Kim Byung-moon, who champions his work against the wishes of his associates.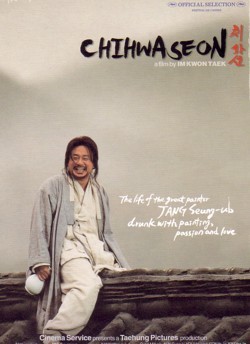 Initially copying the work of Chinese classical masters—landscapes, birds and flowers—by memory, after only seeing them once, each, Jang breaks out of tradition and finds his own style. He is portrayed as a disheveled bon vivant, who believes that sex and alcohol are necessary to support the creative impulse. I am not familiar at all with the work of the actual painter, but I suspect that a great deal of artistic licence has been taken in this depiction as a way for Im to present himself as being, simultaneously, a "classical" and a radical filmmaker. He has been Korea's most highly acclaimed director both within and outside his country for about twenty years now, and, recently, the very first monograph on a Korean director, in English, was published on his work. 5 His forte has been the exploration of Korean history and culture, and the development of a specifically "Korean" cinema characterised by a more open expression of strong emotions than would normally be found in contemporaneous Japanese and Chinese films, yet sharing these national cinemas' interest in all aspects of visual composition. In this sense, Chihwaseon is an excellent example of his (and Jung's) work. In the critical discussion of a perceived "energy" and "dynamism" in Jang's paintings by his peers and in the translation of these elements into the style of the film, one is reminded of Vincente Minnelli's Hollywood biography of Van Gogh, Lust for Life (1956), Martin Scorsese's episode on a wild, macho, abstract expressionist painter (played by Nick Nolte) in New York Stories (1982), and John Maybury's lurid, unsanctioned portrait of Francis Bacon, Love is the Devil (UK, 1998). In fact, a screen that Jang paints for one of his lovers is even somewhat reminiscent of Jackson Pollock's work. Clearly, Im wanted to celebrate an artist's creative individualism in this film, which is a well-worn subject to Western observers. Also, Chihwaseon depicts three of Jang's (sexual) love relationships, with a young, upper class woman, So-woon and two "kiseangs"—genteel, cultured prostitutes (not unlike Japanese "geishas")—which, from "our" present-day perspective, are highly clichéd relationships. Nevertheless, there are some great scenes in the film, including its last. The real-life Jang Seung-ub disappeared without a trace in 1897 and the film imagines this "disappearance" with a shot of Jang walking on coals into a pottery furnace, followed by a detail shot of a fired pot on which an indigo ink drawing of a man on a boat has magically appeared. The inference is that Jang must have painted it inside the fiery oven!
In its love story of a slightly mentally challenged man and a woman suffering from cerebral palsy, Oasis doesn't exactly have the kind of subject matter which appeals to me, and, if it were a Hollywood film, I'm sure I would have stayed far away from its maudlin potential. This is Lee Chang-dong's 3rd film as a director. His first, Chorok Mulgoki (Green Fish, 1996), a brilliantly acted and written indictment of gangsterism in Korea—Lee is a celebrated Korean writer—won the 5th Dragons and Tigers award in Vancouver (1997). His second film, Bakha Sarang (Peppermint Candy, 1999) displayed an innovative narrative structure, where successive flashbacks go progressively further back in time, to explore the roots of the central character's violent behaviour. Oasis has a conventional narrative structure, but includes subjective passages, which might be termed "magical-realist." The two principals are introduced separately. In the film's opening sequence, the camera follows a pigeon in slow motion flying through a series of interior spaces to Han Gong-ju's bedroom, where she appears to be attempting to catch the sun's rays in her mirror. Initially we accept this unlikely (perhaps, impossible) occurrence, of a pigeon flying inside a city apartment, on faith, but later we can understand the sequence to be one of fantasy. Hong Jong-du's introduction is almost as strange. He has been released from jail in mid-winter, yet wears summer clothes—a Hawaiian shirt, and no jacket! In a series of outdoor shots which could have been filmed candid, on the street, he looks to buy food and gifts to take home, with no money. The film's title, Oasis is the subject of a tapestry hanging on Gong-ju's bedroom wall and the elephant, Indian woman and little boy who are included, show up in this room with the oddest of "odd couples" in a later fantasy sequence, when their love relationship is at its peak. Brilliantly, Lee Chang-dong chose to show their developing relationship in idealized fantasy images, as well as realist ones, where Gong-ju, in particular, can be seen by the film audience, momentarily, as physically unchallenged. This is very different from the strategy used by the Farrelly Bros., who in Shallow Hal (2001) cast Jack Black's character's imagined love interest as the glamorous Gwyneth Paltrow, whereas her real, "fat" self was played by another actress. Here, Moon So-ri plays both incarnations of Gong-ju and, understandably she won the Marcello Mastroianni Award for Best Young Actor or Actress in Venice.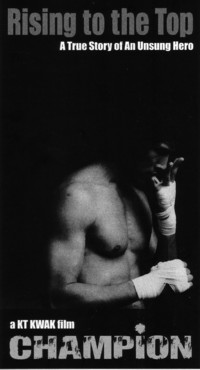 She will no doubt win many other awards for her brave performance which involved incredibly strenuous contortions to achieve the cerebral palsy effect. But, she is matched by the less physical but more subtle psychological portrayal of Jong-du by celebrated film actor Sol Kyung-Gu. Perhaps the greatest achievement of Oasis is in getting the audience to be sympathetic towards Jong-du after his initial meeting (in the film) with Gong-ju. He brings fruit and flowers to her family's apartment. Much later, we learn that Jong-du had taken the rap for his older brother's hit-and-run killing of a road cleaner, and so, retroactively we understand that he is acting kindly towards the bereaving family. But, his fascination with Gong-ju leads to his attempted rape of her. She faints during the attempt, and he then revives her under a bathroom tap. The confusion of the film's characters emotions, here, and the audience's puzzled responses to their actions is indicative of the narrative as a whole. Gong-ju comes to love Jong-du, and, except for his younger brother, Jong-sae, everyone around them completely misunderstand their mutual attraction, believing him to be a criminal and a rapist. Meanwhile, the film's audience knows better and can fully understand both the plight of the misunderstood outlaw, and the lynch-mob mentality of polite society, which Oasis allegorically projects.
Three Korean box office successes were among the TIFF selections, Hwa-san-go (Volcano High) which was the 9th highest grossing Korean film of 2001, with 1,687,800 tickets sold, Champion, which (as of October 20) is the 5th highest Korean film of 2002, with 1,770, 000 admissions, and the surprise hit of this year, Jibiro (The Way Home), which until recently was not only the top grossing Korean film of the year, with over 4 million tickets sold, but also outgrossed all Hollywood films, including Lord of the Rings and Spiderman. 6 Volcano High, which is set entirely within a fictional school for the "magically and martially adept" was shown, appropriately, in Toronto's Midnight Madness section. It is highly derivative of contemporary Hollywood action/adventures such as The Matrix and closely related to Japanese manga, even reminiscent in narrative and characterization of the "Lord of the Rings" and "Harry Potter," sagas, the films of which the director, Kim Tae-Gyun couldn't possibly have seen. 7 And yet, in its timelessness—old buildings, traditional school uniforms, punk, dyed hair, and sci-fi stunts and effects—and look—dark, often nighttime, blue/grey digitally enhanced monochromatic tone with red and yellow highlights, invariably, raining—Volcano High has a striking visual consistency, moments of comedy, and terrific, high-flying action. This is the kind of work that Hong Kong used to do so well, and consequently dominate the East Asian marketplace (including Korea). Now, it is Korean films like Volcano High that have not only captured domestic attention, but Hong Kong and Japanese, as well.
After his promising third feature, Chingu (Friend) which broke the Korean box-office record in 2001 with over 8 million viewers, and which scored well critically, Kyung-Taek Kwak's latest film, Champion is something of a disappointment. Perhaps, after meeting Kwak, a fellow graduate of NYU, at last year's World Film Festival in Montreal and hearing him talk about the real life story of Champion, my expectations were too high. Certainly, the film's story is compelling, for its own sake, and for its socio-historical importance. On November 14, 1982, on a sunny Saturday afternoon in Las Vegas, Nevada, Kim Deuk-gu challenges Ray "Boom Boom" Mancini for his world boxing title. Not only does Kim lose the fight in the ring, but, his life as well. Kwak had witnessed this tragedy unfold as a teenager, live on television, and it left an indelible impression on him. At that time South Korea was experiencing an economic boom, while its people struggled for a more democratic society. Koreans see themselves as being dedicated, hard-workers and Kwak has mentioned that for his father's generation the qualities of "passion and obsession" were very important. 8 These qualities are in evidence in Champion, especially through the acting of Yoo Oh-sung (the young gangster in Friend) as Kim, and Kwak's dynamic direction. The film begins as Kim enters the Vegas ring and, after a series of flashbacks to the title character's struggles to get this far in life, it ends with the championship bout and its denouement. The narrative structure, akin to film noir, injects fated and forceful dimensions to the work, but, even though Kwak argues that Champion is "not a boxing film" but a "human drama," it is hard not to be making comparisons with the many fine examples of Hollywood "dramas" which focus on the central character of a boxer.
In choosing, arguably, the only sport which has translated well into cinematic narrative, via astute athletic performance, key lighting, camera movement and editing, Kwak's Champion is naturally going to be compared with many other films, from the fictitious Body and Soul (1947, with John Garfield, directed by Robert Rossen), The Set-Up with Robert Ryan, dir., Robert Wise, and the first Champion, starring Kirk Douglas, dir., Mark Robsen (both 1949) to the biographical Raging Bull (1980, dir., Martin Scorsese) with Robert de Niro as Jake la Motta and Michael Mann's rather less successful effort Ali (1991), with Will Smith as the superstar.
Of The Way Home, it may well be enough to state how wonderful it is that a feature film, directed by a woman, Lee Jeong- hyang, has been so popular with Korean audiences and critics, alike. Women have had to battle for their rights in every country in the world, but, it is surely fair to say that Korean women have had to fight harder against patriarchy than most. The Way Home is also the very first Korean film to be picked up for wide distribution in North America, by Paramount Classics. 9 Its domestic, commercial success is surprising for another reason: its subject, which hardly promises box office triumph. A seven-year-old boy, Sang-woo, who has been raised in the city is sent to live in the remote countryside with his mute grandmother by his mother, while she looks for work. An audience seeking action entertainment would be as frustrated as Sang-woo, in being cast into the wilderness away from junk food and video games. With unconditional love, the grandmother puts up with all the boy's tantrums, laziness and rudeness, until, eventually, just as his mother arrives to take him back, Sang-woo overcomes his culture shock and shows his grandmother a little respect and love of his own. The leading performances, by non-professional actors, are The Way Home's greatest asset, while a realist approach, and the universal, albeit old-fashioned nature of the subject matter provide the opportunity for commercial success outside of Korea. It would be very difficult to argue that The Way Home is a "feminist" work, but, another Korean film directed by a woman that was shown at the TIFF certainly fits the bill.
Of the few fiction features directed by Korean women, Goyangileul Bootakhae (Take Care of My Cat, 2001) is surely the finest and most original. Jeong Jae-eun was one of the first graduates in film from the Korean National University of the Arts, and she made award winning short films before getting to direct her first feature, Take Care of My Cat. Like Lee Jeong-hang, Jeong Jae- eun chooses the realist mode, but with a free-flowing, more contemporary style. The film begins on the beach in Incheon, where five young women, including twins, celebrate their graduation from school, still wearing their uniforms. The film shifts between the friends, who occasionally get together to (binge) drink, eat and "party," and between the port city of Incheon, represented as something of an industrial wasteland, and the big city of Seoul. (Incheon is like a distant suburb of Seoul at the end of a Metro line.) At the age of 20, they all dream of doing something better in their lives, and they all struggle with men and/or other authority figures, e.g., parents. Refreshingly, for a film about young people, there is no sex whatsoever in Take Care of My Cat, and, very little along the lines of "romance." Hae-joo's situation is typical. She is the "beautiful" one in the group, and the most ambitious. She works in a Seoul financial office, but is stuck serving coffee and copying papers for the men. The most creative member of the group, Ji-young rescues a stray cat which gets passed from one to the other, depending on who is best able to look after it—the twins take it at the end. Director Jeong seems to like cats a lot, and in her programme notes for the 26th Hong Kong International Film Festival catalogue (which is where I saw her film in April, 2002) she writes at length about their free spirited nature. She begins, "In Korea, the practice of being devoted to and serving the master is extremely respected. This even applies to pets. Cats are animals that move smoothly and secretively in a very independent manner. They are pretty indifferent to the existence of others. Maybe that is why most Koreans detest cats and regard them as mysterious, taboo animals. The most important characteristic of a cat is that if it is not satisfied with its living environment, it simply leaves." [p.78] Jeong likens her female characters to cats, and, the film is quite radical in having two of them escape the law and their miserable lives (with money one takes from her parents for services rendered). The film leaves them at Incheon airport, with the flight board changing in the background. Where are they going, we wonder?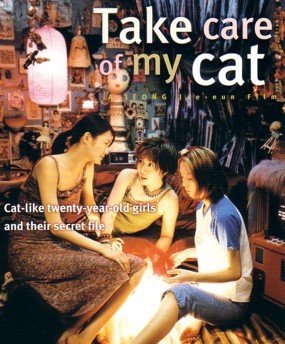 My recognition of Take Care of My Cat being "refreshing" in its resistance against showing sexual activity is primarily in relation to Hollywood where films focusing on the lives of young people, these days, seem to be only about "sex," whether they are comedies, romances, or, even horror films. Nonetheless, one of the greatest achievements of recent Korean cinema is in its serious exploration of human sexuality. Three of the best films in the "Spotlight on Korea," and the TIFF as a whole fit this bill, Jugeodo Joh-ah (Too Young to Die), Nakta(dul) (Camel[s], 2001), and Saeng-hwal-eui Bal-gyun (Turning Gate). The most interesting of these in terms of the representation of sexuality, is Too Young to Die, directed by veteran TV documentarian, Park Jin-pyo. Technically, it is his first "fiction" feature, a DV "docu-drama," yet many would think it is actually a "documentary." In it, Park Chi-gyu and Lee Sun-ye, a couple in their 70s, act out their loving relationship for the camera. Director Park had met them while making a TV documentary on seven older couples, entitled Love, and had been struck by their passion for each other.
Both had been widowed a few years ago and met at a centre for the elderly in February 2001. They re-enact this meeting, and their time spent together, including an extraordinary 7-minute long-take where the camera explicitly, but very discreetly observes their love making. I was fortunate to see Too Young to Die with a Korean audience at the 2002 Jeonju International Film Festival. Remarkably, the vast majority of this audience were in their teens and twenties, and enjoyed the experience immensely. I talked to one film scholar who found the film to be really exploitative of the septuagenarian subjects, but in an interview with Tony Rayns (included in the film's press kit), the director claims they are both "very happy" and "very proud" of Too Young to Die. Park Jin-pyo states that "They collaborated with us very fully in making the film, and so a lot of what appears on screen comes directly from their own input. They find that the result is true to their experience and feelings." Not only does the work counter stereotyped views of old people being asexual or non-sexual—Mr Park and Ms Lee are clearly "in love" physically, emotionally and psychologically—but, it goes even further in confronting us with questions on the cinematic representation of sexuality. We are led to think about what constitutes the "erotic" and the "pornographic" in film, anew, with completely fresh eyes.
At the minimalist extreme of contemporary Korean cinema, we find Park Ki-young's second feature, Camel(s). Its centerpiece setting is a love motel, the only setting of his first feature, Motel Cactus (1997), which was shot, in colour, by longtime Wong Kar-wai collaborator, Chris Doyle. All the rich colour of the earlier work is completely drained out in the new work, which was filmed on a Sony mini-DV camera in black and white and then transferred onto 35mm film stock, while maintaining a very grainy appearance. A man in his 40s, driving a car, in the rain picks up a slightly younger woman from an airport. He apologizes for being late, and yet they don't seem to know one another. It is hard to gauge their appearance because the camera is set up behind the car's front seats. Over the 91 minute running time of Camel(s) we view only 50 or fewer shots, and struggle to learn about the two characters and their lives from their very sparse dialogue. Mostly the camera is static but in a restaurant scene it pans back and forth between them across the top of the table viewing food and beer and a wall in the background. Gradually we come to learn that she is a pharmacist, and from a phone conversation he has in a bathroom, we surmise that he might be an undertaker. Only after they enter a motel, driving through strange plastic flaps (concealing the identity of clandestine guests), do we learn that both of them are married, and are, therefore having an affair. The static camera, which just observes them, from a distance and the low key, fluorescent lighting, together project a bleak, alienating aspect to their lovemaking, a very different effect from the bright, saturated colour scheme of the three affairs in Motel Cactus. Everything conspires to render Camel(s) minimalist, even, the fact that the couple never reach their intended island (paradise) destination, across a bridge which can be seen through a window at their first rest stop.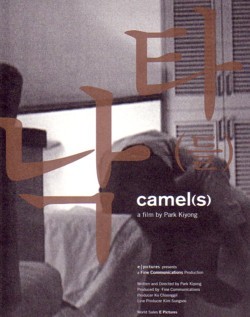 Perhaps they did not reach it because the rain was too heavy, and when we do strain our eyes to see the island from their perspective the next morning, a sea mist blocks the view, and they comment on how ugly the district has become. With so little happening, we pay attention to every detail, and when a phone rings in the motel room, it is startling like a gunshot, and at the end, with the camera set up in the back of his car, viewing both figures from behind, a series of jump cuts injects a tense feeling of anticipation that there might be an accident. But the film just ends …
Saeng-hwal-eui Ba-gyon (The Turning Gate), the fourth feature made by Hong Sang-soo, is, dramatically his most accomplished, yet. Hong's first feature, The Day the Pig Fell in the Well won the 1996 Dragons and Tigers award in Vancouver and with The Power of Kangwon Province (1998) and Virgin Stripped Bare by Her Bachelors (2000) he continued to experiment with narrative form, telling the same story from different perspectives, or overlapping segments of time. 10 The Turning Gate has a linear, scripted plot, but, the dialogue was improvised or written day-by-day. Under these circumstances, the quality of the acting is exceptional, and the central male character, Kyung-soo (Kim Sang-kyung), a self-absorbed, successful stage actor, who has just failed in his first movie role, rings true, completely. The film is divided into seven titled "chapters," and in the third of these, "Muyoung-sook tells Kyung-soo that she loves him," a strong sense of anticipation is set up. Kyung-soo visits a gymnasium with an old friend, Sung-woo, where Muyoung-sook (Yeh Ji-won) gives them a demonstration of "modern, traditional and salsa" dances. Later, in a restaurant, she comes on to Kyung-soo, and the episode ends with them lovemaking in a hotel bed. He runs away from an affair, but meets another woman, Sun-young (Chu Sang-mi) on a train. Now the tables are turned as the man chases after the woman, following Sun-young's revelation that she has been a fan of the actor's for a long time. The Turning Gate ends with Kyung-soo being stranded in the rain, outside Sun-young's house, matching the prophesy of the story he was told on a visit with Sung-woo to a Buddhist temple. Along the way, the film presents a comprehensive portrait of a narcissistic man, with whom the audience gradually loses sympathy, and with two strong and likeable female characters posited against Kyung-soo, Hong Sang-soo corrects the gender imbalance of his first two films, which could be interpreted as being marginally misogynist.
Through watching many Korean films made from the 1960s to the present day, it has become clear to me that, traditionally, sexual relations in Korea have been decidedly patriarchal, and, additionally that domestic violence may have been an even more systemic problem there than elsewhere. Recently, some Korean film directors, especially Lee Chang-dong, with Peppermint Candy and Green Fish have begun to address these problems, seriously. Kim Ki-duk is another. Unfortunately, I have only seen two of his films, Seum (The Isle, 1999) and Na ppeun Nam ja (Bad Guy, 2001) which showed at the TIFF. At this stage, I would rather not discuss his new film at length, as I am suspicious that his work is profoundly misogynist (but, I could be very wrong about this). His work is nothing if not "on the edge," and the excessive cruelty shown towards Sun-hwa, an innocent, middle class young woman, by a gangster/pimp, Hang-gi and his cohorts, is almost unbearable to behold. Kim is clearly a talented filmmaker who can hold an audience's attention with his cinematic aesthetic of excess, but, by gradually bringing this "odd couple" together in a masochistic relationship I wonder if he is the "powerfully imaginative, magnificent poet of the darker aspects of human experience" that TIFF programmer Giovanna Fulvi calls him, or a new generation "angry young man" who despises women. Perhaps he is the latter on his way to becoming the former.
Bad Guy was much discussed by the press corps at the TIFF, and another such film, also very much "on the edge," and which was, for me, one of the year's highlights, is Boksooneun Nauhgut (Sympathy for Mr. Vengeance). An established Korean film director, Park Chan-wook came to prominence with Gong-dong-kyung-bi-cuyeuk (J.S.A.: Joint Security Area). This film, perhaps more than any other, was the most significant Korean film to score well at the box office—it beat all comers in 2000, including Mission Impossible 2 and Gladiator with over two million admissions—because it successfully combined art film ingredients— skilful direction of an ensemble cast, elegant visual composition and camera work, and serious subject matter—with audience appeal. Koreans seem to be extremely interested in their own history, and flocked to see this political thriller about a conflict between soldiers of the North and the South at the DMZ (demilitarized zone). One is reminded here of a similar breakthrough made by "serious" American films directed by Altman, Scorsese, Coppola, Malick and others in the early-1970s. After the achievement of J.S.A., it is perhaps surprising that Park Chan-wook would turn to comic book characterization, stylized genre and action filmmaking, the territory of young upstarts, like Japan's Takashi Miike, with Sympathy for Mr. Vengeance. This film is a kind of reductio ad absurdum on the theme of "vengeance." A young deaf steelworker, Ryu is laid off, just at the time when he is trying to raise money for his dying sister's kidney transplant. With the aid of his wacky girlfriend he kidnaps his rich employer's child for ransom, after he had been tricked into selling his own kidney. The organ traffickers disappear after taking the money Ryu had with him, and his kidney. Understandably, he seeks revenge. Meanwhile, the boss' daughter drowns because Ryu can't hear her cries for help and he becomes the target of the rich man's revenge (who is able to bribe the police). "Over-the-top" doesn't begin to describe the outrageous nature of Sympathy for Mr Vengeance. Park Chan-wook shifts gears readily from high melodrama to black comedy via horrifying action and with tremendous flair. The soundtrack is as rich as the image track, and its mode changes from subjective to objective, especially in relation to the deaf Ryu. One scene is typical of the strange, flamboyant mixture: four young punks sitting in a line, lean up against their apartment wall jerking off to the moaning sounds in a room next door, each one gazing at a photo of a naked woman pinned to his friend's back; the camera cranes and tracks through the wall to spot Ryu facing the camera, presumably typing a ransom note, while a young woman appears to be writhing in agony in the background, behind him; it could be his sister suffering terribly, but, he can't possibly hear her, any way. All of the individuals in this shot exist in their own little box of a world, isolated, one from the other and removed from any possibility of normal, healthy, human interaction. Sympathy for Mr Vengeance is a veritable cult film tour de force and is exemplary of Korean cinema going in a variety of interesting directions in 2002.
*a note names family (e.g. im) normally precede given kwon-taek) korean. follow most contemporary transliterated spelling don capitalize second part name. past number different transliteration systems proliferated perhaps looking ahead world cup football (soccer) government adopted standardised new romanisation system 2000. eliminates apostrophes ( used written standardises consonants (all now nevertheless towns pusan puchon become festivals these retained sake retaining their acronyms fantastic festival.
Notes