The Feminist Portrayal of Woman in Iranian Cinema
The Works of Bahram Beyzai and Tahmine Milani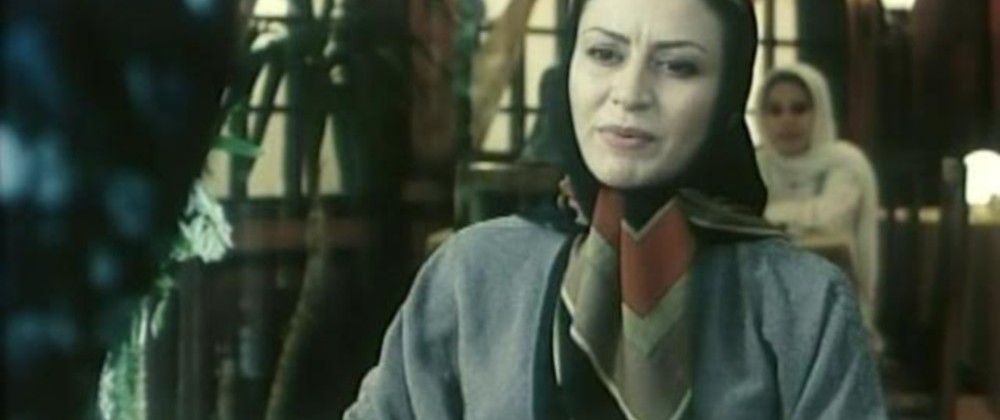 Abstract
Women in Iranian cinema have been portrayed in many different ways. The feminist perspective has received the most attention from audiences, owing to its appeal and the realistic contributions it can provide in an Iranian context. Iranian women confront many obstacles in their daily life and struggle to get their due rights as human beings, issues which have been appropriately addressed in the works of two major Iranian filmmakers, Bahram Beyzai and Tahmine Milani. The present essay, brief as it is, aims to show the Iranian portrayal of women from a feminist view point as depicted in the works of Bahram Beyzai and Tahmine Milani, as symbols of Iranian cinema. The major concerns dealt with in the works are: the search for female identity; woman's position in society; woman's physical and spiritual self; woman's power and career, and woman's interpersonal relationships. In this regard, two influential works by these two successful filmmakers, Killing Rabids (2009) and The Fifth Reaction (2004), will be analyzed to reveal how they represent Iranian women's social and cultural position. It is my belief that such artistic works have a great impact on Iranian women's awareness and struggle for social improvement.
Introduction
Since the 1990s the Iranian film industry has flourished, with many films and filmmakers being honored with international awards, such as Children of Heaven (1997) by Majid Majidi, Gabbeh (1996) by Mohsen Makhmalbaf, Life and Nothing But (1989) by Abbas Kiarostami, The Fifth Reaction (2003) by Milani, Rabid Killing (2001) by Beyzaie, and About Elly (2009) by Asghar Farhadi, to name a few.
Iranian films deal with simple but profound subject matters taken from the realities of Iranian daily life. The issues concerning Iranian women have their specific place in Iranian cinema, and are addressed by many Iranian filmmakers, including the two treated here, Bahram Beyzaie and Tahmine Milani. In these works Beyzaie and Milani address problems faced by Iranian women in a patriarchal society, in an effort to call for change. This call for change can be seen as a slogan of feminism, a movement which focuses on gender inequality and challenges social, cultural, economic, psychological, and philosophical constructions; and considers women as free human beings, equal to men and whose rights should be equal to men, which they've been deprived of throughout history. Some of the above feminist concerns will be discussed in Killing rabids (Sag-Koshi) by Bahram Beyzaie, and The Fifth Reaction (vakonesh e panjom) by Tahmine Milani.
Bahram Beyzai and his perception of Iranian woman
Bahram Beyzaie, born to a literary family in Tehran in 1938, is one of the most enigmatic figures of the contemporary Iranian cultural scene. He is an eminent Iranian script writer, playwright, producer, and director whose movies are a mixture of realism and expressionism, which treat controversial themes that depict positive representations of women. His women, caught within unjust realities, transcend their boundaries through their innate power. They challenge the norms of patriarchal society and become empowered by their independence, will and their invincible love as mothers, sisters and wives. They use an internal defense mechanism –a subtle form of wisdom– against the violence of the world. According to Beyzaie, his works represent woman's inherent power derived from her inner ability. Beyzaie attempts to present the difficulty of finding the real feminine identity in a patriarchal society which runs parallel if not opposite to feminist psychology.
Killing Rabids (2001) is the story of Golrokh (played by Beyzaie's real life wife Mozhdeh Shamsai), a writer who risks her life and dignity to face the most menacing of men, in order to bail her husband out of his jail sentence. In the end, with broken heart and broken body, she learns that she has been the agent of her unfaithful husband's corruption; and yet she survives with her humanity intact, by surpassing the impulse for revenge and returning to her intellectual world of writing.
Golrokh is the embodiment of all female intellectuals who owe much to their career and education, which takes them away from the ignorant and corrupted masculine world that regards women as inferior beings and mere sexual objects –a category in which intellectual life is denied them. Golrokh has no experience of dealing with this world and is fearful of confronting it alone, but does so for the sake of love and for the hope of rebuilding her family life. She decides to enter into this world firmly without any compromises, an experience which causes her physical and psychological wounds. The bitter truth is that her social position as an intellectual could not protect her from or assist her through the hardships.
Golrokh manages to confront her encounters reasonably in the beginning, but soon realizes that for her encounters only two things matter: money and pleasure, although when confronting a young and attractive woman, it is the sexual pleasure which seems to have the greatest impact. At first she cunningly fools her enemies and manipulates them without risking her dignity and beliefs. This technique works in some cases, yet she has to change her interpersonal relationships after she is attacked and raped. Women who challenge the masculine world must be punished and scorned, a form of harsh communication which suits the cruel world.
After she is scorned, raped and beaten in her mission prompted by love and spousal guilt, Golrokh is a broken soul. The final blow comes at the end when her husband's unfaithfulness and corruption are revealed to her. But once again her humanity and spirituality help her to withstand the temptation for revenge. She finds her husband unworthy of revenge and seeks refuge in her spiritual and intellectual world of writing, as well as the bosom of her family.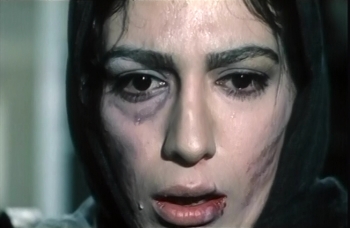 Writing offers Golrokh economic independence and intellectual stimulation, which are regarded as a source of power; but the corrupted world she encounters doesn't value these qualities. It is Golrokh's willfulness and decisiveness (i.e. her inner resources) which give her the power to survive the hardships and serve as the fuel of her success.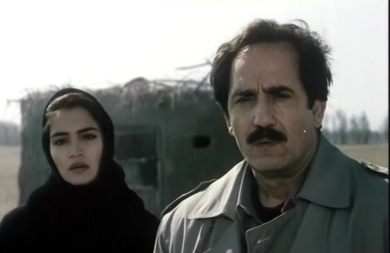 Golrokh does not suffer from an identity crisis at the beginning of the story. She is young and proud, a wife and a writer who belongs to the intellectual class. But by the end of the story, after the discovery of ugly secrets and harsh social realities, she is left bewildered and in search of a new identity. She is no longer the wife, accepted intellectual (by the corrupt world), and proud woman of the beginning. Fortunately, through the strength of her inner resources, she survives the crisis and regains her true identity as a human and a woman.
Tahmine Milani and her perception of Iranian woman
Tahmine Milani is an Iranian director, screen writer, and producer. She was born in 1969 in Tabriz, Iran. Of Azari descend she is the wife of Iranian actor and producer Mohammad Nikbin. Milani is known for broaching controversial and sensitive issues, including women's rights. The majority of Milani's films involve brave women who suffer under difficult conditions. In later years, Milani adopted a more melodramatic style and focused more on gender issues, and her female characters became the subject of intense oppression and discrimination. While her films are set in Iran, she implies a general view on women suffering around the world. She sees women as humans who must fight for their due rights. Milani tries to show that a woman's affections, feelings and her beauty should be respected and nurtured, and not manipulated to suit men. She invites social institutions to reconsider their conception of women and their important roles as human beings – mothers, wives, lovers, workers, intellectuals– and provide equality in social rights. In this regard, she can be regarded as a social feminist.
The Fifth Reaction (2004): A recently widowed young woman, Fereshte (Niki Karimi), is in danger of losing her two sons to her traditional and well-connected father-in-law. When pleas to her strong-willed father-in-law do little to change his mind, Fereshte recruits her four friends to help her carry out a daring plan that will ensure she will not lose custody of her children. Amidst this plot director Tahmine traces a woman's search for identity, her social position, and her physical and spiritual self.
Fereshte and her friends are teachers. As middle class professionals they are economically independent, but from a social and psychological point of view they are not labeled as independent. All of them either married, or are in one way or another dependent on their husbands, children, and family. Even if they want to break this bond they are unable to do so because of the social restrictions and its affect on their psyche. They are woman and their social position is dictated by their gender.
Fereshte is a young, beautiful widow who has to leave her father-in-law's house, where she and her family lived before her husband's death. Since the death of her husband, she is regarded as a stranger in this household, except for being the mother of their grandchildren. Her father-in-law regards himself as the manifestation of the law, and he sets the rule that she is to go back to her father's house without her children –because she is not earning enough money to provide a lavish life for his dear grandchildren– or she can stay if she accepts to marry her young brother-in-law (uncle to her children). The dilemma causes Freshte's spiritual and physical self to suffer; on the one hand she can not marry a man she does not love; on the other hand she cannot live without her children. Other women in the film also suffer spiritually from their interactions with men (one woman is betrayed by her husband but she does not divorce him for the simple reason that her children need a father and a house; another woman lives with a man whom she doesn't love, etc.).
Fereshte's interpersonal relationship with her friends and family is warm and affectionate, as it was with her late husband. Yet she cannot develop a similar relationship with her father-in-law. She regards him as a powerful, stubborn, and decent man whom she both respects and fears. For the sake of her children's custody, she is obedient to him but ultimately rebels against him, which leads to a troubled and conditional victory.
Fereshte does not possess any external power, i.e. a rich family, money or physical power. Her power is derived from her inner self, her love of children and her willful power –two great intangibles– which transcend those of her father-in-law, who is proud of his wealth, broad connections and masculinity. His own patriarchal views of women are reflected in the name he gives to women: inferior (zaife).
The death of a loved one is enough to cause any woman a psychological blow, and becomes devastating when coupled with the threat of having ones children taken away and the accompanying negative societal reactions. No longer a wife and lover, and with her motherhood under the threat, Fereshte suffers an identity crisis. Yet through her inborn power of love she saves herself and restores her identity as woman and mother.
Conclusion
Bahram Beyzai and Tahmine Milani are two great Iranian filmmakers who have portrayed Iranian woman from different viewpoints. Beyzai has honored the great soul of Iranian woman and has faith in their inner ability and power to survive in spite of opposing forces. His films are an indirect call for a consideration of female rights, a portrayal which is mostly appreciated by the intellectual audience.
Tahmine Milani, on the other hand, doesn't emphasize Iranian female empowerment. Her portrayal of the Iranian woman is of one who suffers from the rules of patriarchal society. Milani poses the unavoidable problems facing Iranian women in an effort to raise social awareness of them. Although this kind of portrayal of Iranian women is acceptable to the ordinary audience because of its emotionalism, it lacks the depth necessary for understanding the psychological complexity of the issues and the full scope of the Iranian position. However, combined, these two viewpoints create a realistic and fascinating portrayal of Iranian women, which has attracted, entertained and illuminated audiences.
Works Referenced
Azizzadeh, Gity (2008). Woman & Identification in the Contemporary Iran. Tehran: Roshangaran & Women Studies.
Beyzai, Bahram (2004). Killing Rabid, DVD, Tehran: Honare Haftom.
Ghokasian, Zaven (1992). The Collection of Articles on Criticism of Bahram Beizaei's Works. Tehran: Agah.
Khalili Mahani, Najmeh (2003). Bahram Beizaei, Iranian Cinema, Feminism, Art Cinema. Offscreen (15). [Accessed April 8, 2011].
Milani, Tahmine (2008). The Fifth Reaction, DVD, Tehran: Honare Haftom.
Tahmineh Milani. [Accessed April 8, 2011].
The Fifth Reaction. [Accessed April 8, 2011].