Exquisite Corpses
San Sebastián's XXII Horror and Fantasy Film Festival: blood, guts…and haute cuisine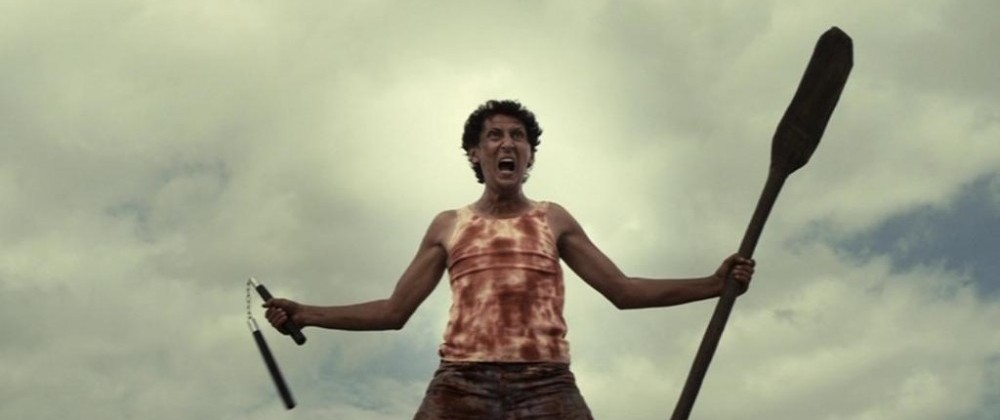 In San Sebastián there are at least three things worth living for. Sea, movies, food. La Concha, the wonderful city bay which embraces the ocean like a mother, gives shelter to surfers who come here from all over the world to challenge the Atlantic. The Department of Culture organizes no less than half a dozen festivals: besides the "big" International film festival in September, there's the Human Rights Film Festival, The Surf Film Festival, The Dock of the Bay Festival (on music documentaries) and more. Included, of course, is the "Semana del Cine Fantastico y de Terror," the Horror and Fantasy Film Week, which on its 22nd edition sports a new director: 39-year old Josemi Beltrán, replacing José Luis Rebordinos, now at the head of the prestigious International Film Festival. On top of this, there are initiatives of all kinds: currently, one can choose between a full ferpect Álex de la Iglesia retrospective (with the showing of his latest film La chispa de la vida) and a picture exhibition on Fellini.
And if that wasn't enough to satiate the spirit, in the narrow streets of the old centre there are literally dozens and dozens of restaurants (jatxeteas), taverns and bars where the accidental tourist can taste endless displays of pintxos, the exquisite, inventive multi-colored snacks that are best appreciated when accompanied by the local sparkling white wine, txacoli, or with cider. All of them packed full with locals, young and old alike, suit-and-tie managers and elderly ladies spending their evening out picking food and chatting, like in a senile version of Sex and the City. They are not that different from all those horror film devotees who gather year after year at the historical Teatro Principal, the main setting of the annual "Semana". Same faces, same tattoos, same Kiss and Metallica t-shirts: only their hair get whiter and whiter as years go by. These horror fans are no longer adolescents, some are well beyond their forties, but they look like enthusiastic kids when it comes to greeting the movies on the annual "Horror week" menu. They howl and yell and applaud, tell nasty jokes, all the while savouring their cañas (half-pints) of beer and having a hell of a good time.
Watching movies at the "Semana" is like going for a round of pintxos. You pick up what you feel looks best, it can be wonderful, funny, weird, or just not to your taste. But it's funny and rewarding for your eye and cinephilic palate. Moviegoing is a matter of culture, and so is feeding: understanding what you eat or see, expanding your taste, both cinephilic and gastronomic, is a rewarding experience, a much-welcomed antidote for rancid, plastic-tasting junk food and pre-packaged blockbusters. Rebordinos, who's not only a cinephile, but a gourmet, baptized a new section of the International Film Festival, Culinary Zinema, dedicated to film and gastronomy: an idea that's as brilliant and natural as Columbus' egg.
In his 1989 film Palombella rossa, Nanni Moretti said: "Those who speak poorly, think poorly, and live poorly." The same goes for food. In San Sebastián, it's practically impossible to eat poorly. Besides pintxos and typical Basque cuisine, San Sebastián is one of the cities with the highest rate of haute cuisine restaurants. Three chefs carry like a medal the prestigious Three Michelin stars. Juan Mari Arzak, the initiator of the Basque culinary revolution in the Seventies, is a symbol of Spanish gastronomy, having received the third star in 1989. Martin Berasategui is the head of a small culinary empire which expands from the Basque country to Barcelona. The third is moustached Pedro Subjiana, the most playful of the trio with his restaurant Akelarre, which faces the ocean in a breathtaking view. Besides them, there's a galaxy of young, challenging, experimenting chefs –the greatest being the brilliant Andoni Luis Aduriz, Ferran Adrià's pupil and only true heir. Two years ago his two-star restaurant Mugaritz was half-destroyed in a fire, but Andoni arose from the ashes with new and even more ambitious multimedia projects, such as a stage collaboration with the catalan company Fura dels Baus for last year's Degustación de Titus Andronicus.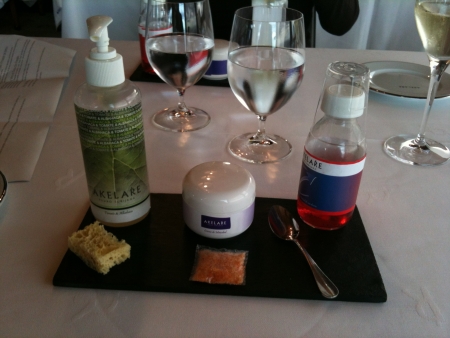 Between a movie and a bite, analogies between the pleasures of the table and those – admittedly a bit more perverse – offered à la carte by the "Semana" come spontaneous to the mind. The shape, taste and unusual, almost gelatinous texture of kokotxas – the delicious cod cheeks, one of basque cuisine's historic dishes, usually served in a spicy Pil-Pil garlic sauce – recall the sticky drooling creature designed by Carlo Rambaldi for Andrzej Żuławski's Possession: Zulawski's film was one of the main dishes of the festival's retrospective "Ven y mira" ("Come and See"), featuring among others such controversial milestones as Michael Powell's Peeping Tom, Stanley Kubrick's A Clockwork Orange, Ruggero Deodato's Cannibal Holocaust and Agustí Villaronga's Tras el cristal. The phallic, alien shapes of percebes (Goose barnacles), a weird crustacean that lives attached to the hard surfaces of rocks and flotsam in the inertidal oceanic zone, look like the product of H. R. Giger's mind.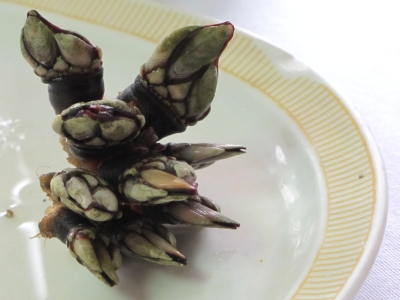 And the pitch-black sight of txipirones en su tinta (babysquids in their own ink, another typical local delicacy) recalls that of the space monkeys from outer space, devoid of eyes but with lethal, phosphorescent fangs, in Joe Cornish's rousing Attack the Block. Cornish's film, by the way, is a lovely teenage/sci-fi update of Shaun of the Dead (Edgar Wright is executive producer, while Nick Frost plays a stoned-out weed farmer) which also captures the same teenage angst of Joe Dante's best films without renouncing the good ol'blood and guts, and likely baptizes the birth of a star: British-Nigerian John Boyega, soon in Spike Lee's HBO boxing drama Da Brick.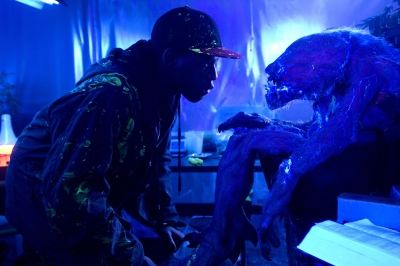 Food is an essential element in many of the films seen at the Horror Week, even though it's not of the kind you'd usually savour at dinner. Predictably, human meat rules. The wild woman (Pollyanna McIntosh), chained and ensaved by an apparently impeccable family man Chris Cleek (Sean Bridgers) in Lucky McKee's controversial The Woman, first bites off and swallows his master's ring finger, and in the climax feeds on his still pumping heart – a final act of dismemberment and cannibalism that's cleverly anticipated in the form of the human-shaped cookies Cleek's son Brian (Zach Rand) cuts in half before eating. Jack Ketchum's script from his own book even contemplates a scene where the taste of human blood acts as a sort of imprinting for a little girl, leading to a rebellious return to nature that can be read as a refusal of a man-dominated, misogynist, prevaricating and repressive society, where women – mothers and daughter, independent or dominated alike – are all enslaved.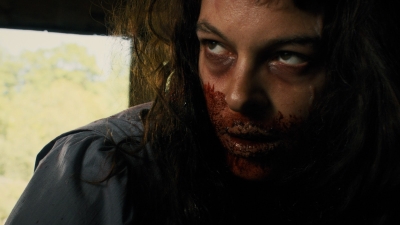 Human flesh is also the main dish on the Cuban political zombie comedy Juan de los muertos: the director pulls clever satirical punches, as propagandist Cuban media call the living dead "dissidents" maneuvred by the United States and cover up the zombie epidemic that's spreading all over the isle. Director Alejandro Brugués is obviously a fan of the genre, and he delivers lots of Romero-inspired inventive zombie gags: his tendency towards gross humour is balanced by a number of endearing characters, and the unlikely heroes – lanky fisherman Juan (Alexis Díaz de Villegas) and his Sancho Panza-like sidekick Lazaro (Jorge Molina) – convey a working class authenticity which helps the film. Juan eventually becomes a Don Quixote figure in the end, nobly allowing his mates to sail for the U.S. while he stays in Cuba, fighting for his country's future. Furthermore, how could you not like a film that pays an amiable tongue-in-cheek homage to the underwater shark scene in Fulci's Zombie Flesh Eaters ?
Besides ordinary cannibals, dead or alive (as the Amazonian natives in Deodato's still shocking Cannibal Holocaust) there's also the titular Cannibal Man boosted by the misleading English title of Eloy de la Iglesia's La semana del asesino (1972). Yet, as anyone who has seen the film knows, protagonist Vicente Parra is no cannibal at all – even though in one scene he gets rid of body parts by throwing them into the machinery of the food industry where he works at, which produces what is advertised as delicious home-made meat soup.
As a matter of fact, both Cannibal Holocaust and La semana del asesino could well make a point for vegetarians, with Deodato's film sporting a couple of truly unbearable scenes of cruelty against animals (such as when current right-wing parlamentarian Luca Barbareschi shoots a suckling pig). De La Iglesia's, on the other hand, opens in a slaughterhouse, similarly to Franju's Le sang des bêtes, with Parra indifferently chewing on a bocadillo while veals and cows are slaughtered and desanguinated. So, how about the bad hallucinogenic berries consumed by the lost explorers in Jesse Holland and Andy Mitton's vastly underrated (at least by San Sebastián's audience) Yellowbrickroad, or the cans of beans shared by the survivors of an atomic holocaust in the underground bunker where Xavier Gens' The Divide takes place? Even Andreas Marschall's Masks is about feeding – this time not on proper food, but on the remains of '70s Italian gialli, as the German director painstakingly recreates the feel and aesthetic of a whole era, from the show-stopping prologue and credit sequence to Sebastian Levermann and Nils Weise's uncannily accurate score. While definitely less pretentious (and therefore much more successful, at least to this viewer) than Cattet and Forzani's Amer, Masks has its share of problems, especially in the draggy third act: those who saluted Marschall's Tears of Kali as one of the most promising horror films of the new millennium are in for a partial disappointment.
All things considered, the most unusual diet is the one followed by the giant, voracious and just plain stupid trolls in André Øvredal's The Troll Hunter, which revisits Nordic mythology in the form of a mockumentary à la The Blair Witch Project, with an ecological subtext, lots of subdued humour and an anti-government sting in the tail. Øvredal's trolls feed on just about everything, animate – sheep, cows, humans, with a predilection for Christian blood – and inanimate alike – including coal, lime and stones.
And stones is what is apparently served to diners at the start of the tasting menu in Mugaritz. They look just like stones, round and grey, yet actually they are potatoes, covered with edible clay and to be dipped in a tasty garlic mayonnaise. Diners at Mugaritz used to find two small tags on their table: one read sométete (submit), the other rebélate (rebel). There is no middle way. Either you play Andoni's game – and then you are in for a wonderful time, you have fun and learn things, with your palate and your brain – or you end up disgusted and offended. Aduriz, just like Adrià, loves to play with false appearances, textures and shapes. At Mugaritz, nothing is what it seems at first sight. Those who lazily trust their eyes or their taste memory are in for lots of surprises. Paraphrasing Magritte, ceci n'est pas une pain is what comes to mind when Mugaritz' "bread" (made with kuzu radish) is served. More surprises follow. A cheese that's not a cheese, a warm toasted legume beer served with fake olives (beans), a dish mysteriously named "Shhhh… cat got your tongue" which is dehydrated veal tongue cut into tiny little strings and reduced to what looks like a miniature prairie shrub. The result is an extraordinary roller coaster ride (as is the Semana's award winning short film, Till Nowak's The Centrifuge Brain Project) which has all the brilliance of the best Fantastic cinema. Most important, it's not useless experimentation: taste is always prominent, even vehement, as proven by the fatness and crunchiness of Andoni's pig tail in toasted seed oil, a true culinary masterpiece.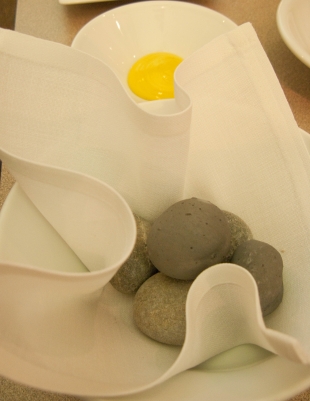 If Andoni is the Magritte of contemporary haute cuisine, Subjiana is as playful and provocative as Dali: the hors d'oeuvres are represented by a hilarious fake bathroom kit – soap dispenser with a gel of basil and tomato, an edible onion sponge, a packet of sea bath salts (crustacean corals), moisturizing cream (made with local Idiazabal cheese) and mouthwash (a cocktail). Later on, a foie gras escalope is liberally covered with lots of "salt and pepper" which are actually sugar crystals and black puffed rice, and a turbot with its kokotxa is served: only, turbots have no cheeks…
There's definitely a touch of Surrealism in the best contemporary Basque cuisine. And these corpses are truly, absolutely exquisite.