Dolce Vita Confidential: Fellini, Loren, Pucci, Paparazzi, and the Swinging High Life of 1950s Rome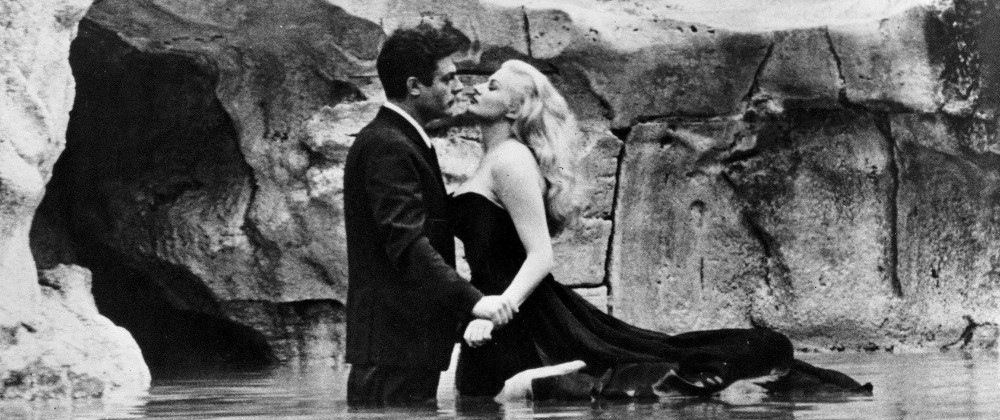 Dolce Vita Confidential: Fellini, Loren, Pucci, Paparazzi, and the Swinging High Life of 1950s Rome
SHAWN LEVY
London, Weidenfeld & Nicolson
pp. 447
The position of biography within film studies is a tricky one: either trashy or too close to the subject; little understanding of the context or inadequately researched; not enough interviews, or not enough of the right interviews. How then do you construct a portrait of a city's society in an era which is so film ––and time– specific as Rome in the post-war years and whose cultural moment (the summer of 1958) is encapsulated in one film, La Dolce Vita (1960)? And how might this be situated in the wider discipline? The new film history – a loose grouping of post-millennium academics– has to some degree widened the bandwidth of possibilities in acknowledging that people are at least as significant as the films they make, and not merely in the framework of post hoc studies privileging the auteur, a persistently troubling moniker. Shawn Levy's work as an historian of major figures in the entertainment world might be considered to belong to its wider shores of cultural studies. Rome after 1948 is his latest subject (following London's Swinging Sixties) and he picks apart different aspects of mid-century Italian cinema and the melting pot of influences that made it happen, culminating in Fellini's major global breakthrough, a devastating portrayal of narcissism that functions as socio-political critique.
The post-war touristic films that the big producers favoured are not the ones necessarily loved by the critics –Quo Vadis, and Three Coins in the Fountain – but they are beloved by audiences and made the city a holiday choice for millions particularly in the wake of the Holy Year of 1950. In the interim was the miracle of neo-realism, an explosive expression of a country rebuilding itself from scratch following its disastrous flirtation with fascism. Visconti, Rossellini and De Sica created the influential neo realist movement with La Terra Trema _,_Germany Year Zero and Ladri di Biciclette, all released in 1948. Levy concisely adduces the content, context and affect of the neorealist explosion:
In a remarkable cultural turnaround, a country that had allied with Hitler to wage the most destructive war the world had ever known was now celebrated as s source of sympathetic portraits of human resilience, aspiration, and, sometimes, redemption. The themes of poverty, endurance, and yearning ran through … They created an image of Italy on its knees with which audiences everywhere could empathise. There was no braggadocio to them, no sense of excusing away Mussolini and his wars, no traces of nationalism or even, really, of any political agenda. They were simple stories of simple people facing titanic difficulties. And they were made in a way that seemed palpably more vital and true than the typical studio-based film from Hollywood or Rome (70).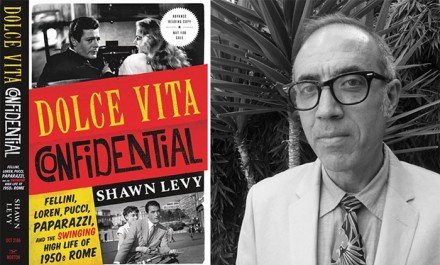 1948 was a seismic year for fashion design as well, with the inauguration of the Centro Italiano della Moda (Italian Fashion Institute). Levy chronicles the growth of the industry through the careers of Simonetta and the Fontana sisters, who attracted Hollywood stars following their design for Linda Christian's wedding dress when she married Tyrone Power, the star of Prince of Foxes (King, 1949), which was shot on location around Rome and Tuscany. With Brioni making exquisite suits for men and Pucci developing eccentrically beautiful (and endlessly copied) prints for women, the stage was set for an unprecedented era of growth to rival Paris, capitalising on the market that already existed for luxury accessories. New and highly profitable associations with American stores were cultivated through a series of fashion shows initiated by Giovanni Batista Giorgoni in Florence each year, a phase latterly known as Il Boom. The competition between Rome and Florence is chronicled, as is the purely journalistic feud between the curvaceous stars that came to emblemise the country's cinema, Gina Lollobrigida and Sophia Loren. Loren's hard work, her producer mentor Carlo Ponti, and her dedication to learning English ensured that she would become the bigger star, accurately predicted by none other than Gabriel Garcia Marquez (180). For a brief period however, it was their concave opposite, Audrey Hepburn, who tickled the world's fancy with her breakthrough in Roman Holiday (1953) ,a film probably more responsible for increased tourism to the city than any other.
Levy describes the 1950s as the industry's historically healthiest. The work of the emergent auteurs conjoined with that of their neorealist predecessors, coupled with popular sword-and-sandal epics and visiting American productions, created what became a hugely vital industry. It was initiated by MGM's decision to remake the silent epic Quo Vadis, whose box office success spawned a revolution in Italian cinema when Hollywood made it the centre of overseas filming, christened by Time magazine 'Hollywood on the Tiber'. The backdrop to Italy's post-World War 2 cinematic renaissance was being carved from Mussolini's excess, including Cinecittà, a 99-acre site 9 km from central Rome, the destination location for Hollywood studios keen to liberate their frozen war dollars in a move that turned around the Italian cinema's fortunes because the monies had to be reinvested locally. The campus was based on the centralised mode of production that Hollywood pioneered and in the wake of the war there were still refugees living on its fringes. Federico Fellini had arrived there from Rimini in 1939 in order to interview an actor making a costume epic and was overwhelmed: as Levy quotes him, "I had exactly the same strange sensation that I remembered having as a little boy when I was first taken to the circus" (63). That sensation is one he would continuously reproduce when he was finally given the keys to the kingdom following his career as radio writer, caricaturist and screenwriter. But the system was an inversion of Hollywood inasmuch as the voices of individual directors took precedence over an authorial studio model. A decade after the influential documentary-style films had created an international sensation, the ancient city was host to three very special auteurs who together re-created the lexicon of cinema and daubed modernism into the mix: Visconti (who bestrode both modes), Antonioni and Fellini made Italy the centre of moviemaking. At the same time, the visiting stars and wannabes who congregated in the hotels, restaurants and bars on the Via Veneto made the scene ripe for publicity.
Just what were the special circumstances of Rome in that era and how did it become the centre of the creative world? Levy explains:
In the fifteen or twenty years after World War II, when filmmakers and movie stars and fashion designers and hedonists and street photographers were colliding in the cafes, nightclubs, salons, ateliers, back lots, and cobblestoned streets of Rome, the combination of those strains of culture – high and low, official and illicit, elegant and crass – was a unique and in many ways unprecedented blend. For a few years, Rome was once again, the capital of the world – a new world, built of stardust and chic clothes and the titillation of scandal and the buzz of motor scooter engines and the flash of camera bulbs. Bits of it had existed previously, even in Rome, but never before had it all come together in the particular form which it took that place and time, a form that would still dominate popular culture more than half a century later (xxi).
Fellini was one of the writers of Rome, Open City and Paisan (1946), working alongside Rossellini, learning his craft as an assistant director and even occasionally as an actor. He co-directed (with Alberto Lattuada) Luci di Varietà or Variety Lights in 1950 which got good reviews but made little money. Crucially it made him realise that he had a personal vision which he could only communicate through cinema if he had the power to direct films himself. By the time he made I Vitelloni (1953) he could truly be said to have made a "Fellini-Fellini" in the same way that Antonioni's Il Grido (1957) was the first film that truly expressed his particular vision.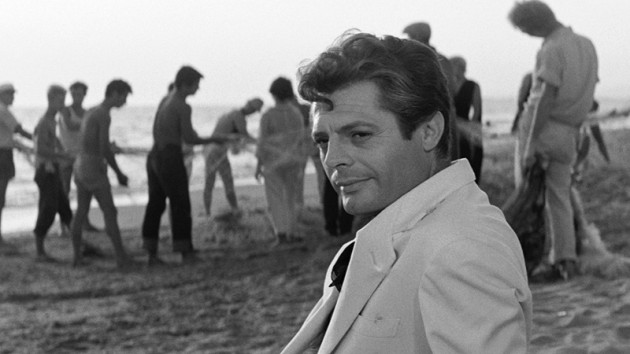 Levy's special talent in building a picture of the city is in the accumulating of gleaming detail. We are introduced to 'literary boulevardier,' Ennio Flaiano, satirist and one-time novelist who jobbed as a film critic and eventually started contributing to screenplays – his liking for the café society of the Via Veneto would prove invaluable to the text of La Dolce Vita. Levy traces the background of society and bohemia (even Gregory Peck's journalist's has an apartment on the Via Margutta in Roman Holiday) along with those emboldened and pesky photographers (scattini) who caught so much life and scandal for their low-rent magazines buzzing around the city's streets on their scooters. Fellini went to the twenty-four hour newsstand on that fabled street and assembled a collage of cuttings and photographs documenting the lurid reality of the depraved demimonde that populated it, creating a wall of inspiration for a film that would be "a portrait of Rome at a certain moment in its eternal history, the Summer of 1958 … as if it were a film in period costume" (266). He studied the striking scandals that were simultaneously personal tragedies and a gossip columnist's dream: Fon de Portago, Aiche Nana and Belinda Lee, and others, less storied, are the underbelly of the society whose aspirations could not be contained by convention. The behaviour of the journalists bringing the stories to light raises the question of such conduct and indeed the role that scandal plays in the culture. The Fontana sisters would create their own scandal when they designed a form-fitting black sheath dress to resemble a priest's cassock: as worn by Ava Gardner, it drew the attention of Pope Pius XII – who gave their 'linea cardinale' his blessing. Fellini took notice. Never had the worlds of fashion, film and religion been so tightly merged.
From I Vitelloni came the character of Moraldo, who in a story by Fellini, Flaiano and Tullio Pinelli, with Brunello Roni (with uncredited work by Pier Paolo Pasolini), would mutate into Marcello Rubini, the existential anti-hero incarnated by his namesake, Marcello Mastroianni. The actor was disarmed by Fellini at their meeting for the role when he was told he had been chosen for his ordinary face. There was no screenplay – just a folder of cartoons and caricatures including a man whose penis descended to the sea bed, surrounded by mermaids. Mastroianni agreed to sign immediately.
The organising principle of Levy's book and of course La Dolce Vita is the image itself: in particular, the photograph – the means by which it is obtained, its content and its means of production and consumption. The scattini were originally tourist snappers whose vocation was transformed by the increasing presence of visitors to the city carrying their own cheap cameras thus rendering the local entrepreneurs redundant. They then deployed their services to the multitude of magazines which had a huge local audience in a country where radio had never really developed. The rumoured adulterous relationship between Roberto Rossellini and Ingrid Bergman on the set of Stromboli couldn't be proven because of the remote island location off Sicily: when they were photographed dining on the Via Veneto a whole new industry was born. That scandalous shot was taken by Pierluigi Praturlon, who was briefly held hostage by Rossellini at his home, where the director was co-habiting with the international star. Tazio Secchiaroli was another snapper who worked for the International News Service, an agency for American news outlets. He drove his employer, Luciano Mellace, into the midst of an anti-NATO protest in June 1952 and another photographer, Franco Pinna, took a shot of them: riding around in sharp suits, snapping the political fracas in a storm of flashbulbs. He thereby captured a new phenomenon, which Levy describes as "the spectacle of a photojournalist careering into a news event on a scooter like a centurion aboard a chariot" (86).
The significance of the photographic image to what came to be known as the Montesi murder joins more of the dots to the origins of Fellini's film. A young woman called Wilma Montesi was found washed up on a beach in a presumed accident in 1953. The gossip around the Via Veneto connected her with a drug-fuelled orgy involving the son of a political figure and a well-connected pimp. The resulting prosecution failed and a defamation suit followed when journalists pursued the truth. However the photographs of the various personalities provided the foundation for the narrative to La Dolce Vita.
Sophia Loren's career ironically began in the pages of the fotoromanzi. For a teenager initially described as being 'impossible to photograph,' she rose above the competition and even Mastroianni admitted she would be a star. In their 1955 romantic comedy La Fortuna di Essere Donna, Mastroianni played a tabloid photographer on the make who sees a girl (Loren) adjusting her stocking and the image gets on the cover of a magazine. The girl then decides she wants to be in the movies. When Bosley Crowther reviewed it for The New York Times, he advised, "Forget the story, forget the subtitles, just watch the dame" (143). However it would not be an Italian actress who would represent Fellini's Rome. Levy analyses the reason why Anita Ekberg came to be the centre of Fellini's film:
In many ways the Swedish starlet was the one person in all of Rome in 1958 who embodied the various themes and contours Fellini had in mind for the movie (269).
One evening in 1958 Ekberg was photographed dancing in the Trevi Fountain by the most famous scattino Praturlon , who, as Levy points out, was the first to transcend the pack. He was driving Ekberg home from a night out dancing and she complained about her sore feet. She insisted on stopping to soak them in the fountain and as she did, he photographed her dancing in the dark. The images were published in the magazine Tempo Illustrato and piqued the director's interest. As his friend and biographer Tulio Kezich stated simply, "the idea for the film is inseparable from the idea of Anita Ekberg" (271). Its conclusion is the photograph itself: the still of the modern-day Venus bestriding the Trevi watched admiringly by the sycophantic Marcello. Kezich was a bystander and observer as the film took shape and was also there to witness Mastrioanni, the soul of the film and its feckless conscience, who claimed that Ekberg's Scandinavian cold-bloodedness reminded him of the Nazis during the Occupation. There was nothing erotic about how this scene was created –Ekberg plunged into the water enthusiastically while Mastroianni had to drink copious amounts of vodka and wear waders to deal with the chill. Levy says that Fellini would transform Praturlon's original shot "from reportage into poetry" (234). He would also immortalise the snappers in the character of Paparazzo (a name coined by Flaiano, the sound of which suggested to Fellini a buzzing, irritating insect); they have never gone away. Praturlon served as set photographer to the production, and took the images of Ekberg that became iconic: perhaps one of the more extraordinary self-referential facts in a legendary film.
The book is particularly strong on the working relationship of Fellini and Mastroianni and the way in which the character of Marcello was created, an atypical role for a modern but unusual actor. Mastroianni said that Antonioni "hated actors" so his experience with Fellini was eye-opening. He was led to confront himself and his own experience of angst, stating that "It was like I was being administered a truth serum. Until then I was hiding my true self even from myself. I analysed myself. I discovered many faults but also some virtues. The sum total was not so bad. I never hid from myself again" (286). He separated from his wife for a period of time during the shoot. His personal insights mirror the journey of his character who finds himself unable to remove himself from his predilections: Alain Cuny is the intellectual writer and mentor to whose position he convinces himself he aspires, but he never truly reconciles those parts of his essential personality and continues to immerse himself in a louche lifestyle. Satyricon, indeed as Alberto Moravia (prophetically) remarked. Mastroianni would act again of course for Antonioni in La Notte earning himself an Academy Award nomination. He may not have had Loren's physical attributes but he was undoubtedly a star.
The book's final third clarifies Levy's prismatic approach as he details every element that contributed to La Dolce Vita. In that, it mirrors the construction of La Dolce Vita itself: refracting the city's stratified elements that confront each other and converge so dramatically to reveal the sordid reality not far from the surface of attractions. In the same way that the film was frequently misunderstood for the damning socio-cultural critique that it is, this is a deeply researched, scrupulous excavation of Roman society, as much cultural geography as social history, revealing itself in precise descriptions that are recognisable as strands in the complex narrative of the film itself, revealing piece by piece the elements of fashion, film, journalism, sexuality and energy that made it the epicentre of 1950s culture.
As Levy states, the film's breath-taking opening shot of a helicopter lifting a statue of Jesus Christ out of the city conjoins three Romes: imperial, Christian and modern (296). It also removes God from the city, permitting the carnival of libertines to begin. Fellini was shooting widescreen for the first time and just as the film marked a turning point in his work in terms of visual composition and the blending of realism with the fantastic, it signified a new maturity for cinema itself with its sexually explicit and openly nihilistic themes, shot in a compellingly stark and oily monochrome. It was subject to waves of wilful and indignant criticism.
Levy writes cannily of the film's content and affect in the wake of its controversial reception:
To anyone who didn't have a stake in Italian polemics, it was completely obvious that Fellini had created an absolute masterpiece.
La Dolce Vita was a teeming work, with hundreds of incidents and characters and costumes and melodies and sequences of dialogue and behaviour, and yet it managed to seem as pointed, precise, and intimate as heart surgery. Fellini's characteristic carnival of images, sounds, and impressions made it something of a grab bag, but he had utterly rid the film of anything he didn't want in it. It was as thoroughgoing a work of art as the cinema had ever seen. If one measure of aesthetic greatness is mastery over not what is included in the finished work but over what is excluded, then La Dolce Vita achieved it (295).
And:
Never mind that the film was condemnatory of sybaritic living or made the Rome from which it arose look like a circle of Dantean torment. It was gorgeous, it was historic, it was evocative. Rome had always had a way of making even the most egregious aspects of its past look romantic and alluring. Why shouldn't it do the same with the moral crises of its mid-century coming-out party? (301).
When it premiered, Antonioni reportedly shrugged and asked, "_Now_ what are we going to do?" (291). The primarily apolitical nature of the directors' works (a charge that might also be levelled at the directors of the nouvelle vague) is effectively neutralised by the influential work of the neorealists, of which they had been a part. The new filmmakers were liberated, in every sense, and Antonioni's abstract take on the contemporary also features in the new world created by Italian cinema. It is this that Levy plugs into so vividly and yet as he also demonstrates, Fellini in some ways was the most astutely political of them all, correctly adducing that fascism's enduring obsession with popular culture had infiltrated everything in its wake. The greatest irony perhaps is that in examining the orgiastic predilections of contemporary Roman society, Fellini had made his greatest personal cinematic statement to date. He understood the lure of voyeurism and its deadening impact and Levy is at pains to explain the fables of the reconstruction. As Jonathan Jones once wrote of Fellini, he thought of everything first. We are still catching up with his acid take on the culture.
The later disgrace –the Burton-Taylor affair on (and off) the set of Cleopatra– is also an historic photographic moment: the famous 1962 shot of the couple embracing on a boat off Ischia taken by Marcello Geppetti using a telephoto lens finally proved their relationship after months of pursuit. It was sold worldwide and their adultery drew the condemnation of the Vatican. The ontology of this particular photographic image had international and theological repercussions. It is the obvious endpoint to a decade, more or less, in which Rome was synonymous with glamour. With new SLR cameras and zoom lenses nobody was out of reach. If La Dolce Vita was a caustic and cautionary epic that showed the outward effects of people's disastrous self-absorption, Otto e Mezzo (1963) was the internal journey of a man searching for meaning. It would be Fellini's second masterpiece. He had huge difficulties in constructing it but as Levy states, "by making the film, Fellini had solved the puzzle of exactly what film it was he was trying to make" (362). His multi-dimensional fusion of dream and reality would be anchored once again by Mastroianni, playing "a gorgeous catastrophe" (363). The experience set him free. However none of the Italian auteurs had a handle on the youth culture that happened so abruptly and the existentialism that Fellini captured had all but evaporated; yet the paparazzi he publicized on the Roman streets were now so violently confrontational that when John Huston was shooting The Bible there he declared that American productions would avoid the city in future. Some of these self-styled 'action photographers' ironically blamed their reputation on their portrayal by Fellini. The infamous Praturlon would parlay his role as advisor on La Dolce Vita to set stills photographer on numerous international films and all of Fellini's work after 1970; while his role as portraitist to Sophia Loren would be taken up by fellow scattino, Secchiaroli. The travelogue film then met something of an unnatural end with a Gidget production that didn't even feature Sandra Dee.
The coda to this is the death of Fellini himself. One enterprising and shameless paparazzo took a shot of his body in hospital. It was shown on one TV channel but an outcry meant it was never published. The director was laid out in Studio 5 at Cinecittà, the location he had immortalised. Once again the worlds of cinema and Catholicism converged.
This offers a very human face to an immortal location and time already examined in academic works by authors such as Millicent Marcus and Peter Bondanella, as well as John Baxter, whose biography of Fellini is so impressive. Its skilfully woven skein of stories provides an ideal companion piece to those volumes to explain the nature of the post-war world that made these men the directors they became and the precise confluence of characters and culture that combined so meaningfully to make the most strikingly modern film of the era. La Dolce Vita has inspired fiction too: actress Carroll Baker hymned the city in the rather lewd A Roman Tale , an entry in the Eighties bonkbuster phenomenon which had some echoes of her own time as part of the expat group making films there after the circus had packed its trunk. Jess Walter's Beautiful Ruins looks at life on the fringes of the making of Cleopatra and even introduces Richard Burton, characterising him rather shabbily, it must be admitted. It is paid homage more recently in Kieran Somers' appositely titled Hollywood on the Tiber, which deftly dramatizes the rather arcane sound dubbing praxis of post-synchronization. All of these books are indebted to the world so beautifully conjured by Fellini, a world crystallised in the photographs so carefully documented here.
We all have our own version of Rome –but is it ours at all? I still recall the heady experience of my first visit: perambulating unexpectedly uphill along the Via Veneto (Fellini said his flattened reconstruction of it in Studio 5 at Cinecittà was far superior) where I bought a copy of Bright Lights, Big City from the famous international newsstand; seeing the Trevi Fountain, minus La Ekberg yet convincing myself I could hear her calling Marcello! in the water's thunderous din; drinking in the atmosphere of a masked Mardi Gras parade as it snaked around Il Vittoriano, a procession that could have been directed by Fellini. Even my little vacations there feel like they are choreographed by a genius. Rome is Fellini; Fellini is Rome. We see the city through his eyes. It was his film set: all human life is here. Levy does a marvellous job of recreating the unique alchemy and sensual vision captured so indelibly by il maestro, making the deep connections that linked this visionary with the city he made his own – and ours. What Fellini did was to pioneer a way of seeing. It makes us wonder all over again that such a time, such a place could have existed. The proof is in the eternal celluloid.