I am the Blues (2016, Daniel Cross): Keeping the Blues Alive With Daniel Cross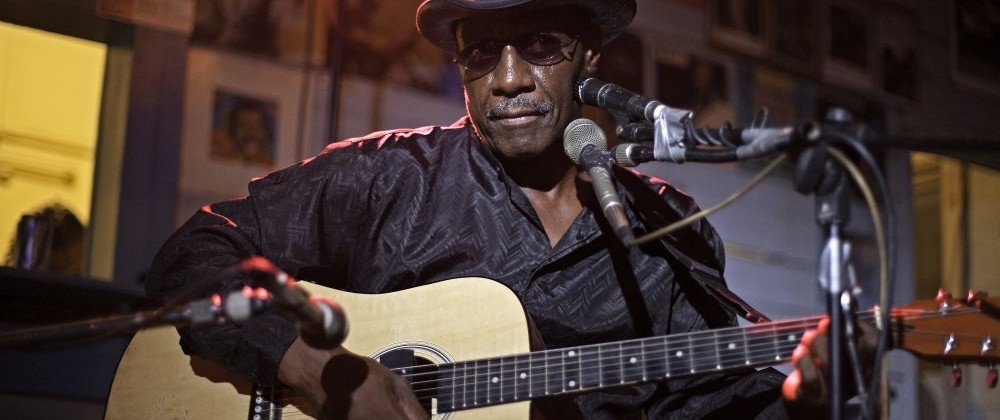 I am the Blues is the latest film produced by Montreal-based production-distribution company Eye Steel Film. The writer-director of I Am the Blues, Daniel Cross, is the co-founder, along with Mila Aung-Thwin, of Eye Steel Film. Cross' first feature documentary films about homeless youths, The Street: A Film with the Homeless (1997) and S.P.I.T.: Squeegee Punks in Traffic (2001) set the template for the kind of socially engaged, socially empowering documentary films that Cross and other like-minded filmmakers have been making since 1997. Cross splits his time between directing and producing and teaching film production at Concordia University's Mel Hoppenheim School of Cinema. Though I've known Daniel for many reasons through teaching in the same department, I never realized how much of a blues music fan he was until I heard about his latest film. The Blues as a subject is no stranger to the documentary, with such notable entries as Deep Blues (1992, Robert Mugge, based on the classic Robert Palmer book), which treats a similar, though not identical, subject, Mississippi Delta blues; The Search for Robert Johnson (1991, Chris Hunt), The Blues, a Musical Journey (2003, Martin Scorsese), Chicago Blues (1972), Genghis Blues (1999, Roko Belic) and Delta Rising: A Blues Documentary (2008), to name just a few. But there is always room for one more, especially when the film is so intimate and personable as Cross' I am the Blues, which travels with the film's nominal guide, bluesman Bobby Rush, in and around Bentonia, a town in Yazoo County, Mississippi, in search of the last exponents of the "Bentonia School of Blues," a particular style of guitar playing that is at risk of disappearing, as blues artists age and pass on. Cross' love of and respect for the blues gains the confidence of the players in a way rarely seen in documentary. The musicians interact freely and honestly with each other and open up with some personal tales (you can never tell with the blues what is real and what is legend) that demonstrate how the blues is not a job but a calling. I am the Blues is at once a pilgrimage but also a call out to help save this intriguing school of blues. If Cross' film doesn't succeed in saving the Bentonia blues style, at least we now have a good idea of what we are losing. The film has been making waves across film festivals, played for a decent run in Montreal, and has been sold to the Documentary Channel.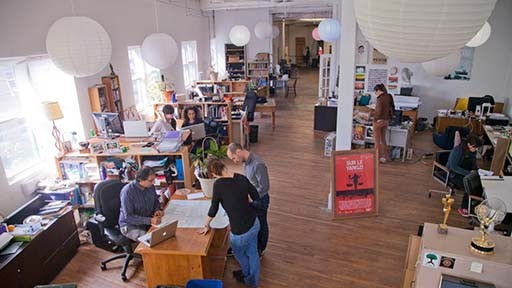 Eye Steel Film offices
I urge you to visit the film's Official Website, which is a treasure trove of extra material, interviews, HD film clips, musician biographies, and a unique immersive viewing experience. http://iamthebluesmovie.com/
Offscreen: First off, I am a big blues fan, and have always loved this form of music. Were you a fan of the blues before making this film?
Daniel Cross: Yes for a very long time. I remember the Rising Sun bar in Montreal, now shut down, seeing 15 years of Midnight free shows during Jazz Fest at the Spectrum, the Blues by 4 show with John Lee Hammond, PineTop Perkins, Elvin Bishop and John Hammond Jr. When I was a kid I hung out for a week with Rev Dan Smith, Kansas City Red, Honey Boy Edwards, Big Jim Brewer, Frank Frost, Sonny Terry, on the "worlds largest Winnebago", and got them a gig at the old Railway Club on Pender in Vancouver.
Offscreen: I know that Mississippi is an important home of the blues because of the role of the Deep South in slavery. But what made you decide to center your film in and around Bentonia, Mississippi?
DC: Well the Blues the action in Mississippi for me was in Bentonia with Jimmy Duck Holmes "At the Blue Front," the juke joint is always open and yet totally historical. So I decided to hang out and get some verite scenes and then to pay homage with a sort of song circle held there with some Mississippi blues musicians Bobby Rush, Little Freddie King, LC Ulmer, McKinney Williams and they jammed the day and night away. That night we headed into Jackson to the Queen of Hearts Juke Joint to meet up with King Edward and Jesse Robinson and eat some BBQ . LC Ulmer decided to show off a little and played the guitar behind his head and then did some buck dancing, he was 86 (rip my sweet friend). Then Bobby Rush taught us how to Ham bone .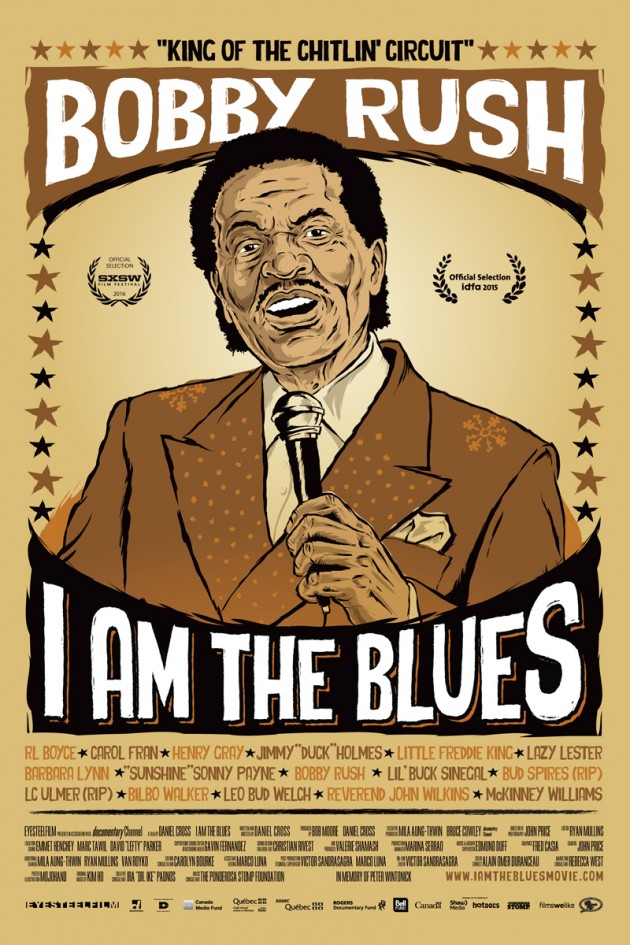 Offscreen: How long did you film there?
DC: I spent 3 years filming around the blues – it was great
Offscreen: Did you time your shooting there coincide with the reunion concert, or was that pure luck?
DC: It was for the film – master minded LOL – However every 3rd year in June Jimmy Duck Holmes hosts the Bentonia Blues Fest at the Blue Front Café, for the past 44 years. Check out jimmy's new album recorded live at the Blue Front.
Offscreen: I like the structure of the film because it feels different than other documentaries. It is a mixture of so many elements of the documentary. There are interviews, concert footage, lots of impromptu playing, some 'travelogue' footage, a bit of your own voice in there too. How much of the structure was planned out?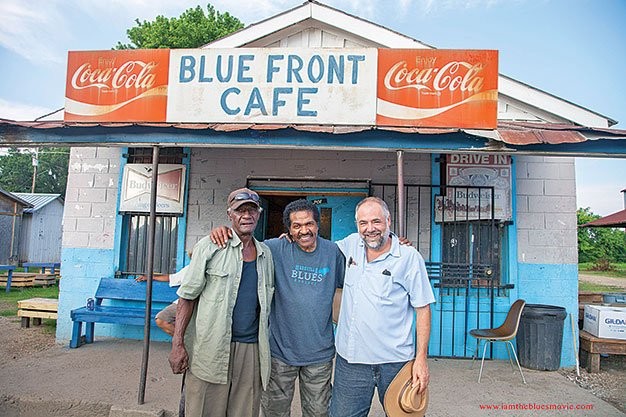 Jimmy Duck Holmes, Bobby Rush, Daniel Cross in front of the Blue Front Cafe
DC: NONE of it! It started cold and got hot , followed the beat. Met Dr. Ike in New Orleans and we had 10 days before he had to get back to the operating room and we just drove and dropped in on musicians and talked. None of the musicians have management and they all live back home.
Offscreen: I noticed there is extra footage on the film's website. Did you have a high shooting ratio, like you do get in documentary? Or did you shoot pretty much what you wanted, or use up most of what you shot?
DC: I shot too much, but I always do that in my verite approach, it was so much fun they were my friends and I loved hanging around. Many characters did not make the film —there were too many (Alain Toussaint, Tennie Hodges, Kenny Brown, WILLIE COBBS…) but THEY are ALL on the website there are so many excellent stories, characters and music. The website also has a 3d immersive tour of the Blue Front café.
Offscreen: Bobby Rush is an important character in the film. He becomes your guide to the area. How did you meet him?
DC: I dropped into his house in Jackson and he was very gracious and generous, after the interview he took me aside and said I'm into this and will do what you want/need and it turned out he meant it and backed it up with action! So we shot and traveled a lot together. He has 2 vans with over 700,000 miles on them. He is simply the greatest person out there, I hope everyone gets to meet a Bobby Rush in their lives it makes you a better person. Check out his brand new album "Chicken Heads" – it is great.
Offscreen: When I think of Rush I think of Otis Rush. I must admit I did not know of Bobby Rush before your film. I assume that Bobby is no relation to Otis?
DC: NO.
Offscreen: Still on Bobby Rush, he really seems like someone not afraid to self-promote. And for someone who has worked as hard as he has, I don't begrudge him that. Can you just talk a little about the time you spent with him? What was he like? He did come of as very genuine in his interactions with the other musicians.
DC: He is genuine, liked and respected, he manages his own career and owns all the rights to all his 300 plus songs and works over 200 gigs every year, he is a warrior at 83. They are all self-promoters or they are dead broke, they love to play music for people. Bobby gave us a lot of time and introduced us to many people a huge help to make the film.
Offscreen: Seeing your film you come to learn how important names are in blues and how everyone has to have a good stage name. It becomes a calling card, along with playing style. That's one of the things that has attracted me to the blues, how every part of it has a story. Like the name, the guitar, the mentor, the blues venue, the lover who inspired a song, etc. Blues is the most narrative of musical forms. I laughed when Ulmer (I think) says, "This guitar is a Bible"! And this comes out really well in your film. This is more a comment than a question.
Offscreen: In terms of guitar playing, I thought Lil Buck Sinegal had the most modern playing style, with his bends, trills, vibrato and faster style. He seemed closer to the Buddy Guy/Otis Rush Urban Chicago style of guitar. Compared to for example, Ulmer, Holmes or Boyce, who were closer to the Skip James style. I wonder, did he spend time in Chicago (like Bobby Rush did)?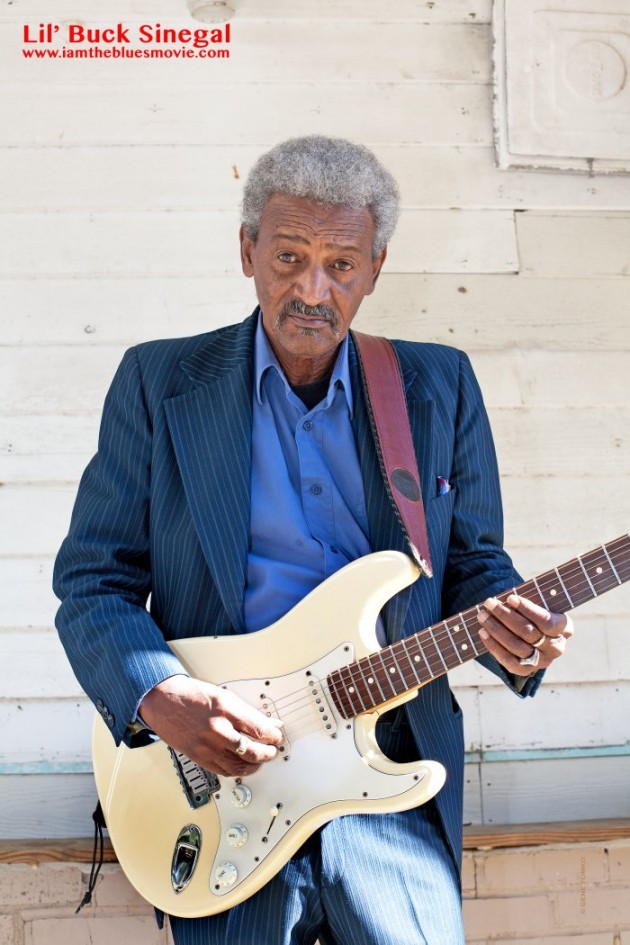 Lil Buck Sinegal
NO Buck was a star as young kid in Louisiana with his band, and then he was the guitarist with Clifton Chenier, he introduced Electric Guitar into Cajun music. Eric Clapton calls him the best blues guitarist alive. He plays every Thursday with Carol Fran at the Lafayette seniors home, and starts every morning at 6 Am mass, they don't get any better.
Offscreen: The Blue Front Café has such an incredible history to it. Were you tempted to just hang out at the Café to listen to music and talk to the musicians? Did you have time to do that or was the camera always on?
DC: NO you gotta turn the camera off or they will kill you,
Offscreen: There's quite an emphasis in the film from the musicians on prosperity, on keeping alive the Bentonia style. You have these musicians in their 70s and 80s who are the last in a line of generations going back to slavery and sharecroppers. While making the film did you feel like you were part of something bigger?
DC: It certainly started to feel that way especially with Benjamin Bud Spires and then he passed, then LC Ulmer passed, Tennie Hodges passed, Alain Toussaint passed. It is the end of a lineage of music roots, new blues won't be this, they cannot have these experiences, today what they lived through is against the law.
Offscreen: You also have that young kid picking up the guitar in a few shots. Once right after there is talk about the need to preserve the music. Was the kid with the guitar staged? Or to what point was it staged?
DC: EJ is the grandson of Jimmy Duck Holmes and he is teaching him the blues, we filmed scenes of him playing with his grandfather but the scenes did not fit in the film so we just used shots of him that we picked up of him alone with his guitar.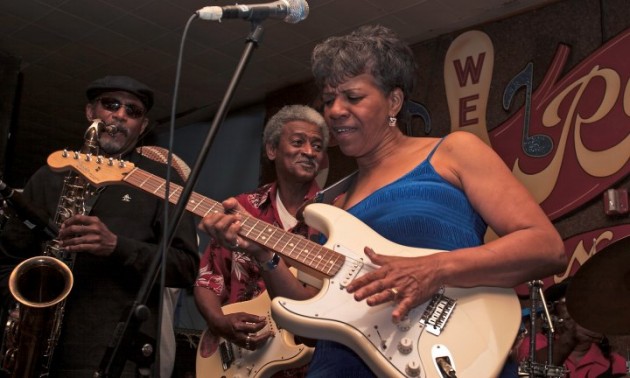 Barbara Lynn
Offscreen: I get the sense that music keeps a lot of these blues men and women alive. They love playing so much they don't want to die! Was there an awareness of death and legacy while you were there, among the musicians?
DC: YES most are over 80 they are amazing but old, Carol Fran had a stroke, many died, but they never stopped. Most of them are not famous, yet they were and should be more recognized, Henry Gray 91 is a king on the piano .
Offscreen: The shots of the three guitarists on the café porch playing and talking reminded me of the three black characters sitting and talking against the red brick wall in Spike Lee's Do the Right Thing. Was this a conscious or unconscious influence, or just a coincidence?
DC: Just the way they hang out on a hot day …
Offscreen: I love the bit where Rush talks about the two towns, Tutwiler being one, that were owned by blacks during slavery. They way it represented freedom. He felt so proud. That really says so much about poverty and the way poorer classes tend to get locked into poverty because they never own –the great American Dream notwithstanding. Strangely that too relates to Do the Right Thing and those three black men, who have that very exact by discussion about how the Koreans who just got off the boat, own the shop across the street, while the blacks in their own hood do not own anything. I found it interesting that Rush had that insight. Another way that blues tells stories, and blues is about America.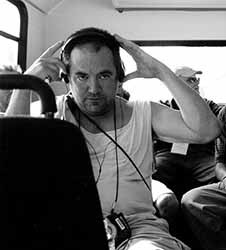 Cross recording
DC: Bobby is very smart and astute.
Offscreen: A final question. I love the film's website, especially the interactive jukebox. The 'meandering' nature of it, the way it gives you space to visit feels like the film's own structure. Whose idea was that? Who designed it?
DC: Lots of help from Marco Luna and MFA graduate and then Holo Labs had a contract to put it together and then when the money ran out we continued evolving it at EyeSteelFilm we are working on a 360 VR Blue Front currently as part of my Research chair at the University
Offscreen: And to end off, I really loved the film, so congratulations Daniel on a unique and important film.
Featured image is Jimmy Duck Holmes
All images taken from the I am the Blues website