The Many Tales of Shahrzaad's Tale: An Interview with Shahin Parhami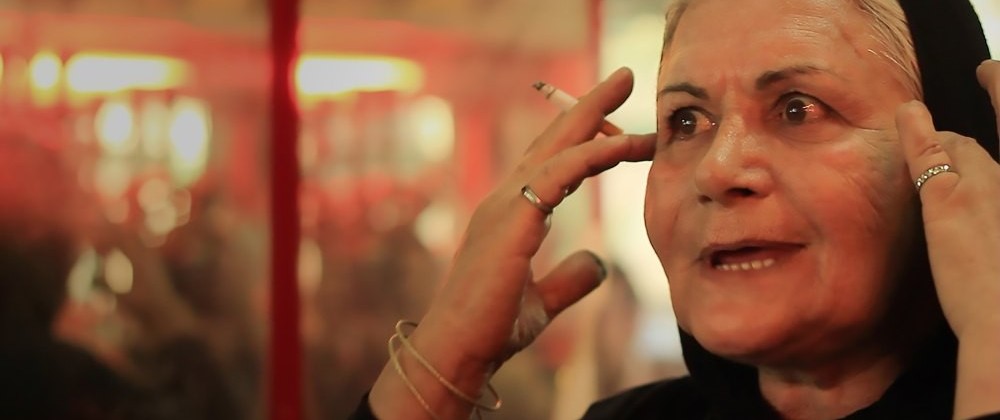 Shahin Parhami has been a shining presence of the Montreal independent film scene for many years. I [Donato Totaro] am fortunate to have known Shahin since his early days in Montreal. Shahin was a student in one of my film studies courses and I have written elsewhere about how Shahin and another Iranian student, Farbod Honarpisheh, introduced me to the world of Iranian cinema in the mid-1990s. Farbod went on to complete a PhD at Columbia University on Iranian cinema and Shahin has become a mainstay of the Montreal art scene. After several successful experimental short films in the late 1990s that dealt with themes of exile, melancholia and artistic expression, Shahin directed three documentaries with varying experimental tendencies, Faces (2007), Amin (2010) and his latest, Shahrzaad's Tale (2015). A theme running through many of Shahin's films, short and long, is a poetic treatment of history and the loss associated with the past, whether through the artist (Amnesia, Jabaroot, Faces, Amin, Shahrzaad's Tale) or urban or geographical spaces (Lahoot, Raga Malkauns, Shiraz 1340). [Clips from all these films can be viewed at Parhami's artist page, linked at the end of the interview.] Whatever the subject or theme Parhami's films are always infused with the tender sensibility of a poet-artist in search of imagery and sounds that capture the frailty, courage and strength of the human soul. After all these years I am glad to formalize and present this interview with Shahin for Offscreen.
Offscreen: For our readers who may not know you can you tell us a little about your personal life history, where you were born, when you came to Canada, etc.
Shahin Parhami: I was born in Shiraz, Iran, and lived there till my late teens when I left Iran on foot as refugee, to Turkey and after two years of refugee camps in different parts of Turkey ended up in Canada in the late 80s. In terms of art and my artistic tendencies, from my early childhood I was obsessed with drawing and telling stories with comic strips! My parents noticed that passion in me and enrolled me in art/painting classes after school where I learned more about different techniques and was introduced to schools, styles and genres of painting. In my early teenage years, I moved towards other artistic mediums, like music, poetry and photography. I remember even attempting to write a feature film script in Persian, based on one my favourite novels at the time, 'Goodbye Gary Cooper' by Romain Gary who for some reason was a very popular writer in Iran at that time. Soon after my arrival in Canada, a friend who was in his last year at Ottawa U studying photography and cinematography, asked me if I have any idea for a short film that he wanted to make as his final assignment for school. We ended up making a short film based on a poem I wrote in which I participated as a writer, actor, composer and co-editor of the film. After that experience, I found that cinema is THE medium for me since it consists of all the artistic mediums that I was interested in. Since there was no film school in Ottawa, I started with film studies program at Carleton University and three years later, I moved to Montreal and switched to film production at Concordia where I graduated with a BFA in 1998. And since then I've been making experimental short films and feature experimental and creative documentaries.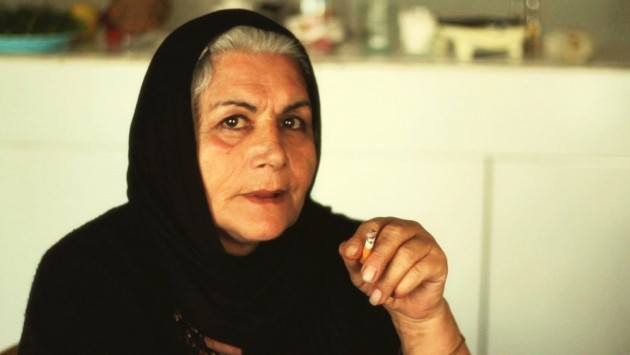 Shahrzaad from Shahrzaad's Tale.
Offscreen: Your subject, Shahrzaad, is quite an interesting person. A real character, strong yet vulnerable. Why did you pick this subject? What is it about this woman that first interested you? At what point did you decide to make a film about her?
Shahin Parhami: Growing up in Iran, I was exposed to Iranian popular cinema, the "Film Farsi" genre of the 1960s-1970s. So as a child, fascinated by the silver screen, I was familiar with the actress Shahrzaad who was then a regular star of such films. She always stood out to me as a very brave and strong woman. She usually did the risqué scenes and the characters she portrayed were mostly tough, street-smart, working-class women, a cabaret dancer or a sex-worker with a golden heart. Later, I learned that Shahrzaad was a published poet and a filmmaker. She was actually the first woman filmmaker in Iran who wrote and directed a dramatic feature film before the 1979 revolution. After the revolution popular genre of "Film-Farsi" and its star-oriented culture became seen as a decadent, un-Islamic, westernized, amoral and corrupted form of entertainment. Like many artists in the entertainment industry, Shahrzaad was banned from the silver screen and TV. About two years ago I read an online article in Persian on Shahrzaad, calling her the most famous homeless woman in Iran. I also found out that a few months after the revolution, on Women's Day, March 1980, she attempted to make documentary on hijab and went with a Super8 camera to shoot a demonstration held by women on that day. But she got arrested and ended up in prison for almost a year. Her story deeply saddened me and provoked me to make a film about this extraordinary woman. A tale of a working- class artist who against all the odds struggled and succeeded to become an icon in the mainstream popular culture of 1960s-70s Iran, as well as an intellectual writer/poet and a filmmaker.
Offscreen: In more general terms, how did this film come about? That is, how did you translate your personal interest into a film project involving other people and requiring financing?
Shahin Parhami: I learned about Shahrzaad and her current situation right after I finished my previous film Amin and travelling with it to different festivals. So I kind of started my research on her and her whereabouts by the end of 2011. I really felt that it is an important subject and character to make a film about, and could see a lot of potential with it as a creative and cinematic documentary, considering her strong personality, and her background in art and film industry. As I mentioned in the film, I consider myself a filmmaker not a journalist, and have no interest in talking-head, or TV friendly type of documentaries. But it was really a very tricky project to finance. I was also not sure, if I even could find Shahrzaad! So at the beginning I thought the project might be only a quest for Shahrzaad, with a title like, Looking for Shahrzaad! I also had a very hard time financing my previous film, Amin. I learnt the hard way that documentaries on Iran do not make any money and traditional funding agencies, like TV networks in North America are not interested at all in such projects. Miraculously, I convinced Eyesteel films to give me chance and a bit of development budget to travel to Iran and find Shahrzaad. So in the early 2012 I made it to Iran and was very lucky to find her contact, through House of Cinema in Tehran after a couple weeks. I talked to her over the phone and learned that she lives in a backwater village in the south center of the country. She agreed to talk to me over the phone. By the way I didn't tell her that I was planning to make a film about her over the phone. We only discussed that when I visited her at that village about two weeks later.
She actually refused to participate in the film at first and said, she had promised herself not to appear in any film or anything that has to do with cinema and media. It took hours of talk to convince her to participate in the film. I showed her Amin and told her that the film really helped Amin at different levels, that it found him a sponsor who made it possible for him to finish his PhD in Kiev.
In terms of narrative structure all I was certain about at that stage of production was that I will travel there with a female assistant who would also be in front of the camera as one of the subjects in the film, a representative of the new generation, a young woman who is interested in arts, and literature, or is an actor or wants to be one. I wanted this person to form a friendship with Shahrzaad so through their interactions and conversations I could capture some good moments.
Offscreen: We learnt there is only one extant interview with Shahrzaad. Why do you think there is so little recorded material about her?
Shahin Parhami: I can think of a few reasons for that, a couple of them important ones could be that Shahrzaad being extremely isolated, and geographically living in such a place that is not very accessible does not help the situation. Also the fact she does not have any access to any form of social media, basically no access to internet. Also her tough and difficult personality or for the lack of a better word, her eccentricity, is another important reason. Depending on her mood and mental health it is not easy to approach her or if one can, sustaining a long dialogue, or a conversation on a particular subject is not an easy task.
There are some write-ups or short articles and posts about her life, her poetry and films online. But most have no idea if she is still alive or how she makes ends meet or where she lives!
Offscreen: Your film never identifies the names of the subjects. Is this to protect them in the event of any political repercussions?
Shahin Parhami: That was an aesthetic choice. I wanted the film to be visually cinematic and not to interrupt the narrative flow with names and information. As you might notice, except the main locations, like Tehran, the Cinema Museum in Tehran and her village, Malak-Abad, I didn't identify any other locations, and also did not identify the films that used some excerpts from. Of course all that info and credits are in the end credits.
I was concerned about their safety as well. And all those concerns made a process of editing and making important editorial decisions very difficult, potentially lengthy and complicated.
Offscreen: Do you see any link between the subject of your last film, Amin, and Shahrzaad's Tale?
Shahin Parhami: Perhaps their link is both being marginalized artists from marginalized communities in Iran, and both struggling to survive economically and pursue their passion and dreams.
Offscreen: It seems that at a certain point in the film, Shahrzaad takes control of the narrative and moves the film in a completely different direction. Is that what happened? Would the film have been as interesting if Shahrzaad had been a calmer person?
Shahin Parhami: Very interesting that you saw the film or better say, the narrative shift this way. I am happy that the film can be seen this way. The film is a portrait of Shahrzaad and the way I work with my subjects, is that I let them perform /represent themselves in any fashion they prefer. Because as soon as you turn your camera on and frame your subject, they start to act or perform. Especially a subject like Shahrzaad who was a performer by profession. So as the director and cinematographer I try to give them a lot of freedom in front the camera and focus on my frame and composition to capture the situations/scenes in a visually appealing manner; with this in mind my films are really made during the editing phase. And the editing phase is an extremely crucial stage in the creative process. In average for a feature length project it takes me about two years to complete a film, so a lot of thought and experiment is involved at the post-production phase! Yes, the narrative moves to a different direction and that happened very organically through the production phase which took about two years in two different trips that I made to I Iran. The first part of the film is shot mostly at her place in the village in the south of Iran. And over there, in that quiet environment she was much more relaxed and in a better or more positive spirit. The shift and the change of tone in the narrative happens when we go to Tehran with Shahrzaad and she revisits her childhood neighborhoods and in general her hometown, the city that she was born, grew up in and where she became a pop star. This is the city where she was able to achieve some of her goals and dreams despite a challenging, abusive and dysfunctional family environment that she went through. And very importantly, this is the city where she experienced a nervous breakdown and where she turned into a wandering homeless woman. So all these memories and the whole urban environment and landscape, and of course the noise pollution had a powerful impact on her psyche. Soon after traveling to Tehran, she started to have frequent psychotic episodes of paranoia and schizophrenia, that obviously made the shooting extremely challenging.
Offscreen: Beyond the delays in filming portrayed in the film, were there any other problems caused by her mood swings?
Shahin Parhami: Well those episodes and mood swings caused many problems. For instance I did not have an authorized permission to shoot the film so it was an underground and clandestine production. But for the exterior shots in Tehran, I had to find a way to have some kind of a permit to shoot because there was a good possibility of being stopped and questioned by authorities. So I managed to rent a permit! A friend of a friend who was a camera man for some Iranian TV station, lent me his permit for a day! So I only had a few hours to shoot some scenes of Shahrzaad in Tehran, walking in her old neighborhoods and her old hangouts. But as soon as we walked out on the street in the old Tehran district, a couple of undercover secret police approached me and asked for a permit. Just before I start talking to them, Shahrzaad started to argue and shout at them. They responded, and after a few seconds she ran away and I lost a couple of hours of precious time out of the only day I had a permit to shoot Shahrzaad in on the streets of Tehran!
I must add that Shahrzaad's mental instability was not the only problem during the 4 years I was working on this project. It's a long story and certainly can't be discussed in an interview. I received death threats and faced many other obstacles during the production of this film. I often say that I should make a psycho thriller film or write a thriller about making this film!
Offscreen: Your use of clips from her pre-revolutionary films is very interesting, particularly in showing an aspect of Iran the west is largely ignorant of. Are these films freely available in contemporary Iran? If not, how did you get hold of them, and did you have trouble securing the rights to show clips from them?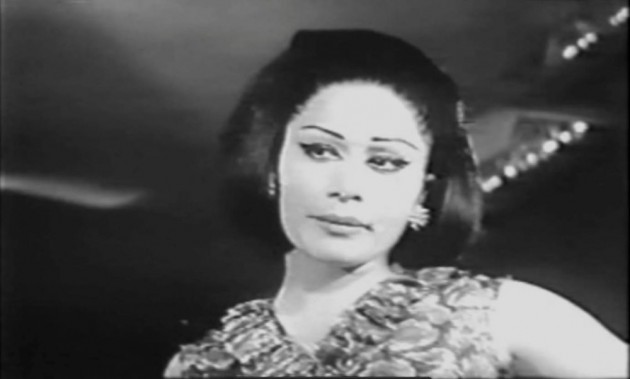 Masoud Kimiai's Qeysar (1969)
Shahin Parhami: One of the main attractions for me to choose to undertake this difficult project was the possibility of incorporating such clips. I wanted to expose westerners who have been bombarded with stereotypical images of Iran by the mainstream media to this part of Iranian history and pop culture. Actually no one owns the copy right for the films, especially Film-Farsi films that were produced pre revolution. They are only available in the underground market in Iran, or could be purchased in Iranian grocery stores in cities outside of Iran and around the world where there are large Iranian communities. You could also buy them online but unfortunately most of them in very bad VHS quality, even if they've been transferred to DVD and mostly do not have subtitles. In the last few years, some of these films have been digitized by film enthusiasts in Iran who had access to a 35mm print. A couple of the excerpts I use were from such new transfers which I found in the underground market. But most of them had very bad quality and it was an ordeal to process them digitally and make them watchable on the big screen.
Offscreen: At times you make graphic parallels between her films and her current life, like the cutting from her unlocking her door to her doing the same in a film, and when she says she would have used a gun on her assailants if she had one and you cut to her shooting a man in the film. This must have been very tempting to do all the time. How did you resist the temptation?
Shahin Parhami: Yes, indeed it's very tempting to overdo such graphic montage or intellectual montage when you're sitting at the editing table with all this interesting material. I am big fan of found-footage films and I have a couple of films that are either entirely found-footage or half of the material used in them are found or archival footage. But for this project I had to be very careful to keep the balance! I had many hours of footage of a very complex subject/character with a very dramatic life history. And some moments were extremely heavy and heart wrenching, so the use of those excerpts/clips was very calculated. Sometimes they served as comic relief after an emotionally heavy sequence.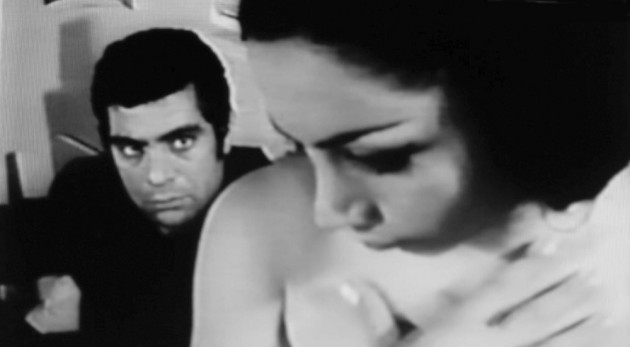 Masoud Kimiai's Qeysar (1969)
Offscreen: There is an interesting scene where Shahrzaad meets former film colleagues, and one tells her there was no persecution under the Shah, and she insists there was. Does this reflect a debate in Iran over what the country was like before the 1979 revolution?
Shahin Parhami: Yes, it's an old and ongoing debate. It really depends on what one's social class is and political affiliations. Pouri Banaii, Shahrzaad's former colleague, was a superstar in pre-revolution cinema. Unlike Shahrzaad she came from an affluent family. And still, almost openly, a royalist. She is one of the very a few celebrities who never left Iran after the revolution. She stayed and now manages a company with her brother and does a lot of charity work in Iran.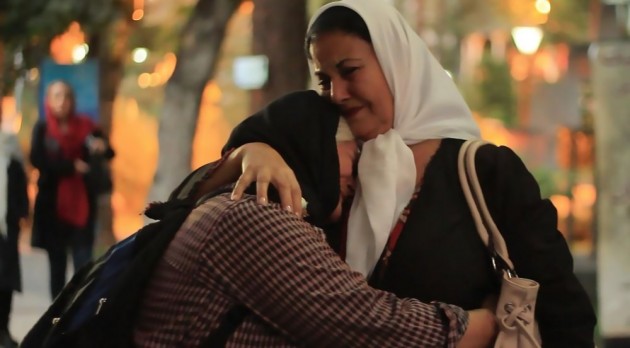 Offscreen: There are references to Persian poets and a scene in a courtyard associated with a specific poet whose meaning is obscure to non-Iranian audiences. Could you talk a bit about this?
Shahin Parhami: I think the scene you referring to, is the scene where the guy in the museum of cinema is talking about Shahrzaad's poetry and recites one of her poems by heart.
Offscreen: Could you talk a bit about how you became interested in documentary film, about any specific films or filmmakers who have influenced you and whether you can point to scenes in Shahrzaad's Tale which reflect this influence?
Shahin Parhami: I have a very eclectic taste in cinema, from experimental, avant-garde to Bollywood, from Maya Deren, Tarkovsky, Bresson to John Waters! In regards to documentary cinema, I believe all films are in a way documentary. It depends how we read them. Even a musical from 1940s can be read as a form of a documentary film. It is a document of what were the show business trends, fashion, race and gender dynamics or so on in the mainstream media, and film industry at the time. As filmmaker who started with experimental shorts, after graduating from film school I found it almost impossible to break into the commercial film industry, especially if one is interested in dramatic fiction. I also knew that I had no interest in that type of commercial and conventional movie scene. But luckily digital technology had just starting to be more accessible in a more pro-consumer level. Shooting digital and the possibility to edit your film on a personal computer, brought the cost of production and to some extent post-production, significantly lower. So making films was not just an unattainable dream, especially if you were interested in documentary cinema. The kind of cinemas that I could relate to in a deeper and creative level… like the type of cinematic experience that when you come out of the theater, you tell yourself I could totally make a film like that!! Cinema like Italian neorealism, the French New Wave, Alain Resnais, Cassavetes, Iranian New Wave, particularly directors like Parviz Kimiavi, Sohrab Shahid Sales and Abbas Kiarostami, they all had some documentary feel and appeal in their cinematic vision. So I'm sure having watched and studied all those films and directors, at least subconsciously, have influenced me in one way or other.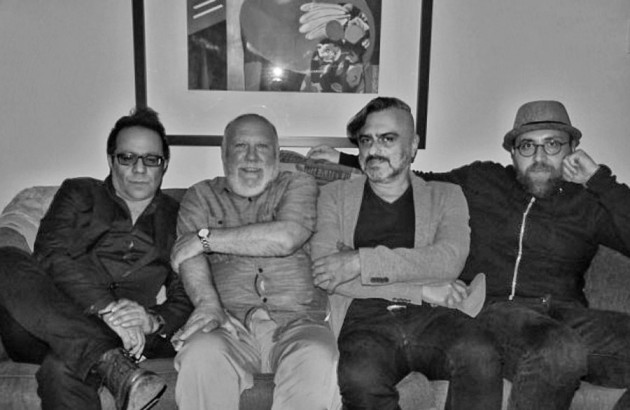 Celebrating Kiarostami on his death with like-minded fans, Farbod Honarpisheh, Peter Rist, Shahin Parhami and Mustafa Uzuner
Offscreen: In a scene at the beginning and near the end Sharhzaad walks through a garden of stones, it looks like the one from Kimiavi's film The Garden of the Stones (1976) and its sequel The Old man and His Garden of Stones (2004). Was this actually shot in the same location? I assume this was meant as an homage to Kimiavi, but is there more to it than that? I am thinking of the actual shepherd who made this garden, Darvish Khan, who spent his life protecting this odd garden. Given how Shahrzaad sees herself as a political artist, do you think the shepherd's act can be read politically, as an attempt to save a certain cultural aspect of Iran?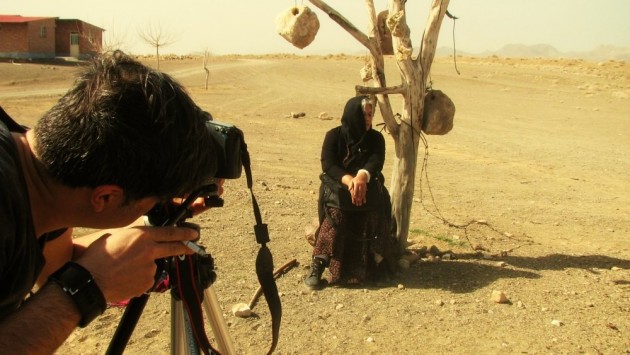 Parhami lining up a shot. Homage to Kimiavi
Shahin Parhami: Yes, absolutely it was an homage to Kimiavi! Even at the end credits I dedicate the film to Parviz Kimiavi and his Stone Garden. The location was the same, the famous Stone Garden, in the Kerman Province, in South of Iran, a few kilometer from the village that Shahrzaad lives. When I first traveled there to talk and interview Shahrzaad, I realized we were not too far from the Stone Garden, and decided to take Shahrzaad there and perhaps film her there while reciting some of her new poems. That location is loaded with symbolism, references to different cultural and political and historical aspects of Iran. To me it is a giant and vast installation art in the middle of a desert, made by a deaf and mute artist, Darvish Khan. I'm very happy you pointed out this aspect of the Stone Garden and Darvish Khan, I did not think of Darvish Khan as the protector of his mysterious garden at the time of the shooting, but later on I thought that it can be read that way as well. Very interesting that you made that parallel between him and Shahrzaad. There is also the spiritual and mystical aspect of the Stone Garden and Darvish khan which could be compared to Shahrzaad's life and life style post- revolution, how she lives like a wandering dervish from forests in the north of Iran to the deserts of the south!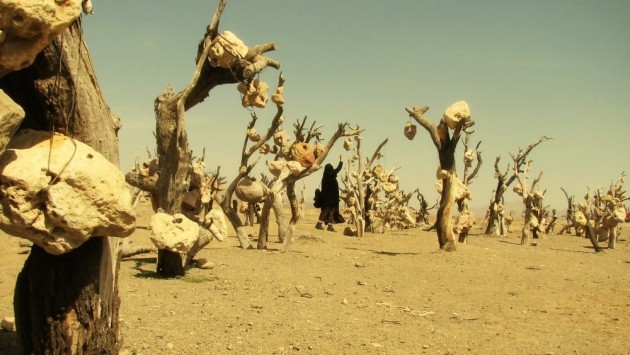 Homage to Kimiavi
Offscreen: The shot where your camera follows the leave on the ground….that feels like a reference or homage to something. I wouldn't say the plastic bag in American Beauty but maybe the newspaper in Antonioni's Red Desert in the cobblestone road outside Giuliana's boutique. Is there any truth to this?
Shahin Parhami: Interesting! Not really, a friend who watched the rough-cut mentioned the plastic bag in American Beauty, and since he hates that film, his only criticism of my film was that shot of the leave! I definitely didn't have that scene from American Beauty in mind when I shot the leave scene. I have a more vivid memory of Antonioni's newspaper or the shot of the apple rolling down the balcony in Kiarostami's The Wind Will Carry Us but I had no intention referencing those shots! The leave scene came about during one of those long days of shooting Shahrzaad in the office when I was conducting the interviews in Tehran. That day as I was waiting for her mood to shift to a more agreeable and calm state, I decided to save time and shoot some images of the surrounding environment to use as potential insert shots. As Shahrzaad was walking and pacing on the balcony. I noticed the leaf right outside the room where we were shooting most of her dialogue and monologues. And also that spot was our smoke corner, that's why you see some cigarette butts in the shot! Something about the mood that day which to some extent was felt during the entire a few weeks that we were shooting in that location, a feeling of suspension, uncertainty and in the same time, some sense of freedom was expressed with that dance of the leave and the current above the drain on that balcony. During the editing I felt I needed a very quiet and meditative sequence after a long monologue by Shahrzaad. The pacing was important because it was right before the last sequence of the film.
Offscreen: Do you think Shahrzaad was unique because she starred in popular films but was also a serious poet, or was that combination common amongst Iranian actors?
Shahin Parhami: Shahrzaad was unique in a sense that she was coming from a very working class family, a young woman who started as a dancer in her teenage years in small cafes and bars, making it to upscale cabarets and then to popular films as an item woman and finally as a more serious actor in New Wave films, and finally a writer-director as well as a published poet. No it wasn't very common amongst the Iranian actors of the time.
Offscreen: How did you select the group of young women who would meet Shahrzaad? And in the scene where you tell them what the film is about and their role, was that the first time they learned about their role in the film?
Shahin Parhami: As I mentioned before, at first I was going to just have one young woman as my assistant and a representative of the new generation of Iranian women, but due to some complicated problems with that young woman, I had to replace her with another aspiring woman artist. Through some photographer friend, I got a list of young women who were interested in acting and had some experience in acting and modeling. So to find the replacement I called an audition and about 20 young women showed up. I talked to each individually, told them about the project and Shahrzaad. Also showed them a short demo of the project, and then told them I'll do a short screen test which was basically filming a short speech about their impression of Shahrzaad in front of the camera. At that point Shahrzaad was already in Tehran and only had three weeks to shoot the rest of the film. I realized there is not much time for finding a perfect candidate who in this limited time can befriend Shahrzaad, and develop a close relationship with her, so I could capture some interesting moments of their interactions, dialogues and exchanges. So I decided to invite all of the women I auditioned to come and ask questions and interact with her. Hoping that at least one or two would connect better and form a closer relationship with her.
Offscreen: I like the scene where you speak to the young man working at the film archive. The fact that he was able to recite lines of her poetry gives you a sense of how important she must be as an artist. Was that scene shot with a hidden camera? And if so, why?
Shahin Parhami: Yes, I was very lucky to meet that young man in the Cinema Museum, I had met him a few years before, at that museum's book store. He had known about me and my films, and even had copies of my short experimental films in his store. That day I decided to ask him about Shahrzaad while shooting some images of the Cinema Museum clandestinely since I didn't have a permit to shoot. To my surprise he was a big fan, knew her and her work very well! Later on when I shot the sequences of Shahrzaad in the Cinema Museum they met and became friends!
Offscreen: Issues of censorship come up when she watches one of her old films with a particularly "naughty" (to use her term) dance number, then she says that her personal DVD copy does not have that dance number. Was it common for these racy films to be censored by the government?
Shahin Parhami: Those films are banned entirely by the current government. The VHS and DVD copies that exist are distributed underground or under the table in some video stores in Iran. I think right after the revolution, around 1980 to 1981 when VCRs were introduced and became popular as a home entertainment devices many of those popular pre-revolution films became available on VHS. Since there were not yet any regulations on this new form of home entertainment, enterprises and individuals capitalized on this new technology. There were many video stores opened in Iranian cities. Actually my father, who had just retired from the army, opened one of the very first video stores in Shiraz. I believe some of the companies who were transferring the prints to VHS, they themselves cut or censored some the risqué scenes to be on the safe side in the then newly born Islamic republic. I have to add that by 1983 all of the video stores got closed down by the government and selling or renting films was declared illegal. That's when home entertainment industry went completely underground.
Offscreen: In your documentary you mention that she directed two films, The Great Wishes of Maryam and Maryam and Mani (1979), but on IMDb they only have one, Maryam and Mani (1979). Is that an error? If so, someone should fix that.
Shahin Parhami: Yes, that's an error. The Great Wishes of Maryam was her first film. As she calls it, her calling card short film. But Pouri Banaii, the super star that she meets after years in the film, loves it and that's one of her favorite films. She also had the lead role in it. Unfortunately, I haven't seen it and it seems there is no copy of the film available anywhere. I only have a few photographs that were taken on the set at the time.
Offscreen: When her actor friend asks her about why she did not make more films Shahrzaad replies that she was stopped from making more films. What was it about her persona that frightened the status quo?
Shahin Parhami: Well because of all the risqué scenes and characters that she played in Film-Farsi films she was banned from silver screen and TV after the revolution. The new revolutionary government at the time saw that class of entertainers simply as prostitutes.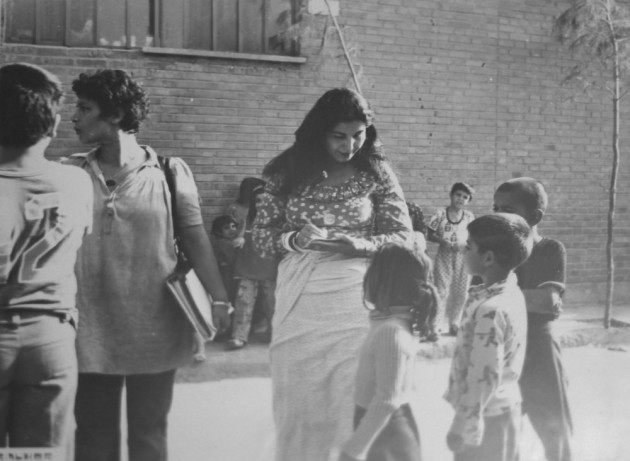 Shahrzaad and actress Pouri Banaii behind the scenes of her first film, Great Wishes of Mariam
Offscreen: Although since the 1990s there have been a lot of women directors in Iran, I imagine that was not the case pre-1979. I can think of course of Forugh Farrokhzad. Were there very many other women directors other than Shahrzaad in the pre-revolution days?
Shahin Parhami: Not that many, maybe two or three woman filmmakers beside Forugh Faroukhzad. There is Shahla Riyahi who some believe is the very first woman director. Riyahi who was an actress, mostly playing supporting roles, in 1950s till late 1970s, just made one feature drama that some argue she only completed a film which was her husband's project. And that's because the husband fell sick during the production and she took over the role of the director and finished the film. The other woman filmmaker was Pouran Derakhshandeh who still makes films in Iran, but before the revolution she only worked at national TV and made a couple of series or TV shows.
Offscreen: There are some beautiful images in your film, but I think that formally this is your most straightforward film in terms of the structure and editing. Was that a conscious decision tied to the subject matter?
Shahin Parhami: True, I think the main subject/character's personality and life was so multifaceted and complex that there was not much room for experimenting and making the narrative structure, which still was non-linear, more complex.
Offscreen: Even with all her anger and resentment, Shahrzaad remains hopeful that one day she may be able to make another film. Do you think this hope is realistic?
Shahin Parhami: Unfortunately I think that's not a realistic hope! But that kind of hope is what keeps Shahrzaad alive and creatively active, so in the bottom of my heart I nurture that hope and one of the reasons for making this film was to give some visibility to this incredible female artist and help her to be heard internationally. I hope at least she gets support to have a more comfortable life at her old age and maybe she can at least publish her poems and novels that she has written in recent years.
Official Trailer https://vimeo.com/147125019
Shahin Parhami's Official Artist Page: http://www.shahinparhami.info/index.html