The Cranes are Flying
Review of Criterion DVD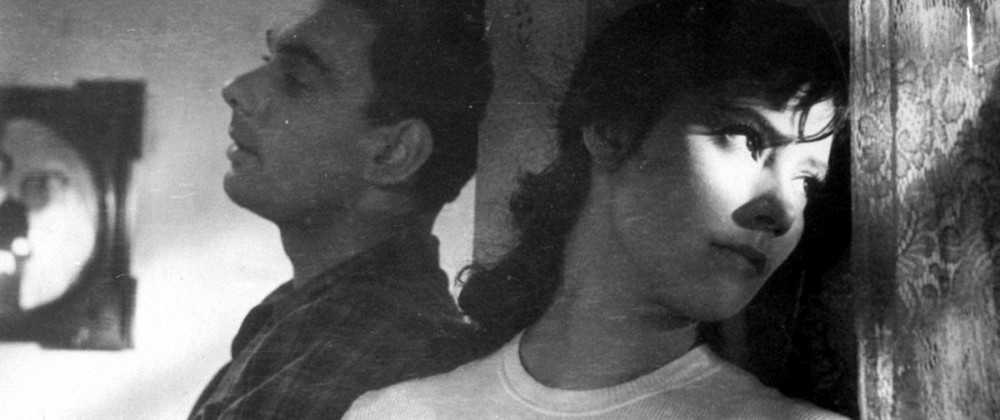 The Cranes are Flying (Letyat Zhuravli)
1958, Mosfilm, 35mm, Sovscope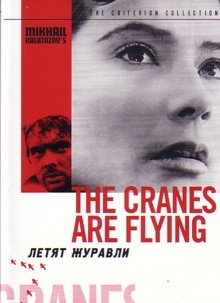 Stalin died in 1953, but it took several years before Russia would awaken from the cultural numbness brought on by twenty years of socialist realist doctrine. Khrushschev's famous speech at the 20th Party Congress in 1956 exposing the cult of Stalinism marked the beginning of a brief reprieve, known as the "Thaw." Grigori Chukhrai's The Forty-First (1956) was the first important film of this period, but The Cranes are Flying, made in 1957 and released abroad in 1958, was the first GREAT film of this period. Nineteen Fifty-Eight was an impressive year in International cinema, with such films as Miklos Jancsó's The Bells Have Gone to Rome, Satyajit Ray's The Music Room, Ritwik Ghatak's Ajaantrik, Mario Monicelli's I Soliti Ignoti, Kurosawa's The Hidden Fortress, Bunuel's Nazarin, Jacques Tati's Mon Oncle, Wajda's Ashes and Diamonds, and Terence Fisher's The Horror of Dracula. In hindsight one can not question the Cannes selection. For sheer historical importance, The Cranes are Flying made a staggering impression after years of Russian socialist realist war propaganda. Seen alongside such Stalinist cult of personality films as The Oath, The Fall of Berlin, or The Battle of Stalingrad, The Cranes are Flying literally soars with its lyrical, anti-war statement and no-holds barred formal experimentation that harks back to the glorious Russian films of the 1920s.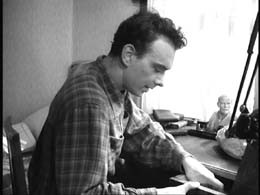 The return of Lenin during the "Thaw"
The Cranes are Flying answered the ludicrously romanticised views of war propagated by socialist realism with a healthy dose of expressive realism. Along with The Forty-First, it inaugurated a wave of refreshingly "grim" anti-war Russian films such as Chukhrai's The Ballad of a Soldier (1959), Andrei Tarkovsky's Ivan's Childhood (1962) and Alexander Askoldov's Commisar (1968). The Cranes tells a simple story of budding love shattered by war.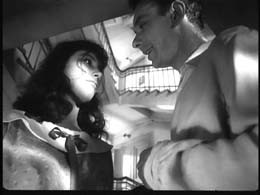 Fated Wartime Love
Two young lovers, Veronika and Boris, become separated when Boris volunteers for war duty. Lonely and emotionally fragile, Veronika is unable to wait out the war. Boris' step-brother Mark, a vain pianist who attained a war exemption on the black market, senses her weakness and takes advantage of her. An implied rape scene is set during an air raid, with the objective onslaught of war used as an expressionistic barometer of Veronika's inner state of mind. Kalatazov pulls out all the stops with chiaroscuro lighting, canted, low angles of Mark's crazed face, and a frenzied sound mix of air raid sirens and a piano concerto.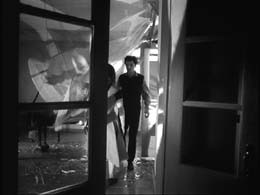 Out of shame, Veronika marries Mark. In the next scene we witness Boris as he is shot and killed during a reconnaissance duty. Boris' backward fall to death is temporally elongated by striking point-of-view shots (a zoom out of the moon and low angle spiraling camera movements of whirling tree-tops) and a "life-flashing" montage.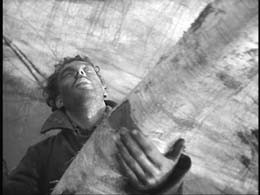 The Cranes are Flying depicts a homefront unlike the usual saccharine image found in socialist realism. In the eyes of Boris' family, Veronica has betrayed the memory of her fiancee. However, she has no feelings for her cowardly husband, but rather tells him "I wish you had never been born." Veronika becomes embittered and suicidal ("I wish I were dead."), and only accepts Boris'death when faced with its undeniable truth at the Victory Day celebrations. This final sequence is a sublime study in emotional contrast. Veronika, flowers in hand, searches for Boris among the Victory Day crowd, still hopeful that he is alive. Her indefatigable hope is finally crushed when she is shown a photograph of herself that was in Boris' possession. In medium shot, the camera follows Veronika, crying tears of sorrow, as she walks past couples reuniting in tears of joy. Such formal inventiveness was unseen during socialist realism. The mix of Russian style montage (for example, the Eisensteinian temporal distention during Boris' death scene) and precocious long take sequences builds to an emotionally charged, hellish rendering of the Russian home and war front experience. The film still remains patriotic, but never compromises its humanist virtue for propaganda's sake.
Credit for the film's visual elegance must be shared between director Kalatozov and cinematographer Urusevsky, one of cinema's great director/cinematographer pairings. Their other works include The Letter That Wasn't Sent (1959) and the recently re-released, internationally acclaimed I am Cuba (1965). I am Cuba is as much a propaganda piece (pro-Castro) as any Russian film made before it. However, like the glorious films of the Twenties, the pill is easier to swallow because it is coated in such a mellifluous style. Tatyana Samoilova, the great-niece of Russian theatre legend Constantin Stanislavsky, was also honored for her outstanding performance in the role of Veronika.
Criterion's release of this seminal film on DVD is not loaded with their usual plethora of extras, but the most important aspect of their tradition remains: a wonderful new digital transfer with restored image and sound which does full justice to Urusevsky's stark expressionist cinematography. There is also a new and improved English subtitle translation and a liner note essay on the film by Chris Fujiwara. Cranes are Flying joins Criterion's other seminal Soviet 'Thaw" film, Grigor Chukhrai's Ballad of a Soldier (1959). Now we can only hope that Andrei Tarkovsky's Ivan's Childhood (1962) is next!
Director: Mikhail Kalatozov Cinematography: Sergei Urusevsky Editor: M. Timofeyeva Art Direction: E. Svidetelev Music: Moisei Vaynberg Script: Victor Rozov, from his play "The Every Living" ["Vyechno Zhivye"] Cast: Tatyana Samoilova (Veronika), Aleksei Batalov (Boris), Vasili Merkuryev (Fyodor), A. Shvorin (Mark), S. Kharitonova (Irina), Valentin Zubkov (Stepan), A. Bogdanova (Grandmother)