Canadian Movies at Fantasia
From 1996 to 2019
In its nearly quarter century of existence, Fantasia has undergone an unlikely evolution, from a festival with no interest at all in Canadian cinema to a major platform for Canadian filmmakers, particularly those from Quebec. The changes it has gone through would never have been predicted at the time of its founding, but its relationship with Canadian cinema has become an integral part of the festival's identity as its appeal has broadened and the types of films offered have become more varied. Over the years, too many Canadian films have been shown at Fantasia to talk about them all. But here are some highlights.
Fantasia's original 1996 lineup consisted almost entirely of Hong Kong genre films from the 1980s and '90s, Japanese anime, and old Godzilla flicks. There wasn't a single Canadian film and, as the festival was initially conceived, no reason for there to be one. However, as big and unexpected a hit as Fantasia immediately became, the organizers quickly realized they needed to expand their repertoire if they wanted to survive.
As a result, in 1997, for its second season, they added an international section, featuring a selection of new and vintage genre films, mostly horror, from around the world. Despite the more varied program, there was still almost no interest in Canadian cinema. The only vaguely Canadian film was Electra (Julian Grant), a campy U.S.-Canada co-production featuring Shannon Tweed as a villainous mother who wants to have sex with her son because his semen gives his partners super powers (I'm not making any of this up). Although hardly a masterpiece, the film's goofiness was a foretaste of more than a few Canadian (and non-Canadian!) entries shown in later years.
In 1998, there were two Canadian films. The first was Airborne (Julian Grant), a mildly campy knock off of an American action film, but with fewer explosions because of its low budget. The second film was more interesting, and a better predictor of where the festival was heading. This was Lady of the Lake, a horror fantasy filmed in and around Montreal by writer-director Maurice Devereaux. Despite the film's (very) low budget, its inventive plot and stylish direction were very well received by the Fantasia audience. Up until then, the festival had little connection with local filmmakers, and this was the first indication things might change.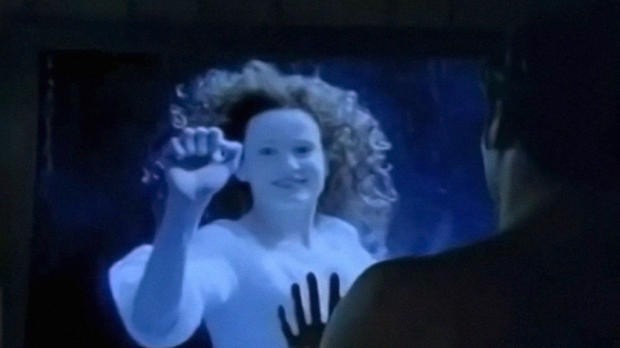 Lady in the Lake
The Canadian presence notched up again in 1999. For the first time, there were a number of Canadian short films, including one (Divided into Zero) written and directed by Fantasia programmer Mitch Davis and another from Vincenzo Natali, best known for the original Cube (1997). There were also two feature films, Out of Mind: The Stories of H.P. Lovecraft, a tribute to the influential fantasy writer directed by Raymond Saint-Jean that combined biographical details and adaptations of three of his stories, and In the Belly of the Beast, a documentary about Fantasia's first two years. While two years in may sound a little early for a festival to endorse this type of self-mythologizing, the film does give a sense of Fantasia's beginnings and documents the legendary moment when Mitch Davis and filmmaker Karim Hussain stepped in to act out a missing reel during a screening of the censored version of Dario Argento's Deep Red.
There were even more Canadian films the following year. Among the shorts were, for the first time, several in French, signifying a new relationship between the festival and the local film scene which would expand dramatically in later years. There were also six features, including three in French. The most memorable was Montreal filmmaker Attila Bertalan's Between the Moon and Montevideo, a film accurately described in the program as "sci-fi weirdness" that featured high profile Quebec actress Pascale Bussières in a major role. The most unlikely was the popular Quebec comedy La vie après l'amour. A crowd-pleasing romcom featuring the province's most durable star, Michel Côté, its mainstream commercial appeal seemed an odd fit for the festival even though its director, Gabriel Pelletier, had directed the hit vampire flick Karmina a few years earlier. Fantasia has since become more eclectic in its programming and a film like this wouldn't be that unexpected a selection now, but it was a surprise at the time.
After missing a year, Fantasia returned in 2002 with a lineup that included seven Canadian shorts, almost all made in or around Montreal, and four features. One of these was Otaku, a medium-length (48 minute) piece by a team of recent film school graduates from Montreal that took an elaborately stylized look at the life and unlikely romance of a pop culture nerd. Another was Ripper: Letter from Hell, a Canadian-British co-production shot in Victoria, B.C. This is a slasher film which has earned something of a cult following due to the length and extreme detail of the sequences featuring its series of gory murders. It probably can't compete with contemporary extreme horror films, but nobody is ever likely to confuse it with a Disney film. In terms of the festival, its screening signaled a willingness to provide a platform for horror films from the rest of Canada. Probably the most anticipated Canadian film this year was $la$hers, directed by Maurice Devereaux, whose Lady of the Lake had impressed festival audiences a few years earlier. A mix of gory horror and dark comedy about a reality TV show where contestants try to avoid being tracked and killed by big game hunters that plays out in real time, the film was certainly entertaining, although not as stylish as Devereaux's earlier work.
There was a decline in Canadian content in 2003, with only a handful of shorts and three features. However, one of those features was Sur le seuil, the first adaptation of a novel by the bestselling writer Patrick Senécal, who has been called Quebec's Stephen King, which featured two of the province's biggest stars, Michel Côté and Patrick Huard. The thematically ambitious film, ostensibly concerned with Satanists preparing for the birth of the Antichrist, encompasses debates over contemporary Québécois identity, presenting a society equally alienated from its rural, traditionally Roman Catholic past (the source of the film's evil) and its sterile, modern, and secular urban present. A moderate hit which received mixed reviews on its initial release, the film has since become the subject of critical reappraisal and academic study. Beyond this, Sur la seuil is also credited with having sparked a series of Quebec horror films. Its screening at Fantasia suggested that the local industry was beginning to see the festival as a reliable platform for its higher profile releases.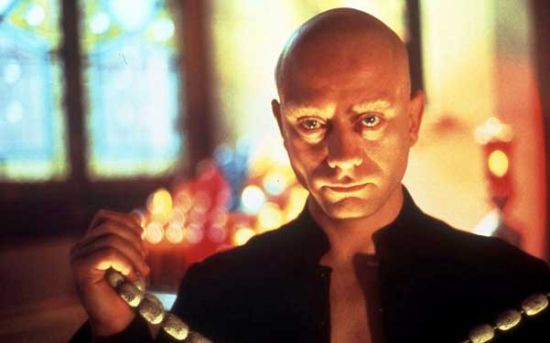 Sur le seuil
2004 was a landmark year in terms of Canadian films at Fantasia, with seven features and over 30 short films. The nuttiest of the features probably came out of Toronto: Enter . . . Zombie King, a frenzied tribute to lucha libre cinema, a bizarre Mexican genre where masked wrestlers take on vampires, mummies, zombies, and other horror villains. In this U.S.-set, but filmed in Canada, low budget extravaganza, a heroic masked wrestler takes on a whole bunch of zombies with the help of some fellow wrestlers, campy dialogue, gory violence (plenty of zombies get their heads ripped off), and loads of surf guitar and other retro music on the soundtrack. On the other hand, maybe it wasn't the nuttiest, since the festival also screened The Night They Returned, which features cannibalism, radiated body parts returning to life, death metal, and a fair amount of nudity. Endearingly, the actor in the monster suit is actually the film's caterer, since that was the only person on the set who could fit into it. Among the more mainstream features were a prequel to John Fawcett's feminist horror classic Ginger Snaps (unimaginatively titled Ginger Snaps: The Beginning) and Vincenzo Natali's third film, Nothing. However, the most memorable of that year's Canadian offerings was From Cherry English, a short from Mi'kmaq filmmaker Jeff Barnaby, who would go on to direct the acclaimed features Rhymes for Young Ghouls (2013) and Blood Quantum (2019). This, his second film, was a striking, blood-soaked allegory featuring a Native man who literally loses his tongue, and deals with concerns over language and identity that would find echoes in Barnaby's later work.
There were another 30-plus shorts the following year, the most notable (at least in retrospect) being Le facteur poulpe, the first film from Matthew Rankin, writer-director of the recent critically acclaimed surrealist take on Canadian history, The Twentieth Century. Of the five features, the most notable was The Dark Hours, a home invasion nightmare laced with vicious violence and a genuinely nasty edge. Made with the help of the Feature Film Project, an organization masterminded by (among others) Canadian movie luminaries John Paisz and Guy Maddin, the film had a higher than usual profile than the typical English Canadian Fantasia entry and there were hopes of it becoming a sleeper hit. It received positive reviews and a number of awards on the festival circuit, but was still unable to get a distributor in the U.S. The film's director, Paul Fox, has worked steadily since, but almost entirely on Canadian television, where he has directed episodes of dozens of series, including Schitt's Creek and (believe it or not) Anne with an E.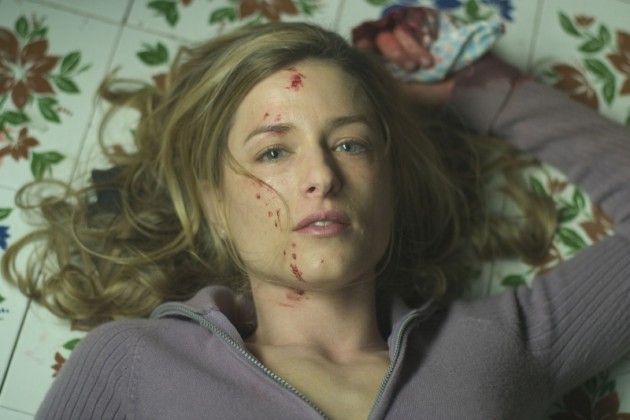 The Dark Hours
The 2006 lineup had more Canadian shorts than ever – over forty of them, and well over half by Montreal filmmakers. Among the most memorable was The Day of John, a blackly comic horror out of small-town Ontario from writer-director-special effects specialist Christopher R. Nash. The most unexpected selection, at least from the vantage point of 14 years later, is a film directed by a Montreal film scholar, Dawson College's Mario DeGiglio Bellemare. Appropriately, considering his interest in the gothic, its title is Uncanny. There were also half a dozen Canadian features, all but one made in Quebec, running from the bilingual buddy cop comedy Bon Cop Bad Cop, whose goofy charms have made it one of the most commercially successful Quebec films ever, to the blood-soaked, low budget weirdness of Sv Bell's She-Demons of the Black Sun. This was also the year of The Descendant, the first (and so far only) feature written and directed by Philippe Spurrell, a sometime programmer for Fantasia who is well known to Montreal cinephiles through his cinema "events" such as the annual Halloween screening of The Rocky Horror Picture Show, twice-a-year presentations of silent classics with live music at Westmount's Church-in-the-Park, and the regular (pre-pandemic) showings of 16 and 35mm prints from his private collection at Concordia by the Film Society/Ciné Club de Montréal, which he founded. Spurrell's film was a flawed, but intriguing, ghost story with a premise that would likely resonate even stronger today than when it was made, as it deals with the legacy of the largely unknown history of slavery in Quebec. I should add that while the film was entertaining, the Q&A session that followed its Fantasia premiere was twice as fun. I hope somebody filmed it.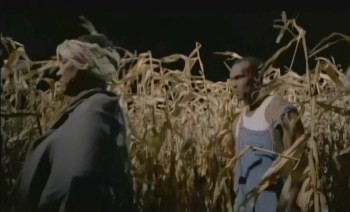 The Descendant
In 2007, the festival's constant growth over the years was reflected in an explosion of Canadian content, with 19 features and well over 100 shorts. Festival favourite Maurice Devereaux returned with End of the Line. Given a bigger budget than his previous films (although I doubt anyone would genuinely call it a "big" budget), Devereaux provides a nightmarish tale of religious cultists attempting to slaughter their fellow passengers on a subway train. In spite of its ingenuity in using the claustrophobic confines of a subway system to spin its paranoid, anti-religious parable, this was not a springboard to future Devereaux projects. Sadly, he has not made a feature film since. There were also several documentaries, the most . . . instructional (for lack of a better word) was, without any doubt, Bianca Beauchamp: All Access, a documentary about a photographer who has become famous by popularizing latex fetishism (no, that's not a misprint) on the internet, directed by her artistic collaborator and life partner Martin Perreault. Compared to these low budget thrills, Trapped Ashes. a glossy collection of short horror films from well-known British and American directors, including Sean S. Cunningham, Monte Hellman, and Ken Russell, was a bit of a damp squib. Among the many shorts, the one with the best title by a long way was Aurore l'enfant martyre: la revanche, which should provoke a laugh from anybody familiar with the classic Quebec film or its relatively recent remake.
There was a slight falling off in Canadian content in 2008, but there were still nine features and over 80 shorts. The feature with the highest profile was Stuart Gordon's Canada-US co-production Stuck, an uneven black comedy thriller with a cast that included Stephen Rea and Mena Suvari. Close behind was Quebec filmmaker Kim Nguyen's second film, Truffe. Headlined by local vedettes Roy Dupuis and Céline Bonnier, this was a dystopian fable where global warming turns a working class Montreal neighbourhood into a prime source for truffles, briefly making (some of) the people there rich and leading to a climactic confrontation between locals and a sinister corporation. Bizarre, sometimes funny, and beautifully shot in black and white, this was a film with unexpected treats even if it never really found an audience. Nguyen has continued to direct films, notably the Oscar-nominated Rebelle in 2012. An English-language comedy shot in Montreal that was liked by critics and, while not exactly a hit, was more popular than most other English-language Canadian films, was Who Is KK Downey? The story considers a suburban hipster wannabe who becomes a successful and famous author by pretending to have a past as a drug addict and male prostitute, and its dry humour was appealing enough to win several awards on the festival circuit. The best surprise was The End, written and directed by its lead actor, Jeremy Thomas. It teams an eccentric (or possibly schizophrenic) teacher with a female police detective on an hallucinatory investigation of a series of mysterious disappearances. The film is an inventive and intelligent mixture of unexpected humour and horror, told in a strikingly visual way. This one deserved to be a sleeper hit and the beginning of a successful career, but it seems Thomas has directed only one film since.
An example of the eclectic nature of the shorts on offer, as well as the festival's higher profile, was the screening of the Oscar-nominated I Met the Walrus, Josh Raskin's animated re-telling of his meeting with John Lennon when Raskin was a teenager and Lennon was staging his famous "bed-in" for peace at Montreal's Queen Elizabeth Hotel in 1969. A short with intriguing credits was Second Chance Inc., which was directed by Ricardo Trogi, who has become one of the local industry's most successful directors, best known for directing the popular semi-autobiographical series of films 1981, 1987, and 1991.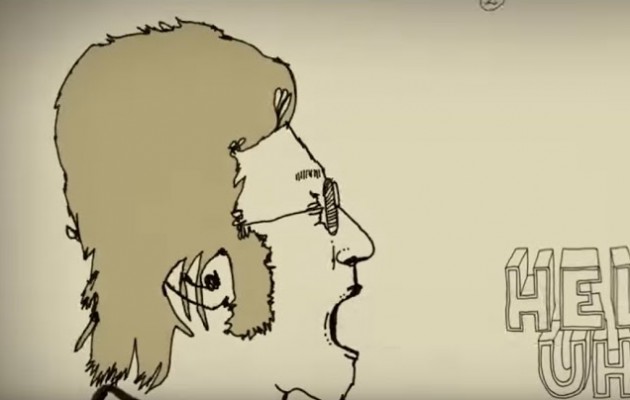 I Met the Walrus
This year also saw the beginning of one of my favourite sections of Fantasia, the exploration of vintage Quebec popular cinema. Over the years, the festival has made little distinction in this section between critical darlings and trashy pleasures. So while it may seem to have been inauspicious to start with the genuinely terrible Strange Shadows in an Empty Room (also known as Special Magnum and Blazing Magnums, probably among many other titles), at least it shows the programmers started as they intended to continue. The film, released in 1976, was a dreary action film starring imported faded American leading man Stuart Whitman and an unlikely cast that included local star Carole Laure, veteran character actor Martin Landau, and such B-movie icons as Tisa Farrow (Mia's sister), John Saxon, and Gayle Hunnicut. It is recommended for scholars of Canadian cinema's "tax-shelter" era. For others, maybe not so much.
2009 brought another 19 Canadian features, along with well over 100 shorts. Among the best received features was actor-director Robin Aubert's slow, but intriguing, À quelle heure le train pour nulle part. This was ostensibly a thriller (a man searches for his missing twin brother), but the wispy plot was largely an excuse for a dreamlike solo trip across India by its Québécois protagonist. Another Quebec film, this one in English, was Max Perrier's The Ante, which was accompanied by a buzz after winning festival prizes, a positive review in Variety, a screening at Slamdance, and a distribution deal. The movie was a typically twisty tale of various characters trying to outwit each other in order to scoop the insurance payout from the murder of a turkey farmer, and Perrier was smart enough to spice the increasing mayhem with regular doses of understated black humour. Also on view was writer-director Rob Grant's no-budget zombie film Yesterday, which was surprisingly enjoyable for a film made for only $25,000, as long you ignore the occasional abrupt edit and gaping plot hole. Its quality shouldn't really have been that much of a surprise, since it had been selected for a number of festivals even before its Fantasia screening. More recently, Grant made some waves and won a hatful of awards for last year's popular horror flick Alive. Among the shorts, Fallow was an effective chiller about an isolated and very traditional farming community and the supernatural being they believe lives in the ground beneath them, while Quebec (and now Hollywood) auteur Denis Villeneuve's Next Floor was a sardonic take on capitalism. As an added treat, the festival dug up a vintage short film from 1977, Le poulailler des temps perdus, a cartoon parody of '50s B-movies.
There were another 19 Canadian features in 2010 (the shorts section continued to grow exponentially, and this year there were over 150 of them). The most famous feature by far was also the one not always considered "Canadian": Scott Pilgrim vs. the World, which a surprising number of millennials pick as their favourite Canadian film. Their identification of the film as Canadian is based on its being set in Toronto, having Brampton, Ontario's Michael Cera in the lead, and its source in the popular series of comics by Bryan Lee O'Malley. On the other hand, critics point out that it was financed by an American company, directed by Edgar Wright, who is British, and features a mostly American cast. I am agnostic in this debate, and am happy to claim a film this funny for Canada. It may not really be the best Canadian film, but it's pretty damn good. Another anticipated film was the Canada-U.S. co-production Tucker & Dale vs. Evil, which was a hit at Sundance and turned out to be a comedy about a couple of archetypal Canadian hosers wandering through a splatter flick. Writer-director Blaine Thurier's A Gun to the Head was yet another enjoyable comedy. This one featured a couple of sad sack stoners who make a series of bad decisions that begin with a little small time drug dealing and spirals into increasingly dangerous situations amid a haze of weed jokes and surreal humour. Although quite different in tone from the extreme nuttiness of Tucker & Dale, it should be noted that both carry on the Canadian tradition of featuring a pair of clueless working class protagonists that stretches back at least as far as Goin' Down the Road, and stretches through Strange Brew, FUBAR and many others to these films and beyond. A very different standout was Sortie 67, the first Quebec film to deal with life among Montreal's street gangs. Directed by Haitian-born Bastien Jephthé, the film was an impressively rough-edged variation on the familiar story of a young man being recruited into a local gang and then rising in its ranks. What is different in this film is that it follows a mixed-race protagonist of colour and is set in a largely black neighbourhood, and it was one of a group of recent films where, for pretty much the first time in Quebec feature cinema, the stories of immigrants and minorities are told by members of those communities. An additional point that should be noted that these disparate films all seemed natural fits for Fantasia, which shows just how much the definition of a "Fantasia film" had broadened over the years.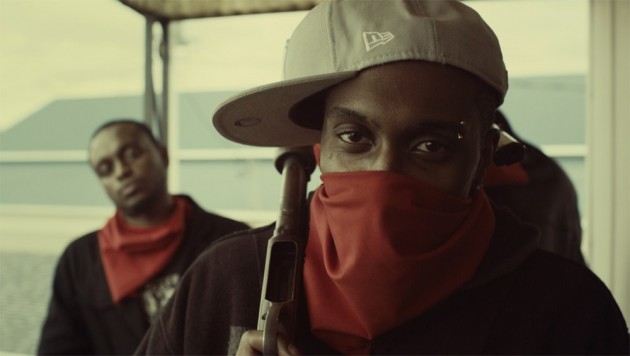 Sortie 67
The 2010 program also included two vintage Quebec films. The first was Manette: la folle et les dieux de carton, a forgotten film from 1965 that followed the adventures of a young Québécoise surfing the crest of the relaxed morality and social changes that defined the Quiet Revolution told in a style influenced by France's nouvelle vague. There are dull stretches and the level of acting is variable, but this is a fascinating time capsule that can be seen as a precursor to Valérie and the other so-called "Maple Syrup porno" films (also known as films de fesses) that were so popular in the late '60s and early '70s. As a bonus, there are a number of exterior scenes offering views of the Montreal that was. The second film came from the tail end of the films de fesses cycle. Parlez-nous d'amour was a broad satire of the shady world of Quebec show business directed by Jean-Claude Lord, one of the pioneers who created a commercial cinema in this province pretty much from scratch. What distinguishes this film from similar sexually-driven farces from this period was the slangy dialogue and hard-edged cynicism that almost seemed to wallow in the sleazy milieu, provided by screenwriter Michel Tremblay, at that time (and still) Quebec's most famous and influential playwright.
The most interesting of the new films on the 2011 schedule was Exley, a mostly improvised tale which maps a loser's desperate journey that begins in skid row and follows a chaotic and violent path across an increasingly surreal Vancouver, and ends in a murder that could almost be called a mercy killing, unless, of course, it was all an hallucination. The film was directed by legendary Canadian auteur Larry Kent, whose independent, low budget films in the 1960s were not only among the first English-language features made in this country, but offered a distinct alternative to the documentary-influenced dramas made by ex-NFB filmmakers that are usually associated with the period. Evan Kelly's The Corridor was another striking film, this one from Nova Scotia, where a man recently released from a mental health institution reunites with old friends for a healing weekend reunion in the country. The narrative first edges into fantasy, and then into jealousy and paranoia, and, finally, into sudden explosions of violence. The country house retreat going very badly is a very familiar horror trope, but this one is sharply written and tightly edited enough to keep your attention no matter how many variations on the basic plot situation you may have already seen.
Of the 22 Canadian features in the 2011 schedule, seven of them were from the 1970s (there was also an eighth from the '80s), thanks to the festival's deep dive into the Canuxploitation era when a change in tax laws spurred an explosion of low-budget genre films of variable quality, many of which were bad, and some of which were pretty damn good. The most famous of these was David Cronenberg's Shivers, a horror film where a monster that kind of looks like a turd turns the residents of an apartment complex into a murderous group of sex maniacs, who by the end of the film seem to be set on world conquest. Now seen as a landmark classic of the genre, it received mostly ferocious reviews and even started a debate on whether Canadian films should get any government funding at all if this was the type of garbage that was going to result.
There were also two notable films from the problematic rape-revenge cycle. Death Weekend (1976) is remarkably similar to the later, much better known, American film I Spit on Your Grave, but is miles better, thanks to the foregrounding by writer-director William Fruet of the social class divide between the vicious home invader rapists and their wealthy victims, and a strong and sympathetic performance by Brenda Vaccaro, which at least partly undermined the misogyny which permeates the subgenre. Denys Arcand's Gina (1975) was a quirkier variation, as it was laced with satire and featured, among other things, a film crew making a serious documentary about the exploitation of workers (likely inspired by Arcand's experience directing On est au coton) abandoning the project in favour of a commercial film which could make them some money (something along the lines, for example, of Gina), and a heroine gang raped by men in snowmobile outfits as "O Canada" plays on a motel television. Both films were savaged by critics. Fruet, who had been a critical favourite for writing CanCon classics Goin' Down the Road and Wedding in White (which he also directed), had his work dismissed by those same critics for the next couple of decades, while it was several years before Arcand was able to direct another film. These films' appearance together at Fantasia offered a chance to revisit and rehabilitate movies that, while flawed, reflected an important, but often unacknowledged stream in Canadian cinema. Of the other throwback films, the most intriguing was Mustang, a western set in modern Quebec, while the most notorious was the definitely not for all tastes exploitation hit Ilsa, She-Wolf of the S.S.
A final note on the 2011 festival is that among the directors of the over 200 shorts were future successful feature filmmakers Anne Émond and Chloé Robichaud.
There were 11 new (and three vintage) Canadian films on offer in 2012, along with over 150 shorts. The best of the new films was The Tall Man, a Canada-U.S. co-production set in Washington (state) written and directed by Pascal Laugier, best known for the extreme blood-soaked horror Martyrs. The Tall Man is a much less gruesome affair, but is in some ways even more disturbing. The story takes place in a small town which has been devastated by a poor economy and now finds that its children are mysteriously disappearing. The town blames an urban legend known as the "Tall Man", but a local nurse (played by Jessica Biel, who is much better than you would expect) insists on investigating further, taking the film in unexpected, and often nerve-wracking, directions.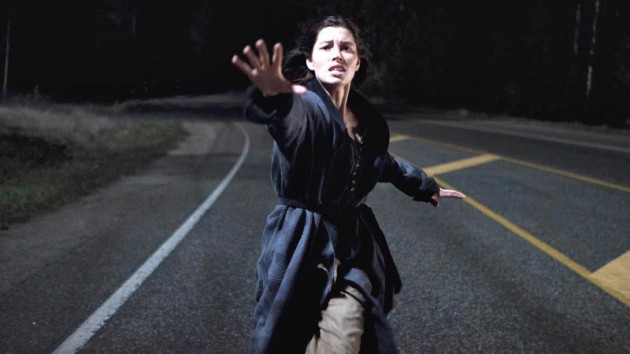 The Tall Man
Lloyd the Conqueror is a very different sort of film, mixing a broad satire of "LARPing" ("live action role-playing" – sort of like dungeons and dragons, but a whole lot more interactive), with a charming romance. It's very funny, even if you know absolutely nothing about this world, and has Mike Smith (Bubbles from Trailer Park Boys) as the villain. Almost as funny, but a whole lot weirder, was Roller Town, a cheerful ode to, of all things, roller disco movies of the '70s. A product of what has been called the "Nova Scotia freakwave", this is real hoot for those old enough to remember Linda Blair in Roller Boogie and Olivia Newton John in Xanadu. While this is a genre that's a little too easy to make fun of, since they were so bad as to be almost self-parodies anyway, this film is brisk (clocking in at 75 minutes) and energetic enough to get away with it. Like plenty of other Fantasia films, it's probably better if you see it with a crowd. The three older films were all interesting: Le village enchanté, made in 1956 by the brothers Réal and Marcel Racicot, was Quebec's first feature length animated film, while The Haunting of Julia (also known as Full Circle) was a stylish thriller with a reasonably starry cast (Mia Farrow, Tom Conti, Keir Dullea) that, for some reason, has become almost impossible to see, so the festival screening was very welcome. The third older film was Yves Simoneau's classic sci-fi comedy Dans le ventre du dragon, and a screening of it is always welcome.
There was a decrease in Canadian content in 2013, with only 11 new features (and only one vintage film, Jean-Claude Lauzon's Un zoo la nuit). However, there were still over 150 shorts, including Baby Blues, directed by Pascal Plante, whose recent Nadia, Butterfly was selected for Cannes this year. The most notable feature was Matt Johnson's explosive The Dirties. Made for little more than pocket change, this unflinching look at the horrors of high school life in general, and bullying in particular, was one of the most memorable Canadian films of the past decade. Of its many virtues, writer-director Johnson's note perfect performance as an archetypal misfit turned school shooter, the realist, low key style and attention to detail that makes the setting so convincing, and the surprising (given the subject matter) wry humour deserve to be singled out.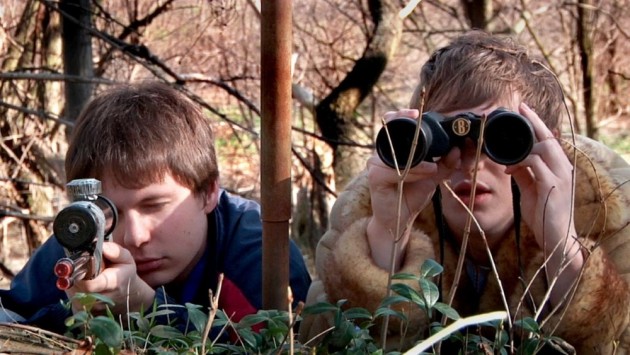 The Dirties
Among the other features, Quebec auteur Robert Morin's Les 4 soldats was a gritty parable about the effects of war on the young men and women who do the actual fighting, set in the midst of a fictional civil war set in the near-future. Richie Mehta, best known for the gentle, India-set drama Amal, delivers I'll Follow You Down, a thoughtful piece of science fiction where the son of a missing scientist retraces his research in hopes of finding out what happened, with appropriately unexpected results. The film is distinguished by sharp writing and a strong lead performance from the 21-year-old Haley Joel Osment (yes, the kid from The Sixth Sense). Sci-fi fans will also appreciate the presence of Gillian Anderson and Rufus Sewell among the supporting cast.
After a drop in Canadian films in 2013, the festival returned with 20 features (including half a dozen from the archives) and nearly 200 shorts. Although the most heralded was 1987, Ricardo Trogi's nostalgic memoir of his teen years (and sequel to his popular 1981), my favourite from this year was Bloody Knuckles, a low budget splatter comedy from Vancouver. The cheerfully absurd plot (a cartoonist has his hand chopped off by a local gangster, but the hand is reanimated by radioactive waste and hero and hand reunite to get their revenge) is mined for unashamedly sophomoric jokes and gleeful, bloody violence. One of the reasons it is so much fun is the delight it takes in its absurdities and the way the story is peppered with references to earlier horror films, particularly from the 1980s. This attitude of not only letting the audience share the joke, but simply assuming the audience is hip enough to get all the jokes and references, made me think at the time that a new genre had been created over the years: films that seemed to have been made with the Fantasia audience in mind.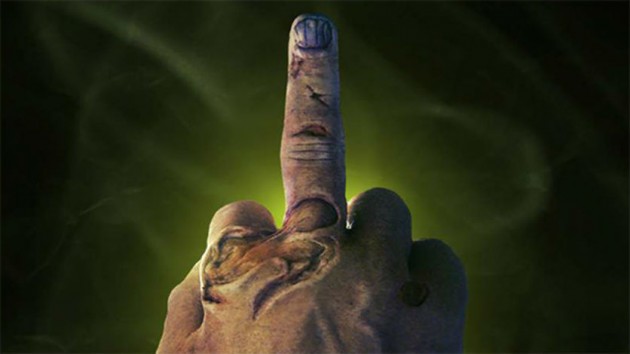 Bloody Knuckles
The documentary Kung Fu Elliott was another sort of comedy. Elliott "White Lightning" Scott lives in small town Nova Scotia and has (sort of) convinced an unlikely group of friends to help him film a movie that will highlight his non-existent martial arts skills and make him Canadian cinema's first action hero. It's sort of like a Trailer Park Boys' version of American Movie, except that the humour is often very uncomfortable, as Elliott can be extremely selfish and manipulative and the project collapses while Elliott starts squabbling with the people filming him. As it happens, small town Canada did produce an action hero this year, but it was in rural Saskatchewan that alcoholic police officer Lou Garou (snicker) woke up one morning from a drunken stupor with a pentagram carved into his chest. After that, whenever he drinks liquor, he turns into . . . Wolfcop, with pretty much the same powers (except for basketball) that Michael J. Fox had in Teen Wolf, except this film is a lot bloodier, a lot sexier, and a whole lot funnier. This gathered enough of a cult following to generate a sequel a few years later. Max Perrier's Feed the Devil is a more straightforward horror, featuring a trio of hapless losers (are there any other kind of protagonists in Canadian movies?) who go looking for a huge marijuana crop that is rumoured to be on a First Nations cemetery deep in the Quebec countryside. Their journey across what turns out to be sacred ground goes badly wrong as they have a series of supernatural encounters while being hunted by a sadistic killer. Filmed just north of Montreal, the narrative is inspired by indigenous legends and features local Natives in key roles, with some of the dialogue in Aitkamekw. The movie is one of the more interesting examples of Canadian horror which finds its source of terror in the country's original sin of the suppression of Native populations after the arrival of white settlers.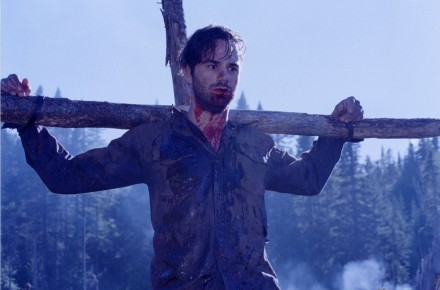 Feed the Devil
Given the presence of Feed the Devil on Fantasia's schedule, an interesting pick from the vintage film section is In the Land of the Head Hunters, an American silent documentary made in 1914 by anthropologist Edward S. Curtis documenting the lives and traditions of Indigenous peoples in British Columbia. Even though this observation of Native life is saddled with a melodramatic plot as unlikely as the title (British Columbia bands were not head hunters and there is no head hunting in the movie), the film remains fascinating. The rest of the vintage films were a mixed batch, ranging from the classic (Yves Simoneau's heist film Pouvoir intime) to the klutzy (the frankly lame, but commercially successful, Prom Night, which even the presence of horror icon Jamie Lee Curtis couldn't redeem), with several stops in between, notably Quebec auteur Arthur Lamothe's intellectual thriller Équinoxe.
In 2015, there were 16 new Canadian features, along with five more from the vaults and 175 shorts. The best of these was Larry Kent's latest (so far), She Who Must Burn. Amazingly, Kent was 78 when he made this film, and it is his best work since his '60s heyday. A well-paced, nervy thriller that tells a compelling and persuasive story, it is also a passionate attack on the anti-abortion movement and the fanatical type of Christian conservatives who populate it south of the border. At first, this seemed an unlikely project for Kent, with its genre elements and moments of strong violence, but he has always featured strong women in his films, and the depiction of the mechanics of how societies oppress women is a thread that runs through his work, and never better expressed than it is here.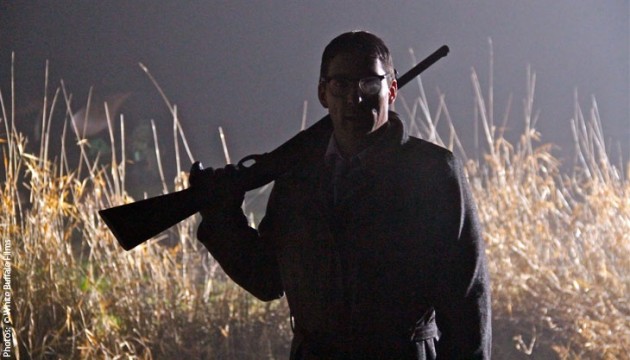 She Who Must Burn
Another remarkable film is The Interior, writer-director Trevor Juras' first feature, which starts out with a man fed up with urban life and on the verge of a nervous breakdown fleeing a noisy city (Toronto) for a hermit's life deep inside a forest in the B.C. interior. But no matter where he goes, he remains the same person. Soon, the quiet woodland sounds are as disturbing and intrusive as those of bustling Toronto, and there seems to be a man following him. The story becomes increasingly nightmarish as the protagonist spirals into insanity. As there is little dialogue, sound is used to convey both internal mood and external menace, and despite its minimalist style, it manages to create a fair amount of tension. There are also two music-based films with unusual settings, both the work of writer-directors. The first is Edgar Fritz's Limoilou –-le film, a nicely observed, black-and-white comedy of a young man in the Quebec City neighbourhood of Limoilou; he tries to form a band with a friend, they lose their singer and have to find another, his band the band their singer defected to (known as Les Hypsters) become rivals, and so on. The plot is a wispy thing and mainly an excuse to show the colourful people and places that express the neighbourhood's personality. There's a bit of sentiment, a bit of romance, some thoughts on the nature of friendship, some music from bands belonging to the local music scene, and a lot of hanging out at a pizzeria. Sébastien Godron's Scratch is a different type of musical, a poetic slice of life about gangsters and hip hop artists in a mostly Haitian neighbourhood in Montreal. This story about the immigrant experience as lived by Montreal's Haitian community is powered by a catchy hip hop score and the participation by a string of prominent local musicians, either on screen or on the soundtrack.
Also on offer is The Editor, a nicely detailed giallo parody where a film editor who has lost four of his fingers is reduced to editing schlocky Italian horror flicks (ie, giallos), and finds himself working on a project where members of the cast are being systematically murdered, most of them with missing fingers. Meta to the nth degree and a treat for fans of the subgenre, it delivers both laughs and a reasonably credible thriller plot. Among the shorts this year were Pascal Plante's Drum de marde! and Rob Grant's What Doesn't Kill You?, while the best of the vintage films was Harvey Hart's landmark horror The Pyx, where a detective (played by Christopher Plummer) investigating the death of a prostitute stumbles onto a Satanist cult. This was one of Canada's first horror films, and its finding the source of evil being associated with Roman Catholic clergy quickly became a familiar trope in horror films made in once heavily Catholic Quebec.
Among the shorts was a real delight: The Tender Tale of Cinderella Penguin Janet Perlman's charming and funny feminist rewrite of the familiar story which was nominated for an Oscar in 1981. Perlman's more recent, but equally entertaining, Invasion of the Space Lobsters was also screened.
2016 saw a drop in CanCon, with 13 new features, six old ones, and "only" 120 or so shorts, but there was still a good variety to choose from. Matt Johnson returned to Fantasia with Operation Avalanche, a clever fake documentary which "explains" the Moon landing. Johnson and his collaborator Owen Williams are CIA agents posing as documentary filmmakers covering the Apollo program in order to catch commies or saboteurs as NASA gears up for the Moon mission. As it becomes clear that NASA can't make the deadline, it turns out that it's convenient there are filmmakers handy who might be able to fake it. Ostensibly a "found footage" film, this is actually a low key period thriller inspired by what is probably the most famous conspiracy theory of them all. With its careful recreation of the period's look, rough edged camerawork, and moments of both quiet humour and quiet poetry, it is a worthy follow-up to The Dirties.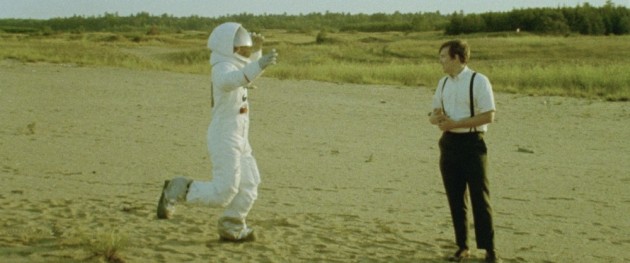 Operation Avalanche
Another unusual film from this year is King Dave, a tale of a seemingly slow-witted thug with a penchant for violence. More interesting than the plot is the ambitious way it is told by the maverick Quebec director Podz (Daniel Grou), who uses a single 80 minute long take to tell the story, and has his protagonist narrate the film as he goes along. The most interesting of the vintage films were Requiem pour un beau sans coeur, Robert Morin's 1990s reworking of Citizen Kane to tell the story of the last few days in the life of a gangster who has just escaped from jail, using interviews of the gangster's acquaintances to suggest some comments about Quebec society, and Fleur bleue (also known as The Apprentice), Larry Kent's wacky caper film that doubles as a time capsule of early '70s Montreal and features a young Susan Sarandon in a key role.
In 2017, the festival presented another 19 Canadian features, six more from the vaults, and well over 100 shorts. My favourite film from this batch was a reflection of how eclectic the festival had become: Arshad Khan's Abu, a documentary examination of his own life, his family's past, his relationship with his father, the immigrant experience, and the tensions of being a gay Muslim man. The film follows the journey of his parents, who had been cosmopolitan liberals in Pakistan, but the strain of the passage from upper middle class Pakistanis to working class immigrant Canadians had pushed them into seeking solace in a very strict version of Islam, and making communication and reconciliation with their gay son increasingly difficult. If that sounds ambitious, that's only because it is. The film is also impressive for its mix of media, using home movies, advertising, footage from Bollywood films, and even animation to tell its story. A more traditional fit for Fantasia was Radius, a ghost story of sorts about a man who wakes up after a car crash and finds that everyone he comes within 50 feet of suddenly dies. The only person who is immune is his wife, and only when he is with her that he is no longer "contagious." The film not only had a clever premise with increased resonance in these pandemic days, but there were also enough memorable visuals and plot twists to keep things interesting for 87 minutes.
The festival's historical section pulled a cool one out of its hat with the notorious reactionary rural Quebec drama La petite Aurore, l'enfant martyre, which is sometimes considered emblematic of the province during the 1950s. The plot is straightforward. A young girl is slowly beaten and tortured to death by her evil stepmother, while the relevant authorities (the village's priest, doctor, and cop) stand around and watch. Aurore's passivity in the face of her troubles is infuriating at this distance of years, but there are striking sequences (no pun intended) and the story has an enduring appeal in this province, and the remake was a huge hit when it was released in 2005.
There was less of a Canadian presence in the 2018 schedule, but even so there were still 13 new features, four films from the vaults, and just over 100 shorts. Michael Peterson, who directed the very funny LARP satire Lloyd the Conqueror returned to Fantasia with Knuckleball, a creepy little thriller set in western Canada's farm country. It follows the experiences of a young boy spending a weekend with his grandfather, who he's meeting for the first time. The first warning sign is that the grandfather is played by Michael Ironside, veteran villain of dozens (maybe hundreds?) of genre films in Canada and the U.S., and when he dies suddenly, the boy has to deal with a slimy neighbour, some (very) dark family history, and figuring out how to stay alive while stuck on a farm in the middle of nowhere. This is a well-crafted genre film about as different from Peterson's previous film as you can imagine, but it will surprise you how well it works. There were also some oddities among the vintage films, including Amanita Pestilens, a forgotten film notable for being the film debut of a very young Geneviève Bujold, and La pomme, la queue et les pépins, a lowbrow sex farce that is both silly and badly made, even by the standards of the "Maple Syrup porno" cycle.
In 2019, there were 15 new films, six vintage films, and over 100 shorts, giving Canadian cinema a higher profile than in the previous year. Part of this higher profile was a festival tribute to veteran director Ted Kotcheff, including a screening of his 1974 adaptation of The Apprenticeship of Duddy Kravitz, a remarkable film sparked by sharp writing and a memorable star performance by a young Richard Dreyfuss. This was one of the key Canadian films of the 1970s, and was the first to receive a major award at a European film festival when it won the Golden Bear at Berlin. Dreyfuss also starred, along with Colm Feore and Graham Greene, in the new sentimental fantasy Astronaut from first-time director Shelagh Macleod. Other highlights include Rob Grant's Harpoon, where a man goes for an excursion on his yacht, joined by his wife and best friend . . . who he suspects is sleeping with his wife. When the engine breaks down, paranoia levels rise and it starts to get about as bloody as you were expecting it to get all along. Finally, Homewrecker, directed by Zach Gayne, is a comic horror about a woman who gets into a hostage situation because she's too polite, which is about as Canadian a premise for a film as I've ever heard.
Fantasia has become a major presence in Canadian genre cinema. It provides a platform for films, and it's likely that a fair number of these films would not have been made if Fantasia didn't exist. Every year, the festival presents a batch of Canadian films, and every year a fair number of them turn out to be pretty good, so I recommend people check them out.
As for this year, there are fewer films on offer because of the COVID-19, but there are still 12 new features and 78 shorts, which is impressive. The people who write the program notes for the Fantasia website have become very good at writing descriptions that make all the films sound great, so it's hard to predict which will be the standouts. I have heard good things about Bleed with Me, directed by Amelia Moses, and I'm looking forward to the Wakiponi compilation of 17 shorts by Indigenous filmmakers, so you might want to start there. Bon cinéma!
Canadian Feature Films Screened at Fantasia (Including Co-productions)
1997
Electra (Julian Grant)
1998
Airborne (Julian Grant)
Lady of the Lake (Maurice Devereaux)
1999
In the Belly of the Beast (Alex Chisholm)
Out of Mind: The Stories of H.P. Lovecraft (Raymond Saint-Jean)
2000
Between the Moon and Montevideo (Attila Bertalan)
Island of the Dead (Tim Southam)
Romance et Laser (Carnior)
Les Siamoises (Isabelle Hayeur)
La vie après l'amour (Gabriel Pelletier)
2002
Otaku (Stéphane Morissette)
Ripper: Letter from Hell (John Eyres)
$la$her$ (Maurice Devereaux)
Théo génétiquement modifié (Ludovic Spénard)
2003
Graveyard Alive (Elza Kephart)
Kaena the Prophecy (Chris Delaporte/Pascal Pinon)
My Little Eye (Marc Evans)
Sur le seuil (Éric Tessier)
2004
Dreamchaser (Renaud Rouverand)
Enter . . . Zombie King (Stacey Case)
Ginger Snaps: The Beginning (Grant Harvey)
Harry Knuckles and the Pearl Necklace (Lee Gordon Demarbre)
Mécanix (Rémy M. Larochelle)
The Night They Returned (Sv Bell)
Nothing (Vincenzo Natali)
Recon 2020 (Christian Viel)
Sinners and Saints (Melantha Blackthrne/Jason Cavalier)
2005
The Dark Hours (Paul Fox)
La dernière incarnation (Demian Fuica)
Dispixelisation (Syl Disjonk)
Purple Glow (Sv Bell)
Sigma (Jesse Heffring)
2006
Arcanum (Sanjay E. Sharma)
Bon Cop Bad Cop (Érik Canuel)
Clean (Alexandre Michaud)
The Descendant (Phillippe Spurrell)
Forest of the Dead (Brian Singleton)
Hell Hath No Fury (Vince D'Amato/Rob Carpenter/Rob Nicholson/Peter Speers)
Love, Sex & Guts: A TV Movie Disaster (Gaetan St-Pierre)
The Order of One (Kevin Woodhouse)
She-Demons of the Black Sun (Sv Bell)
2007
The 4th Life (François Miron)
Animania (Felice Gorico)
Bianca Beauchamp: All Access (Martin Perreault)
Countess Bathoria's Graveyard Picture Show (Melantha Blackthorne/Jimmya Burril/Steve Villeneuve/Jan Pivon/Mike Watt/Kevin Woodhouse/Justin Powers/Robbie Ribspreader/David L. Tamarin)
Dungeon Siege: In the Name of the King (Uwe Boll)
End of the Line (Maurice Devereaux)
L'enfant d'eau (Marc Thibault)
K.O. Canada (François Jacob)
Postal (Uwe Boll)
Recon 2022: The Mezzo Incident (Christian Viel)
Rise of the Ghosts (Sv Bell)
Seduction of Evil (André Dubois)
Silent Screams (Anthony Teali)
Trapped Ashes (Sean S. Cunningham/John Gaeta/Monte Hellman/Ken Russell/Joe Dante)
Yellow Fellas (Tetsuro Shigematsu)
2008
La bête du lac (Nicolas Renaud)
The End (Jeremy Thomas)
Hunting Grounds (Eric Bilodeau)
Jack Brooks: Monster Slayer (Jon Knautz)
Strange Shadows in an Empty Room (1976, Alberto DeMartino/Martin Hébert)
Stuck (Stuart Gordon)
Truffe (Kim Nguyen)
Tunnel Rats (Uwe Boll)
Who Is KK Downey? (Darren Curtis/Pat Kiely)
2009
The Ante (Max Perrier)
À quelle heure le train pour nulle part (Robin Aubert)
Arcanum (Sanjay F. Sharma)
La bille de Pandore (Nicolas de la Sabonnière)
Bonbons rouges (Jeff Grenier)
Carnior présente: Trailer (Carnior)
Crawler (Sv Bell)
Cul-de-$ac (Jean-Mathieu Bérubé/Carlos Harrietha)
Edison and Leo (Neil Burns)
La marque (Jonathan Barbe)
Recon 2023: The Gauda Prime Conspiracy (Christian Viel)
Reel Zombies (David J. Francis/Mike Masters)
Sans dessein (Caroline Labrèche/Steeve Léonard)
Smash Cut (Lee Demarbre)
Stoic (Uwe Boll)
Sweet Karma (Andrew Thomas Hunt)
Trick 'r Treat (Michael Dougherty)
Yesterday (Rob Grant)
You Might As Well Live (Simon Ennis)
2010
Frankenstein Unlimited (Matthew saliba/King-wei Chu/Matthew Forbes/Maude Michaud/Peter James/Martin Gauthier)
A Gun to the Head (Blaine Thurier)
If a Tree Falls (Philip Carrer)
I Heart Doomsday (Patrick Downing)
Machotaildrop (Corey Adams/Alex Craig)
Manette: la folle et les dieux de carton (1965, Camil Adam)
Mesrine 1: L'instinct de mort (Jean-François Richet)
Mesrine 2: L'ennemi public no 1 (Jean-François Richet)
Neverlost (Chad Archibald)
Parlez-nous d'amour (1976, Jean-Claude Lord)
Saving Grace (Chris Pickle)
Scott Pilgrim vs the World (Edgar Wright)
The Shrine (Jon Krautz)
Sortie 67 (Jephté Bastien)
Suck (Rob Stefaniuk)
Théorie de la religion (Frédérick Maheux)
Tucker & Dale vs. Evil (Eli Craig)
Twisted Seduction (Dominique Adams)
Under the Scares (Steve Villeneuve)
2011
Abolition (Mike Klassen)
Art/Crime (Frédérick Maheux)
Beyond the Black Rainbow (Panos Cosmatos)
The Corridor (Evan Kelly)
Death Weekend (1976, William Fruet)
Die (Dominic Laurence James)
The Divide (Xavier Gens)
Don't Be Afraid of the Dark (Troy Nixey)
Exley (Larry Kent)
Frankenstein 2000 (The Vindicator) (1986, Jean-Claude Lord)
Gina (1975, Denys Arcand)
Hellacious Acres: The Case of John Glass (Pat Tremblay)
Ilsa, She-Wolf of the SS (1975, Don Edmonds)
Karaoke Dreams (Jean Leclerc [Jean Leloup])
Monster Brawl (Jesse T. Cook)
Mustang (1975, Marcel Lefebvre/Yves Gélinas)
Panique (1977, Jean-Claude Lord)
Shivers (1975, David Cronenberg)
The Theatre Bizarre (Douglas Buck/Buddy Giovinazzo/David Gregory/Karim Hussain/Jeremy Kasten/Tom Savini/Richard Stanley)
Tomorrow Never Comes (1978, Peter Collinson)
Vampire (Shunji Iwai)
You Are Here (Daniel Cockburn)
2012
Après la peine (Anh Minh Truong)
Cold Blooded (Jason Lapeyre)
Columbarium (Steve Kerr)
Dans le ventre du dragon (1989, Yves Simoneau)
Eddie: The Sleepwalking Cannibal (Boris Rodriguez)
The Haunting of Julia (Full Circle) (1977, Richard Loncraine)
Hemorrhage (Braden Croft)
A Little Bit Zombie (Casey Walker)
Lloyd the Conqueror (Michael Peterson)
Lowlife (Seth Smith)
Manborg (Steven Kostanski)
Mom et moi (Danic Champoux)
Replicas (Jeremy Power Regimbal)
Roller Town (Andrew Bush)
Sunflower Hour (Aaron Houston)
The Tall Man (Pascal Laugier)
Le village enchanté (1956, Réal Racicot/Marcel Racicot)
2013
Les 4 soldats (Robert Morin)
Antisocial (Cody Calahan)
Cottage Country (Peter Wellington)
The Dead Experiment (Anthony Dixon)
The Dirties (Matt Johnson)
Discopath (Renaud Gauthier)
I'll Follow You Down (Richie Mehta)
Imaginaerum (Stobe Harju/Mark Roper)
Pinup Dolls on Ice (Geoff Klein/Melissa Mira)
Thanatomorphose (Éric Falardeau)
V/H/S/2 (Simon Barrett/Adam Wingard/Eduardo Sanchez/Gregg Hale/Timo Tjahjanto/Gareth Huw Evans/Jason Eisener)
Un zoo la nuit (1987, Jean-Claude Lauzon)
2014
1987 (Ricardo Trogi)
Après ski (1971, Roger Cardinal)
Black Mountain Side (Nick Szostakiwsky)
Bloody Knuckles (Matt O'Mahoney)
Bold & Brash: Filmmaking Boisvert Style (Simon Boisvert)
Devil's Mile (Joseph O'Brien)
The Drownsman (Chad Archibald)
Dys- (Maude Michaud)
Ejecta (Chad Archibald/Matt Wiele)
Équinoxe (1986, Arthur Lamothe)
Feed the Devil (Max Perrier)
Le grand rock (1968, Raymond Garceau)
In the Land of the Head Hunters (1914, Edward S. Curtis)
Les Jaunes – le film (Rémi Fréchette)
Kung Fu Elliot (Matthew Bauckman/Jaret Beliveau)
Montréal interdit (1990, Vincent Cambrone)
Patch Town (Craig Goodwill)
Pouvoir intime (1986, Yves Simoneau)
Prom Night (1980, Paul Lynch)
Wolfcop (Lowell Dean)
2015
Antisocial 2 (Cody Calahan)
Bite (Chad Archibald)
A Christmas Horror Story (Grant Harvey/Brett Sullivan/Steven Hoban)
The Demolisher (Gabriel Carrer)
The Editor (Adam Brooks/Matthew Kennedy)
He Never Died (Jason Krawczyk)
I Am Thor (Ryan Wise)
The Interior (Trevor Juras)
Kahlil Gibran's Prophet (Roger Allers/Paul Brizzi/Gaetan Brizzi/Mohammed Saeed Harib/ Tomm Moore/Nina Paley/Bill Plympton/Joann Sfar/Michal Socha)
Lady Psycho Killer (Nathan Oliver)
Limoilou – le film (Edgar Fritz)
Montréal Blues (1972, Pascal Gélinas)
On the Horizon (Pascal Payant)
The Pyx (1973, Harvey Hart)
The Real Miyagi (Kevin Derek)
The Reflecting Skin (1990. Philip Ridley)
Scandale (1982, George Mihalka)
Scratch (Sébastien Godron)
She Who Must Burn (Larry Kent)
Turbo Kid (François Simard/Anouk Whissell/Yoann-Karl Whissell)
Les yeux rouges ou les vérités accidentelles (1988, Yves Simoneau)
2016
L'apparition (1972, Roger Cardinal)
Atmo HorroX (Pat Tremblay)
Bed of the Dead (Jeff Maher)
Délivrez-nous du mal (1969, Jean-Claude Lord)
Écartée (Lawrence Côté-Collins)
Feuilles mortes (Thierry Bouffard/Carnior/Edouard A. Tremblay)
Fleur bleue/The Apprentice (1971, Larry Kent)
Kidnap Capital (Felipe Rodriguez)
King Dave (Daniel Grou [Podz])
Les Lavigeur déménagent (1986, Dick Maas)
Mon ami Dino (Jimmy Larouche)
Nova Seed (Nick DiLiberto)
Operation Avalanche (Matt Johnson)
Phylactère Cola – 20 ans (Patrick Boivin)
Quest for Fire (1981, Jean-Jacques Annaud)
Requiem pour un beau sans-coeur (1992, Robert Morin)
Rupture (Steven Shainberg)
Tout feu, tout femme (1975, Gilles Richer)
The Unseen (Geoff Redknap)
2017
Abu (Arshad Khan)
L'ange et la femme (1977, Gilles Carle)
Another Wolfcop (Lowell Dean)
Blood on Wheels (Melanie Aitkenhead)
The Blue Man (1985, George Mihalka)
Colossal (Nacho Vigalondo)
Dead Shack (Peter Ricq)
Expo 67: Mission Impossible (Eric Ruel/Guylaine Maroist/Michel Barbeau)
Game of Death (Sébastien Landry)
Geek Girls (Gina Hara)
Karmina (1996, Gabriel Pelletier)
Let There Be Light (Mila Aung-Thwin/Van Royko)
The Little Hours (Jeff Baena)
Origami (Patrick Demers)
La petite Aurore, l'enfant martyre (1952, Jean-Yves Bigras)
Plan B (Ufuk Genç/Michael Popescu)
Poor Agnes (Navin Ramaswaran)
Le problème d'infiltration (Robert Morin)
Punk Fu Zombie (Gabriel Claveau)
Radius (Caroline Labrèche/Steeve Léonard)
Rafales (1990, André Melançon)
Replace (Norbert Keil)
Savage Dog (Jesse V. Johnson)
Simon les nuages (1990, Roger Cantin)
Tragedy Girls (Tyler MacIntyre)
2018
Amanita Pestilens (1963, René Bonnière)
Dans la brume (Daniel Roby)
The Dark (Justin P. Lange)
Hurt (Sonny Malhi)
Knuckleball (Michael Peterson)
Lifechanger (Justin McConnell)
Montréal Dead End (Hugo Belhassen/Audric Cussigh/Julie De Lafrenière/Tiphaine DeReyer/Eve Dufaud/Rémi Fréchette/Émilie Gauthier/Mara Joly/Quentin Lecocq/Charles Massicotte/Mickael N'Dour/Jimmy G. Pettigrew/Priscilla Piccoli/Gaelle Quermenier/Loic Suprenant/Frederick Neegan Trudel/Catherine Villeminot/David Émond-Ferrat) H
Le Nid (David Paradis)
Our House (Anthony Scott Burns)
Parallel (Isaac Ezban)
Playing Hard (Jean-Simon Chartier)
La pomme, la queue et les pépins (1974, Claude Fournier)
Pourquoi l'étrange Monsieur Zolock s'intéressait-il tant à la bande dessinée? (1983, Yves Simoneau)
La Quinceaňera (Gigi Saul Guerrero)
Summer of '84 (François Simard/Anouk Whissell/Yoann-Karl Whissell)
What Keeps You Alive (Colin Minihan)
Windigo (1994, Robert Morin)
2019
The Apprenticeship of Duddy Kravitz (1974, Ted Kotcheff)
Aquaslash (Renaud Gauthier)
L'assassin jouait du trombone (1991, Roger Cantin)
Astronaut (Shelagh McLeod)
Bruce McDonald's Dreamland (Bruce McDonald)
Come to Daddy (Ant Timpson)
Dead Dicks (Lee Paula Springer/Chris Bavota)
Depraved (Larry Fessenden)
Freaks (Adam Stein/Zach Lipovsky)
Harpoon (Rob Grant)
Homewrecker (Zach Gayne)
L'inquiétante absence (Félix Brassard/Amir Belkaim)
Jade's Asylum (Alexandre Carrière)
Killer Cup 3D: Les Gobelets qui tuent de la troisième dimension (Jef X)
Mon oeil (1971, Jean-Pierre Lefebvre)
Phantom of Winnipeg (Malcolm Ingram/Sean Stanley)
Portion d'éternité (1986, Robert Favreau)
Riot Girls (Jovanka Vickovic)
Le sphinx (1995, Louis Saïa)
Steampunk Connection (Annie Deniel)
La vengeance de la femme en noir (1997, Roger Cantin)
2020
2011 (Alexandre Prieur-Grenier)
Anything for Jackson (Justin Dyck)
Bleed with Me (Amelia Moses)
Come True (Anthony Scott Burns)
The Curse of Audrey Earnshaw (Thomas Lee)
For the Sake of Vicious (Gabriel Carrer/Reese Eveneshen)
Hail to the Deadites (Steve Villeneuve)
La marina (Étienne Galloy/Christophe Levac)
The Oak Room (Cody Calahan)
Slaxx (Elza Kephart)
Yankee (Stéphan Beaudoin)
Addendum:
2021
Brain Freeze (Julien Knafo)
The Contenders (Jean-Paul Botelho)
Don't Say Its Name (Rueben Martell)
Dreams on Fire (Philippe McKie)
Finalement . . . (1971, Richard Martin)
Maria (Alec Pronovost)
Opération Luchador (Alain Vézina)
The Righteous (Mark O'Brien)
Stanleyville (Maxwell McCabe-Lokos)
Tin Can (Seth A. Smith)
We Are the Menstruators (Nadia G/Joshua Dorsey)
Yes Sir! Madame (1992, Robert Morin)
Plus 111 short films.
2022
Bingo (1974, Jean-Claude Lord)
The Breach (Rodrigo Gudiño)
Compulsus (Tara Thorne)
Cult Hero (Jesse T. Cook)
Les dangereux (Louis Saïa)
Dark Nature (Berkley Brady)
The Diabetic (Mitchell Stafiej)
Le Dump – Deuxième saison (Maude Morissette)
Un été comme ça (Denis Côté)
The Fight Machine (Andrew Thomas Hunt)
Honeycomb (Avalon Fast)
Manette ou les dieux de carton (1965, Camil Adam)
Mustang (1975, Marcel Lefebvre)
Out in the Ring (Ry Levey)
Les pas d'allure (Alexandre Leblanc)
Polaris (Kristen Carthew)
The Protector (Lenin M. Sivan)
Punta Sinistra (Renaud Gauthier)
Que le fan soit avec toi (Marc Joly-Corcoran)
Relax, I'm from the Future (Luke Higginson)
Skinamarink (Kyle Ball)
Timscape (Aristomenis Tsirbas)
Visiting Hours (1982, Jean-Claude Lord)
Plus 120 shorts