12th Bradford Film Festival (3–18 March 2006)
Remembering Lindsay Anderson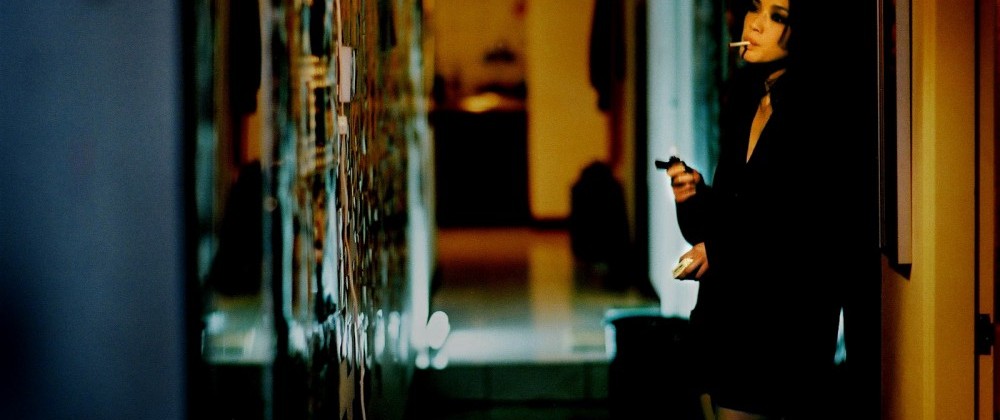 The Bradford Film Festival is always worth a visit, even if this year you had to struggle through a snowstorm to attend the opening gala. As the festival director said in his opening speech, the event provides an opportunity to see films which would not otherwise be seen. An audience member put it another way: the festival provides an opportunity to spend two weeks seeing good films with friendly people. And everything is under one roof.
Previews and premieres make up the core of the programme. Other strands this year included a focus on Slovenian film, retrospectives of Malcolm McDowell, Lindsay Anderson, Eric Sykes and Thierry Zéno, an expanded programme of documentaries including a cinefile section on neglected figures in the movie world, and a competition for shorts. Regular features are the Crash Symposium (an eclectic selection of academic papers) and the widescreen weekend (where else can you experience Cinerama?).
Considering the festival as a whole, the widening availability of high quality digital video equipment means that even modestly-budgeted films can look good. The days of murky videos are limited. Writer/directors abound, which demonstrates a desire to make films as personal statements and the confidence to do it. International co-productions abound as the said writer/directors look for finance in the global marketplace. The road movie has gained a new lease on life: perhaps the success of Walter Selles's The Motorcycle Diaries (2004) has set a trend. There is an intelligent use of music, though ensuring that the dialogue is audible sometimes receives less attention.
Among the new releases, a highlight was Three Times (Hou Hsiao-hsien, Taiwan, 2005). This trilogy of stories examines love in changing times. The most intense is A Time for Love, in which an army recruit from 1966 searches for a girl he met at a snooker hall. A Time for Freedom goes back to 1911 when a writer, a political activist and a concubine work out their eternal triangle. A Time for Youth, set in the present day, charts the lives of a photographer and an epileptic girl living in a bustling city. As in the work of Kim Ki-Duk there is little dialogue, with the 1911 section being presented as a silent film with inter-titles and musical accompaniment. Three Times is an emotive work with images which linger in the memory. It has a rare beauty.
Time to Leave (François Ozon, France, 2005) is European art-house cinema at its best. Romain is a young fashion photographer who is diagnosed with advanced cancer. Rather than undergo treatment, he keeps the diagnosis to himself and embarks on a re-examination of his life. Initially the audience can feel little sympathy for an unappealing central character; Ozon's skill lies in steering viewers towards a more equivocal position as Romain seeks to redeem himself. The theme of the dying man who reviews his life was used in Last Holiday (Henry Cass, GB, 1950) and its recent remake, but this is a more distinguished and subtle treatment. The ending pays homage to Visconti's Death in Venice (1971), a film with which Time to Leave has several parallels.
Sunless City (Sergei Potemkin, Russia, 2005) is La Boheme set in St Petersburg, with AIDS and drug-taking in place of consumption. Poverty is the same. Lucy works for a theatre troupe and is addicted to drugs. Her brother Alex has AIDS and wants to photograph his own death. Egor stumbles into their world by accident. He is attracted to Lucy, but when he tries to help her, he comes up against her self-destructive behaviour. The performance of Julia Mavrina as Lucy stands out and the decaying grandeur of the city is well caught. The film drew mixed responses from the audience, with some people finding it contrived. I found it moving.
The King, (James Marsh, US/GB, 2005) provoked considerable discussion. When you see the sprinkler on an American lawn, you know that dark deeds are afoot. Discharged serviceman Elvis (Gael Garcia Bernal) seeks his natural father (William Hurt), a fundamentalist preacher who has not revealed the presence of an illegitimate son to his family. Elvis embarks on a relationship with the daughter. Her brother who is about to go to bible college warns off Elvis who reacts violently, provoking tragedy as the family implodes. The emotional world of Tennessee Williams is not far away. The film offers a glimpse of a society where religion and violence coexist in a way which British audiences find intriguing and repellent. It raises questions about family and faith which have no easy answers.
Another outsider returning to the uncertain bosom of the family appears in Transamerica (Duncan Tucker, US, 2005). The twist here is that the family know Bree (Felicity Hauffman) as their son Stanley and that she is travelling with the lost son she fathered. The film divides into two halves: the journey west and the people met along the way, and the couple's assimilation into the family home. The halves elide more successfully than in The World's Fastest Indian, New Zealand/US, 2005), a film with a similar structure which opened the festival. And Transamerica has a great soundtrack.
The Wind Blows Round (George Diritti, Italy, 2005) follows the fortunes of an entrepreneurial French family which settles in a conservative Italian village. At first the villagers welcome the newcomers, but tensions arise as the lifestyles collide. The drama may be slow burning, but the film confronts the problems of modern Europe, where global markets, migration and second homes contribute to the breakup of rural communities and challenge traditional cultures. Not that this is a political tract: the issues are presented in terms of individual characters with whom the audience can empathise. A thoughtful rather than a showy film.
The Chef (Mats Arehn, Sweden, 2005) has a charismatic central character in the fastidious Peter Stein (Kjell Bergqvist), chef on a cargo ship. The second cook is the nineteen-year-old Martin (Henrik Lundstrom), while his friend works as the apprentice. Martin models himself on Stein at the expense of his friendship, but the chef has his own secrets. Stein is so intriguing in Bergqvist's commanding performance that it is hard to avoid being drawn into the drama. You won't forget him, though I doubt that you'll like him. This is a coming-of-age drama with a difference.
Two films built around amoral characters are Tsotsi (Gavid Hood, GB/South Africa, 2004) and Harsh Times (David Ayer, USA, 2005). Tsotsi has attracted considerable attention. This story of a teenage gangster in a black township is adapted by the director from a 1950s novel by Athol Fugard. When Tsotsi (Presley Chweneyagae) finds a baby in a car he steals, his life takes a different course as he is forced to contemplate his own childhood. Harsh Times follows the experiences of Iraq War veteran Jim David (Christian Bale) who struggles to find a role in civilian life and draws his friend into the downward spiral. I find the central characters in both films problematic. Tsotsi's conversion is unconvincing, while Jim David remains strangely anonymous. I cannot feel empathy with either of them. One virtue of a separate scriptwriter is that the creative interplay of ideas can overcome such weaknesses. It is Ozon in A Time to Leave who succeeds in making an unattractive character interesting.
Writer/director Jonathan Jakubowicz can draw on his own experience as a kidnap victim for Secuestro Express (Venezuela, 2005), the story of an affluent young couple who are kidnapped in Caracas for a ransom. Wobbly camerawork and rapid editing give a documentary feel, but the sentimental ending is at odds with the stylised realism. A cursory attempt is made to flesh out the characters, but neither the kidnappers nor the police have much to commend them. Some people liked this film, but for me it was an exploitation rather than an examination of violence. Robert Bresson can take an objective yet compassionate view of unattractive characters, but nothing comparable is discernable here.
The oddest premiere was the surreal Vaterland: A Hunting Logbook (David Jarab, Czech Republic, 2004). Following an old tradition, the family of an impoverished aristocrat go on a hunting expedition like no other and succeed in arousing the resentment of the villagers with disastrous results to themselves. The film creates a world of its own, with hunters wielding an array of curious equipment for finding and capturing their prey. Setting up the characters takes too long, but the final third of the film exerts a weird fascination.
Many of the films have a political dimension, though this is secondary to the human drama. Netto (Robert Thalheim, Germany, 2004) traces the fortunes of Marcel from the DDR as his son schools him in the ways of capitalism. Where Wolfgang Becker's Good Bye Lenin! (2003) looks back nostalgically, Netto looks forward, though it might be too low key to achieve comparable popularity. The same might be said of Sorry about the Kung Fu (Ognjen Svilcic, Croatia, 2004). Mirjana (Daria Lorenci) returns from Germany to the family farm after her husband's death. As a reminder of the war, a minefield in front of the house is being cleared. Mirjana is pregnant. The baby arrives, precipitating a rift within the family which cannot accommodate the realities of relationships across cultures. The drama is there, but the film has its longueurs.
The improvised drama Love + Hate (Dominic Savage, GB, 2005), filmed in Blackburn, follows Naseema (Samina Awan) in her first job in a shop. Her racist fellow worker Adam (Tom Hudson) is initially hostile, but when he is attracted to her he has to choose between Naseema and his peers. Her older brother Yousef is seeing a white girl, but this does not stop him opposing Naseema's relationship. Events come to a head when Naseema's father is attacked and Adam is implicated. The screening attracted an appreciative audience from Bradford's sizeable Asian population and provoked a discussion on racial stereotyping and the persistence of Asian values among second-generation Asians in Britain. Anything which promotes tolerance and understanding (and brings new audiences to the cinema) is to be welcomed. To judge the work on purely artistic grounds seems irrelevant, or is this condescending? The same doubts apply to Shooting Dogs (Michael Caton-Jones, GB, 2005), which dramatises an incident during the 1994 genocide in Rwanda, when Tutsi refugees sheltering in a school compound were abandoned by UN peacekeepers and massacred by Hutus. The story is presented in individual terms, which means taking liberties with the facts –no white priest stayed behind– but this seems an acceptable compromise when dramatising real events. The tragedy overwhelms the drama, which is an observation rather than a criticism.
Slovenian cinema is little known in Britain. The two most interesting works to be screened in this strand were Gravehopping (Jan Cvitkovic, 2004) and Eyes Full of Water (Joze Basa, 2005). Gravehopping portrays the community around Pero (Gregor Bakovic), who makes a living by giving funeral ovations. What seems a typical small town community becomes scarred by violence and rape. The first half is uneven and too derivative of Kusturica at his most gratingly jokey, but in the second half the director finds his own voice and the tone darkens. There is real passion here and some memorable images. A director to watch. In Eyes Full of Water, a self-educated youth tries to get into university. This is a slow, low-key drama about youthful (and not so youthful) indecision. You care about the character, which is always a good sign.
Lindsay Anderson rarely settled for safe cinema and the festival provided a rare opportunity to see his early documentaries alongside his mature work. The wonder was that a satire like Britannia Hospital (GB, 1982) got made at all. Time has not blunted its anger. The same might be said of If… (GB, 1968). A workshop the day after the screening revealed a fascinating contrast of perspectives between those who saw the film on its first release and younger viewers. More such sessions would be a welcome innovation, as would introductions to specialist topics like Slovenian cinema, but why wasn't the place besieged with film studies students?
Malcolm McDowell was a member of Anderson's stable of actors and he delighted audiences at question and answer sessions. Several of his films were screened including Evilenko (David Grieco, Italy, 2004). McDowell gives a strong performance as a Russian serial killer, but some execrable dubbing and dubious psychiatry drag down what could be a film of considerable power.
The cinefile strand included documentaries on Sam Peckinpah, Taylor Mead and Stewart Stern. The poverty row director Edgar G. Ulmer was the most intriguing figure, though the opportunity to screen some of his films was missed. This rich vein of cinematic archaeology could be mined further while those involved are still alive (a surprisingly youthful Ann Savage who starred in Ulmer's Detour from 1945 was one of the interviewees in the documentary). The Bradford festival makes its own contribution to the cinematic archive by filming interviews with guests. This year there was a screening of an interview with Jenny Agutter recorded during the 2005 festival.
The shorts were generally disappointing, with images of urban violence becoming repetitive. Five films were short-listed for the Shine award, though the three which stood out for me never made the finals. Avatar (Lluis Quilez, Spain, 2005) impressed the audience more than the jury. An invalid is in his bath. His difficult relationship with his carer comes to a shocking conclusion. In fifteen minutes we learn everything about the couple's relationship without the need for dialogue and with tension maintained until the end. I look forward to Quilez's feature debut. The subject of A Picture of Me (Tom Shkolnik, GB, 2005) is unrequited love in an estate agent's office. At a party for Mark's birthday, Sarah hopes that things will come right, but office parties are unpredictable events. Real emotions show though, which make this work memorable. Layla (David Aspinall, GB, 2005) was screened at the Leeds festival last year and still looks good. A door-to-door salesman encounters David, who draws him into his gothic world. Aspinall's work is amusing and disturbing.
There has always been a friendly rivalry between Bradford and its brasher neighbour Leeds. Both cities have film festivals and year-round programmes of screenings, which make West Yorkshire Britain's most exciting centre for film outside London, and even London must look to its laurels. The disappointment is that many local residents still seem unaware of this rich cultural resource. More advertising and outreach work is needed. It would be a pity if penny pinching and managerial diktats damaged what has already been achieved.