A Character Study of Alienation and Loneliness: Blast of Silence (Allen Baron, 1961)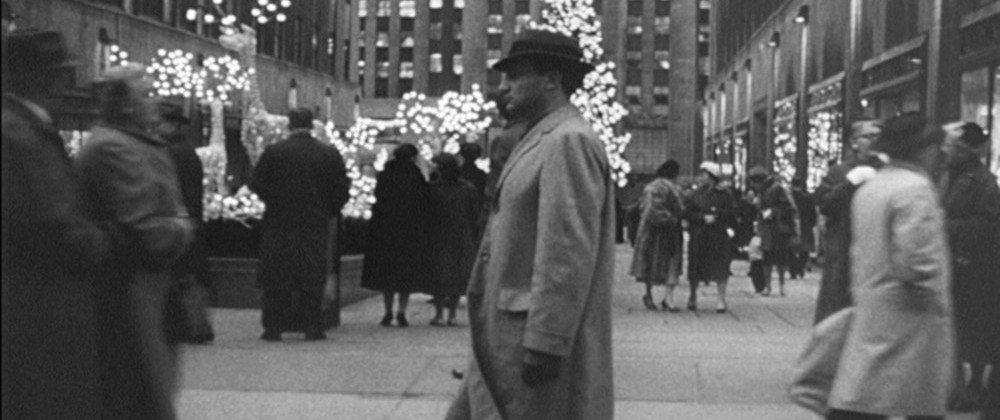 A Foreboding Sense of Fatalism
Blast of Silence (Allen Baron, 1961) begins dramatically with an audacious and innovative opening shot. For the first couple of seconds of the film, the screen is entirely black. Then slowly a tiny pinprick of light begins to emerge from the centre of the screen. The loud din of background noise can also be heard, although the viewer cannot yet discern any particular sound. Indeed, it initially appears as if there may be something wrong with the screen or the print.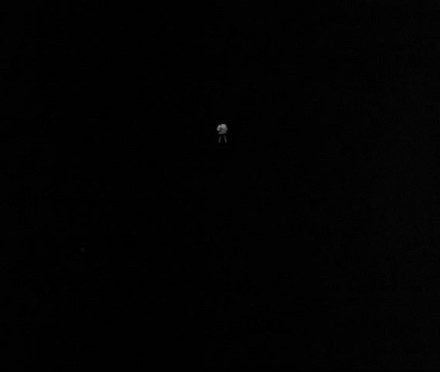 Opening Shot
Before the viewer has a chance to adjust to what is happening, a gruff voiceover narration punctuates the blackness. Unusually, this voiceover is in the second person. It rasps, "Remembering. Out of the black silence you were born in pain." Suddenly a woman's blood curdling and agonized scream pierces the darkness as the voiceover continues, "Easy. Easy does it little mother. You've never lost a father. You're job is done little mother." Then there is the sound of a slap, and a baby crying. The white speck in the middle of the screen is now getting bigger, but the viewer still can't decipher what is going on. The incessant rasp of the voiceover persists, "You were born with hate and anger built-in. Took a slap in the backside to blast out the scream. And then you knew you were alive. Eight pounds, five ounces. Baby boy Frankie Bono. Father doing well."
The white speck in the middle of the screen now begins to come into focus. It is the light at the end of a dark train tunnel. Blinking towards the light, the viewer becomes aware that the beginning of Blast of Silence has been a shot from onboard a train that is speeding towards the end of this tunnel. The voiceover continues to rasp, "Later you learn to hold back the scream. And let out the hate and anger another way." The train finally reaches the end of the tunnel and surges into the light. Then the title of the film explodes across the screen. Blast of Silence is barely one minute and twenty-four seconds old. But the viewer has been jolted right out of their seat and left gasping. It is a brilliant opening shot that creates a disorientating and unsettling atmosphere for the viewer: a foreboding sense of fatalism, which will continue until the film's memorable conclusion.
Baby Boy Frankie Bono
The aforementioned baby boy Frankie Bono (played by the film's writer and director Allen Baron) is a hired hit man who has been assigned to carry out a contract killing on a mid-level mobster known as Troiano (Peter H. Clune). Frankie is disgorged from the train at New York's Penn Station on a cold wintery day just before Christmas. Ostensibly a straightforward story, Blast of Silence focuses on a couple of days in the life of Frankie Bono, which includes surveying Troiano's movements and procuring a gun for the hit (a 38 special with a silencer) from a rotund and repugnant gun dealer Big Ralphie (Larry Tucker). Frankie realizes that he must bide his time for 24 hours and wait for the right moment to kill his intended victim. But having time on one's hands can be a dangerous proposition given the need for anonymity in Frankie's line of work as a professional killer. Frankie fulfills the contract and carries out the hit on Troiano. However, by the end of the film, a combination of fate, as well as a loss of focus will conspire against Frankie, and the consequences for him will be fatal.
In fact, Frankie Bono is a professional hit man who has begun to lose his edge. Having become lonely and alienated from the world around him, Frankie drops his guard and allows his personal life to overlap with his professional life. This is a catastrophic mistake to make in a hazardous line of work, which requires focus, precision and dedication, in order to stay alive. From the opening shot of the film, the character of Frankie Bono is explored through the second person voiceover narration spoken by gravel-voiced film and television actor Lionel Stander (who was blacklisted during the early 1950s after being exposed as a Communist Party member during the House Un-American Activities Committee hearings) (Terrance Rafferty).Outwardly, Frankie Bono shows little emotion. But from the beginning of Blast of Silence and the exhilarating opening shot, Stander's voiceover narration acts as Frankie's internal 'conscience'; providing the viewer with a window into his inner feelings, thoughts and anxieties. The voiceover narration continuously exposes Frankie's personal weaknesses and inadequacies; periodically acting as a warning signal when there's trouble approaching; on other occasions taunting him; while at times also urging him on.
Significantly, some reviewers have criticized Lionel Stander's omnipresent voiceover narration in Blast of Silence for being verbose and irritating. (Jimmy Cline). it is a valid criticism: the viewer is continuously required to take in a lot of extra verbal information, while simultaneously focusing on other aspects of the narrative. However, the unique voice-over narration is a deliberate technique, which does serve as a clever and expedient way for the viewer to gain insights into a troubled and tormented character that cannot verbally express his inner feelings. Moreover, it is a technique that also humanizes Frankie Bono to some extent. It adds an extra dimension to Frankie's character, thereby allowing the viewer to probe more deeply into his psychological thought processes; a rare feature for a low-budget film noir.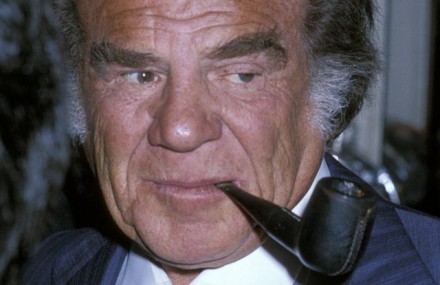 Lionel Stander as the voice of Frank
Allen Baron and the Making of Blast of Silence
Blast of Silence was Allen Baron's first feature. Clocking in at a taut 77 minutes, the film was shot in late 1959 and 1960. As well as directing and starring in Blast of Silence, Baron also wrote the original screenplay. In 1959, Baron was an occasional actor and former comic book artist who ambitiously wanted to try his hand at making a feature film. He managed to raise US $20,000, which was barely enough money to put together a film that looked reasonably professional (Terrance Rafferty). However, Baron did have the advantage of knowing the Big Apple well, being a native New Yorker (he was born in 1927 and raised in Brooklyn). Most importantly, Baron (working with cinematographer Merrill Brody) is able to bring an artist's eye to Blast of Silence. The film utilizes wonderfully expressive black and white cinematography of various cold and wintery New York locations, which infuse Blast of Silence with a look of gritty film noir documentary-like realism that mirrors the fatalistic life of doomed professional hit man Frankie Bono.
From an early age, Allen Baron demonstrated an aptitude for drawing. At 19 he enrolled in the School of Visual Arts in New York to study illustration. But a change of artistic direction came in 1951 with a fortuitous invitation to a sound stage at Paramount. As Baron recalls, "Before I got into the film business, I was an artist. I'd gone to art school, and been a cartoonist and illustrator. Spent a couple of years as a painter. While in California I happened to be invited onto a sound stage at Paramount. The minute I saw the sound stage I thought, oh my God, it's people who make movies. That's what I want to do" (Robert Fischer and Wilfried Reichart).
Although having no formal training in how to make a movie, Allen Baron nevertheless began to apply his visual language skills as a cartoonist and illustrator to the filmmaking process. As he explains, "I had no training in film, other than the use of still camera, with regard to the artwork I had done. So I knew a little about lenses, and the idiosyncrasies of black and white film at the time. Other than that, I knew nothing about formal editing, although I understood it instinctively due to my art background. There's no doubt about that" (Robert Fischer and Wilfried Reichart).
At the beginning of the 1960s, it was an uncommon and risky venture to attempt to make a low budget feature film set in New York (three thousand miles from the hub of Hollywood). As Baron wryly comments, "Making an independent feature film then was expensive, extraordinarily technical, and if the film was completed the chance of it getting national distribution was equal to the odds of winning the Triple Crown in racing. Ignoring these facts, I decided to go ahead anyway. At the time it was a challenge thought to be undertaken by the psychologically underprivileged or unrealistic dreamers" (Allen Baron, Filmmaker Magazine). Another notable low budget independent feature film made at the same time as Blast of Silence was John Cassavetes' groundbreaking Shadows (1960), an improvisational film that explores interracial friendships and relationships in Beat-Era New York City in the late 1950s. Moreover, there is a connection between Blast of Silence and Shadows. Erich Kollmar, the camera operator on Blast of Silence, was also the cinematographer on Shadows (Richard Brody).
Before making Blast of Silence, Allen Baron had also acquired some acting experience (he enrolled in acting school in the early 1950s). However, it was never his intention to play the lead character of Frankie Bono in the film. In fact, Baron's friend, Peter Falk, had originally agreed to play Frankie for a deferred salary (Falk was to become well known in the 1970s for his role as the rumpled, raincoat-wearing, cigar-smoking investigator in the long-running US crime series Colombo). With such a miniscule budget, Baron couldn't afford to pay Falk any money upfront. Coincidentally, Falk was offered a role that actually paid him a salary: as a hit man in Murder, Inc. (Burt Balaban and Stuart Rosenberg, 1960), a film which chronicles the rise and fall of the organized crime syndicate known as Murder, Incorporated. With the prospect of an upfront salary, Falk decided to take the role in Murder, Inc., which was to prove an important stepping-stone in his career. Without Falk, Baron was left with the prospect of having to take on the role of Frankie Bono himself. As he explains, "…I was the best actor available to me at the time, and I was the only one I could afford. So I wrote it, directed it, and was forced to act in it. The truth is I didn't want to play the role" (Robert Fischer and Wilfried Reichart).
Lionel Stander's distinctive voice-over narration is such a crucial element of Blast of Silence. After being blacklisted, Stander was trying to get his career back on track at the beginning of the 1960s (he already had a long list of acting credits stretching back to the 1930s). Stander would go on to play notable roles as a gangster in Roman Polanski's Cul-de-sac in 1966, as well as the loyal, gravelly-voiced butler, cook and chauffeur in the TV detective series Hart to Hart in the late 1970s and early 1980s. However, Stander does not receive a credit in Blast of Silence. As Allen Baron explains, "Lionel Stander was a black listed actor. He did the narration, and he wanted US $1000 if we used his name. Or, US $500 if we didn't use his name. Well, naturally, with the amount of money we had we took the $500 deal. So that's why he doesn't receive a credit" (Robert Fischer and Wilfried Reichart). In addition, another blacklisted artist, writer Waldo Salt (credited in the film as Mel Davenport) wrote the perceptive dialogue spoken by Stander; the voice of Frankie Bono's inner conscience. Waldo Salt was to subsequently win two Oscars, for the screenplays of Midnight Cowboy (John Schlesinger, 1969) and Coming Home (Hal Ashby, 1978) respectively (Terrance Rafferty).
Cast members in Blast of Silence include roly-poly actor Larry Tucker, who is appearing in his first feature (he is probably best remembered as the mental patient Pagliacci in Samuel Fuller's low-budget 1963 cult favourite Shock Corridor). Tucker would also go on to achieve success in the late 1960s as the co-writer of the feature films: I Love You, Alice B. Toklas (Hy Averback, 1968) and Bob & Carol & Ted & Alice (Paul Mazursky, 1969), as well as a developer and writer for The Monkees TV series in the mid-to-late 1960s. In addition, Frankie's love interest, Molly McCarthy, also appeared as Steve McQueen's girlfriend in another bleak, realistic crime drama, The Great St. Louis Bank Robbery (Charles Guggenheim and John Stix, 1959), as well as starring in the 1980s comedy The Flamingo Kid (Gary Marshall, 1984) (JM Dobies).
Most importantly, great credit must be given to cinematographer Merrill S. Brody (his name is shortened in the film's credits to Merrill Brody), whose expressive black and white on-location shooting in various iconic New York locations provides Blast of Silence with a dark, gritty film noir look and documentary-like realism (Brody is also credited as a producer and editor on the film). Brody's lens brilliantly encapsulates a snapshot of New York as it was at the beginning of the 1960s. Complimenting Stander's omnipresent voiceover narration, Brody's moody, bleak on-location shooting visually mirrors Frankie Bono's state of mind: his loneliness and his alienation from the world around him. Allen Baron emphasizes the importance of these New York locations: "The city itself plays a very significant role in the film. It's practically an additional character" (Robert Fischer and Wilfried Reichart).
Merrill Brody was also cinematographer (as well as producer) on the feature that Allen Baron made after Blast of Silence, which was originally titled Pie in the Sky (although shot in 1962, financial and distribution problems delayed the film's release until 1964. Shortly after the initial release, it was re-titled Terror in the City). Again based on an original script by Baron, Terror in the City has been described as a modern parable of middle-American values (Lucinda Ramsey). The film focuses on a nine-year-old boy, Brill (Richard Bray), who runs away from his parents' farm, hitching to New York City. Brill ends up on the streets of New York, and is taken in by a prostitute Suzy (Lee Grant), who helps him to return back to his home. Unfortunately, Terror in the City met with no success and disappeared quickly.
Allen Baron directed two more features, again with no success. Outside In (also known as Red, White, and Busted, 1972; co-directed with G.D. Spradlin) appeared during the turbulent period of the Vietnam War. A melodrama, it focuses on a young draft dodger, John Bill (Bink Schroeder), who prepares to come home for his father's funeral. Foxfire Light (1982) centers on a spoiled rich girl, Johanna (Faye Grant), who becomes romantically involved with a handsome Southern rancher. Ultimately, his lack of success as a film director prompted Allen Baron to turn his attention to television. Over the years, Baron has had a substantial career in television, amassing an impressive array of credits as a screenwriter, actor and director. His writing and directional credits include successful television productions in the 1970s and 1980s such as, The Dukes of Hazzard, Charlie's Angels, Fantasy Island, The Brady Bunch, MASH, Dynasty, and many others.
Blast of Silence Is Rediscovered
After Blast of Silence was completed, there was a quick distribution deal made with Universal Pictures, who released the film in 1961 (as a second feature). At the time of its release, Blast of Silence was generally well received, with one London newspaper (The Evening News & The Star) even beginning its review of the film with a reference to Allen Baron: "Is this the new Orson Welles?" (Allen Baron). In addition, Blast of Silence won a critics prize at the Locarno Film Festival in 1961 (Terrance Rafferty). This recognition led to Allen Baron making the decision to move to Hollywood.
As the years went by, Blast of Silence continued to acquire a growing reputation. For example, director Martin Scorsese, who was a young film student at New York University when Blast of Silence was originally released, has regularly sited the film as a key New York movie. In July 1990, Blast of Silence would be officially rediscovered when Allen Baron was invited to present the film at a special screening at the Munich Film Festival (Terrance Rafferty). Three months later, in October 1990, Baron revisited many of the New York locations used in the film with a German film crew, which resulted in a 60-minute documentary entitled: Requiem For a Killer: The Making of Blast of Silence (Robert Fischer and Wilfried Reichart, 2007) (Robert Fischer and Wilfried Reichart). In 2006, Blast of Silence was also screened at the Cannes Film Festival to an appreciative audience (the film had originally been entered in the Cannes Film Festival in 1961, but unfortunately it arrived two weeks too late to be included in the program) (Robert Fischer and Wilfried Reichart). This renewed interest in Blast of Silence culminated in 2008, when the film was re-mastered and re-released on DVD by the Criterion Collection (with accompanying extras, including the documentary: Requiem For a Killer: The Making of Blast of Silence).
With the rediscovery of Blast of Silence, film critics have dubbed the relentlessly bleak, fatalistic tone of the film, and the moody black and white location shooting as hardboiled film noir, a term originally coined by the French to describe those dark urban crime dramas which first appeared in Hollywood at the end of the Second World War [Exemplified by films such as Double Indemnity (Billy Wilder, 1944), The Killers (Robert Siodmak, 1946), Out of the Past (Jacques Tourneur, 1947), and many others]. The rediscovery of Blast of Silence also prompted a re-think among film critics who had previously argued that the original film noir cycle ended in 1958 with Orson Welles' idiosyncratic Touch of Evil (Mike White).
More than fifty years after it was made, Blast of Silence remains an impressive testament to Allen Baron's dogged determination, self-belief and artistic vision. Now well into his eighties, Baron continues to remain active, and currently lives in Beverly Hills, California, where he works as a full time painter (Allen Baron), Personal Website).
A Psychological Character Study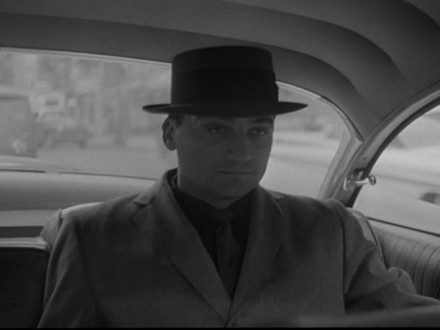 Allen Baron as hit man Frank
Blast of Silence can be interpreted as a psychological character study, which focuses on the loneliness and the alienation of professional hit man baby boy Frankie Bono. It is a character study, which begins from the compelling opening shot, with a train careering through a dark tunnel and bursting into the light of day; a symbolic visual reference to Frankie's birth and his arrival into this world, and continues until the film's fatalistic conclusion. Crucially, Lionel Stander's distinctive voice-over narration provides the viewer with an insight into Frankie's psychological state of mind as his life progressively unravels.
For example, from the moment Frankie arrives at New York's Penn Station, the viewer learns that he is a loner; information that is conveyed through Stander's gruff voiceover narration: "You're alone. But you don't mind that. You're a loner. That's the way it should be. You've always been alone. By now it's you're trademark. You like it that way." Throughout the film, Stander's omnipresent voiceover narration will continue to provide the viewer with insights into Frankie's psychological state of mind.
The importance of Merrill Brody's atmospheric black and white cinematography in Blast of Silence is also evident early in the film when Frankie rendezvous with the Contact Man (Charles Creasap) onboard New York's Staten Island Ferry (which runs between the boroughs of Manhattan and Staten Island). Brody's camera captures the cold bleakness of a winter's day on the Hudson River in 1960, with the Manhattan skyline in the background. The wind howls and seagulls circle overhead. The Contact Man provides Frankie with information on his intended target, Troiano. Frankie also receives half his payment for the hit (with the other half to be paid once he has fulfilled the contract, providing there's no slipups). Throughout this scene, Stander's voiceover narration highlights the fatalistic elements of Frankie's chosen profession: "You can depend on yourself. No one else. You've learnt the hard way. They all hate the gun they hire. When people look at you baby boy Frankie Bono they see death. Death across the counter. Remembering." Intriguingly, the notion of 'remembering' will be a recurrent theme in Blast of Silence as Stander's voiceover narration progressively reveals more about Frankie's inner thoughts, as well as his troubled childhood, and a Catholic background growing up in an orphanage.
In a subsequent scene, Frankie sits in his rented car staking out Troiano's home, and watches his target's car pull out of the driveway. Again, Lionel Stander's voiceover narration acts as Frankie's 'conscience', providing the viewer with an insight into his psychological thought process: "Nice little home. Quiet little community. An hour in the suburbs. Every morning he's picked up by two bodyguards. Hood written all over them. But when the neighbours read the headlines, 'Mobster killed' they'll say, 'But Mr. Troiano seemed like such a respectable man. He went to work every morning at 9.30 on the dot.'" But how does Frankie Bono kill a man he doesn't know and has never met? Allen Baron describes Frankie's working methods: "Frankie Bono has to build up an artificial hatred for Troiano. After all, this is a man he's never seen. Except when tracing him, had no personal relationship with him. And yet found all kinds of devices to build up this enormous hatred to justify the killing. How can you like a man who is a murderer?" (Robert Fischer and Wilfried Reichart).
Throughout Blast of Silence, Lionel Stander's distinctive raspy voiceover narration is combined with Merrill Brody's atmospheric black and white cinematography, as well as composer Meyer Kupferman's varied and inventive jazz score (which shifts deftly from vibraphone cool, discordant hard bop, and high-pitched trumpets), to continually emphasize Frankie Bono's psychological state of mind. For example, as Frankie walks briskly along the downtown streets of Harlem, biding his time before the hit, Merrill Brody's documentary-like gritty cinematography, overlaid with Meyer Kupferman's edgy vibraphone-laden jazz score, and Lionel Stander's voiceover narration are skillfully combined to mirror Frankie's inner thought processes. As Frankie pensively walks the streets, he draws on his experiences as a youth growing up in an orphanage to justify killing Troiano, with Stander's voiceover narration declaring, "The sisters of the orphanage used to say, 'God moves in mysterious ways.' Sometimes you wonder if he moved you in to rid the world of men like Troiano." These scenes also offer a fascinating encapsulation of an era; a gritty snapshot of life on the streets of Harlem, circa 1960. In another brief scene, which takes place on a Harlem street corner, four shady characters huddle together in the foreground of the frame, with the famous Apollo Theatre visible in the background. Shooting on the busy streets of Harlem provides the film with a documentary-like authenticity: a sense of time and place. However, shooting these scenes in Harlem did present challenges. As Allen Baron recalls, "When Blast of Silence was being shot it was very difficult to hide the camera. People were constantly glancing at the camera" (Robert Fischer and Wilfried Reichart).
As day turns into night, the waiting game continues, with Frankie perpetually wandering the streets of New York. It is Christmas Eve in downtown Manhattan and the festivities are in full swing. Lights on the large Rockefeller Center Christmas tree glow in the dark. The busy streets are crowded with families, and children gather around brightly lit shop front windows. Santa Claus and his reindeer entertain children on a street corner. A brass band can be heard playing O Come All Ye Faithful, and a choir sings Deck the Halls. Merrill Brody's brilliant cinematography captures the shadowy solitary figure of Frankie Bono, silhouetted against the backdrop of the New York cityscape, with its flickering Christmas lights and atmosphere of bonhomie. Allen Baron describes the juxtaposition between the scenes of joyful Christmas cheer and the lonely and alienated figure of Frankie Bono walking the streets of New York: "I chose Christmas time because I knew New York at Christmas time is a fantastic contrast with a professional contract killer and his assignment. The Christmas carols sung by the choir in the background are all about goodwill and peace to mankind. And here's a man in the city whose sole purpose is to murder somebody. At the same time, suffering his own inner pain" (Robert Fischer and Wilfried Reichart).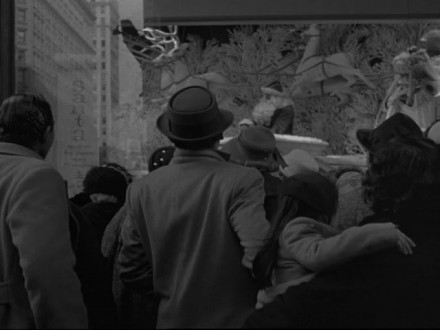 Christmas Storefront
A Film Noir With French New Wave Influences
While the gritty film noir elements of Blast of Silence are obvious, other stylistic influences in the film are possibly less apparent, but just as important. While it may or may not be coincidental, the night scenes of an alienated and lonely Frankie Bono walking the streets of New York (overlaid with composer Meyer Kupferman's sombre jazz score) are reminiscent stylistically of scenes in Louis Malle's 1957 debut feature Elevator To The Gallows (Ascenseur pour l'echaufaud), with a lonely and distraught Jeanne Moreau wandering the streets of Paris at night searching for her lover (overlaid with a melancholy jazz score by Miles Davis).
The French New Wave was certainly very much in vogue at the time Blast of Silence was being made at the beginning of the 1960s. Indeed, when Blast of Silence was originally screened in France in 1961, it was compared with Jean-Luc Godard's Breathless, which was released a year before, in 1960. As Allen Baron explains, "Apparently, some people felt I had imitated Godard with Breathless with John Paul Belmondo wandering around Paris. Which amused me, because I didn't see that film until about two years after I did _Blast of Silence_" (Robert Fischer and Wilfried Reichart). Baron emphasizes that any resemblance between the two films is "pure coincidence" (Robert Fischer and Wilfried Reichart). However, Baron also acknowledges that there are similarities. As he reveals, "But in analyzing it, I realized the reason for the similarity was because Godard worked with very little money. He used Paris like I used New York. And there was that gritty wonderful feeling that it had. And it also followed one character with fantasies in his head and so on. So I suppose it had that similarity" (Robert Fischer and Wilfried Reichart).
Nevertheless, the French New Wave seems to have been a stylistic influence on one of the most memorable scenes in Blast of Silence. Shot looking up 34th Street in Manhattan, on what appears to be a wintery morning, Frankie initially appears as a shadowy speck in the distance. This scene lasts for over a minute, with the camera remaining stationary as Frankie walks briskly towards it. Meyer Kupferman's noisy jazz score (pounding drums, piano and brass) progressively increases in volume and intensity as Frankie walks directly into the camera lens, which has been placed at waist height. This scene, in particular, seems clearly influenced by the French New Wave. It is scene that would never have appeared in earlier 'classic' Hollywood film noirs of the late 1940s and 1950s.
A Combination of Fate and a Loss of Focus
Another significant scene in Blast of Silence, which further emphasizes Frankie's loneliness, as well as his alienation from the world around him, takes place in a restaurant later on Christmas Eve. As Frankie sits at a table by himself, Lionel Stander's raspy voice-over narration again alludes to his youth, as well as the notion of 'remembering': "Alone at dinner. Your hands are hot remembering the hot sweaty hands of the mother superior holding you."
At the restaurant, fate will intervene in Frankie's life in the form of Petey (Danny Meehan), an old childhood friend from the orphanage. Petey inadvertently spots Frankie sitting alone and approaches him. Against his better judgment, Frankie reluctantly engages in conversation with Petey. Complicating the situation, Petey introduces Frankie to his sister Lori (Molly McCarthy). As Frankie greets Lori, he momentarily relaxes: a smile flickering across his face. Underneath the hard man exterior, Frankie seems to have a genuine affection for Lori. It is evident that they know each other from the past. Petey urges Frankie to come to Lori's Christmas party. However Frankie's conscience, conveyed through Stander's voiceover narration, is warning him not to get too involved: "You know you're making a big mistake. But you tell yourself maybe it's smarter to play it cool. Go for one drink, stay for a dance maybe, then get out." Persuaded to go to the party, Frankie initially feels awkward and socially disconnected, but finally begins to loosen up when Lori encourages him to dance with her. Petey also challenges Frankie to a peanut-pushing contest with the nose (a game they both played as kids twenty years before). However, accepting the invitation to Lori's party, and letting his guard down will prove to be fateful decision for Frankie.
On Christmas Day, Frankie decides to visit Lori at her apartment. He even brings a Christmas present for her. He will again let down his guard; this time with disastrous consequences. After dinner, Frankie's edgy, pent-up emotional state will become uncontrollable when he aggressively embraces Lori, and then pins her down as they fall to the floor. While Frankie's behaviour towards Lori can be viewed as emblematic of a profession that condones the use of violence and the suppression of feelings and emotions, it could also be construed as symptomatic of a condition that originates from birth. In the first few moments of Blast of Silence, the voiceover narration emphasizes that Frankie was, "…born in pain"; "…with hate and anger built-in. Took a slap in the backside to blast out the scream…" Later, Frankie, while waiting to kill Troiano, and desperate for human contact, will return to Lori's apartment. However, he will suffer the indignity of seeing Lori with another man (who says hello to Frankie, and seems to be another acquaintance from the past). Moreover, adding to his ongoing emotional pain, Frankie will also discover that Lori has been kind to him out of pity, having sensed his loneliness.
Frankie pursues Troiano and tracks him down to the Village Gate (a famous nightclub in New York's Greenwich Village, which has now closed). Meyer Kupferman's jazz soundtrack has now been replaced by a beatnik vocalist/conga-drummer (Dean Sheldon), whose frenetic set consists solely of offbeat death-themed songs, with lyrics such as, "…why can't I fall in love with someone who's in love with me", and "Deep inside I know I've died", that seem to mirror Frankie's inner turmoil, as well as his ultimate fate at the end of the film. Inside the club, Troiano is holding court; celebrating his birthday with his girlfriend (Milda Memenas) and an assortment of cronies. Also present at an adjacent table is Ralphie the repellant gun dealer and a couple of his 'pet sewer rats'. Merrill Brody's camera captures the dark, bohemian atmosphere of the club. A series of clever intercuts also build up tension and suspense; juxtaposing scenes of Troiano and his girlfriend, Ralphie, the conga singer and his backing musicians, and a pensive Frankie sitting alone at the bar.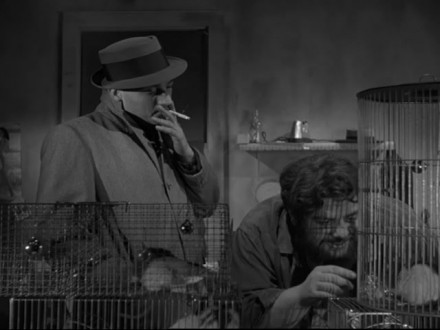 Ralphie
In another twist of fate for Frankie, Ralphie has decided that Troiano appears to be a more important racketeer than he originally thought. Ralphie tries to put the squeeze on Frankie, by demanding more money and threatening him with blackmail. Infuriated, Frankie follows Ralphie home to his rat-infested room; loses his cool and attacks him with an axe. As the two men grapple with each other, the claustrophobia in the room is palpable, with Merrill Brody's camera putting the viewer in the centre of the action. Frankie loses control and strangles Ralphie, killing him. It is a major mistake. Frankie knows he's in serious trouble. As Allen Baron explains, "…Frankie Bono murdered Big Ralph, the gun peddler, which is something he didn't intend to do. Bono basically considered himself a perfectionist. It's kind of odd to pick up a newspaper and read about it. He also knew he was in trouble after he read about the killing" (Robert Fischer and Wilfried Reichart).
A Lonely, Alienated and Delusional Figure
Becoming increasingly desperate, Frankie's tries to back out of killing Troiano, but is warned by his superiors that he must carry out the hit. Frankie knows that in his business, a killer who doesn't kill gets killed. He purchases the gun that Ralphie ordered for him from a contact on a barge near the Queensboro Bridge (which crosses the East River in New York City). Merrill Brody's camerawork again comes the fore, with the scene atmospherically shot in grey tones on a cold blustery day, which further emphasizes Frankie's loneliness and disconnectedness from the world around him. Throughout this scene, Frankie's inner thoughts are again conveyed through Lionel Stander's gruff voice-over narration: "You're relaxing now. Hands cold. They'll be a gun in them soon. And your mind's clear and cool. Expert. As an engineer designing a bridge. You could have been an engineer." As Allen Baron points out, "Frankie Bono is essentially a very alienated figure, and I wanted to show his solitude" (Robert Fischer and Wilfried Reichart). Frankie is also becoming increasingly delusional. As Baron observes, "On this barge that he came to purchase a gun, he was conducting what was, for him, a normal business transaction. At the same time, he carried these delusions. He was buying a gun to murder a man. He's nothing but a lowly murderer. And he had delusions of being a bridge builder, among other things" (Robert Fischer and Wilfried Reichart).
In the following scene, Frankie stakes out the brownstone belonging to Troiano's girlfriend. To prepare for the hit he needs to know everything about the building, as well as the architect who built it. Frankie's delusional state of mind will again be expressed through the voiceover narration as Stander rasps, "You could have been an architect too." As Frankie waits for his target, Frankie's delusions about the importance of his job as a hit man will also be revealed through Stander's voiceover narration: "You get a feeling that this is how it was meant to be.…like you are Troiano's fate.…like you're God." Allen Baron elaborates on the illusionary nature of Frankie state of mind, while also stressing the importance of Stander's voiceover narration in communicating Frankie's inner emotions. As Baron explains, "Frankie Bono was a man of many illusions about himself. And the narration, which is designed to be a Greek chorus, his alter ego, alludes to the fact that I could have been an engineer, could have been many things, and in this case, even God. I suppose the fact that he had the power of life and death, and that he did. He was an expert at what he knew, which was killing. He had these delusions about the things he could have done, if he didn't do what he was doing" (Robert Fischer and Wilfried Reichart).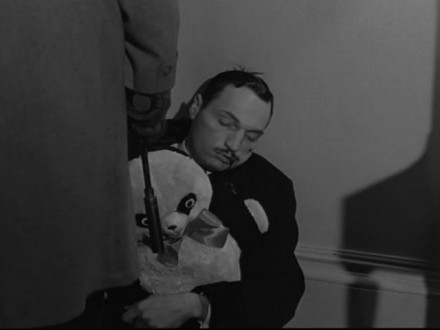 Getting the job done: Troiano is dead
The bleak, unrelenting conclusion to Blast of Silence takes place in Spring Creek Park, Jamaica Bay, Brooklyn, New York. It is an area that Allen Baron remembered from his childhood days. As he explains, "When I was a boy I used to come to this area to skip school very often. We used to call it the Old Mill. I think it was built some time after World War One. I don't know why they called it the Old Mill, but it was actually a fishing village" (Robert Fischer and Wilfried Reichart). It was also an area with a dubious history. As Baron recalls, "…we'd heard all these stories about the Mafia burying bodies here and killing people. Course we never found a body, but I actually do believe the act was committed here" (Robert Fischer and Wilfried Reichart).For Baron, the windswept, inhospitable location of the Old Mill was an ideal setting for the end of Frankie Bono's sordid life. As he points out, "…it was perfect, just perfect. The exact kind of atmosphere I wanted for the killing scene in the end" (Robert Fischer and Wilfried Reichart).
In 1960, when the final scenes of Blast of Silence were shot at the Old Mill, the fishing village had been largely abandoned, but a series of canals connected by rickety little wooden bridges remained. As the brutal end to the tortured life of hit man baby boy Frankie Bono approaches, Merrill Brody's stunning cinematography captures the grey, desolate bleakness of the Old Mill. The wind howls, heavy rain lashes the tall weeds near the creek, and a snowstorm begins, all of which add an atmospheric sense of doomed inevitability to Frankie's impending fate.
Having fulfilled the contract on Troiano, Frankie has only one last contact to make, in order to pick up the remainder of the money that he is owed for the hit. However, two syndicate thugs ambush Frankie, chasing him along one of the narrow wooden bridges that cross the creek. As the snowstorm swirls around him, Frankie is cornered and shot, falling headlong into the cold, murkiness of the creek. As Frankie makes one last effort to drag himself up the bank of the creek, his mud be-spattered face and body now unrecognizable, he is shot several more times and collapses dead in a crumpled heap.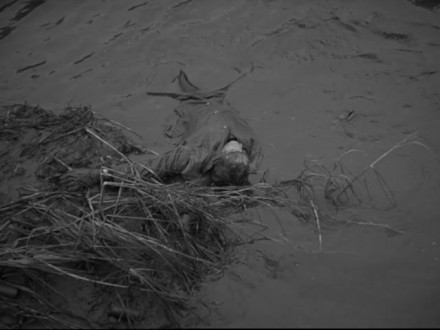 Echoing the end of Touch of Evil
Throughout Blast of Silence, there has been a prevailing sense of fatalism, which has ultimately culminated in Frankie Bono's brutal death. Allen Baron emphasizes this sense of fatalism: "…the choice he [Frankie] made was to be a professional killer. And I think finally when he died, it was probably the choice that he preferred, and he finally achieved" (Robert Fischer and Wilfried Reichart). It is a sense of fatalism that begins from the unforgettable opening shot of Blast of Silence, and Lionel Stander's gruff voiceover narration, which declares that Frankie has been, "….born in pain"; "….born with hate and anger built-in". It is therefore appropriate that, in the final scene in Blast of Silence, it is Stander's distinctive raspy voiceover narration which provides a fatalistic coda to the end of the tortured life of hit man baby boy Frankie Bono: "God moves in mysterious ways, they said. Maybe he is on your side, the way it all worked out. Remembering other Christmases, wishing for something, something important, something special. And this is it baby boy Frankie Bono. You're alone now. All alone. The scream is dead. There's no pain. You're home again. Back in the cold, black silence."
Bibliography
Rafferty, Terrance. 'Blast of Silence: A Bad Trip'. Criterion
Cline, Jimmy. Review of Blast of Silence. MUBI. July 30, 2009.
Fischer, Robert and Wilfried Reichart. 'Requiem For a Killer: The Making of Blast of Silence_', 2007. _Blast of Silence, DVD Extras, The Criterion Collection, New York, 2008.
Baron, Allen, "Blast of Silence, Independent Filmmaking: Then and Now," Essay in Filmmaker Magazine, Nov. 12, 2013.
Baron, Allen. Blast of Silence: A Memoir by Allen Baron. Bancroft and Holmes, Beverley Hills, California, 2013, p. 198.]]
Baron, Allen. Personal Website.
Brody, Richard. "Allen Baron's Blast of Silence." The New Yorker, online June 19, 2012
Dobies, JM. 'Doom Noir: Blast of Silence (1961)', The Examiner online, February 9, 2010.
Fischer, Robert and Wilfried Reichart. "Requiem For a Killer: The Making of Blast of Silence."
Ramsey, Lucinda. Pie in the Sky (1964), 2010, The New York Times online.
White, Mike. Film Noir of the Week: Blast of Silence (1961), March 25, 2010.