New Documentaries at BAMcinemaFest (June 17-28, 2015)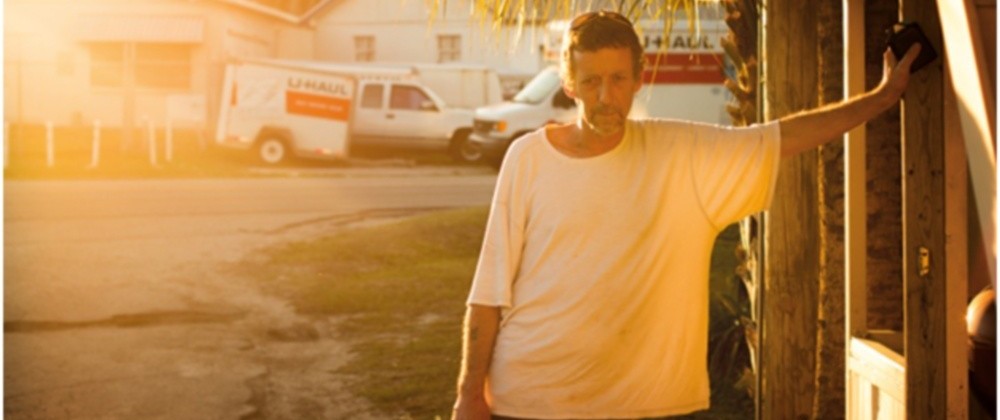 BAMcinemaFest, now in its seventh year, has a history of screening strong nonfiction films. One of New York City's premier showcases for new American independent film, BAM's lineup regularly includes many important feature-length and short documentary films covering a wide range of topics and styles. This year was no exception. BAM's selections, in fact, highlight the expansive scope of documentary as a genre. Documentary, as so many of its fans have long known, is not the fusty genre of forced schoolhouse boredom. Documentary encompasses experimental efforts of certain self-portraitists, essayistic encounters of urban observers, revolutionary projects of everyday activists, powerful polemics of ideologues, and, yes, historical narratives that help us better picture our past and understand how it continues to inform our present. Among the many nonfiction features at this year's two-week festival, two loose themes emerged: a fruitful preoccupation with media history, and a willingness to shine a light on highly challenging topics.
Best of Enemies
1968 saw a number of turbulent events unfolding in the United States and around the globe. In August of that year, American viewers of the nightly news were treated to their own small screen turbulence in the form of ABC's broadcast of a series of political debates between the archconservative, William F. Buckley Jr. and the ultraliberal, Gore Vidal. Best of Enemies, a new documentary directed by Morgan Neville (whose 20 Feet From Stardom won the Academy Award for Best Documentary in 2014) and Robert Gordon, focuses on those debates, their impact on broadcast news and on the relationship and the careers of these two once prominent public intellectuals.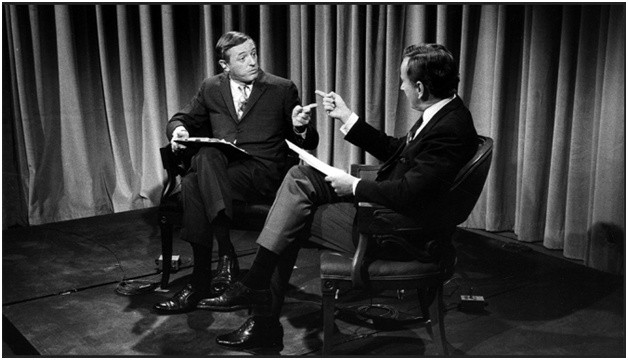 Best of Enemies: William F. Buckley Jr. (left) and Gore Vidal (right)
Best of Enemies is an important and well-crafted entry into the annals of media history; it shines a light on a moment when television news, and especially political news on television, shifted from more or less informational coverage of political events and characters to what has now become so commonplace on 24 hour cable news: debating pundits who wrestle one another verbally. The Vidal-Buckley debates were conceived by ABC as a way to compete with the two dominant news networks, CBS and NBC, during the coverage of the Republican and Democratic national conventions, and over the multiple evenings, ABC's viewership rose considerably. Neville and Gordon's often very funny film deftly charts its terrain, taking a position on neither the left nor the right, but rather providing insights from many sides and from many voices connected to the network or to the two men. Instead of rooting for one man over the other, the film leaves you feeling rather sympathetic for both, and, given the strong feelings these two figures arouse, that's a feat to be sure.
Here Come the Videofreex!
Sticking to the late 1960s, Jon Nealon and Jenny Raskin's Here Come the Videofreex! tells the story of the radical video collective that, from 1969 to 1978, produced hours and hours of videotape of everyday people and events unfolding in their own neighborhoods and across the country. The videofreex were one of the first independent production groups to use the earliest portable video cameras that offered both long recording times and instant playback. The group began with the backing of CBS, but when that backing fell through, they continued on their own, first living and working in a large loft in the SOHO neighborhood of New York City and eventually moving to a farmhouse in New York's Catskills Mountains.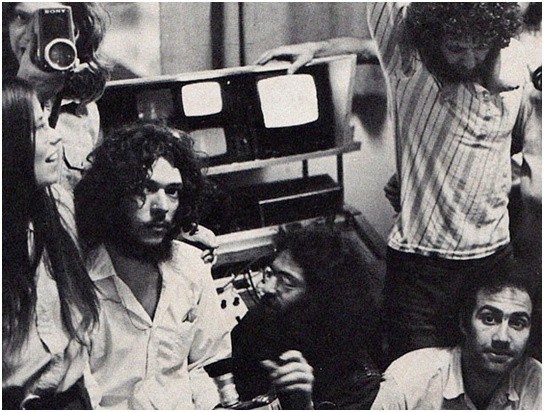 Here Come the Videofreex!
Nealon and Raskin's film benefits from the directors' access to footage from the videofreex's extensive video archive as well as from interviews with many of the group's members. Highlights from the footage include interviews with revelers at the Woodstock festival; an interview with Fred Hampton, the leader of the Illinois Black Panthers, just weeks before he was killed by Chicago police in late 1969; a short advice video for women on how to go about having a safe abortion, which became legal in New York in 1970; and on-the-ground news coverage in the small Catskills town where the freex set up their own local television channel. As the film depicts them, there is a strong idealism at work in this group of videographers; they hoped to provide many alternative and everyday stories to those offered by the impenetrable mainstream television news. The videofreex looked forward to what we have today: portable cameras and a means of wide dissemination in the hands of nearly everyone.
Jason and Shirley
The final entry in this group of media history themed films from BAM's festival is not, strictly speaking, a documentary. Stephen Winter's Jason and Shirley is a fictional film. Inspired by Shirley Clarke's seminal documentary, Portrait of Jason (1964), Winter's at once troubling and enjoyable film imagines what might have unfolded in Clarke's (Sarah Schulman) Chelsea Hotel apartment over the twelve plus hours she spent interviewing and filming her subject, the downtown performer and hustler Jason Holliday (Jack Waters). This imagined scenario features coercion and reticence, drinking and drugs, sandwiches on the roof, a palpable power struggle, and fantasy sequences from Jason's perspective. The film is fiction, to be sure, but it prompts viewers to consider and reconsider the relationship between two very real people: an Oscar winning documentarian hoping to make another important film, and her subject, hoping to make a little cash.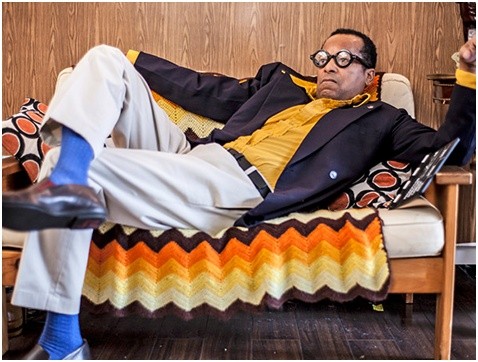 Jason and Shirley: Jack Waters as Jason Holliday
While these three films look to the past for inspiration, other nonfiction entries in the festival are very much concerned with the present and with a particularly challenging present at that.
A Woman Like Me
How do you make a movie about cancer? Alex Sichel, who was diagnosed with terminal breast cancer in 2011, asks just this question in her co-directed, hybrid film, A Woman Like Me. While undergoing chemotherapy, seeking out various alternative treatments, and practicing a Buddhist style of letting go all in order to deal with her cancer, Sichel decides to make a film about her experiences with this disease. A fiction filmmaker known for her 1997 All Over Me, Sichel embarks on this new project with longtime friend, Elizabeth Giamatti. Unable to finally decide between creating a wholly fictional story or a "straight" documentary, Sichel and Giamatti opt for both. While much of the film's 84 minute running time allows viewers into Sichel's everyday life as she films video diaries on a handheld camera, there is also, nestled inside the nonfiction, a fictional film about Anna (Lily Taylor). Anna is a woman very much like Sichel; she has a young daughter, a husband, and a diagnosis of incurable breast cancer. Sichel creates scenes for Anna that mirror her own experiences. From behind the camera, Sichel watches Anna and her husband as they learn the diagnosis, and she has them discuss how they should talk to their daughter about Anna's condition.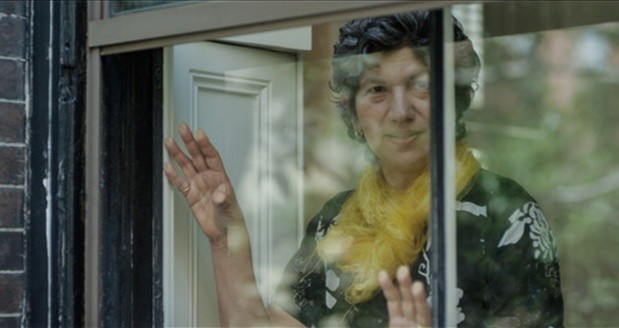 Alex Sichel in A Woman Like Me
As the film unfolds, though, the relationship between reality and fiction becomes less clear. Does reality inspire fiction or is it the other way around? Is Anna allowing Sichel to re-live her experiences differently, or is Anna inspiring Sichel to experience life differently? This question comes up late in the film, for instance, when we see Sichel swinging gleefully on a trapeze as Anna had done earlier in the film. Not so much a movie about cancer, A Woman Like Me is instead an intimate self-portrait of a woman seeking to understand her situation through film, whether fiction or nonfiction. Through Anna, Sichel lives in another's shoes, and through A Woman Like Me, Sichel invites viewers into some of her experiences with cancer.
Pervert Park
Frida and Lasse Barkfors, co-directors of Pervert Park, never seem to wonder how to make a (sympathetic) film about sex offenders, but they manage to do just that. Pervert Park, profiles a handful of residents in a trailer park community, Florida Justice Transitions, reserved for formerly incarcerated sex offenders. The Danish filmmakers, a husband and wife team, learned of the community in a news article, and they arrived on site to make what they thought would be a short anthropological film. After spending much time with the residents, the couple produced this documentary, giving voice to the community's men and women. The camera silently follows the residents in their daily activities: they tend to their homes and their pets, they eat meals in groups, they keep detailed logs recording their movements, they meet for group therapy sessions, they study for their college classes. As they go about day-to-day life, with the camera on their heels, they recount their stories, and this is where the film becomes very difficult to watch.
These men and women describe their crimes with amazing, sometimes appalling, candor. There is openness in them that cannot but surprise viewers. BAM's very full theater was totally silent, as if viewers were holding their breath, listening to the stories of these offenders' crimes. The majority of the residents also describe sexual abuses they suffered as children, and the film implicitly posits a link between being a victim and becoming an offender. This link is highlighted in particular in the case of a woman who had a long term sexual relationship with her father that started when she was quite young, later began one with her own eight year old son, and her son, now a teenager, has also turned to sexual abuse. This woman's story is a history of violence if ever there was one. The directors never flinch in their filming. They give voice to a group of people whom society is generally satisfied to render voiceless. And while it's true that these men and women committed terrible crimes, some against children, their stories deserve to be told. As difficult as it may be, this is quite an important film.
Prophet's Prey
Screening on the same day as Pervert Park was another film focused partly on sex offenders. Amy Berg's Prophet's Prey is an exposé of the abuses committed by Warren Steed Jeffs, the leader of a fundamentalist branch of the Mormon Church, the FLDS, against his many followers. Collaborating with Jon Krakauer, author of Under the Banner of Heaven, and Sam Brower, author of the book upon which much of this film is based, Berg's film narrates the long-term investigation Brower and Krakauer conducted into Jeffs and the FLDS. With the help of animations drawn by Noriko Shinohara (Cutie of the 2013 documentary directed by Zachary Heinzerling, Cutie and the Boxer) and voice-over narration by Nick Cave, Berg's film begins by providing a primer on LDS church history beginning with Joseph Smith and Brigham Young and explaining how the FLDS splintered from mainstream Mormons after the church suspended polygamy. Members of the FLDS regard polygamy as a key principle of their faith, with some FLDS men taking as many as 50-60 wives over the course of their adult life.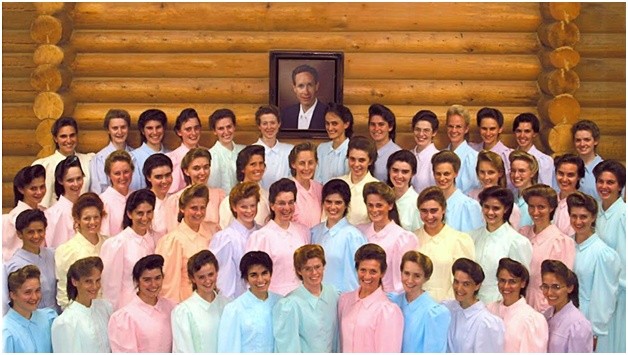 Prophet's Prey: A portrait of Warren Jeffs and some of his wives
Key to the success of Berg's film are the voices of some of Jeffs' victims: a young woman formerly married to Jeffs who escaped the church, a young man who had been molested by Jeffs when he was a child, and some of Jeffs' own siblings, cousins, and close allies who left or were forced out of the church. These individuals together tell the story of a man drunk with power, who created a progressively more insulated community of powerless followers. Jeffs controlled the very limited schooling of FLDS children as well as the finances of all church members. Perhaps most chillingly, Prophet's Prey incudes audio of Jeffs speaking from prison following his arrest, and his monotone, rather thin and weak voice accords poorly with the control this man has over so many people. Even more disturbing is audio played during his trial that seems to document Jeffs performing a sexual ritual with a very young girl he had just married.
Films that expose the abuses of religious institutions and religious figures have a particular power with viewers (Alex Gibney's 2015 Going Clear, critiquing Scientology, and Berg's 2006 Deliver Us from Evil, about the sexual abuses of a Catholic Priest are two other strong examples). Religions and religious leaders, like many institutions or people that hold immense power, seem just as liable to take the path of abuse and exploitation, as they are to take the path of justice and righteousness. While Warren Jeffs, now incarcerated for life plus twenty years, is paying for his crimes, Berg's film happily does not leave viewers with the sense that the FLDS faithful will now be free from abuse. Abuse is woven into the very fabric of that pioneer-clad religion. While Jeffs is locked away, others will step into his shoes, and people like Brower and Krakauer will persist in their investigations.
Counting
The final film I'll mention from BAM's strong documentary lineup fits into neither of the two loose rubrics above. Jem Cohen's essayistic film, Counting, is about very little, in fact. In Counting, Cohen assembles footage he has taken in a handful of different urban locations including New York City, Moscow, and Istanbul. He documents whatever it is that draws his eye within the urban landscapes he passes through: a ray of afternoon light in a Brooklyn apartment, political impersonators dressed as Lenin, Stalin, and Putin interacting with tourists in Moscow, a tree's mangled roots grown into a cement wall in Sharjah, a street corner in Manhattan where the layout of various panes of glass results in a peculiar series of superimposed reflections. Over some of this footage, Cohen includes evocative music or, as in the shots of Manhattan reflections, audio from the congressional inquiry into the NSA's data collection activities.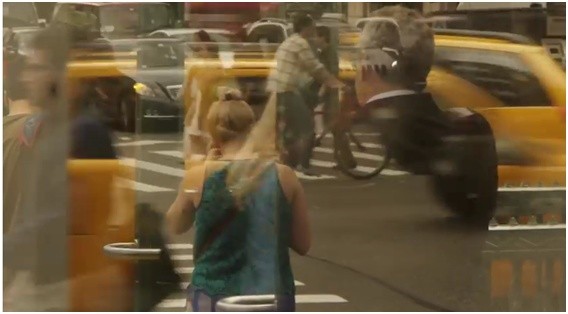 Counting: Reflections in Manhattan
Counting, a film much indebted to the late Chris Marker, has fifteen chapters of varying length, and while some chapters speak to the changes of certain neighborhoods, especially in New York City, where Cohen makes his home, others appear to simply document insignificant moments in the daily lives of various nameless people. In addition to urban scenes, Cohen has a predilection for filming while in transit: there are a number of shots through windows of subways, taxis, and airplanes. Counting is a meditation on discrete urban spaces but also on travel between those spaces.
Cohen's camera often seems to glide through space unobtrusively, and without impact on the people and events passing in front of it. In this way, Counting has the feel of an observational multi-city symphony for the twenty-first century. On a couple of occasions, though, the filmmaker's presence is distinctly felt. In one short scene, a man begging for money in Brooklyn's Coney Island neighborhood looks directly into the camera over a few moments, seeming to want to speak with the man filming him. In another, we hear Cohen answering a phone call that will bring him back to New York because a family member has been hospitalized. Just as it glides through different urban spaces, then, Counting glides through seemingly distinct documentary modes. With its myriad shots, subjects, places, and sounds, Counting is a mesmerizing film that asks for multiple viewings.
Headline Photo: Pervert Park: A resident at Florida Justice Transitions