Bad Seeds
Rhoda, Patty and Me, an Artist's Page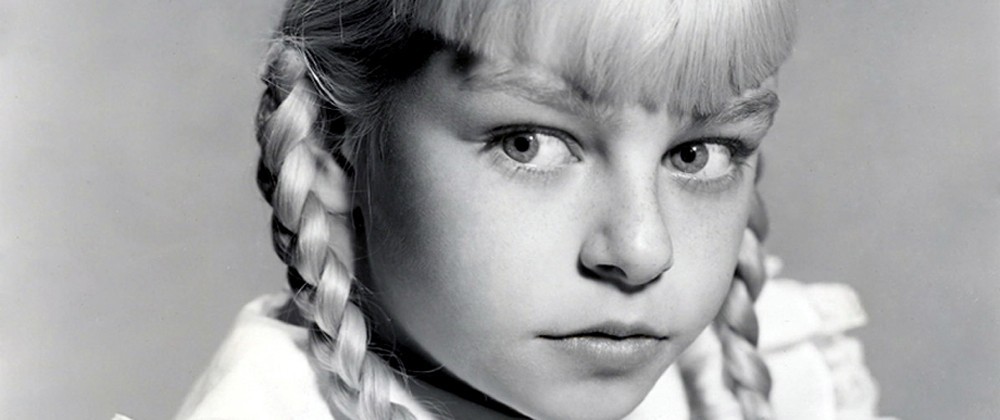 I've been obsessed with Rhoda Penmark for a long, long time. Since I was her age, I guess…since she has only one age. I'm also only a few years younger than Rhoda's film self, Patty McCormack, in the 1956 noir film, The Bad Seed. Patty is the actress who gave Rhoda Penmark an enduring presence in the bedeviled landscape of female monsters. That any young actress could so completely capture the affect of a psychopath was stunning, but so convincing that she was nominated for an Academy Award. Rhoda and Patty were eight years old, and eventually so was I.
Patty's mesmerizing performance as Rhoda lives on as an icon of a fervid American id. Psychoanalytic language and method had made its a way into American popular culture by the 50s, while Darwin and god, class struggles, and nature vs. nuture, still battled for slices of the American psyche. These complex threads were drawn together and projected into the persona of young Rhoda, the pigtailed killer.
Flash forward a few decades: The Clichettes (Louise Garfield, Janice Hladki and I) write and perform in the fourth and last of our lip sync extravaganzas, Out for Blood. For this "…psychedelic romp through women's rage," we researched female monstrousness as described in myth, recent history, cinema and popular culture, intent on exposing the rebellion against patriarchal authority that each of our monsters represented.
We chose the mythic Medusa, Bernardine Dohrn of the Weather Underground and Patty McCormack's portrayal of Rhoda Penmark as our avatars. And I had my dream role as Patty.
What person does not have a little Rhoda within, a small killer bent upon extracting gratification and exacting revenge in a world so stacked against her?
In our narrative, Patty escapes poisoning by her mother to join Bernardine and Medusa on the side of the Students for a Democratic Society at The Days of Rage in Chicago, 1969. America was terrified of its children at that time, and since – and with good reason. They were potential traitors, ticking time bombs set to explode in a Darwinian or Oedipal (choose one) frenzy.
But in the 1956 film, the Hays code 1 would triumph, and Rhoda of Hollywood was to be punished twice over, first, struck by lightning as she tries to retrieve the penmanship medal for which she murdered little Claude. God's retribution wasn't quite enough though, and in the final curtain call sequence of the film, the actress Patty is seized and given a spanking by her "mother."
So my own merger of Rhoda with Patty was built into the film version, their roles inextricably entwined. Ironically Patty went on to play Pat Nixon in the 2008 film, Frost/Nixon. Nixon was on the other side in 1969.
I offer this photo "fan page" to Rhoda, in tribute to her enduring image, and to the dark heart of rebellion concealed within that childish, perfect body.
Notes
"… the sympathy of the audience should never be thrown to the side of crime, wrongdoing, evil or sin." The Motion Picture Production Code of 1930 (Hays Code), General Principles, http://www.artsreformation.com/a001/hays-code.html, accessed Jan. 10, 2014 ↩