Alida Valli: May 31, 1921-April 22, 2006
Salute Alida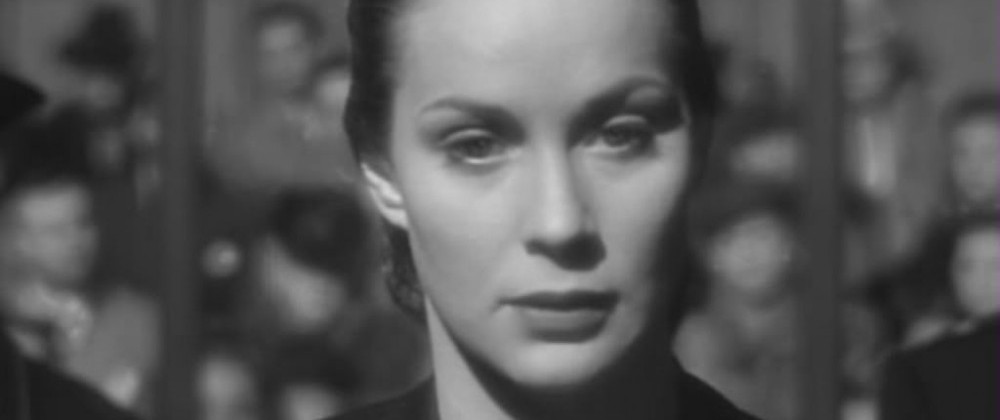 Don't look for her in next year's Academy Award obituary montage –she probably won't be there– but on April 22, 2006, the cinema world lost one of its most honorable performers, the wonderful Alida Valli, a month or so shy of her 85th birthday. Valli was born of aristocratic heritage as Alida Maria Laura von Altenburger, Baroness of Marckenstein and Freuenberg, of Austrian father and Italian mother, a title which would suit her well in her later years, when she would play a series of powerful matriarchs, Countesses, and Baronesses. Valli starred in over 100 films, and numerous television series' and stage productions spanning from 1934 to 2003. Born in Pola, Italy, Valli was a unique actress who blended the striking beauty of Gina Lollobrigida with the earthiness of Anna Magnani, and had the ability to project, in equal measure according to the role, emotional strength or emotional vulnerability. Although Italy can claim her as one of their own, she was never afraid of new challenges and travelled the globe to make films in Brazil, France, Mexico, England, Spain, USA, and Switzerland.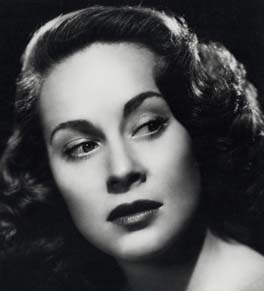 Valli made her debut in the 1934 film Il Cappello a tre punte/??The Three Cornered Hat??, directed by Mario Camerini. She soon established herself as one of the more popular actresses of the 'white telephone' films of the late thirties/early forties, escapist comedies and musicals set among the jet set Italian bourgeois. Her breakthrough 'white telephone' film was Piccolo Mondo Antico/??Old-Fashioned World??, Mario Soldati, 1941, for which she won best actress award at the 1941 Venice film festival. After playing the title role in Eugenia Grandet 1947 (also directed by Mario Soldati), for which she won the Italian Nastro d'Argento award for best actress, she was, like many great European actresses before her, tempted by the lure of Hollywood and set off to United States. Her first film in Hollywood was Alfred Hitchcock's The Paradine Case, where she played a woman on trial for murder, Mrs. Maddalena Anna Paradine. Playing opposite her was Gregory Peck as her defense lawyer, Anthony Keane. Apparently Hitchcock had wanted Greta Garbo, but had to 'settle' for Valli because Selznick had placed Valli under contract with hopes of making her a mega star in the mould of Garbo and Ingrid Bergman. While Valli's performance as the 'guilty woman' was as good as anything in The Paradine Case, Selznick's gambit never materialized, and was surely not helped by her next film, Miracle of the Bells (1948 Irving Pichel), which saw her star opposite Fred MacMurray as a press agent and Frank Sinatra as a priest! (She even danced in this one.)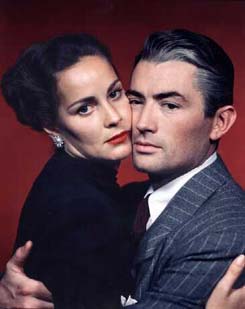 Her third film while on her jaunt from Italy was, appropriately enough, Carol Reed's The Third Man (1949), and the one to remember. In The Third Man Orson Welles plays Harry Lime, a Nietzschean human-monster whose wartime black marketing of tainted penicillin led to the deaths and mutations of hundreds of adults and children. Feigning death to escape the law, Lime is eventually brought to justice by the British Army and police force with the help of Holly Martins (Joseph Cotton), a pulp novelist who slowly comes to accept the hideous truth concerning his one-time best friend Harry Lime. Valli plays the third principal character in the film, Lime's ex-lover Anna Schmidt, a Czechoslovakian refugee whose undying love for Lime knows no bounds. Martins falls in love with Anna, who has grown to admire Holly Martins, but in the penultimate scene at the train station Anna spurns Martins when she learns that he is helping the authorities catch Lime. If for nothing else, Valli will be forever immortalized by the film's famous final shot, a long take of 72 seconds which stands in contrast to the film's generally quick cutting. The shot takes place after the (real) funeral of Harry Lime. Anna appears as a small speck in the extreme background of the shot, walking along a long, dirt road symmetrically framed by rows of bare trees flanking the road and falling away to form a vanishing point. Holly Martins is positioned in the lower left of the frame, in full shot, leaning against a wagon cart looking in the direction of Anna. The camera remains static. Autumn leaves fall gently to the ground. With each passing second Anna nears closer to Holly, but her march seems interminable. Will she stop to join him? Will she return his love? Will she forgive Holly for helping to bring an end to Lime? Will she at least acknowledge him? Our sense of time is weighted by all these factors. As viewers who can do nothing but be patient, we feel Martins' psychological time, stretched as he waits to see if Anna will stop. The obvious emotional and dramatic weight of this scene is the spurning of Holly Martins, but at a deeper level, the dramatic emotion is shared guilt: by Holly Martins for informing on his friend, and by Anna Schmidt for continuing to love such a despicable man. Anna, who remains in focus throughout the shot and holds our emotions in sway, walks stoically past him without batting an eye, straight past the camera and out of frame. For a few fleeting seconds before she leaves the frame we see Valli's stone face in close-up, long enough to realize her cool interior: she will not forgive Martins. Holly, his head turned to follow her, takes out a cigarette, lights it, throws away the match in acknowledgement of failure, and the scene fades to black.
As Hollywood is wont to do, they tried to rekindle the Cottons-Valli pairing in Valli's final Hollywood film, Walk Softly, Stranger (Robert Stevenson, 1951). This time the Valli and Cotton characters do get together. Valli plays a wealthy paraplegic, Elaine Corelli, living in a small town called Ashton. Into the town arrives Chris Hale (shades of Shadow of a Doubt), a small-time gambler with hopes of leaving his past behind him. Corelli, whose family runs a shoe factory in the town, was also a gambler herself and understands where Hale is coming from; they soon fall in love, but Hale's past catches up with him.
Valli made one other film in Hollywood, The White Tower (Ted Tetzlaff, 1950), made before Walk Softly Stranger. While working abroad did not bring her the success she –and others, namely Selznick– had hoped, the experience must have given her added self-confidence because upon her return to Italy she made her most important work, including her defining performance up to that date, the tormented La Contessa Livia Serpieri in Luchino Visconti's Senso (1954). Valli followed this majestic performance with that of another tormented woman, Irma in Michelangelo Antonioni's Il Grido (1957). By this time Valli, at 36 years of age, was no longer a starlet but one of Italy's reigning dramatic actresses.
Il Grido was an important transitional film for Michelangelo Antonioni from his neo-realist influenced earlier works and upper class melodramas to his high modernist 'alienation' tetralogy of L'Avventura (1960), La Notte (1961), L'Eclisse (1962), and Red Desert (1964). The character of Irma looks ahead to the strong female characters and feminist-tinged dramas of the tetralogy. Irma is a married woman nearing middle age, estranged from her husband, who has been living abroad. For several years since this estrangement from her husband Irma has been living with her lover, Aldo (played by American actor Steve Cochrane). When she receives news that her husband has died, Irma does not, as one would expect, consolidate her relationship with Aldo but, much to Aldo's shock, breaks up with him. Antonioni's trademark use of landscape and art direction to reflect (rather than state) character psychology and emotion gets its first important treatment in this break-up scene. The empty and barren setting, with the starkly pruned trees and muddy riverbanks in the background, says it all with regards their future together.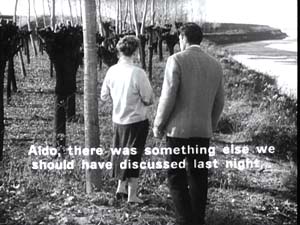 In another parallel to the tetralogy, Il Grido begins with a couple breaking up, as does L'Avventura and L'Eclisse. In each of these cases the 'break up' triggers what Antonioni author William Arrowsmith called, a character's "psychogeographical" journey. In this case it is the male character, Aldo, who goes on this journey, but it is the Irma character's actions that trigger the need for the journey. The break up scene set within the barren landscape is emotionally gut-wrenching because the decision taken by Irma to leave Aldo is one which has been weighing heavily on her for months. A few scenes after the break up, Aldo attempts a last ditch effort to make Irma change her mind by slapping her repeatedly in the town's public square and ordering her to return home. His desperate act seems designed to prey on Irma's status as the 'weaker' sex, with the hope that the public humiliation will put her back "in her place," but the act backfires. Irma puts her hair back in place, begins to walk away as he reiterates his order, turns to give him a Dionysian look that could kill, and says, "Now, Aldo, it is really finished!"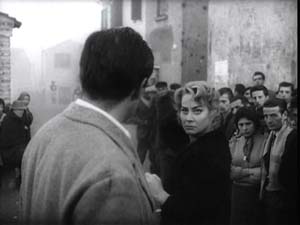 She gives the gathered crowd a recriminating stare and walks away, leaving Aldo scorned and ridiculed. It is a defining moment for Alida Valli, in its ferocity and inner strength. I would argue that the sense of empowerment achieved in this scene, coupled with the break up scene, would never be matched by any of the central female characters in the tetralogy, namely Monica Vitti, Lea Massari, and Jeanne Moreau.
Making this difficult decision to leave Aldo is a sign of Irma's immense emotional strength and an indication of the existentialist themes running throughout Antonioni's works. The act of making such a choice involves the freedom to choose, which characterizes the existentialist dilemma:
Perhaps the most prominent theme in existentialist writing is that of choice. Humanity's primary distinction, in the view of most existentialists, is the freedom to choose. Existentialists have held that human beings do not have a fixed nature, or essence, as other animals and plants do; each human being makes choices that create his or her own nature. In the formulation of the 20th-century French philosopher Jean Paul Sartre, existence precedes essence. Choice is therefore central to human existence, and it is inescapable…Freedom of choice entails commitment and responsibility. Because individuals are free to choose their own path, existentialists have argued, they must accept the risk and responsibility of following their commitment wherever it leads." [1]
In Il Grido Irma makes the decision and has the strength to live with it and live with the consequences (which include Aldo's death, possibly by suicide).
After Il Grido Valli made three films with important French directors, This Angry Age (René Clément, 1958), Gli Amanti del chiaro di luna/??The Night Heaven Fell?? (Roger Vadim, 1958), [in which she plays Brigitte Bardot's aunt] and, most notably, Les Yeux sans Visage (Georges Franju, 1959). In Les Yeux sans visage Valli plays the former lover of the brilliant and psychopathic Doctor Génessier, who performs inhumane operations on young female victims in an effort to restore the beauty of his young daughter, whose face was damaged in a car accident for which he was partly responsible. Valli's character, Louise, is Doctor Génessier's accomplice in crime who stalks the streets of Paris in search of young women to bring back to the Génessier estate. Valli's performance is a chilling study in psychotic, amoral behaviour, where the lives of the victims are deemed inconsequential to the doctor's obsessive, and egotistical, need to right his past. The daughter, Christiane Génessier, played to poetic perfection by Edith Scob, is largely an unwilling pawn in her father's medical experiments. In the film's climax she turns on her guardians, setting loose the dogs used by the doctor as guinea pigs, who enact poetic justice by mauling the doctor to death; and she stabs Louise in the neck with a scalpel. The expression on Louise's face when Christiane suddenly and unexpectedly stabs her is staggering in its ability to simultaneously register bewilderment, confusion, shock, horror, pain, and sorrow.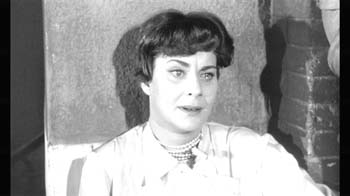 Les Yeux sans visage marked, along with a handful of other films (I Vampiri, Peeping Tom, Psycho), the beginning of the modern horror film. It was also the first of many important horror films which Valli would appear in in her later career. In many of these films Valli would feature in small roles, yet would leave her mark by playing powerful matriarchs. As alluded to earlier, some of these roles recall her birthright title of "Baroness of Marckenstein and Freuenberg." In the impressive Lisa and the Devil (1972) by Mario Bava, a film once described as the "Last Year at Marienbad" of horror movies, she plays a Countess and head matriarch of a bizarre household which includes a lollipop sucking butler played by Telly Savalas (the lollipop prop was first used by Savalas here and then carried over to pop cult fame in the TV series Kojak). In Killer Nun (Giulio Berruti, 1978) Valli plays Mother Superior opposite Anita Ekberg's nun. Valli featured in both of Dario Argento's 'mother' masterpieces, Suspiria (1977), where she played the more substantial role of Miss Tanner, the Nazi-like dance instructor, and Inferno (1980), where she played a similar role to that played in Alberto De Martino's excellent Antichrist (1974), a caretaker. Alas, not all her horror films were of a high standard. Valli also appeared in the laughable (and consequently still entertaining) Fatal Frames (Al Festa, 1996) as the Countess Alessandra Mirafior.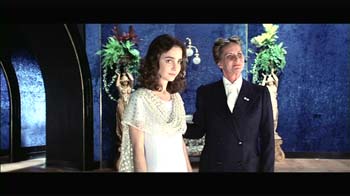 Valli in Suspiria, opposite Jessica Harper
Including the names cited above, Valli worked with a list of important Italian and international directors that would be the envy of any actor. On the Italian side this includes Gillo Pontecorvo (The Wild Blue Road, 1954), Pier Paolo Pasolini (Oedipus Rex, 1967), Bernardo Bertolucci (The Spider's Stratagem, 1970, 1900, 1976, La Luna, 1979), Valerio Zurlini (The Professor, 1972), and Giuseppe Bertolucci (Berlinguer ti voglio bene/??Berlinguer I Love You??, 1976, Segreti segreti/??Secrets, Secrets??, 1985, Il Dolce rumore della vita, 1999). On the international side, Leopoldo Torre Nilsson (Four Women for One Hero, Brazil, 1962), Alfonso Balcázar (Al otro lado de la ciudad, Spanish, 1962), Claude Chabrol (Ophélia, France, 1963 ), Patrice Chéreau (Flesh and the Orchid, France, 1975 ), Margarethe von Trotta (The Long Silence, Germany, 1993), and Ismael Rodríguez (The Paper Man, Mexico, 1963). With a list of credits ranging across so many countries, we can say that Alida Valli made Italians proud, but touched the heart and soul of audiences around the world. From this all-too-brief overview we see the evidence of a remarkable body of work that blended the glamour and beauty of a star (although Valli always renounced such a status) with the integrity and grit of a character actor. For Alida Valli every role, regardless of size, was an opportunity to leave an impression. And while these impressions will be with us for as long as the technology of their archiving allows, and perhaps even longer through memory, the world where such impressions are made will be far weaker for her absence. Salute Alida.
Endnotes
1 Encarta. Accessed May 30, 2006.