"It belongs to you and your fellow passengers alone": on Shivers (1975), Nuns' Island, Mies van der Rohe, and Montreal's haunted utopian urbanism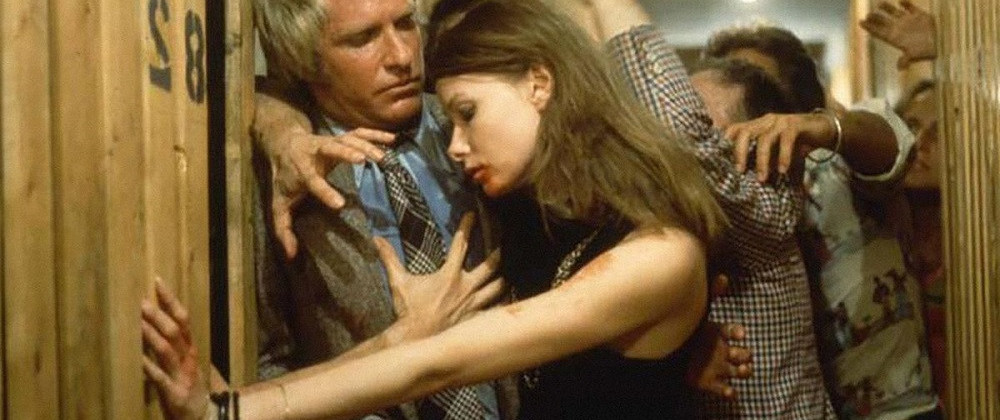 Shivers (1976) was David Cronenberg's first feature film, and one of the more successful tax-shelter genre pictures that came out of the seventies. Produced by Cinepix, a Montreal-based company mostly known for sleazy offerings, Shivers was filmed on a shoestring budget on Nuns' Island in 1974 (Rodley 36). Mies van der Rohe's Hi-Rise no. 3 became "Starliner Tower" in the film, which was shot entirely on location; the budget was so tight that the apartments used in the film were borrowed from the real-life residents of the building, the interiors largely unaltered (48). Cronenberg's film, which he wrote in addition to directed, follows the experiences of the inhabitants of Starliner Tower as a parasite begins to spread through the building, invading the tenants' bodies and forcing them to wreak zombie-like, sexual and violent destruction. The film takes place entirely in the isolated high-rise apartment building, as it becomes undone, its order disrupted by its own inhabitants. The film was met with outrage from many critics, inspiring debate about the limits of government funding for Canadian films. However, it made a return on its low production cost, "making it the most successful movie the [Canadian Film Development Corporation] had ever been involved in" (52).
I would like to employ the cultural object of Cronenberg's Shivers as a pivot point in terms of examining the significance of van der Rohe's buildings on Nuns' Island—and the island development itself—in the context of urbanisation in 1960s and 1970s Montreal. In addition to creating its own discourse on postwar modernism and society, Shivers opens up discourses surrounding the place of the highrises in the context in which they emerged, a time of heightened development, global thinking, and futurity in Montreal urbanism. Through the lens of the film and its depiction of architecture, ideas of urban utopia and the universal subject that emerged in the context of Expo 67 are interrogated and complicated. This paper will examine how Shivers, Mies van der Rohe's highrises, and Nuns' Island converge with urban visualities, the "foreclosed" idea of megastructure and the bourgeois dilution of utopia (Scott 8).
Nuns' Island was first known by settlers as Île St. Paul, though, as part of Tiohti:áke/Mooniyang, it is unceded territory of the Kanien'kehá:ka Nation, a founding nation of the Haudenosaunee/People of the Longhouse (Iroquois) Confederacy. The island was probably used as a "stopover en route up and down the river" by the Haudenosaunee (Prus, Shoenauer, Seeman, 1963). From around 1706, part of Île St. Paul was occupied by the Sisters of the Congregation de Nôtre-Dame for agricultural purposes, and the remainder was later purchased by the Congregation around 1769. The island was bought in 1955, however, by the Quebec Home and Mortgage Co. Ltd., for the purposes of its development as a residential area (Prus, Shoenauer, Seeman, 1963). Île St. Paul was subsequently merged with Verdun and renamed Île des Soeurs, or Nuns' Island, as it will henceforth be referred to in this paper.
The development of Nuns' Island was made possible from 1961 onwards by the construction of the Champlain Bridge, which connected the outskirts of Montreal to the South Shore (Lortie, 92). This advent coincided closely with the beginnings of preparations for Montreal to host the World's Fair—Expo 67. Montreal was chosen by the Bureau des Expositions in 1962 as the host, and the theme, Terre des Hommes/Man and his World, soon followed in 1963. Construction of the site began the same year (Kenneally and Sloan 3). The event of Expo, as André Lortie has noted, was also "an occasion to reflect on possible development in the city and the urbanisation of new territories," and the resulting projects can be seen to have unfolded over the course of the decade, concentrated in the period leading up to Expo (Lortie 142). Mayor Jean Drapeau was determined to transform Montreal into a "world-class" metropolis, resulting in widespread, ambitious, projects of "renewal" and modernisation (Sloan 2022). One of the most egregious phenomena resulting from this often necessarily destructive ambition was the demolition of several working-class neighbourhoods. Faubourg à m'lasse, for example, was cleared to make way for a promised "media city" for Radio-Canada—a project that was never realised (Lortie 108).
Under Drapeau, the desired futurity Expo made explicit was to be reflected—and reflective of—the city of Montreal, in projects both grand and quotidian. We could gesture to numerous massive transportation infrastructure projects, such as the construction of the Turcot Interchange in 1966, and, crucially, of the Bonaventure expressway, which opened just prior to Expo in 1967 (Lortie 113). This elevated expressway runs through Nuns' Island to connect the Champlain Bridge more directly to the downtown core, as well as, by extension, to the site of Expo 67. The working-class neighbourhood of Victoriatown, or Goose Island, was demolished to make way for a large parking facility just off of the expressway where Expo visitors could leave their cars during the visit. This later became the site of an ill-fated sports stadium post-Expo (Gaudette et al. 8). Therefore, the construction of Expo can be understood as not confined to the space of the exposition itself, but radiating outward, prompting both Expo-related demolition/construction projects and expediting ongoing processes of urbanisation and modernisation.
The Nuns' Island development can be thus seen as enmeshed with this network, literal and figurative, of expansion and renewal inextricably tied to Expo 67. Though the project of making the island inhabitable in a modern sense did not necessitate the eradication of existing neighbourhoods, it was excavative, requiring extensive intervention to prevent the flooding that occurred every year (Prus, Shoenauer, Seeman, 1963). For example, low lands were filled in to raise the level of the island using excavated material from the concurrent construction of the metro system, a material link to the city centre and its redistribution (Prus, Shoenauer, Seeman).
The Nuns' Island development was promised to be, as Anne Cormier has written, "the most wondrous residential property in North America" (Cormier 18). A "création de toute pièce" (Cormier 18), it was to be balanced in layout, composed of highrises, mid-rise buildings, and one or two-storey buildings (Prus, Shoenauer, Seeman). Proximity to spaces of nature and leisure, as well as to the city proper, are some qualities that are strongly emphasised in the planning pattern created in 1963 by Prus, Schoenauer, and Seeman for the Quebec Home and Mortgage Corporation. In this way, Nuns' Island presented a kind of ideal space, the sought-after tabula rasa for modernity—a "history-less" place to be reoriented into the perfect exurban residential space, the crown jewel being the construction of three Mies van der Rohe residential high-rises.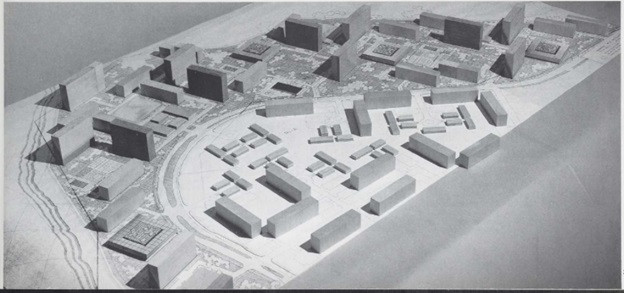 Figure 1. Phase II Maquette, Nuns' Island, 1968
Mies van der Rohe is decidedly one of the giants of Modern architecture—it has been argued that "everything—and this indirectly, modern architecture itself—begins with Mies, with the glass building, the office building, and the skyscraper project" (Lambert 25). Characteristic of Mies' work—as well as Modern architecture in general—is the use of industrial materials such as steel, concrete, and glass. Transparent and clean spaces, often employing white walls and glass curtain walls, recur, speaking to a guiding hygienic ideology and the broader concept of spaces as "machines for living" that exert a degree of control over their occupants (Colomina 2). Furthermore, modernist architecture often evokes a preoccupation with borders, embodied in Mies' work in the use of glass curtain walls, which both delineate space and invite a certain level of surveillance (Lambert 113).
Mies' three Hi-Rises on Nuns' Island can be situated near the end of his career—construction began in 1966 (Lambert 118). Having come to North America in 1934 after a dubious period of designing in Nazi-governed Germany, he embarked on many of his most well-known projects in the States, including the Lake Shore Apartments in Chicago and Highfield House Condominiums in Baltimore (Cohen 156). The Nuns' Island apartments closely resemble the latter, in their employment of glass curtain walls, steel frames, and the use of weighty columns on the ground floor exterior terrace and interior lobby, as well as the embracing of a concrete exterior (fig. 2). The Hi-Rises have been referred to as "long slab blocks subtly placed above the banks of the St. Laurence" (156). Each Hi-Rise includes access to a pool (no. 2 and 3 share one) as well as underground parking, and a variety of services contained within each building (Cormier 18). As Jean-Louis Cohen has noted, the Mies buildings on Nuns' Island comprised a "luxury retreat for the bourgeoisie" (Cohen 156).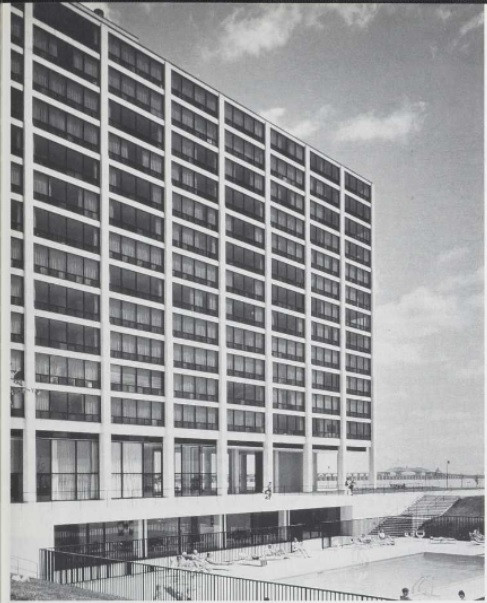 Figure 2. Ludwig Mies van der Rohe, and Philip Bobrow, resident architect, "Hi-Rise no. 1," Nuns' Island, Montreal, 1967-1969
In Shivers, then, the spaces of Mies' Nuns' Island high-rises both come alive and are deconstructed. At the outset, the building is "advertised" to us as state-of-the-art elegance, the way of the future—outside of the city centre, but still accessible to its privileged residents: "Explore our island paradise, secure in the knowledge that it belongs to you and your fellow passengers alone. Cruise the seasons, the sun, and the stars, without ever leaving the great ship Starliner" (Cronenberg 1975). Throughout the film, however, the apartment building becomes more and more oppressive, stifling, and eerie, as parasites infect the tenants and they become increasingly monstrous. Rather than a place of "order and calm and eternity," it becomes horrific (Rodley 25).
Cronenberg related the film to a concept of "chaos as a private rather than social endeavor," writing, "you have these little pockets of private and personal chaos brewing in the interstices in the structure of society, which likes to stress its order and control, and that's the collision you see" (Cronenberg in Rodley 25). As we have noted, Modernist architecture valued rationalism, hygiene and order, manifested in white walls, clean lines and the prominent use of glass. The Starliner apartments in the film thus embody this initially, before being metaphorically corrupted and materially disfigured. Shivers sees these borders between lives, people, and their apartments become porous, vulnerable, and corrupted, as parasite-infected tenants run through the halls and collide with other spaces and bodies.
However, the film also offers a rare glimpse inside Hi-Rise 3—we can scrutinise the background of each shot, catch a glimpse of some of the services available, peer at the interiors of the lobby and office space downstairs, as well as many of the individual rooms. As Cronenberg has noted,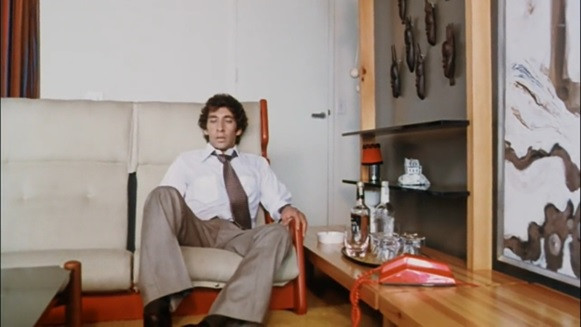 Example of apartment interior, in David Cronenberg, dir., Shivers (Montreal: Cinepix Film Properties, 1975)
We had no money for sets, so we put notices in the elevators for people to give us their apartments to shoot the movie in. […] We were totally dependent on luck to find homes for our characters. […] So the line between the reality of living at Nuns' Island, and the fantasy of the movie became a very thin line (Cronenberg in Rodley 48).
This thin line is reflected in the broader setting. Though the names of the apartments and the island have both been changed to "Starliner," indicating the ownership of the island by a private corporation—it is explicitly set in Montreal, along the St. Lawrence River, as advertised in the opening montage: "downtown Montreal is only twelve and a half minutes away" (Cronenberg 1975).
In this way, Shivers has a kind of odd documentary value, if only to represent a phantom structure of feeling, to use Raymond Williams' term, of the 1970s. As Ben Highmore has noted, a "'structure of feeling' gives us access to the way feelings and tastes are an activity of 'worlding' that renders life as this life, and renders time as this time, and not another" (Highmore in Burke 18). The discordance, however, between the minutiae of lived-in domestic interiors circa 1975 and the explicit, gruesome horrors that unfold in the film certainly renders it an uneasy, dissonant evocation of the period. In conversation with this, the use of location shooting, more broadly, evokes the spatial experience of the building. This is established from the outset as we follow a young couple as they emerge from a car and enter the high-rise, where they meet the manager in the lobby for a tour of the apartments.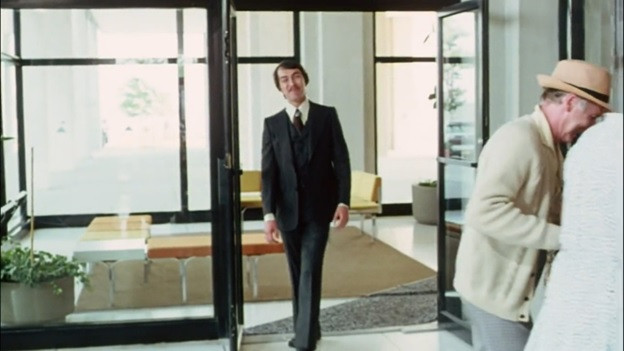 Tour, in David Cronenberg, dir., Shivers (Montreal: Cinepix Film Properties, 1975).
Reflecting this, Phyllis Lambert has observed that "a sense of cinematographic movement pervaded [Mies'] built work," particularly in "the perception of spatiality as the observer moves around Mies' high-rise buildings at ground level" (Lambert 120). Shivers makes visible, to a perhaps small but still valuable extent, the ways the building's real tenants inhabited the space, and the more general spatial experience—and visuality—of moving through Mies' glass walls.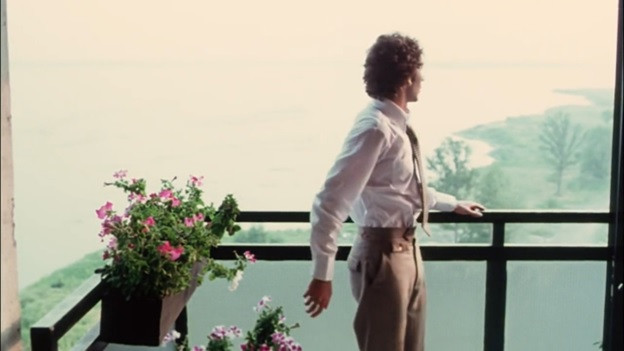 Balcony, in David Cronenberg, dir., Shivers (Montreal: Cinepix Film Properties, 1975).
Visualities, often surveilling and surveying ones, recur in Modernist architecture, and are invoked in Mies' high-rises. Beyond his usual glass walls however, the Nuns' Island high-rises feature an architectural non-sequitur in the Mies oeuvre: balconies (Cormier 18). This was, apparently, "at the insistence of the promoter, who placed importance on the 'view of the water and city' as well as 'the Montreal lifestyle'" (Cormier 18). In both reality and in Shivers, the value of the island apartments is premised on its simultaneous separation from and proximity to Montreal proper. A premium is therefore placed on the ability to be physically isolated from the city (though only ten minutes away) and the ability to participate in "the city" and its lifestyle through an act of surveying. It is only from a privileged distance, after all, that Montreal can be visually consolidated.
I would argue that this returns us to the discourse engendered by Expo 67, and my earlier premise that situates Nuns' Island as part of that discourse. As previously mentioned, the theme of Montreal's Expo was Man and his World. This theme was drawn from the cosmic humanism of Le Petit Prince, by Antoine de Saint Exupéry. As Rhona Richman Kenneally and Johanne Sloan have articulated, "the distanced view from above the surface of the planet […] allowed the emergence of a humanistic point of view, with the implication that this perspective was impossible at ground level" (Kenneally and Sloan 5). As they note, this utopic visuality produced a kind of essentialized, idealised Everyman, and this was to be the intended effect of Expo, with its themes of humanism and globalism.
Expo and Nuns' Island shared this visuality in the context of Montreal as urban space: both can be situated as occupying man-made or at least reconstructed islands, "existing alongside Montreal," at once separate from and part of the city (Kenneally and Sloan 5). As "exurban sites," they proposed adjacent yet diverging variations on utopia, premised on this idea of an essentialized subject (Kenneally and Sloan 5). Nun's island, for example, could be positioned as emerging from a kind of master plan, laid out in phases, in one instance, by Prus, Schoenauer, and Seeman. Its discrete, manageable, and shored-up boundaries presented an opportunity to create an "ideal" residential development. However, as we see with Modernist design, presupposing a kind of universal, essential subject is also to "[refuse] to acknowledge the validity and diversity of human claims" (Hochman xv). It is above all an act of homogenising, of control and power.
As J. G. Ballard writes in his book High-Rise, released almost contemporaneously with Shivers, "the high-rise was a huge machine designed to serve, not the collective body of tenants, but the individual resident in isolation" (Ballard 21). Indeed, Mies' high-rises are figures of "twentieth-century Cartesian order" (Beard 30). As William Beard has articulated, "laid out in architecture of rectangular functionalism," _Shivers_' high-rise "is a microcosm of the modernist urban aesthetics of middleclass materialism. There is a promise of control, of the complete absence of anything unwilled or invasive" (Beard 30). Crucially, Beard argues that as the parasite becomes viral in the building and its inhabitants become, in turn, sexually and violently commingled, "all previous social distinctions and prohibitions [are annihilated], as well as all conventions supporting the independence or separateness of individual subjects" (Beard 34). Cronenberg has said of its reception,
French critics really saw Shivers as being an attack on the bourgeois life, and bourgeois ideas of morality and sexuality. They sensed the glee with which we were tearing them apart. Living on Nuns' Island we all wanted to rip that place apart and run, naked, screaming through the halls (Cronenberg in Rodley 50).
Shivers therefore articulates its allegory of repression and bourgeois order most evocatively—and not without a dark humour—through its depiction of Mies' Modernism on Nuns' Island.
The problematic notion of an urban space developed from a single point of origin, or that is mindful of only one subject/spatial actor, recurs in Reyner Banham's acknowledgement of the failures of the utopic megastructure. He acknowledges that megastructures, intended to be multi-purpose, ever-evolving structures, "harbored a paradoxical call to order, an atavistic alliance with modernistic dreams of a totalizing environmental control," converging all-too-often, as well, with capitalist interests (Banham 210). He cites, as well, a July 1968 issue of Progressive Architecture about the so-called "Omnibuildings," which are essentially, as Banham writes, "monumental megastyle buildings with all the permissive variability left out […] and excessive 'coherence'" (Banham 208). I bring this in not because I wish to label Mies' high-rises as megastructures, nor omnibuildings, exactly; however, it seems significant to acknowledge that the high-rises were marketed as almost self-sufficient, including many services, enough, as in Shivers, that one might "cruise the seasons, the sun, and the stars, without ever leaving the great ship Starliner" (Cronenberg 1975). They are presented as microcosms of urbanity, presenting a kind of varied spatial experience that reads like an omnibuilding-like dilution of the megastructure dream.
Felicity D. Scott has observed the ways that both modernism and the utopias of the sixties have produced a sense of "lost futures" (Scott 1). She cites Banham as positing that "these dreams of a better world were 'the true ghosts in the machine' of the Twentieth Century" (Scott 8). Nuns' Island and Mies' high-rises allow us to trace the ghosts of both modernist tenets of architecture and the utopic, futurist discourse of sixties' Montreal urbanism, especially as surrounding Expo 67. Furthermore, the Nuns' Island development, with its connections to settlement and infrastructure development, invokes the issue of what was cleared away to make room for Drapeau's version of this futurist urban project. In Shivers, however, these ghosts are re-animated to an extreme extent, warped, even; the return of the repressed made jarringly explicit. The tenants rush beyond their hermetically-sealed apartments at the bodily urging of the parasites, rupturing borders both architectural and social, to engage in what could be positioned as a kind of radical—albeit monstrous—collectivism (fig. 6).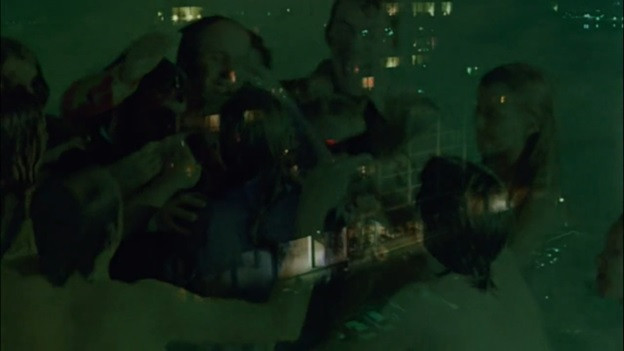 Crossfade between parasite-tenents and Mies' high-rise, in David Cronenberg, dir., Shivers (Montreal: Cinepix Film Properties, 1975)
Banham's admission of the fallibility of megastructures illuminates Nuns' Island and its Mies apartments as a case study of the ways the utopian, futurist ideas of urban space that were circulating in Montreal, intensified by the discourse around Expo 67, were diluted and developed in diverging ways. In Nuns' Island we see them intertwined with private corporate interests, resulting in what is perhaps better articulated as bourgeois tempering of utopia. In the years following Expo 67, Shivers emerges as a locus point where this idea of a Modernist, bourgeois utopia is subverted to an extreme extent, constructing its own radically subversive—if sometimes crude—discourse on the role of architecture in a society of control and order. However, its documentary-like use of unaltered apartment interiors also offers a window into the experience and use of the building. In this way, and in its cinematic activation of the architecture it critiques, Shivers performs a kind of re-animation of the structure of feeling of the years following Expo 67, filtered through a dissonant, genre-film lens. In its mixing of Modernist architecture and genre gore in the space of Nuns' Island, ideas of urban utopia and the universal subject that emerged in the context of Expo 67 are conjured, interrogated, and complicated. Crucially, Shivers gleefully eats away at this image of Nuns' Island as a diluted, capitalist utopia (dystopia?)—offering a narrative in which even Mies' rational, clean constructions might be reorganised and reinterpreted.
Source for Figures 1, 2: https://numerique.banq.qc.ca/patrimoine/details/52327/2689712
Bibliography
Ballard, J.G. High-Rise. Quoted in White, Mason. "Condomanium! Condominium Culture and Cities of Convenience." In Ourtopias. Edited by Paola Poletto, Philip Beesley and Catherine Molnar: 21-29. Toronto: Riverside Architectural Press, 2008.
Balzer, David. "David Cronenberg: Virtual Exibition." Toronto International Film Festival, http://cronenbergmuseum.tiff.net/cronenberg-eng.html.
Banham, Reyner. Megastructure: Urban Futures of the Recent Past. London: Thames and Hudson, 1976.
Beard, William. The Artist as Monster: The Cinema of David Cronenberg. Toronto: University of Toronto Press, 2006.
Burke, Andrew. Hinterland Remixed: Media, Memory, and the Canadian 1970s. Montreal: McGill-Queens University Press, 2019.
Colomina, Beatriz. Sexuality and Space. New York: Princeton Architectural Press, 1992.
Cohen, Jean-Louis. Ludwig Mies van der Rohe. Basel: Birkhauser Verlag, 2007.
Cormier, Anne. "L'Ile des Soeurs: 'Le plus merveilleux domaine résidentiel en Amérique du Nord.'" ARQ Architecture Québec (Février 1993): 18-19.
Cronenberg, David, dir. Shivers. Montreal: Cinepix Film Properties, 1975.
Gaudette, Marilyne, Romain Roult, Mohamed Reda Khomsi and Sylvain Lefebvre. "D'un stade mal-aimé à un stade oublié: l'Autostade de Montréal." Revue d'histoire urbaine 46, no. 1 (Fall 2017): 7-21.
Hochman, Elaine S. Architects of Fortune. New York: Weidenfield and Nicolson, 1989.
Kenneally, Rhona Richman and Johanne Sloan. "Introduction: Dusting off the Souvenir." In Expo 67: Not Just a Souvenir, edited by Rhona Richman Kenneally and Johanne Sloan, 3-24. Toronto: University of Toronto Press, 2009.
Lacoursière, Jacques. L'Ile des Soeurs. Montreal: Les Éditions de l'homme, 2005.
Lambert, Phyllis, editor. Mies in America. New York: H.N. Abrams, 2001.
Lortie, André, editor. Les Années 60: Montréal voit grand. Montreal: Canadian Center for Architecture, 2004.
Lyons, Steve. "Memory of a Post-Apocalyptic Future: Whitening Skeletons and Frozen Time in Robert Altman's Quintet and Expo 67's Man the Explorer Pavilion." Montreal as Palimpsest II: Hauntings, Occupations, Theatres of Memory. Concordia University: September 2009.
"Omnibuildings, Projects and Functions." Progressive Architecture (July 1968): 108-126.
Prus, Shoenauer, Seeman. "A Report on the Preliminary Studies for the development of Ile St-Paul or Nuns' Island." Montreal, QC: Quebec Home and Mortgage Corporation, 1963.
Rodley, Chris, editor. Cronenberg on Cronenberg. Toronto: Alfred A. Knopf Canada, 1992.
Scott, Felicity D. Architecture or Techno-Utopia: Politics After Modernism. Cambridge, MA: MIT Press, 2007. Print.
Sloan, Johanne. "Reimagining the City." Recorded lecture, Concordia University, February 1, 2021.
Vidler, Anthony. The Architectural Uncanny. Cambridge, MA: M.I.T. Press, 1994.