Asian Cinema Studies Society
Studying Asian Cinema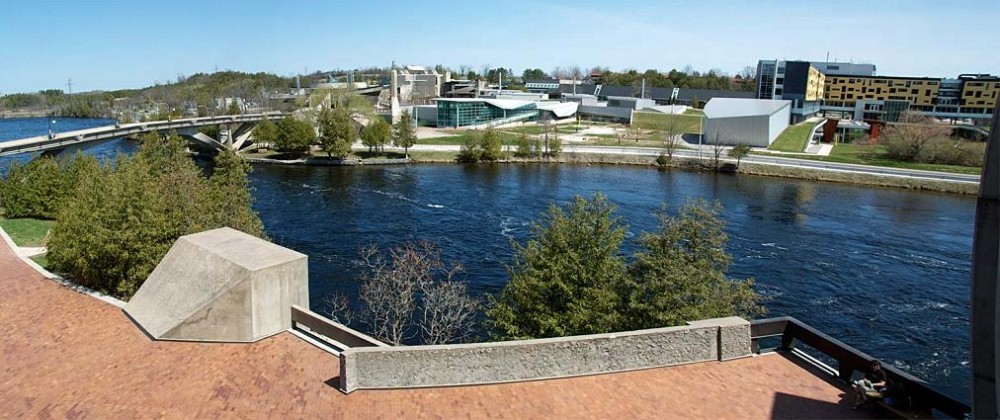 The Asian Cinema Studies Society (ACSS) held its fifth biennial conference at Trent University, Peterborough, Ontario from August 20-23, 1997. It marked the first time that the conference was held in Canada (the next conference is slated for either South Korea or Australia). The bulk of the conference organizing was handled by indefatigable Suzie Sau-Fong Young. The conference was a jam-filled event featuring papers, workshops and film screenings by scholars, filmmakers and industry people from China, Australia,the US, Singapore, Hong Kong and Canada. The only criticism I had with the otherwise excellent conference is that the events were so tightly programmed that there was too little time for discussion, both formal and informal (usually none at all). With 1997 marking the China takeover of Honk Kong, the conference was largely dedicated to some early reflection on this (ambivalently) much-awaited historical moment. Hence most of the papers dealt with Chinese and Hong Kong cinemas. Below is a complete list of the conference schedule (excluding social events):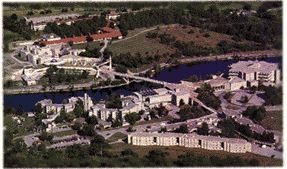 Trent University, home of the Asian Cinema Studies Society conference, 1997
THURSDAY, AUG.21
Panel 1
930-950: Ramie TATEISHI: "Jackie Chan And the Re-invention of Tradition"
950-1010: Lisa STOKES & Michael HOOVER: "A City on Fire: Hong Kong Cinema as Cultural Logic of Late Capitalism"
1010-1030: Tony WILLIAMS: "Kwan Tak Hing and the New Generation"
Panel 2
1050-1110: Juanita ZHOU Huan: "Ashes of Time, the tragedy and Salvation of Chinese Intelligentsia"
1110-1130: Ken HALL: "Hong Kong, 1997: Mexico, 1917. Motifs and Historical Perspective"
1130-1150: Denise TANG: "Coming into Gender Consciousness"
1150-1210: CUI Shuqin: "Female Image and Postmodern Allusion in ACTRESS
Afternoon
Panel 3
140-200: Gina MARCHETTI: 'California Dreaming' in the Chungking Mansions: Spectacle, Commodities, and CHUNGKING EXPRESS"
200-220: ZHANG Zhen: "A Tale of Two Cities: Shanghai and HK Cinema"
220-240: Joelle COLLIER: "Discontinuity Editing in Hong Kong Cinema in Relation to Classical Chinese Aesthetics"
240-300: Gigi HU Tze Yue: "Hong Kong Cinema: The Case of Overseas Chinese Demand"
300-320: Stephen LU: "The Growing Popularity of Honk Kong Cinema in the US-A Successful Case Study: "Asian Media Access"
Panel 4
350-410: Greg DANCER: "Film style and performance: Comedy and Kung Fu from Hong Kong"
410-430: Ange HWANG: "To "Laugh" or "Not To "Laugh": The "Coming out of Nowhere" Style of Hong Kong Comedies"
Film & Video Screenings
500-555: Ange HWANG's THE IRRESISTIBLE HONG KONG MOVIE-SERIES OF 'ONCE UPON A TIME IN CHINA' (1997, USA, 53min)
630-820: Kwang Soo PARK's: CHIL-SU AND MAN-SU (1988, Korea 110min)
730-905: Clara LAW's A FLOATING LIFE (1996, Australia, 95min)
930-1110: John WOO's FACE/OFF (1997, USA, 100min) Introduced by Ken Hall
FRIDAY, AUG.22
Panel 1
900-920: HONG JunHao: "The Evolution of China's War Movie in Five Decades: Factors Contributing to Changes, Limits, and Implications"
920-940: YE Tan: "From North to South: the New Plebeianism in Chinese Cinema"
940-1000: WANG Rui: "China's 'Silent Era' "
1000-1020: ZHANG HuiPing: "An Analysis of China's "Fifth Generation Film" Based on Theories of Film Movements"
Panel 2
1040-1100: Faye ZHENGXING: "The POV in "SHANGHAI TRIAD"
1100-1120: LI XiaoPing: "Cinema, Cultural Marketplace, and Neo- colonialism: Research Notes on Recent Controversies in China"
1120-1140: BAO YuHeng: "Realism in Chinese film from tradition to Contempory and Future Perspectives"
1140-1200: XIE Fei: "Making films in the People's Republic of China"
1200-1220: Suzie YOUNG Sau Fong: "Encountering (China, My) Sorrow"
Afternoon
Panel 3
140-200: Vivian SHEN: "Gender Politics: from 'New Women' to 'Fighting Women'"
200-220: Masako NAKAGAWA: "Yang Kuei-fei: the Film and the Legend"
220-240: Eve GABEREAU: "Positive/Negative: Urban Landscape and Identity in Contemporary Chinese and Japanese Film"
240-300: Harriet BLANKEVOORT: "A Benjaminian Expedition Through The Hahamono Reel in Taisho and Showa Japan"
300-320: Catherine RUSSELL: "Mikio Naruse and the Japanese Woman's Film"
Panel 4
340-345: Peter RIST: "Introduction to Iranian Cinema"
345-410: Shahin PARHAMI: "A Brief History of Pre-Revolutionary Iranian Cinema"
410-425: Farbod HONARPISHEH: "Post-Revolutionary Iranian Cinema"
425-440: Donato TOTARO: "Reflexivity in Contemporary Iranian Cinema: The Case of Mohsen Makhmalbaf"
Film & Video Screenings
100-140: PAN Hua's THE PROMISE (1995, China, 40min; in Mandarin)
700-850: XIE Fei'sA GIRL FROM HUNAN (1986, 110min)
930-940: XIE Fei's A MONGOLIAN TALE (1996, China,100min) Introduced by XIE Fei
SATURDAY, AUG.23
1040-1100: Jacqueline LEVITIN: "Making Film in the Diaspora: DOUBLE HAPPINESS and Difference"
1100-1120: Uma Magal: "Indian Cinema 50 Years After Independence: A Cinema of Ferment"
1120-1140 : Shelly KRAICER: "Zhang Yimou in LUMIÉRE ET COMPAGNIE: 52 Seconds x 9 Readings: An Exercise in Over-Interpretation"
1140-1200:Yomi BRAESTER: "Modern Identity and Karmic Retribution in Clara Law's REINCARNATIONS OF GOLDEN LOTUS"
1200-1220: TAN See Kam: "Farewell, China: Displacement and Diaspora in fin de siecle
Afternoon
130-150: Daiwon HYUN:"Hong Kong Cinema in South Korea, Its Prosperity and Decay"
150-210: Peter RIST : "Korean and Hong Kong cinemas of 1960's as 'Nelgected"' Classical Periods"
210-230: John A. LENT: "The Asian Animated Film: Foreign and Domestic Implications"
Films & Video Screenings
900-915: King-Wai CHEUNG's JUST A DREAM (1995, USA, 12min)
915-1015: Kalli PAAKSPUU's WHEN EAST MEETS EAST (1997, Canada, 58min)
300-345: Premika RATNAM's ACCESS DENIED: THE HIDDEN IMMIGRATION GATEKEEPERS (1996, Canada, 45 min) Introduced by director
400-600: CAI Yuan Yuan's THE BEWITCHING BRAID (1997, Macau/China, 117min)
700-855: CHEN Kaige's TEMPTRESS MOON (1997, China, 115min)
940-1210: XIE Jin's OPIUM WAR (1997, China, 150min)
The ACSS publishes an excellent journal entitled Asian Cinema twice yearly, and this year's conference papers will be published in a forthcoming double issue (subscription, which includes ACSS membership, can be procured for $20.00 US, check payable to "Asian Cinema" at "Asian Cinema, c/o J.A. Lent, 669 Ferne Blvd., Drexel Hill, PA 19206 USA; $30.00 for Institutional membership, $10.00 for student/part-time employed). Hence the following is merely a tease of what occured and what to to expect. As noted, the majority of papers dealt with Hong Kong and Chinese cinema, but several looked at the relationship between two or more Asian cinemas. Daiwon Hyun, for example, discussed the reception and impact of Hong Kong cinema in South Korea; Zhang Zen the relationship between Shanghai and Hong Kong cinema production; Gigi Hu Tze Yue looked at Hong Kong cinema in relation to South-East Asia (Malayasia, Thailand, Singapore, Philippines, Vietnam), and Peter Rist tackled Asian cinema from a broader, theoretical perspective, concerning the problems of cross-national "periodization" (classical versus new wave). Rist's paper stems from a broader project on the history of film styles, and limited itself to examples from (mainly) Korean, Hong Kong and Taiwanese film to demonstrate how periods develop differently according to national/cultural specificities.
Some papers related Hong Kong to Hollywood, a natural topic given the recent attempt of many Hong Kong stars to crack the US market (John Woo, Tsui Hark, Jackie Chan, etc.) Two of the better papers were Ramie Tateishi's and Joelle Collier's. Tateishi's paper discussed how Jackie Chan's choreographic style has been able to incorporate an "americanized" style (classical continuity editing) with his earlier traditional background (Peking Opera, Kung Fu) to come up with a unique hybrid style. The paper was extremely well supported by clips from Drunken Master , Drunken Master 2 , and Project A ). Collier's paper, overlapping somewhat with Tateishi's in her concern with editing, began with a general overview of the differences between Western aesthetics (Renaissance perspective, the one-view look) and Chinese aesthetics (infinite space, multi-perspective).She then went into her central thesis: the way that recent Hong Kong cinema consistently manipulates temporality with such techniques as overlap editing, serial repetition, slow motion, fast motion and step printing. She wondering why this same play with temporality does not exist (at least as forcefully) in Chinese or Taiwanese cinema and concluded with a somewhat playful interpretative leap: perhaps this attempt to control time is a therapeutic reaction to the impending (uncontrollable) 1997.
Both the Stokes/Hoover and Marchetti papers took political/economic approaches to Hong Kong cinema, the former analyzing the Social Darwinian nature of the Hong Kong film industry and its extremely dogged work ethic (actors making up to 10 films a year). Marchetti began her paper with a production still from Chungking Express of Brigitte Lin standing in front of a busy electronic storefront (the shot does not appear in the film). The still provided a lead-in to how the mise-en-scene in much Hong Kong cinema portrays "Honk Kong-as-commodity."
Catherine Russell's excellent paper on Japanese director Mikio Naruse discussed some possible reasons for his relatively overlooked status (for example, not stylistically consistent) before contemplating the proto-feminist strains of his mature period (1950's). The only non-East-Asian panel was the very well-received panel on Iranian cinema, entitled "Salaam (Hello) Iranian Cinema." The panel, introduced by Peter Rist, initiated the crowd to Iranian cinema by showing the opening of Salaam Cinema , then moved into Shahin Parhami's historical summary of pre-revolution (1979) Iranian cinema. Shahin peppered his survey with excerpts from rarely seen pre-revolution films that seemed to genuinely excite and surprise the audience. The excerpted films included The Cow (1969, Dariush Mehrjui), Downpour (1972, Bahram Bayzai), Mongols (1973, Parvis Kimiavi) and Still Life (1974, Sohrab Shahid Saless). Farbod Honarpisheh carried the survey over into post-revolutionary cinema and Donato Totaro concluded with an analysis of director Mohsen Makhmalbaf's use of reflexivity within the broader context of Iranian cinema. The only other non-East-Asian paper was that by Uma Magal on Indian cinema. Since India's independence in 1947,Magal notes that there have been three broad Indian cinema genres: 1) art cinema 2) parallel cinema (films with social and political content) and 3) masala cinema (formula, melodrama and dance film). Magal contends that in recent years it has become harder to finance anything that won't recuperate its investments (ie. is sure-fire popular), and this has led to a trend of films that fuse elements of 2 & 3 (parallel and masala cinema).
At some academic conferences scheduled film screenigs are an afterthought for many of the attendees. This was surely not the case with the ASCC conference. All of the screenings were very well attended, several to full capacity. Highlights included Xie Fei's A Girl from Hunan , a film about forbidden love in a rural setting that pre-dates Ju-Dou by three years, and The Bewitching Braid , the first ever Macaunese film (co-produced with China). The Bewitching Braid also centered on forbidden love, between a poor Chinese water-carrying woman and the son of a wealthy Portuguese industrialist. The exquisitely shot film was a tear-jerker melodrama that, much to my surprise, struck all the right (heart) strings, even when the strings were visible. Maybe I was just in the right mood!