30th Hong Kong International Film Festival, April 4-19, 2006
30 Years and Counting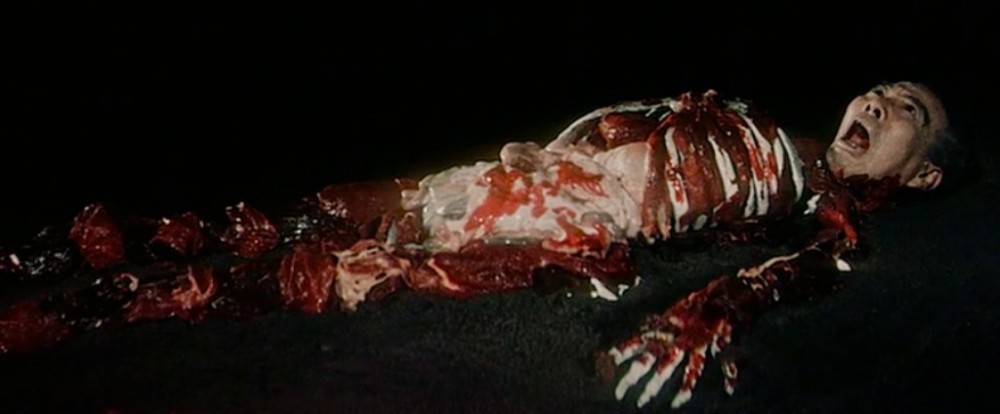 For someone who is particularly interested in Asian cinema, lives in Montreal and teaches full-time at a university, like myself, the Hong Kong International Film Festival, is proving to be the best place to watch films. With the Toronto festival (TIFF) becoming more expensive and less accessible than ever, and with the Montreal film festival scene in disarray, I felt privileged to be able to visit Hong Kong for the 30th edition of the HKIFF as classes ended in April.
Although I was able to catch some European films which I'd either missed when they showed locally—the Dardenne Brothers' L'enfant (The Child, 2005)—or which were never screened here—Cristi Puiu's incredibly astute, Romanian (but, universal) analysis of health care problems, The Death of Mr. Lazarescu (2005)—I mostly concentrated my attention on Asian films, and films directed by Asians. These included a strong allegory on Iranian repression and exile filmed on a marooned and abandoned ocean tanker by Mohammad Rasoulof, Jazireh ahani (Iron Island, 2005), and a bleak, powerful, low budget, digital exploration of female Korean-Canadian teenage alienation, In Between Days, shot in a wintry Toronto by New York resident, Kim So-yong. [1] I also saw a number of new films directed by prominent Japanese auteurs, including Suwa Nobuhiro's Un couple parfait (2005), made in France, which employs the long take, deep focus style and takes it to an absurd extreme. Miike Takashi's 46 Oku Nen no Koi (Big Bang Love, Juvenile A) and Suzuki Seijun's Operetta Tanuki Goten (Princess Racoon, 2005) were also weird, but in more wonderful ways. Hard-pressed to fully understand Miike's film (and its English title), I would have to say that it is unusually well-controlled visually, and in featuring the androgenous Matsuda Ryuhei, who also starred in Oshima's Gohatto (Taboo, 1999), it is remarkably reminiscent of the earlier film, with its gay theme, sado-masochistic overtones and beautiful images—monochrome colours set against dark, prison cell backgrounds. Princess Raccoon is virtually the tonal opposite, with its optimism and ravishing colour palette, and where the glamorous Zhang Ziyi as a tanuki (shape-shifting) "raccoon" desires an illicit relationship with a "human." (The "raccoons" are identified only by face masks, which look suspiciously like "cats.") Mixing wide-ranging musical numbers and highly theatrical elements with those of the "fantastic," Princess Raccoon would seem to be so culturally specific as to be virtually unreleasable outside of Japan. (Remarkably, Tony Rayns persuaded ICA to release it in London, England.) Compared to these two films, Yanagimachi Mitsuo's first feature film for ten years, Kamiu nante shiranai (Who's Camus Anyway?, 2005) seems perfectly normal. A reflexive film which flirts with documentary, Who's Camus Anyway relates a fictional story on a group of students' first experience making a film based on a real life incident of the 2000 "bored murderer," a high school student who kills an old woman just for the sake of killing somebody.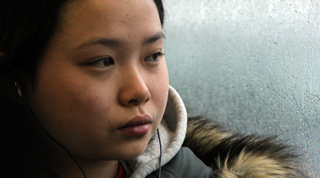 In Between Days
As usual, I devoted most of my time in Hong Kong to watching Chinese-language films. My unavoidable late arrival meant that I missed almost all of the Hong Kong Panorama this year, including Johnnie To's Election (Hak Se Wui, 2005), which won the Best Film, Director and Actor prizes at the Hong Kong Film Awards on the day I arrived, and the world premiere of To's sequel, Election 2 (Hak Se Wui Yi Wo Wai Gwai). I was able to see the biggest prize winner, however, the elaborate musical, Perhaps Love (Ruguo Ai, 2005), directed by Peter Chan. Neither a connoisseur, nor fan of contemporary musicals (filmed or not), I did appreciate director Peter Chan's ambitions in making a reflexive film about spectacular filmmaking, which manages to reference and recall movies from all over the world, while being purposefully set partially in Shanghai, the first centre of Chinese-language filmmaking. At times, it looks good, too. Although I am not alone in admiring Stanley Kwan's Everlasting Regret (2005), based on Wang Anyi's celebrated novel, Changhen Ge, I don't understand why this film is not more widely championed. It marks a return to one of Kwan's favourite subjects—a woman's assertive struggle and her betrayal by men—and it is set entirely in Shanghai from 1947 to 1981, and almost entirely indoors. This is fitting because the protagonist, played by Sammi Cheng, is never able to escape the city's confines, while all of her acquaintances do. Shanghai's history, from the cosmopolitan sophistication of the 1930s through the worst repressive excess of the cultural revolution, and into the relative normalcy of the late-1970s, is brilliantly marked by William Chang Suk-ping's art direction, while Kwan shows remarkable restraint (for a melodramatist) in keeping most of the tumultuous events off screen.
Of the new films being programmed this year, I was most struck by the range of work on display from mainland China. Jia Zhangke was represented as a producer this year, for Lai Xiao Zi (Walking on the Wild Side, 2005) directed by Han Jie. This expensive-looking examination of violent, alienated young men living in familiar "sixth generation" territory—a depressed mining town in Shanxi province—was included in the Asian Digital Competition. In the same section, Ying Liang's first feature, the very low tech Bei Yazi De Nanhai (Taking Father Home, 2005), provides an original approach to a familiar story, where a boy goes to the city looking for his father carrying his two pet geese in a basket. Throughout, news of an impending disastrous flood fills the radio waves. Although nothing compared to last year's Oxhide (directed by Liu Jiayin), three of the new Chinese films on view, two of the seven works in the "Chinese Renaissance" programme (a continuation of a section initiated in 2005) and the lone Chinese-language film in the "Indie Power" section, were directed by women. These included Ning Ying's strange digital exploration of contemporary bourgeois women and their affairs, Wu Qiong Dong (Perpetual Motion, 2005), Ma Liwen's Wuomen Liang (You and Me, 2005), and Li Yu's Hong Yan (Dam Street, 2005) which had won an award at Venice last year. You and Me featured excellent performances by Jin Yaqin as a bad "grandma" and Gong Zhe as the student who rents a room from her. The deal brings out the worst in them. They each "steal" from the other: the tenant takes electricity for a heater, while the landlady uses the youngster's telephone. Although the film is essentially a drama and character study, Li handles the material cinematically, with the student's dashing around, fixing up her space matched with dynamic angles and editing, while a static camera observes "grandma" sitting silently, looking on. For me, Dam Street was the best new Chinese film in the HKIFF. It begins on a beautiful shot of a woman lying down in shallow water. Yun is only sixteen but she is pregnant, and so she and her boyfriend are expelled from school. Flash-forward ten years, and Yun, who now teaches back in her hometown befriends a boy, who is revealed much later to be her son. We are clued into this information by the gesture of him walking along the top of the dam, which is in the middle of the town, as his mother did when she was a teenager. The wonderful location provides the constant impression of water, which flows to connect people to each other and their place across rigid societal barriers.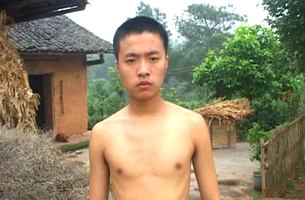 Taking Father Home
As always, the HKIFF is rich in retrospectives, and the 30th edition was even stronger than usual. No fewer than twenty titles were screened in "A Tribute to Action Choreographers," enabling me to watch a couple of films directed by action choreographers that I'd never seen, Yuen Woo-ping's wacky Kei Mun Dun Kap (The Miracle Fighters, 1982) and Ching Siu-tung's Seng Sei Kuet (Duel to the Death, 1983), which ends with spectacular, violent, and vertiginous aerial combat. The series concluded with the publication of a book edited by Li Cheuk-to, entitled appropriately
A Tribute to Action Choreographers
and an informative bilingual (Cantonese and English) public forum on "The Art of Choreography," which featured critic Brian Chang and contemporary martial arts director, Stephen Tung-Wai. Another small, eight film retrospective was also accompanied by a book launch of
Milkyway Image, Beyond Imagination – Wai ka-fai + Johnnie To + Creative Team (1996-2005)
in an elegantly decorated room at the Joint Publishing headquarters. I was fortunate to have a chapter on Too Many Ways to Be No. 1 (1997) included in this beautiful coffee table book which, unfortunately, was not available for sale until a few weeks after the launch. But To, Wai, a number of dignitaries, Lawrence Pun, the editor and a few of the writers, including Li Cheuk-to and David Bordwell, who wrote the introduction, were in attendance, and we all sipped some champagne at the finest book launch I've ever witnessed.
Two major retrospectives were mounted during and after the festival. "The Glorious Modernity of Kong Ngee" focusing on the most prominent Cantonese studio of the 1950s and 60s was organized by, and held at the Hong Kong Film Archive through the month of June. Chase (aka How To Get a Wife) directed by Chun Kim (1961) is a comedy which has not dated badly at all, featuring Kong Ngee's biggest stars, Patrick Tse Yin and Patsy Kar Ling. Reflexively, Tse Yin's character, who talks directly at the camera, thinks Kar Ling's character looks just like the movie star, and vice versa. He plays an early version of a house husband, looking after a baby. The Happy Bride (1961) directed by Chan Man also features the glamorous Kong Suet as the Patrick Tse character's nurse, which made me wonder why he doesn't fall in love with her (rather than Kar Ling, as usual). Perhaps this series was most interesting in its screening some early works of Chor Yuen, including the first film in the "Nanyang Trilogy," Moon Over Malaya (1957) which he co-directed with Chun Kim, and Autumn Leaf (1960) which he directed. Not unlike silent Ernst Lubitsch films (minus his comedy) with its pertinent editing and efficient shot compositions linking a depressed "starving artist" (Tse Yin) and his beloved neighbour (Kar Ling) whom he clandestinely paints across the courtyard, Autumn Leaf displays more cinematic sophistication than other melodramas in the series (although I missed a full understanding without sub-titles).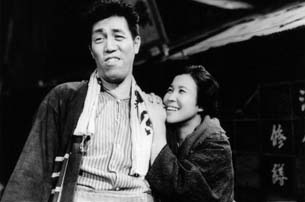 Kaachan
However, for me, the highlight of the entire HKIFF was "Master of Genres: Nakagawa Nobuo." Unfortunately only three of the fourteen films in the retrospective were screened during the festival, although I was also able to watch two others on bad video copies. Nakagawa was best known as the pioneer of the Japanese horror genre, and the maker of Jigoku (Hell, 1960), the influential widescreen horror film which has recently appeared on region 1 DVD, published by Criterion. But this series showed that he made excellent films in other genres. The black and white, widescreen Kaachan (1961) is a remarkable work of neo-realism, where mostly static long takes examine the interactions of a family struggling to make ends meet. Dokufo Takahashi Oden (A Wicked Woman, 1958), also black and white, but filmed in academy ratio is an extraordinary
film noir
based on the rise and fall of a real life woman, who is drawn into a life of crime. Like Kaachan, and many other Japanese films of the period, the shot compositions are elegant, but Nakagawa here demonstrated his interest in creating dramatic frames within frames, at one point viewing the woman, Oden, in very high angle through a skylight in the roof, suggesting her entrapment. 1958 and 1959 were arguably the directors best years. Unusually for a Japanese film of the fantastic, Onna Kyuketsuki (The Lady Vampire, aka "The Vampire Man" 1959) features an ageless blood sucking vampire, Takenaka, who lives in the gothic Kisaragi castle, but he is destroyed by the light of the moon rather than the sun. Borei Kaibyoyashiki (The Mansion of the Ghost Cat, aka "Black Cat Mansion," 1958) was Nakagawa's first anamorphic film, for which cinematographer Nishimoto Tadashi was hired by Shintoho. Nishimoto had been the first Japanese cinematographer to use a scope lens, and here he was called upon to shoot in both black and white and colour. A story of
bakeneko
, cat monsters which transform into humans, The Mansion of the Ghost Cat begins in the present day in tinted black and white and a storm triggers a flashback to a few years before; a doctor remembers when his wife was traumatized by cats and a ghost in the haunted Spirea Mansion. This segment is rendered in pure black and white, and when the doctor is told the old story of the
bakeneko
and the mansion, the film strikingly switches to full colour. Initially, the horror is suggested by tracking camera movements and sounds of doors opening and closing and footsteps, but, once we are in the mansion the camera begins to crane up and down in tune with the supernatural presence. Later, splashes of colour— the red of blood and a ghostly green exterior—enhance the supernatural, and the slashing of swords is accompanied by swish-panning camera movements as a father and son inadvertently kill each other in the chaos.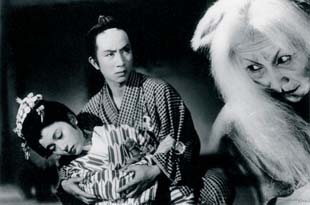 The Mansion of the Ghost Cat
It is quite possible that Nishimoto had an influence on Nakagawa's visual style, as he would on Shaw Brothers films when he brought his anamorphic lenses with him to Hong Kong to shoot Empress Wu and The Love Eterne for Li Hanxiang in 1963. [2] In any event cinematographer Nishimoto and director Nakagawa worked together to create the magnificent Tokaido Yotsuyakaidan (Ghost Story of Yotsuya [ in Tokaido], 1959), arguably the finest and most significant Japanese horror film of all time. Clearly its influence on contemporary J-Horror is profound, with female ghosts dropping into the frame from above, hair hanging over their faces, for example. But one can also clearly discern its debt to Japanese traditional culture, with the look of Kabuki costumes and make-up, and its theatrical staging combined with high angle compositions in motion reminiscent of scroll paintings and Mizoguchi Kenji films. Almost every shot is beautifully and meaningfully composed. For example when the villainous Iemon murders his sick wife, he is viewed in extreme high angle. He disappears behind a screen and opens it to bring the poison to the foreground and his wife who lies at the bottom of the film frame. When the poison distorts her face, the image is truly shocking, and, of course, when she returns as a ghost to torment Iemon, her appearance is even more grotesque. Although the print we viewed was not the best, it was evident that Nakagawa and Nishimoto had devoted as much care to colour selection and saturation—a yellow sky, a green swamp—as to other visual and aural elements: the sound track is especially effective with the natural sounds of croaking frogs being amplified eerily in the scene where an innocent masseur is killed, for example. Exaggerated sounds are contrasted by passages where there is no sound at all.
I must congratulate the festival staff of the Hong Kong International Film Festival Society, especially "Artistic Director" Li Cheuk-to, the "curators" Freddie Wong and Jacob Wong, and many other people behind the scenes and hospitality people on the front lines, as well as Law Kar, Bede Cheng, Sam Ho, and Wong Ainlin, the great programming and writing team at the Film Archive who, collectively, once again made the HKIFF an extremely vital and indispensable film festival.
End Notes
1 This was projected anamorphically, which strangely, yet beautifully stretched the image, making it hard to tell how wide the young Korean faces were meant to appear to be. The director seemed to think that the projection was correct, and so, I await another screening to test my perceptions on this.
2 The work of cinematographer Tadashi Nishimoto, known as He Lanshan or Ni Mengdong in Chinese, is ripe for re-discovery. He also shot Li Hanxiang's Yang Kwei Fei (The Magnificent Concubine, 1962) which was the first Chinese-language film to win an award at the Cannes International Film Festival, and Come Drink With Me (1966), King Hu's first "martial arts" film.