The 2006 Tribeca Film Festival
Narrative Features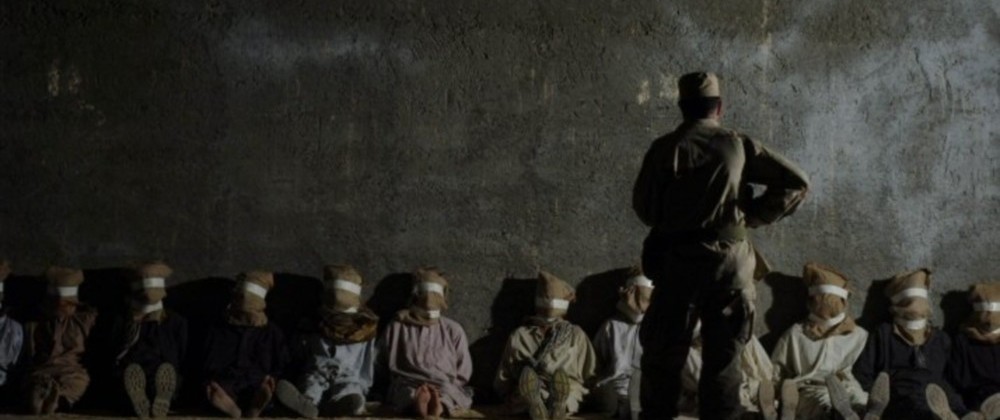 The Tribeca Film Festival has grown at a phenomenal pace in the five brief years it has been in existence. Spurred into being by the September 11 tragedy, the festival has aspired to be more than another addition to the proliferation of international film festivals. It has become many things: a therapeutic object, an economic boost to the immediate area, a circus, a splashy Hollywood premiere site, a family-friendly event; in short, something for everyone. Squeezed in among all these other elements are, of course, films from around the globe, most of which will never again see the light of day, at least in a movie theater. And therein lies the rub. Personally, I have long wished for a film festival similar to those in Cannes, Venice, or Toronto, an alternative to the New York Film Festival, which has a very limited selection and gives no prizes, presenting itself as the cream of the crop. But after Tribeca ended, to my surprise, I experienced a renewed appreciation for the New York Film Festival approach. While one can quibble (and I often do) about their selections, there is definitely value to having a manageable concentration of films, with a reliable high quotient of quality, rather than the seemingly catch-as-catch-can, roll-the-dice strategy of programming which Tribeca represents. Tribeca has expanded far beyond its namesake neighborhood, and the sprawling, diffuse nature of the festival (both geographically and in its selection) is not an atmosphere conducive to promoting a diverse world cinema culture. The Hollywood atmosphere too often clashes and overshadows other films worthy of attention. When Tom Cruise is all over town, who pays any heed or devotes column inches to a fine gem such as the Iranian film Men at Work, which has volumes more to say about the world and people's place in it in any randomly selected five minutes of its running time than the entirety of Mission Impossible III?
Also, cheek-and-jowl with the splashy Hollywood premieres was the opening night film, United 93, Paul Greengrass' sober recreation of the titular flight that went down on September 11. I couldn't see it at the festival, but saw it soon afterward. I don't have much to add to the copious commentary the film has already received, other than to say that Greengrass' rigorous, documentary, fly-on-the-wall approach to this material contributes to the sheer visceral power of the piece, making it a unique cinematic experience, effectively conveying the confusion of the day, and engendering in the viewer a creeping dread, as we are well aware of what will happen. What comes through in sharp relief is the failure of the government and military apparatus to respond swiftly to the crisis.
However, despite all the sprawling confusion, if one is smart about their choices, it is possible to come away from Tribeca having had a varied and mostly rewarding experience, as I did. Since the festival screened 274 films (174 features and 100 shorts), I can only discuss a mere fraction of the films. Here, then, are remarks on some of the more noteworthy narrative films of the festival.
The Road to Guantanamo (Michael Winterbottom and Mat Whitecross)
Many of the festival selections examined the aftermath of 9/11, both in the U.S. and globally. One of the strongest films on this subject was Michael Winterbottom and Mat Whitecross' The Road to Guantanamo. This film mixes staged scenes, archival footage, convincing performances by its cast of unknowns, and interviews with the actual participants of this true story to create a tactile and palpable sense of the chaos in Afghanistan immediately post 9/11. Winterbottom and Whitecross' film is yet another facet of the endlessly analyzed labyrinth of the changed world, and its inclusion in Tribeca is, in this sense, unsurprising. Relating the story of the "Tipton Three," young Pakistani British citizens, who on route to a wedding in Pakistan, made the near-fatal error of volunteering for humanitarian work, and instead began a three year ordeal of torture, unrelenting interrogation and humiliation, all without being allowed to talk to lawyers or family, and never being charged with any crime. The iconic image of the orange-jumpsuited inmates in Guantanamo's Camp X-Ray is given flesh and force in this film. Winner of the Silver Bear at Berlin, the message of the film is simple and familiar. However, especially given life as wrenchingly as it is here, it is a message that bears repeating. And even though it doesn't offer solutions or analysis, simply a snapshot of the maelstrom of indiscriminate dragnets, it is sadly relevant, as the U.S.' current administration strenuously defends wiretapping and other such brazen privacy violations.
Crime Novel (Michele Placido)
A sprawling two-and-a-half hour saga of the rise and fall of a criminal gang (with such colorful monikers as Lebanese, Ice, Dandy, and Black) set against the backdrop of the turbulent period of Italian history from the late 70s to the early 90s, Crime Novel, based on the novel of the same name by Giancarlo De Cataldo, features a breathless, head-spinning evocation of double-crosses, corruption and dishonor on both sides of the law. Stirred into the mix are montages featuring 70s and 80s pop, and with the two main female characters, a neat Madonna/whore dichotomy. As entertaining as the film often is, it nevertheless adds up to not very much, and evaporates the instant it is over, ultimately a pale shadow of Mean Streets, Goodfellas, and Once Upon a Time in America, Crime Novel's all too obvious antecedents.
The Promise (Chen Kaige)
This film marks Chen Kaige's precipitous decline into Orientalist cliché. Pitched to fans of Crouching Tiger, Hidden Dragon, and Zhang Yimou's latter-day martial-arts extravaganzas Hero and House of Flying Daggers, Chen's film is the latest to follow this trend. The gap between this embarrassing mess and Chen's exquisite early works such as Yellow Earth and Life on a String is glaring. Even the super-elaborate big-budgeted costume epics Farewell, My Concubine and The Emperor and the Assassin exhibited much more personality and integrity then The Promise, the title of which, to my mind, represents what Chen has squandered with this film. With its near-incomprehensible plot involving a curse, mistaken identity involving a general with ornate crimson armor and his slave who runs really, really fast, in scenes invoking the Roadrunner and Fred Flintstone, and Hong Kong actress and pop chanteuse Cecilia Cheung as a princess trapped in an enormous bird cage, The Promise misses no opportunity to indulge in Asian-philic audience-baiting tactics. Swordfights, characters in flowing robes flying through trees, portentous expository dialogue are in abundance throughout, and the ersatz "Asian" music by Klaus Badelt completes the pandering. Astonishingly for what is reportedly the most expensive Chinese film to date, the CGI effects are singularly ugly and shoddily executed.
The Yacoubian Building (Marwan Hamed)
This three-hour film, the most expensive Egyptian film to date, based on a very popular novel by Alaa Al Aswani, explores the denizens of the titular building, a formerly posh dwelling in Cairo, now gone to seed through decades of societal turmoil. Hamed's film is itself as richly detailed as a large novel, stuffed to bursting with memorable characters and incident. As is the norm with much of Egyptian cinema, The Yacoubian Building is broad and melodramatic, touching on such explosive (figuratively and literally) subjects as class conflict, terrorism, and provocatively for Egypt, homosexuality. All of the characters in the film represent Egyptian life and history in microcosm: a former rich man down on his luck must contend with his spiteful viper of a sister; a poor young man struggling for acceptance by the larger society becomes a ripe recruit for a terrorist organization; a man wishing to marry a second wife becomes beholden to political fixers; a young woman living on the building's roof is forced to succumb to her boss's sexual cravings. Hamed juggles all of these elements quite deftly, making the film quite absorbing despite its length. Hamed's film won the award for Best New Narrative Filmmaker at Tribeca.
Brothers of the Head (Keith Fulton and Louis Pepe)
Adapted from Brian Aldiss' novel, Brothers of the Head marks the feature debut of these filmmakers, who previously made Lost in La Mancha, which documented Terry Gilliam's disastrous shoot of his version of Don Quixote. Working with screenwriter Tony Grisoni, a frequent Gilliam collaborator, and the great cinematographer Anthony Dod Mantle, best known for his work on Dogma films, they have created a heady mixture of mockumentary, creepy visuals, off-kilter humor, and 70's British rock. Telling the story of conjoined twins who make an all too brief sensation in pubs with their outrageously freakish performances, this film excels in drawing the viewer into its moody atmosphere. Even though the film is structured like a music-themed fake documentary, it eschews the broad comedy of such films as This Is Spinal Tap, instead opting to present a fusion of haunting imagery and rousing, catchy rock songs. Ken Russell makes a memorable appearance as one of the talking heads, presenting an aborted film inspired by the brothers called "Two Way Romeo," in which the conjoined twins grow a malevolent third head. Although the fake-doc concept seems to fall away at a certain point, the film is continually surprising and unique, culminating in the haunting image of the brothers' attempted self-separation.
Hanging Garden (Toshiaki Toyoda)
This grotesquerie of Japanese family dynamics features a clan whose mother institutes a family rule of "no secrets." As a result, the children are privy to all sorts of intimate details of their parent's sexual lives. The young daughter becomes drawn to the love hotel where she and her brother were conceived. However, despite the family rule, secrets still abound. Toyoda attempts here a Bunuelian satirical portrait of family and a skewering of morality. Unfortunately, Toyoda's approach is so studied and labored, with its nausea-inducing swooning camerawork and its ponderous Grand Statement theatrics, that it is ultimately pretentious and overlong. Hanging Garden to my mind pales in comparison with fellow Osaka native Takashi Miike, whose Visitor Q dealt with similar subject matter, and was far more successful at going beyond mere shock (which in Toyoda's film is not all that shocking) to getting at deeper human truths.
Taking Father Home (Ying Liang)
This film's limited means –it was shot with a borrowed video camera on a shoestring budget of 3000 euros with a nonprofessional cast– puts its pessimistic vision of contemporary China in sharp relief. Following a young man searching for his father who abandoned his family six years earlier while raging floods threaten the countryside, Ying Liang's film paints a grim portrait of a country whose communal past is being swept away as surely as the waters are washing away the villages. This is being replaced, without a transition phase, with a base, mercenary Darwinian capitalism in which everyone is truly alone. The young man receives a decidedly unsentimental education in this new city life. The final images detail his violent initiation into this world, where he literally trades places with the scarred wannabe gangster who accompanies him on his search, and helps to give him a crash course on survival in this harsh environment. The stark naturalism and brutal elemental reality of the situations presented here come through with surprisingly powerful force, and Ying proves himself yet another talent to watch in contemporary mainland Chinese cinema.
Land of the Blind (Robert Edwards)
This scattershot mess seems to attempt to simultaneously satirize George W. Bush and any number of Islamic republics. This is an unoriginal and cliché-ridden film, in which such usually great actors Ralph Fiennes and Donald Sutherland are left in a rudderless limbo in which frenetic and outrageous behavior substitute for real ideas. In an Orwellian country in an unspecified future, the corrupt President is overthrown by a revolution led by political prisoner Sutherland, aided by his jailer, now presidential aide Fiennes. Sutherland, as soon as he gains power, turns out to be doubly as corrupt as his predecessor. A waste of many talents, this witless film may have seemed great on paper (though it's hard to see how), but on film it is a spectacular failure.
I want to close by briefly mentioning some other notable films of the festival. Nia Dinata's Love for Share tells the stories of three women in Indonesia who each struggle to negotiate their ways through, and eventually escape the practice of polygamy. With considerable subtlety and humor, Dinata weaves these narrative strands into a complex tapestry of women's lives in the most populous Muslim nation in the world. The film makes its points with a refreshing lack of dramatic histrionics. Czech animator and surrealist Jan Svankmajer brought his latest live-action offering Lunacy, based on two stories by Edgar Allan Poe and the writings of the Marquis de Sade. Svankmajer himself introduces the film on screen, declaring that his film "is not a work of art…. Today, art is all but dead anyway." He calls his film a "horror film," and Lunacy features Svankmajer's trademark anarchic sensibility, as well as his usual sequences of stop-motion animation, this time consisting of chunks of raw meat slithering in brief segments between episodes. The film feely mixes and matches 19th century and contemporary settings, centered around the lunatic asylum lorded over by the Marquis. As is the case with his other features, Svankmajer has trouble sustaining his outrageousness throughout, and consequently the energy flags, and the film becomes repetitious. However, Lunacy remains a uniquely unsettling experience, in the best sense, and confirms Svankmajer's status as one of world cinema's most inimitable artists.
Wah-Wah, actor-director Richard E. Grant's handsomely lensed reminiscence of his childhood in the colonial community of Swaziland, doesn't directly condemn colonialism, preferring to vividly render the insular nature of the English community in this African nation, just before independence. The English in Grant's film spend their time putting on a production of Camelot and indulging in childish English-speak, the "wah-wah" of the film's title. Gabriel Byrne and Emily Watson give wonderfully nuanced and affecting performances as the Grant stand-in's father and stepmother. Wah-Wah is a subtly moving and humorous take on the English colonial experience. Brian Cook's Colour Me Kubrick, written and directed by two former Kubrick collaborators, features a central scenery-chomping performance by John Malkovich as Alan Conway, a real-life conman who spent the last years of Kubrick's life impersonating the famously reclusive director. Malkovich here is just as outrageous and outsized as the elaborate outfits and absurd accents he puts on. Unfortunately, the film consistently fails to match Malkovich's energy with any kind of structure or sharp wit, and the film's slack pace makes it feel padded even at a mere 80 minutes. Even the Kubrick references, a potential source of hilarity, never rise above the obvious and superficial.
One of the most powerful and shattering works of the festival was Matthias Glasner's The Free Will, whose lead actor and co-screenwriter Jurgen Vogel won the Best Actor award. His riveting and unnerving performance is central to this nearly three-hour feature, following a convicted rapist after his release from prison and his struggle to fight his impulses and live among normal society. Along the way he meets Nettie (Sabine Timoteo), a woman whose history of having suffered sexual abuse at the hands of a relative haunts her existence. The film opens with the sexual assault that occasions the protagonist's incarceration, a sequence that is incredibly tough to watch, and which complicates the viewer's sympathy with this character. It is an extraordinarily complex and rich work that is deserving of much greater exposure.
The chance to discover such works as The Free Will, Love for Share, Taking Father Home, and other such excellent films is what makes Tribeca valuable despite all the noise of the attendant publicity and Hollywood-on-the-East-Coast glamour. The sheer size of the festival, while often overwhelming, nevertheless allows space for the sort of films that otherwise would not get a chance to be seen by regular audiences. And it will be quite interesting to see where the festival goes from here, and how this still-young endeavor will improve and find its own place in the world-cinema landscape.