Montreal film exhibition: the year (2002) in review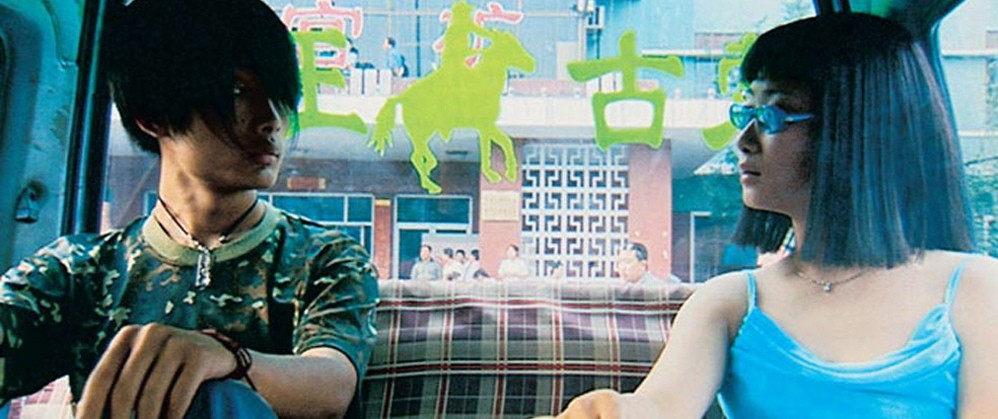 Although not quite as good a year as 2001, especially with the absence of Fantasia, the best of the Montreal film festivals in the last few years, 2002 contained some real highlights for us: continued excellence in programming at la Cinémathèque Québécoise with virtually no budget, along with the now-joint venture of Ex-Centris and Cinéma du Parc providing the best projection facilities in town, and, the amazing distributor Les films Séville which consistently out-performs every small film distribution company on the continent. On the down side, we saw hardly any of the great new Korean films in town this year, while the other emergent Asian country, Thailand had no films at all on view, and Mongrel Media's terrific catalogue of World Cinema was almost totally absent from our screens. The lack of Asian films was mostly due to having no Fantasia—as far as I know, the only screenings of Hong Kong films were at the Image et Nation festival—but, despite the strength of the European and North American programming at the surprisingly, universally praised Festival International du Nouveau Cinéma et des Nouveaux Médias de Montréal (FCMM), their selection of films from the rest of the world seemed slight at best (mostly pick ups by Seville). The less said about the multiplexes the better: if anything, the Paramount just gets worse. Has anyone ever seen any film in focus there?
As usual, one must preface any list of best films with the caveat that one "hasn't seen them all," but, I was on sabbatical leave from Concordia University for the second half of the year, during which time I saw over 250 films. But, about a third of these were seen out-of-town, so, this year, I'm adding a list of "best" new films which have yet to show in Montreal. And I'm separating out films which were released in 2002 and those which were shown here for the first time.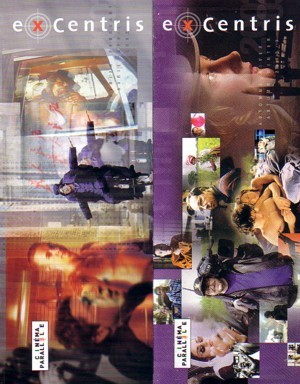 Any list of "Best films released in Montreal in 2002" would have to include two films directed by Jia Zhangke, distributed by Seville, and exhibited at the Excentris, which neatly bookend the year: the 155 minute version of Platform, which I've called elsewhere "the best mainland Chinese film since Tian Zhuangzhuang's The Blue Kite (1993), and which opened in February, and Unknown Pleasures/Plaisirs inconnus, which opened in December. Neither film has yet been distributed anywhere else in North America, so that, on this count we are indeed very lucky that Seville took a chance on local audiences being smart enough to support these remarkable films. Strictly speaking, the films are not really "Chinese" having been co-produced by companies based in France and Japan, (and Hong Kong, Platform, and South Korea, Unknown Pleasures). Like his predecessor, Tian's films, Jia's are systematically banned in the People's Republic for obscure political reasons. Unfortunately Jia's own people are thus denied the opportunity of seeing the work of a great young innovative stylist who has reworked the long take, deep focus style in relation to the separate narrative stations of scroll painting and aspects of "5th Generation" films with Platform and in relation to the playful freedom of nouvelle vague aesthetics and new digital technology with Unknown Pleasures. I'm hoping that Seville sees fit to bring these titles out on video because I can only assume that most people have missed them. If ever there was a "film director of the year," Jia Zhangke was it in 2002.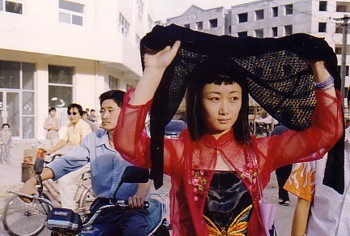 Unknown Pleasures
Alongside these two films, I would place Alfonso Cuarón's Y tu mamá también (And Your Mother Too) from Mexico, Japanese animator, Hiyao Miyazaki's Spirited Away, as well as the best new film from the U.S., Todd Haynes' Far From Heaven, and the best of a fine batch of new documentary films that were released in local theatres, Nicolas Philibert's Être et avoir (released by Seville). Y tu mamá también was a revelation for me. It managed to be extremely sexy while simultaneously ridiculing teenage machismo, and, all the while, in the background, the reality of Mexico's poor is contrasted with the uncaring wealth of the few. It is that rare thing: a popular film which is also a great work of art. The same can be said for Spirited Away which has been appallingly distributed by Disney in North America. I have never seen a better mainstream animated feature film, … period. I saw it with a mixed audience of adults and children, ordinary people and film aficionados, in a Japanese version with English (and Korean) sub-titles at the Jeonju International Film Festival in South Korea. The audience loved it, laughing and emoting at all the right places. It was a big hit on its later release in Korea, and, of course, it was the biggest box office success of all time in its native Japan. So what's going on here? Why didn't Disney market it properly for a family audience in the U.S. and Canada after doing a credible job of voice dubbing an English soundtrack? Are they waiting for an Oscar nomination? I fear that Far From Heaven will not garner the Best Film and Best Director nominations it deserves, either. In a good year for American releases (at least in the last two months), Haynes' latest film brilliantly manages to revisit 1950s Universal Studios melodrama, and Douglas Sirk's All That Heaven Allows in particular (thanks to Ed Lachman's beautiful colour cinematography), while going further in its poignant social criticism of the era's racial and sexual prejudices. Most amazingly, Haynes' presentation of homophobia and white/black relations in the 50s so readily transfers our thoughts to America's current swing to the far right, now. This was intentional, and, it works. Julianne Moore's performance of the persecuted heroine, is the most moving performance of the year, and gives us another indication (if we needed one) that she is currently the finest American screen actor. I was not familiar with French director, Nicholas Philibert's work until I saw Être et avoir in release. Thus, I mistakenly missed Philibert's retrospective at the FCMM. But, in its poetic, observational approach to a year in the life of a country school and its dedicated teacher, Être et avoir provides a life-affirmative corrective to Frederick Wiseman's brilliant but depressing films on institutions. Indeed, with its beautiful landscape inserts, Philibert's film has a decidedly Asian feel to it.
To complete a top nine, I would cite yet another Seville pick-up, Palestinian Elia Suleiman's Divine Intervention, Manoel de Oliveira's best film in years, Je rentre à la maison (I'm Coming Home, France/ Portugal, also Seville) a comical, Brechtian treatment of the world of theatre, on and off-stage, featuring a wonderful performance by Michel Piccoli and, cheating a little, add a film which was released in Montreal in 2001, but which I didn't see until last year, Zacharias Kunuk's Atanarjuat: The Fast Runner, the first great Canadian feature film of the new millennium. Another justification for its inclusion is that the English sub-titled version of Atanarjuat had not been released in North America at all, including Quebec, until 2002. As for Divine Intervention, which is cited in the Ex-Centris programme as being a co-production of France, Morocco, Germany, and Palestine, it was denied inclusion in the Best Foreign Language Film Oscar race because "Palestine" is not a country, even though the "nation" has a seat in the United Nations Assembly. Interestingly, Suleiman claims that he received financial backing from Israelis (not Palestinians), and that they are very happy with the finished film. Similar in style to the work of Jacques Tati with long takes disclosing comic moments in a wide tapestry of quotidian life, and in tone to the black humour of Otar Iossellani, the first half of the film shows the frustrated, aggressive antisocial behaviour of bourgeois neighbours in Nazareth and Jerusalem, which we can only assume is driven by the wider political conflict. In the second half, the character of a film director, played by Suleiman himself, fantasizes about his girlfriend as a terrorist who miraculously survives her execution by transforming into a Ninja! Needless to say, Divine Intervention is the most imaginative (and courageous) comedy of the year.
Close runners up, and contenders for the tenth spot would include Kiyoshi Kurosawa's Kyua (Cure, Japan, 1997), which finally received a commercial run at the Parc in January, All or Nothing, British director, Mike Leigh's most powerful film since Naked, which slipped in and out of the AMC Forum almost unnoticed, the Bosnian anti-war tragi-comedy, No Man's Land (2001) which arrived here a bit later than elsewhere, Georgian Jewish director Dover Kosashvili's Israeli Academy Award winning film, Late Marriage, which provides a much-needed antidote to the feel-good ethnic stereotyping of My Big, Fat, Greek Wedding, Roman Polanski's Cannes-winning The Pianist which, as a France/Germany/UK/Poland co-production is the first really successful English-langauge "Europudding" (and a much more sophisticated treatment of the holocaust than Schindler's List ) and the terrific American music documentary on the Funk Brothers, Standing in the Shadow of Motown.
Pride of place in the category "films premiered in Montreal in 2002, but not released" would have to go to Alexander Sokurov's 5 1/2 hour video document, Voix sprirituelles (Russia, 1995), shown over two nights in September at the Cinémathèque, in a series sponsored by Hors Champ. Unfortunately some of the digital work's original quality was lost in the transfer to tape and in the projection on the small liquid screen in la Salle Fernand-Seguin, but the final effect of staying for so long with a small group of bored Russian soldiers stuck guarding the Afghanistan border beyond their welcome, and experiencing the melancholy of a New Year's celebration away from home, is extremely moving. I have always been impressed by the emotionality of Russian films, from the silent montagists, through Eisenstein's Ivan the Terrible diptych, and the more recent films of Kalatazov, Klimov and, especially, Tarkovsky, but in recent years, Sokurov has fashioned some of the most profoundly moving films of all time, with a combination of human performance, music and ambient sound, and, most importantly the texture of the image itself. Traditionally, Montreal has been the best showcase for Sokurov's films on the continent, with the FCMM and other local festivals premiering much of his work, but we really missed out on the major retrospective mounted by Toronto's Cinematheque Ontario (CO) in February and March. On the other hand we did get all of the CO's Mauritz Stiller retrospective, and it must be said that, under the leadership of Robert Daudelin, our Cinémathèque has supported silent cinema much better, over the years, than Toronto's. We've had unique, major retrospectives of silent Ernst Lubitsch and Yasujiro Ozu, and in January last year we were graced with a complete Carl Dreyer series. It was interesting to compare the silent films of the two Scandinavian directors, because before Le passion de Jeanne d'Arc (France, 1928), Dreyer was only intermittently brilliant—notably with two domestic comedies, Prästänkan (The Parson's Widow, 1920, Sweden), and Du skal ære din hustru (The Master of the House, 1925, Denmark). Stiller meanwhile had mastered the "saga" form, with Herr Arnes pengar (Sir Arne's Treasure) in 1919, much earlier than his better known historical epics, Gunnar Hedes saga (1923) and Gösta Berlings saga (1924, starring Greta Garbo) while making, arguably, the most sophisticated comedies of the age. Indeed, Erotikon (1920)—which I had never seen before—in its narrative incident and editing style provides a virtual blueprint for Lubitsch's Hollywood work later in the decade, and is, of this writing, one of my favourite of all silent films. Whereas the Dreyer retrospective was magnificent, the Stiller series was, for most observers, a revelation. Next to Dreyer, he may well have been the greatest of all Scandinavian filmmakers. On the whole, his work is more dynamic and less heavy than Victor Sjöström's, the other great Swedish silent film director. And, although, this is certainly a minority opinion, I would argue that Stiller's work may well stand the test of time better even than Ingmar Bergman's.
Two other unique series mounted by the Cinémathèque Québécoise in 2002 were of major significance, and another, "Le western" was kick-started on August 1st by a rare screening of a restored cinemascope print of Anthony Mann's Man of the West (1958). Arguably the best Western of the first widescreen wave (before Sergio Leone) where almost every shot utilizes the full width of the frame, Man of the West is almost unwatchable in its panned and scanned TV version. Unfortunately, the new print was a bit grainy, with slightly faded colour, but it was still great to see it on a big and wide screen. Concordia MA film studies student, (Christa) Chen Chia-yu programmed a timely retrospective of the early films of Taiwanese New Cinema maestro, Hou Hsiao-hsien, where he functioned as producer, script writer and actor rather than director. But one film which Hou directed, and which I imagine had never before been screened in Montreal, (and which therefore makes my list) was included in the series, The Green, Green Grass of Home (1982), a pretty work in colour and scope, which was made just before Hou helped initiate the "new wave." Although it follows the official Taiwanese government tenets of "healthy realism," and endorses a simple, country life style over a corrupt, city one, it is hard to argue with its ecological message. At the end, school children help to restock the local river with fish. As well, apart from Kenny Bee's rather-too-upbeat teacher who comes from Taipei to replace his sister, the characterisations ring true and the child actors are wonderful. In this aspect, and with its moments of comedy drawn from real life, one can detect Hou's stamp as auteur. The other "major" series marked a long overdue retrospective of the first prolific, anglophone, Canadian feature film director, Larry Kent, pre-dating the CO and Vancouver retrospectives by over 12 months. One of my teaching colleagues at Concordia University, Dave Douglas has been telling me for years that I should be watching Larry's films, and, of course, he was right. The series included four of the five films he directed in the 1960s plus Fleur bleue (1970) and Mothers and Daughters (1992). I have now seen all of the early works, and I would have to say that When Tomorrow Dies (1965), his first truly "professional" film, where Kent was happy with the conditions under which it was made, is my favourite. Patricia Gage gave a great performance as a middle class housewife, living in the Vancouver suburbs, who tries (unsuccessfully) to break out of her domestic traps. The film presents a remarkable pre-feminist, psychological portrait of a woman in crisis. In fact, all of Kent's early films were groundbreaking. In its loose narrative and honest gaze at young people involved in failing relationships, his very first feature, The Bitter Ash (1963) shot on a spring-wound Bolex 16mm camera (!!!) predates the similarly styled and focused mature work of John Cassavetes. It is a remarkably "jazzy" film. Douglas had helped Montreal-resident Kent discover that the vaults of the Cinémathèque Québécoise housed an original, uncut print of High (1967). This film, the first of his to be made in Quebec, was removed from competition in Rock Demers' Montreal Film festival and subsequently banned in Ontario and B.C., and only released in some territories in a heavily cut version. Thus the screening of the original length film, complete with colour scenes mixed in with black and white, at the Cinémathèque was a local "premiere," allowing me to include it on my list. One of the most experimental fiction features made at any time in Canada, High is like a hip, psychedelic, comic, contemporary-set Bonnie and Clyde-—Arthur Penn's version of which was accompanied by star Warren Beatty to the same festival, where he praised Kent's film. I don't know of a better North American film to represent the stoned, jazzy, irreverence of life here in the late-1960s.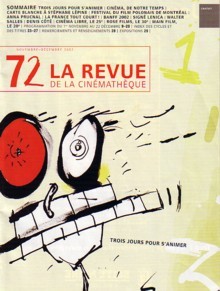 One of the most outstanding films on view at this year's Festival des Films du Monde (FFM), was a Canadian animated short made by Chris Hinton, Flux. It was unable to be included in the competition because it was in the process of winning major prizes at animation festivals all over the world. After years of struggling to integrate cel animation with computer technology, Hinton has delivered a magnificent, breakthrough film. The background field—sometimes literally, is a garden—is constantly in motion (flux), while family life struggles through ups and downs, including birth and death showing a kind of explosive montage within the shot. Inspired by his daughter's art work, where she always shows whatever is important on a large scale, in Flux, surreal faces and bodies suddenly appear in close up and just as suddenly recede to the background. Despite the fact that this film has been cleaning up on the international circuit, the stupid people at the Academy of Canadian Cinema and Television ignored it when they nominated three other shorts for the Animation Genie. (They also missed nominating David Cronenberg's Spider for the Best Picture Genie!!!) Number one on my wish list for Oscar Nominations is Flux for Best Animated Short Film, and if Koji Yamamura's Mt. Head (Japan) joins it we can say once again that this is the one and only Oscar category that truly reflects the "world" of film art. For me, the best national package of films at the FFM was Brazilian. 1 There were seven features screening in various sections and most of the credit for programming them must go to André Pâquet. I only missed seeing two of these, and for me the most striking of all was the documentary on Cinema Novo giant Glauber Rocha, Rocha que voa (Stones in the Sky), directed by his son, Eryk Rocha. A criticism of this experimental work could be that it is too "hermetic," in that without a knowledge of the late Rocha senior's films, or of the New Latin American Cinema of the 1960s, in general, one might not understand it. In any event, Eryk Rocha replicates the formal strategies of the political avant-garde—for example, dynamised agit-prop titles—and his father's emphasis on montage in his brilliant homage to a bygone era. The film du jour, right now, of course, is Fernando Meirelles' Cidade de deus (City of God) which has recently opened to rave reviews in Montreal. A very impressive first feature, populated by young non-professional actors, City of God nevertheless struck me as being very exploitative of the subjects' ghetto, criminal lifestyle with a somewhat incoherent narrative filled with music video and TV commercial stylistic tropes. After reading Brazilian film scholar, Ismael Xavier's clever defense of the film though, in Sight and Sound, arguing that the filmmakers are committed to social change, I'll give it another chance. Equally "tough" in its subject matter—a teenage rape which escalates into chaos and murder—and its style—low tech digital, hand held camera—Cama de Gato (Cat's Cradle), is another remarkable first feature, by Alexandre Stockler. At the opposite end of the spectrum of cinema, Uma vida em segredo (A Hidden Life), is an austere, yet beautiful, serene and reflective examination of a woman trapped by patriarchal society. A welcome follow-up to The Hour of the Star (1985), Suzana Amaral's latest feature is also adapted from a novel. In addition, I really enjoyed the music documentary, Moro do Brasil (Sound of Brazil) while appreciating that this might be yet another example of appropriation by a "white guy in the tropics," Finnish director Mika Kaurismaki (less famous sibling of Aki).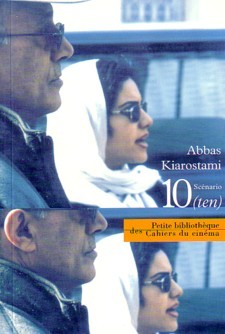 Completing a top six "Montreal premieres" is a very simple, low grade digital-film which has just opened at the Ex-Centris, on January 31st (and is the first of the year's releases to be guaranteed a place on a 2003, ten-best), Abbas Kiarostami's Ten. Yet another Seville acquisition, Ten could have been made by anybody, except that no-one but Kiarostami would have thought of ten different ways to shoot conversations in a car, involving a maximum of two set-ups each. In the first of Ten's chapters we view a brattish school boy who is berating his mother, the driver. Only at the very end of the scene, after the boy has disembarked do we see her (Mania Akbari), almost hidden behind dark glasses. We encounter the son, Amin in three more episodes, including the last one, and it is very clear at the very end, when we also meet Mania's estranged husband that her position in life is very much below both father and son. The other seven chapters of Ten depict car journeys involving driver Mania and her sister, an old woman, a young woman (twice) and a prostitute. Interestingly, only the last of these women seems at all free of the patriarchal order in Iran; she even laughs! Like Jafar Panahi's The Circle (2000), Kiarostami's latest work is a formally brilliant examination of gender iniquity in Iran. At the other end of the digital spectrum we find Sokurov's Russian Ark, which was shot HD, and which, with its single long take, is one of the most astounding technical achievements in the history of the cinema. 2 Credit here must also go the cinematographer, Tilman Büttner, whose work as steadicam operator on German films, especially on Run, Lola, Run (1997) had been noted by the director. Amazingly, in a context where communication between director and cinematographer is all important, neither could understand the other's language, respectively Russian and German. The only reason why this sensational tour-de-force does not place at the very top of my list is political. As the camera weaves through the various rooms of the St. Petersburg Hermitage Museum, led by a cynical 19th century French Marquis as tour guide, we go back and forth in history. The architecture reverts to its role as royal Winter Palace, and the climax of the journey through the "Russian Ark" is the last grand ball thrown by Nicholas and Alexander in 1913. The incredible cinematographic beauty of this scene in colour and movement is possibly Sokurov's homage to Orson Welles' long take ballroom scene near the beginning of The Magnificent Ambersons (1942) which was hacked to pieces by the RKO studio against Welles' wishes. In any event, it was a surprise to me that the Marquis would abandon his criticism of the Russian imperial embrace of all things "European" and express his desire to stay in the splendour of this time and place for ever more. As the guests leave the ballroom, the camera follows them and then exits a door revealing a body of water en-shrouded in water, as if the Hermitage has become an ark afloat at sea. Understandably anti-communist—we only glimpse the Soviet period in one gloomy scene where a custodian tries to protect art works from air raid damage in an anteroom—Russian Ark's conclusion is surprisingly pro-royalist. Nevertheless, the film works exceptionally well as an avant-garde time-travelogue through the Hermitage, and, by extension, St. Petersburg.
Perhaps, the biggest cinema story of all in 2002 was the sudden emergence of digital technology in the realm of the art film, exemplified by the low and high extremes of Ten, and Russian Ark, and with Unknown Pleasures dancing between the aesthetics of film and video. Significantly, all three of these "digital films" were premiered at the FCMM, which, in this regard, was a festival which clearly lived up to its "New Cinema, New Medias" mandate.
Completing my list of films which were premiered in Montreal in 2002 (but not released) would be seven more films (all tied for 8th place): four seen at the FFM, Huo Jianqi's Life Show, by far and away the best mainland Chinese entry at the festival, which continues the visual promise shown by the director's Postmen in the Mountains (1998); a refreshingly different film from Taiwan, Ren Jian Xi Ju (La comédie humaine) directed by Hung Hung; arguably the first "feminist" feature from South Korea, Take Care of My Cat , directed by a young woman, Jeong Jae-eun; and, yet another humanist road movie from Iran, Istgah-e Matrouk (Deserted Station), directed by Alireza Raisian, based on an idea by Abbas Kiarostami, which was the best film I saw in the competition, and for which Leila Hatami shared the Best Actress prize. I would add two films shown in the FCMM, Mauritanian, Abderrahmane Sissako's very sweet, slightly surreal, and Tati-esque Heremakano (Waiting for Happiness) and Winnipeger, Guy Maddin's Dracula – Pages from a Virgin's Diary which had been premiered earlier in the year on CBC television's "Opening Night" series, and one film shown in the Image et Nations festival, Stanley Kwan's Lan Yu , which is the Hong Kong director's best film since he came out of the closet five or so years ago, and is a really well-acted, handsomely-mounted gay love story.
And now for the bad news. It is so easy to make a list of "10 best" films which have never shown in Montreal, that I've decided to stick with East Asian titles, only. Four great new South Korean films, which I saw either at the Toronto or Vancouver International Film Festivals last year, have yet to show here: the multiple Venice prize-winning Oasis, directed by Lee Chang-dong, Hong Sang-soo's latest film, Saeng-hwal-eui Bal-gyun (Turning Gate), the comic yet horrific revenge fantasy, Sympathy for Mr. Vengeance, a surprising departure for the director of the serious political thriller, JSA, and, from 2001, Park Ki-yong's black and white digital-film, Camel(s). Interestingly, in the Village Voice poll of independent North American film critics, all of these films placed in the top 25 of the category "Best Undistributed Film." Clearly, other people are noticing Korean cinema these days. And, the one good sign here is that, finally, a Korean feature film was distributed in first run theatres, The Way Home—it recently ran for two weeks at the Famous Players' Eaton Centre multiplex. The only screenings of films from Thailand that I can ever remember in Montreal were at the Fantasia and Comedia festivals, and there were certainly none in 2002. Blissfully Yours, which topped the Village Voice "undistributed" poll was supposed to be shown at the FCMM, but it never appeared. I am putting Pen-ek Ratanaruang's Monrak Transistor on my list along with Wisit Sasanatieng's Tears of the Black Tiger , a beautiful, totally original, pink and purple Western, which was bought by the evil Miramax in 2001, and shamefully neglected. The last I heard is that they were going to cut it drastically and then release it, but of course, as usual with this company's Asian acquisitions, it will either go straight to video or they will remake it. This naturally leads me to another Miramax title, comedian Stephen Chow's Shaolin Soccer, which I first watched on imported DVD with a group of friends over Chinese New Year, in February 2002. The Hollywood distributor showed their slightly cut, English-dubbed version at Toronto, about which I heard mixed reviews, but whether or not we will ever get to see this Hong Kong blockbuster on a first run Montreal screen is an open question. Another highly enjoyable, and somewhat more sophisticated Hong Kong comedy is Jeff Lau's Chinese Odyssey 2002 which is worth seeing if for no other reason that it features a rare screen appearance by the luminous pop star Faye Wong (opposite Tony Leung Chiu-Wai). Its cross-dressing shenanigans should make the film an easy choice for this year's Image et Nations festival (if Fantasia doesn't show it). But, I doubt very much that we'll ever get to see the last two films on my list, from China, Andrew Y-S Cheng's DV docudrama, Shanghai Panic, which won the Dragons and Tigers award in Vancouver and avant-garde theatre director, Meng Jinghui's Xiang Ji Mao Yi Yang Fei (Chicken Poets) which was shown in the "Discovery" section of the Toronto festival. Let's hope that we see a lot more East Asian films in Montreal this year, and not just those distributed by Seville.
*This article was written before the announcement of the Oscar nominations on February 10, 2003.
Notes
The official national cinema programme at the FFM was a "Focus on Japanese Cinema," which, given the high quality of recent films from this country, was extremely disappointing. The only interesting aspect of the series was that three of the eleven films were directed by women. One of these, Yurisai (Lily Festival), directed by Sachi Hamano, was very popular with the Montreal audience, a second, Oriume, directed by Hisako Matsui, about a housewife struggling to deal with her live-in mother-in-law's Alzheimer's was OK, while the third, Kasei no Kanon (The Mars Canon), directed by Shiori Kazama, which deals, in part, with the difficulty in maintaining a lesbian relationship in contemporary Japan, was excellent. ↩
It appears to me that there are one or two cuts near the beginning of Russian Ark, where the camera moves through dark and narrow corridors, and where it would have been possible to hide a cut on a flash pan in the darkness. I am inclined to believe this more strongly after reading the account on the film's shooting in American Cinematographer where it is admitted that they did restart the long take on two occasions, but had to persist with the third try because of the encroaching evening. ↩