18th Bradford International Film Festival
April 2012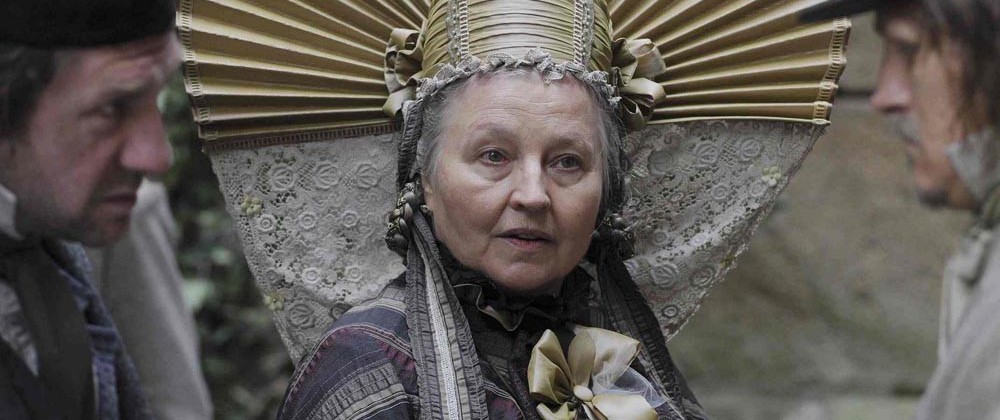 This was BIFF in austerity mode. Gone were the opening reception and the lavish booklet. More serious was the reduction in the number of new features and documentaries being screened. Excluding the Uncharted States of America strand of which more later, I counted 35 new films, down from 54 in 2011 and 66 in 2010, the Far East being unrepresented except for one martial arts effort. This may be the consequence of fewer non-commercial films being financed, though the flourishing American indie scene shows that films can be made on miniscule budgets. The block may lie in getting minority interest material seen as distributors and exhibitors play safe, but festivals such as BIFF should provide an outlet. On a positive note, six films stood out, all being low-budget productions. They are grouped geographically rather than in any order of merit.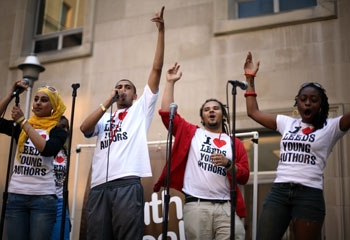 The Northern Exposure strand introduced last year to publicise work from the North of England has disappeared, which does not mean that local film-making is dead. The documentary which drew most praise was We Are Poets (Alex Ramsayer-Bache and Daniel Lucchesi, UK, 2011), which follows the fortunes of six teenagers from a Leeds slam poetry collective who compete against fellow poets in Washington DC. The film shows how the six are selected, how they prepare for the event and how they fare in the competition. This might sound worthy rather than engrossing, but you are soon siding with the kids and willing them to succeed. It would be easy to stereotype them, but the film disabuses us of such easy notions as a shared passion for poetry drives the teenagers to higher standards and binds them together, irrespective of creed and colour. The word inspirational is overused, but it was the word I heard most often in people's responses to the film. This is what documentaries should do, though too often they stop short at being descriptive or polemical. We Are Poets is likely to screened in Leeds schools. It deserves to be seen more widely. It should give teachers food for thought.
A film which could easily be stereotyped as a cosy British comedy is In Love with Alma Cogan (Tony Britten, UK, 2011). Norman is the ageing manager of a pier theatre, who finds that his audiences relish variety shows, but display scant interest in his attempts to introduce them to anything more cultural. Meanwhile, a council official wants to bring in a commercial producer to run the theatre at a profit. This is a celebration of the seaside variety show, which is now an almost extinct species. It also tackles that perennial problem of how the ethos of older workers can run counter to the times, particularly when everything is viewed in accounting terms. Roger Lloyd Pack as the cantankerous Norman stops the proceedings from slipping into sentimentality. Like We Are Poets, this is a feel-good movie, but it should not be decried for that reason. It is one of those low-budget domestic gems like The Full Monty, which attracts the cream of British acting talent and deserves to do well at the box office. (Alma Cogan was a charismatic popular singer from the 1950s, who died young and was a heartthrob for men of a certain age such as Norman.)
La Maladie Blanche (Christelle Lheureux, France, 2011) evokes a summer night in a village in the Pyrenees. As teenagers congregate at an out-of-doors disco, the young Myrtille (Myrtille Finken) is awakened from sleep by noises from downstairs. A wild boar has entered the cottage. She follows it back to its cave, seeing it as a friend, while her father comes in search of her. This is a dreamlike film shot in monochrome and with minimal dialogue. The programme notes point out that Lheureux worked with the 2011 Palme d'Or winner Aichatpong Weerasethakul, which gives a clue to her allusive style. Otherwise think of Pan's Labyrinth, Cocteau's Beauty and the Beast, or A Midsummer Night's Dream. The film might be a fragile thing, but it holds an audience. The snag is that a length of 43 minutes makes it difficult to programme.
The Color Wheel (Alex Ross Perry, 2011) comes from the Uncharted States strand and was the funniest film of the festival thanks to a sharp script from Perry and Carlen Altman. When aspiring journalist JR (Altman) breaks up with her lover, she persuades her brother Colin (Perry) to give her moral support when she retrieves her possessions. Brother and sister do not get on. From this simple premise, Perry and Altman fashion scenes of exquisite embarrassment which are often very funny, my favourite being the encounter with the religious motel manager. If you like Woody Allen's comedies, this is the film for you. The snag is the quality of the image. The film was shot on 16mm film and digitised with what are described as 'scratchily retro visuals' to give the feel of 1970s independent cinema. The result is a grainy black and white image which might be passable on television, but looks terrible on the large screen. A rethink is called for: 1970s indie films rarely looked this bad.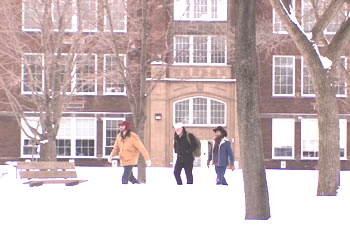 Another dysfunctional sibling relationship is at the heart of Sawdust City (David Nordstrom, US, 2011), also from the Uncharted States strand. Two brothers (Nordstrom and Carl McLaughlin) come together to search for their father, who is always one bar ahead of them. Not a great deal happens, except that the boys get increasingly drunk and the reasons for their estrangement become apparent. To add variety and humour to their quest, they are joined by sponger Gene (Lee Lynch), who tags along for the beer. This is an amiable tour of Norstrom's home town of Eau Claire, Wisconsin, at Thanksgiving. On this evidence, it is a nondescript place, which throws the onus on the characters to keep us interested. They succeed, Sawdust City proving to be one of the festival's most popular films, meriting an extra screening.
The third low-budget American film is Without (Mark Jackson, US, 2011), which has attracted attention at other festivals. Jackson seems to have sprung from nowhere to make this first feature. He relies heavily on singer-songwriter Joslyn Jensen, who is on screen almost all the time in her first acting role. His faith in Jensen is justified. She plays Joslyn, who looks after a catatonic man while his family is on holiday. With its remote forest setting, this could develop into a horror film. When the local handyman comes visiting, we anticipate sexual violence. Joslyn could emulate Jack Nicholson's character in The Shining and go mad, or is she seeking revenge as in The Hand that Rocks the Cradle ? Jackson tantalises us with what might happen, which stops the film from becoming predictable. I saw Without twice and found plenty to enjoy second time around. Aside from a few plot weaknesses, this is an intriguing debut which went down well with audiences.
The Bradford festival is noted for its guests, who this year were Barbara Windsor, Ray Winstone and Olivier Assayas. In the retrospectives of their work, I hoped to see Windsor in Sparrers Can't Sing (UK, 1963), a rarity and the only film directed by Joan Littlewood, but perversely only adults accompanied by babies were admitted to the screening. Mothers and babies mornings are a good idea, but not during a festival. How many young mums are interested in a fifty-year-old film? At least I got to see two of Ray Winstone's early works. In 1964, Michael Winner took Oliver Reed to Torbay to play a young man looking for work and girls in the under-rated The System. Fifteen years later, Winstone emulated Reed in his debut film That Summer (Harley Cokeliss, UK, 1979). This is another rarity. When Columbia closed their British operation, everything in their offices was destroyed in an act of cultural vandalism, including the negative of That Summer. Three prints are known to survive, this one being held by the director, who had some restoration done on the fading Eastman Color print. Winstone does not have Reed's sense of menace, but this is vibrant teen movie, typical of its time, with good location shooting and a soundtrack which includes Ian Dury and the Boomtown Rats. Word has it that the BFI is considering a full restoration.
Ladies and Gentlemen, the Fabulous Stains (Lou Adler, US, 1981) has fared little better. Paramount made the film to cash in on the punk phenomenon, but by the time the film was ready, punk was history and the studio lost interest. The surviving print which tours film festivals is scratched and faded, though a Region 1 DVD version is available. Appropriately, the film is a critique of how a band can become prey to commercial interests, even if their comeback seems to succeed rather too quickly. Did Paramount edit the final section to achieve a running time of 87 minutes, suitable for a double feature? Winstone makes a convincing lead singer and is backed by members of the Sex Pistols and the Clash, while Diane Lane and Laura Dern make their first screen appearances. Ladies and Gentlemen, the Fabulous Stains has historical and artistic interest. What depresses me is that the survival of films a mere thirty years old is still a matter of luck, while those which do survive are already in need of restoration. How will digital films fare in the survival stakes? Potentially they can be stored indefinitely on a server, but there are legal issues to be ironed out and they can be erased at the press of a key. The BFI still relies on 35mm prints for archival purposes.
Sexy Beast (Jonathan Glazer, UK, 2000) is better known. In his screentalk with Mark Kermode, Winstone revealed that studio executives disliked the film after a television screening. He argued that it had to be seen on the big screen and he was proved right, the irony being that it was funded by the television production company FilmFour. Like those executives, I found Sexy Beast underwhelming on television, but more powerful on the big screen. Size may give a greater feeling of immersion, or does the presence of an audience and the sense of occasion change perception? This is a pertinent question given that all except the latest releases are likely to be viewed in the home. We need film festivals, if only to remind us what we are losing.
The festival's major disappointments were the two commercial offerings. Damsels in Distress (US, 2011) is Whit Stillman's first film since 1998. On a university campus, Violet (Greta Gerwig) leads a quartet of girls in a suicide prevention squad, their strategy for deterring potential suicides involving doughnuts and tap dancing. Bradford has followed Gerwig's career from the low-budget Yeast in 2009 to Ben Stiller's companion in Greenberg. She is endearingly offbeat here, though she makes a rather mature student. The film enters into darker territory when it seems that Violet might have committed suicide, yet Stillman seems unwilling to stray too far from comedy. This creates an unevenness in tone, while the song and dance ending smacks more of desperation than celebration. It is good to welcome back Stillman's maverick talent — his film-making reminds me of Wes Anderson — and to see Gerwig on screen again, but there is a case for reining in the subplots.
Albert Nobbs (Rodrigo Garcia, UK/Ireland, 2011) is adapted from a novella by George Moore. Nobbs (Glenn Close) works as a waiter in an Irish hotel in Edwardian days. Nobbs's secret is that she is a woman. She conceals her sex successfully, until she is asked to share her bedroom with an itinerant house painter. My difficulty is that I could never believe in Close as a man, the perverse exception being when she dons a dress. Her wayward accent does not help. Comparison has to be made with Janet McTeer, who is utterly convincing as the painter and co-conspirator Hubert. This is old-fashioned story-telling (Moore's novel Esther Walters was filmed in 1947), with a leisurely pace and a neat ending. The gender issues would have deterred 1940s film-makers, but they are still skirted. The relationship between Hubert and his wife is left unexplored, while we are never discover whether Nobbs sees Hubert as a sexual partner, a business partner, or a companion in distress. The scene when Nobbs asks the maid (Mia Wasikowska) for a date is one of the film's more poignant moments, but they are few and far between. At least there are assured performances from Pauline Collins, Brendan Gleeson et al. to provide a diversion.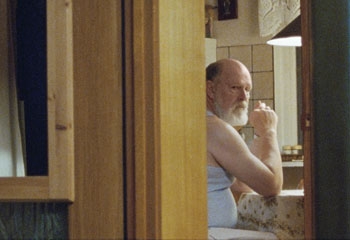 On the evidence of this festival, 2011/12 was not a vintage year for European films. An innovation for BIFF was the European Features Award with six films in contention. The winner was Volcano (Rúnar Rúnarsson, Iceland, 2011), the only Scandinavian feature screened this year. With Scandinavian television on a high, I expected more. Crotchety schoolteacher Hannes (Theodór Júlíusson) retires, but his dream of spending his days fishing comes to nothing when his wife has a stroke. Hannes decides to take on the work of looking after her. This film should have moved me more than it did. The subject is gruelling, but so is the unvarying tone of repressed emotions. More light and shade might have helped. As the Danish-trained director explained to the meagre audience who attended the presentation, the film was shot in Super 16. This was a financial decision: the switch to digital means that there is a plethora of cheap equipment on the market and processing was free. The resulting film was transferred to 35mm stock. We seem to be in a period of experimentation with formats, 35mm being the exception to the digital norm. The Color Wheel and How I Filmed the War (Yugal Sagiv, Canada, 2010) go for a retro look, but trying to emulate the past proves more annoying than nostalgic.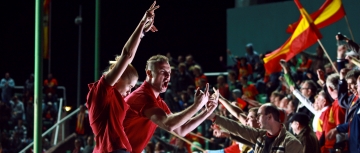 More enjoyable was another feature screened in 35mm and not in competition. Flying Pigs (Poland, Anna Kazejak-Dawid, 2010) has been described as a Polish version of Green Street. Oskar (Paweł Małaszyński), is a football hooligan who is employed by a company boss to drum up enthusiasm for the company's newly-formed football team. Problems occur when the company's team plays his former club, while he has to choose between his love of football and his responsibilities as a parent. Oskar is the archetypal boy who does not want to grow up. The film also serves as a study of how club loyalty can be manufactured. The breathless style suits the subject.
Hopes were high for Faust (Aleksandr Sokurov, Russia, 2011). The film is splendid to look at, though Sokurov seems too willing to dwell on the grotesque aspects of the medieval world such as the bathing scene at the expense of Faust's descent into hell. By the time he dons a suit of armour, I was reminded of Monty Python and the Holy Grail. And hell does not seem all that bad. A sense of evil is missing and this seems more essential to the Faust story than comedy.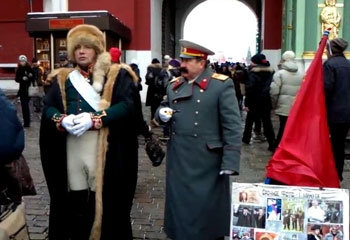 More intriguing was the modest Moscow Diary (Adam Kossoff, UK, 2011). Kossoff retraces Walter Benjamin's visit to Moscow in 1926-7, using extracts from his diary in voiceover. This film was shot on a mobile phone to allow Kossoff to be inconspicuous: only once is filming abandoned when a security guard advances on him. Given this constraint, the image quality is acceptable. Benjamin went to Moscow to pursue an affair with the Latvian theatre director Asja Lacis. He left without winning her heart, but the film does humanise a man who can seem so wrapped in theory as to be unreachable. Some of the modernist 1920s architecture noted by Benjamin remains, though how long it can survive is an open question.
This year, the Uncharted States of America strand offered the most consistently intriguing work. James Benning has been a stalwart of low-budget film-making, his minimalist films appearing at Bradford over several years. At the age of 70, he has switched from 16mm to high definition video. In the past I have resisted his technique of setting up a static-tripod camera to record what happens, or more often what does not happen. Small Roads (US, 2011) comprises 47 shots of America's byways, accompanied by ambient sounds. Despite my reservations, this film converted me to the Benning way. There is plenty to look at in the high definition images and you have time to contemplate the variety of landscapes and the changing seasons. Another landscape comes along before you get bored, which was not always the case in previous Benning works. Having conquered my fear of Benning, I sampled the work of his colleague at CalArts, Betzy Bromberg. Manohla Nargis of the New York Times listed Voluptuous Sleep (US, 2011) as among her favourite films of 2011. For me, this collage of abstract images seemed no advance on abstract films from the 1970s. Looking down a microscope at epithelial tissue and you see the same sights.
In Turkey Bowl (Kyle Smith, US, 2011), a group of friends in their twenties gather for their annual game of American football. The prize is a turkey. This year, two newcomers join the group, which causes some turmoil. Turkey Bowl is about the way sport allows personality traits such as competitiveness and aggression to emerge and how they are handled by the group in the interests of maintaining harmony. I dislike sport and American football baffles me, but these handicaps hardly matter. The setting could be a party, or an office. You wonder how long the annual match will survive as the eight participants age and change, but I should be happy to see them at their next game.
Intro (Brandon Cahoon, US, 2011) is a documentary following singer-songwriter David Williams. Following is the operative word, for Williams never speaks to camera and there is no voiceover to fill in his story. We tag along, travelling from gig to gig in his ageing car (closing the offside window causes particular problems) and sleeping in the open. Gigs are modest affairs in bars and cafes. Williams tries busking, but a lack of success seems not to get him down. You admire such single-mindedness and hope for a good outcome when he gains a companion on his journey. You can also admire the photography. If only The Color Wheel looked as good.
The interest in The Last Buffalo Hunt (Lee Lynch and Lee Anne Schmitt, US, 2011) is the subject. This is a rough and ready documentary about the annual slaughter of buffaloes in Utah, an officially-sanctioned cull, where tourists and hunters pay for the privilege of doing the killing and being photographed with the carcass. American matrons seem fascinated by dispatching the beasts, often displaying more enthusiasm than skill. Both visitors and the locals who see the cull as a source of income are allowed to speak for themselves, though as an outsider I should have preferred some searching questioning to tease out the tourists' motives. Is their pleasure in the shooting, or maintaining tenuous links with the myth of the frontier? And what do they do with those heads? Lee Lynch appeared in Sawdust City and Benning taught its director David Nordstrom at CalArt. Charting connections between these independent film-makers would be an intriguing exercise.
BIFF was a mixed bag this year, with pleasures in unexpected places. And I only heard one mobile phone. It is too early for the new co-directors Neil Young and Tom Vincent to stamp their personalities on the proceedings, though there is some fine tuning to do on the timing of events. My principal reservation is that the process of attrition may continue. The festival cannot absorb this without lowering its standards and the co-directors should make a point of maintaining its international remit.