You and Me (Fritz Lang, 1938)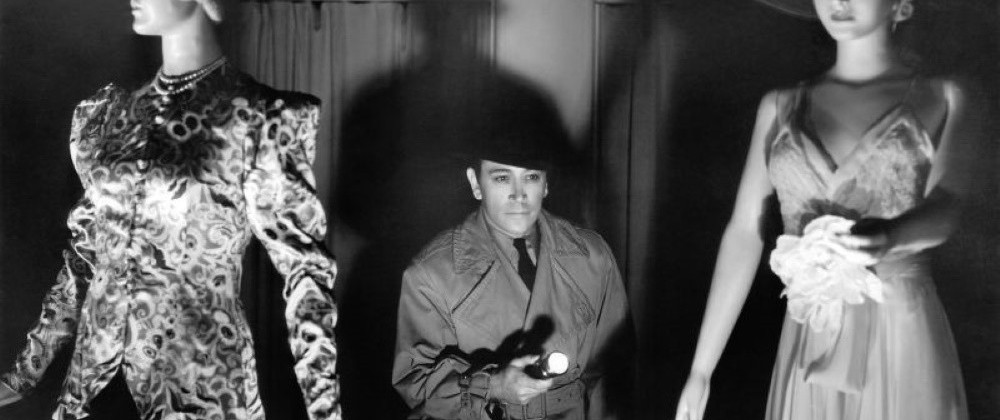 In a large city department store where the altruistic owner (Harry Carey) quietly hires ex-convicts in hopes of helping them assimilate back into civilian life, Helen (Sylvia Sydney) falls in love with former violent offender Joe (George Raft) and the exuberant pair get married; however, struggling to hide her marriage from her parole officer (marriage is a no-no while still on parole), as well as hiding her criminal past from her lover to allow him to feel he's achieved his dream of marrying a woman on the straight and narrow who has never been in trouble with the law before, the relationship frays, even after Helen gets pregnant, as the emotional Joe senses she's hiding something from him, with the uncertainty re-kindling a temptation to join back up with his equally tempted ex-criminal brothers-in-arms, with talks brewing of biting the very hand that feeds them – i.e., robbing the humanitarian owner they work for— suggested by their shady leader Mickey (Baron MacLane).
Continuing along with my long-time chronological viewing of all things cinematic Fritz Lang, from the early expressionism of Germany (though he himself would refute his films were of that style) and on into the noir-infused Hollywood years (other than a few of the silents he was involved in that unfortunately don't exist anymore – and I do mean unfortunately, as that period was the director's most consistently masterful), I can't say I was particularly excited to watch this quasi-musical entry, one that I'd never even heard of before, a film that Lang himself referred to as a 'lousy picture'… especially after the brilliant socially-conscious grimness of his first two Hollywood salvos, Fury and You Only Live Once.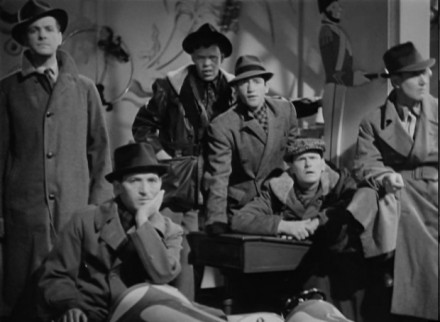 After his scathing indictments of America as a landscape of social injustice, and a breeding ground for the same kind of mob mentality he witnessed first-hand in Nazi Germany, turned off audiences not up for hearing the message, with their box office failures giving just the reason for the Hollywood suits sick of the director's abusive megalomaniacal antics to blacklist him, Lang found himself relying on celebrated actress Sydney, who was in both earlier films (already playing the ethereal to the point of angelic victimized wife, which was quickly becoming her stock in trade), to fight to get him a gig to direct her again (something not uncommon for Lang during his two decade Hollywood run, including sharing a wildly adulterous affair with actress – and eventual Suspiria star — Joan Bennett, who also convinced reticent producers, afraid of the director's violent rages and perfectionism into making his next movie — with her starring, of course). And she got him You and Me (geez, with Bennett, Sydney and plenty more Hollywood starlets reportedly all conquests of Herr Lang – and considering his physical looks were on par with Shrek, only with an ever-present monocle and a deep streak of cruelty – certainly is hard to deny the seductive power of wealth and position!).
While not a great film, You and Me still has plenty to offer, not the least being its setting within a milieu of common citizens struggling first and foremost to make ends meet, something admirably present in many of Lang's films. While the malleability of the uneducated mob into something dangerous terrified him as much as un-just political systems, the plight of the economically repressed individual was still a big part of his dramatic/narrative thrust.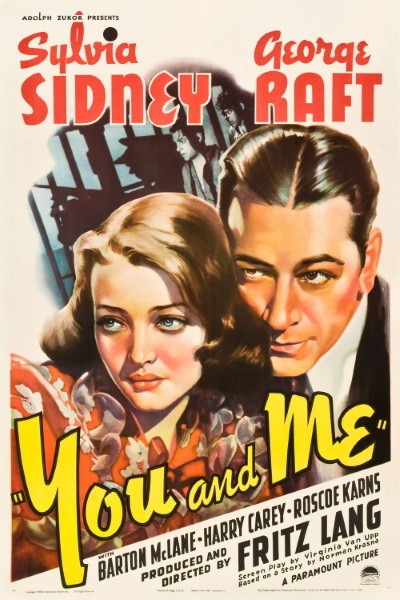 Lang states his position almost immediately in the film through the humanitarian businessman's didactic speech to his clueless wife — and as he so effectively portrayed in the earlier German Mabuse films (more effectively, it should be said) — that criminality isn't born from evil people, but from desperation and economic disparity. It's fascinating to see films of this time tackle social issues with such progressiveness (and not surprising that it would lead to the reaction of the red witch-hunting 1950's House of Un-American Activities branding as many Hollywood figures as possible as secret commies trying to take down American capitalism). Unlike the two earlier films, though, there is a lighter air to the proceedings. For one thing, while Sydney remains as captivating as ever, the male lead George Raft, while watchable, and as great at playing tough-guy gangsters as he was in other films, just doesn't have the performance heft of a Spencer Tracy or Henry Fonda (the leads from the previous two films) to elevate the experience.
There are some interesting Lang-ian moments along the way, such as the gang members sitting around in the director's familiar circular fashion in a shadowy and smoke-filled room, hypnotizing themselves as they reminisce about their days together in prison, with audio clues and suddenly expressionistic glimpses of the cells fading in and out. The later scene in which Sydney's Helen, determined to stop Joe and the others from going through with their burglary, draws on a chalkboard the economic numbers that show crime doesn't pay is played quite a bit like Lang's staid and compelling courtroom scenes (even if the notion that crime doesn't pay is absurd – if you get away with it, of course it does! – and I have no idea why the usually much more complex-minded Lang would have played along with the intention of this scene).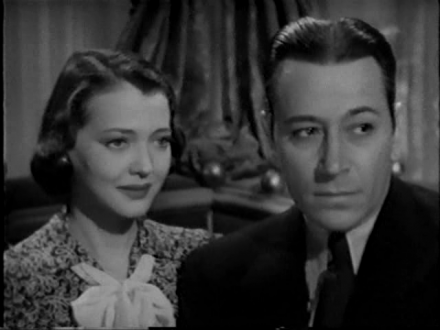 As interesting as these moments are, they don't really work. The tone of the film is kinda all over the place. It's a quasi-musical (with no one breaking into song, but scenes and actions matching up on occasion with the numbers being played), part-serious social issues and crime film… and also romance, with some silly humor along the way. When the happy ending arrives, it's expected – and not earned (thankfully, however, Lang does keep alive the notion that the struggle of these people isn't gonna end here… it's a lifetime).
You and Me might not approach anything near the heights of previous Lang masterpieces (of both Hollywood and Germany), it's nowhere near the disaster Lang dismissed it as. With twenty or so more efforts left from the director (mostly in a Hollywood where he constantly battled with the suits, and then a few films near the end that returned him to Germany), I'll see where he goes from here.