Yellowbeard (Mel Damski, 1983)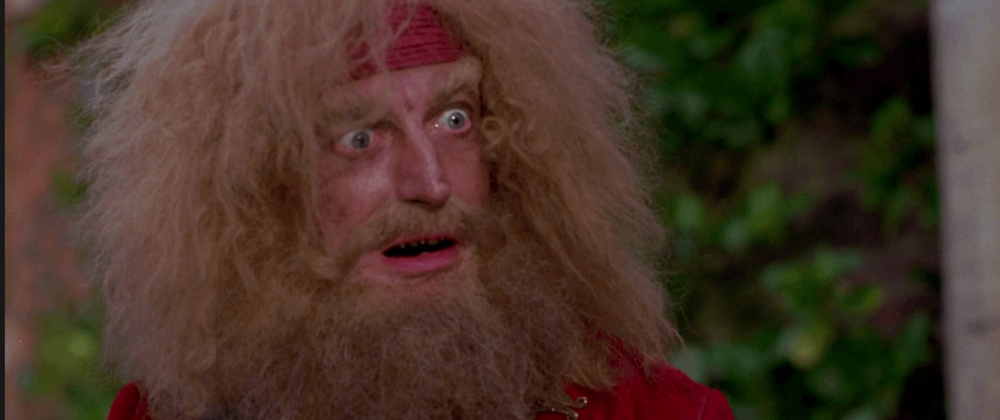 "Do you remember, just before you were arrested, we were having a cuddle?" – flirtatious bar mistress Betty Beard (Madeline Kahn)
"I was raping you, if that's what you mean!" – the straggly bearded sociopathic pirate Yellowbeard (Monty Python's Graham Chapman)
"Alright… sort of half-cuddle, half-rape." – she begrudgingly admits
Continuing down a viewing hole of all things (tangentially or otherwise) cinematically Cheech & Chong related, a slope that has grown increasingly slippery (with the duo's sketch comedy feature Still Smokin' of the same year having been barely watchable, other than if you perhaps slightly tilt and stretch your perception – with the help of some naturally grown substances – to view the inanity as some kind of strange performance art for children), I decided to check in with Yellowbeard, the first of the films in which the stumbling, consistently more stretched thin duo began to show up, together and separately, in comic parts outside of their own creation (I guess realizing the financial – and creative — drinking well of their feature film headlining was beginning to run more than a bit dry).
Following (in very broad terms) the exploits of the titular marauding rapist (hence, the above quote) and slaughterer of men as he breaks out after twenty years of imprisonment (with massive straggly mane and facial hair intact), discovers with bemusement he has a son ("How many men have you killed so far?" "One… two… I think." "You think?! You'll never kill anyone if you go around thinking!") and sets off on the high seas to recover his hidden treasure, with conniving members of the Royal Navy (led by another Python great, Eric Idle) as well as a small cabal of greedy pirates headed by his former betrayer, Mr. Moon (Peter Boyle) in hot pursuit. When they finally reach the treasure island… they find it run by the exotically-garbed despot "El Nebuloso" and his minion (you guessed it, Richard "Cheech" Marin and Tommy Chong, playing it with their preferred culturally tone-deaf approach).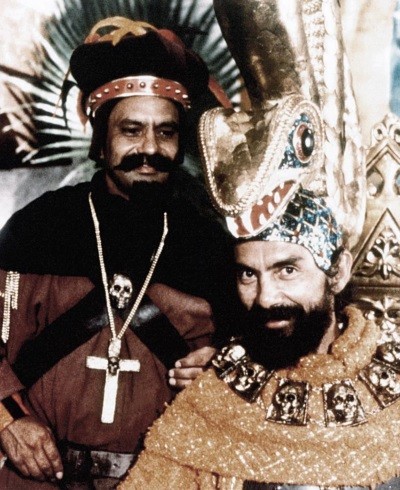 Even though the film was co-written by Chapman himself and features a cavalcade of mind-blowing comedic talent, both British (along with Chapman and Idle, there's third, equally brilliant Python player John Cleese, Peter Cook — who also unfortunately had a hand in the continuous mucking up of the script that went on for years before production — and even well respected yet generally non-comedic thesps James Mason and Ralph Richardson) and American (there's the wild-eyed Mel Brook-favourite Marty Feldman, Boyle… and the pure joy of Kahn — who manages to be consistently funny — and, of course, Monsieurs Cheech and Chong themselves, who, without their inclusion, this viewing would likely have never happened in the first place), I'd only ever heard how bad the film is (with Cleese and Idle individually referring to it as one of the worst films they'd ever appeared in) and about its troubled production (including the film's original writer and inspiration, Chapman, being frozen entirely out of the studio editing suite)… and, yet, as often happens with lowered expectations, I found that as broad and thin as it does get (and it gets there), it has a more than ample supply of chuckles and humor, high and (mostly) low, along the way.
With three of the iconic troupe taking part (and the other Brits), comparison with the Monty Python films becomes inevitable, and, of course, it severely pale against those. It certainly has more than its share of funny one liners and amusing moments (the constant inappropriate rape jokes wouldn't dared be attempted in today's climate, but I couldn't help but find myself consistently laughing at their sheer brazenness — and some of the dialogue, such as the horrendous parenting talk of Kahn's Mrs. Beard, are enjoyably constructed — for instance, in a moment that manages to weave the two elements together, delivered with Kahn's usual marvellous timing – "There's more important things than reading, son. If there's one thing I've learned in life it's that learning things never taught me nothing. And books is the worst. Last time I read a book? I was raped. I hope you take that lesson to heart."). There's also, unfortunately, too many moments of watching our comic thesps broadly flailing about trying to work something out of a script providing very little.
While Yellowbeard, based on the script material, couldn't possibly have reached the heights of, say, Python efforts like Holy Grail or Life of Brian, it certainly would have helped for the filmmakers (including director Damski, not surprisingly an eventual long-time television journeyman) to at least have attempted to create some of that palpable sense of stink, mud and stench so powerfully captured in the aforementioned Python films (and that added to the wonderfully perverse absurdity of it all). Alas, Yellowbeard's 1867 setting feels much more like actors running around on constructed sets.
And Cheech and Chong? They're not in the film all that much, but what is there is, at best, passable (barely). Their comedic characters, as written, are paper-thin, and they certainly don't provide much inspiration other than a certain okay silliness, I guess. One thing seems to be baring out about them though: the further they move away from the LA-based, counter-culture, drugged out personas they carefully crafted in the 70's, the more limited their comic abilities show through. Saying that, at the same time, no matter how low-brow these guys go, they somehow manage, almost despite themselves, perhaps due to a lack of arrogance or ego in their performing, to remain… kinda likeable.