Turkish Films: The Prisoners, Love and Honor, Bliss and Dry Summer
"We do a beautiful job under difficult conditions"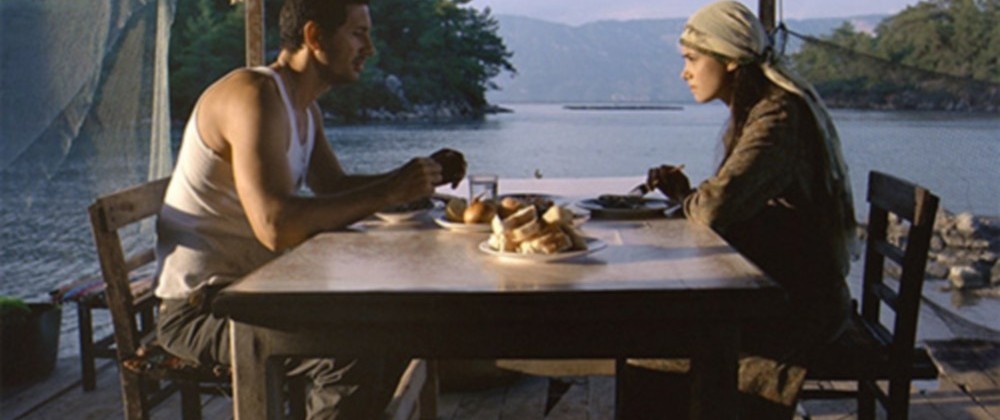 (for Paul Zakrzewski, Rebecca Terner, and Keith Hudson)
The film Three Monkeys won for its director Nuri Bilge Ceylan the best director award at the May 2008 Cannes film festival; and Ceylan, a native of Turkey, whose other films include The Small Town, Clouds of May, Distant, and Climates may have been already one of the most handsome faces that Turkish cinema presents to the world. The irony, much spoken of, is that Nuri Bilge Ceylan's work is not as celebrated or even as seen in Turkey as it is abroad, but, then, how many members of the general public anywhere know anything about Turkish film? How much of the general public sees films of imagination, intelligence, and integrity, no matter where they are made? I have read a handful of reviews of Turkish films, some of them quite intriguing, but until the June 11-13, 2008 Turkish film screenings in Manhattan ("Turkish Films in DC and NY"), with screenings downtown at Village East Cinemas, and the Directors Guild of America theater screenings in midtown, I cannot be sure that I had seen ever before a Turkish film; and that was my loss, as I very much liked the films I saw, The Prisoners, Love and Honor, Bliss and Dry Summer. The other Turkish films shown in New York were 120, and The International, and The Messenger; and the films shown simultaneously in Washington, D.C., included The Bandit, A Man's Fear of God, White Angel, Pars: Operation Cherry, Climates, Gallipoli, and The Edge of Heaven.
Did you know that Turkey used to contain one of the world's film capitals? If you're like me, your thoughts about the country have not ventured much beyond the work and reputation of novelist Orhan Pamuk, the tastes of kebabs or pilafs and dolmas, and photographs of architecture and calligraphic manuscripts, and entrancing rumors about the legendary city of Istanbul. The country or republic of Turkey is said to border eight countries, but it may be more convenient to know that it is southeast of Greece and north of Syria and Iraq. (The republic, begun in 1923, followed the Ottoman empire, ruled by those of the house of Osman, an empire which spanned continents and lasted from 1299 to 1923; although some give the empire's dates as 1300 to 1922.) Turkey now has a population of more than seventy million people, with eighty percent of them Turks and twenty percent Kurds (Islam is the dominant religion). Years ago, the first film shown in the country was shown in Istanbul at the Yildiz Palace to the sultan by a court entertainer—in 1896; and it has been reported that the film was by Sigmund Weinberg, an Istanbul resident and restaurateur, a Romanian, who would make and show other films in public. The first Turkish film is widely considered to be The Destruction of the Russian Monument in Agia Stefanos, a documentation of a 1914 demolition, photographed by Fuat Uzkinay. Theater director Mushin Ertugrul's films The Shirt of Fire (1923) and Aysel, Daughter of the Marshy Village (1935) and Lutfi Akad's naturalistic The Strike Whore (1949) are among the films that advanced Turkish cinema. While Ipek Film and Kemal Film are two early twentieth-century companies important to Turkish film history, it has been reported that between 1896 and 1945 the country did not produce more than fifty films; and film production did not begin seriously in Turkey until the 1950s, with films of different genres, including comedies, social dramas, and even experimental films. Its film center was called Yesilcam, named after a street in Istanbul (the word yesilcam itself refers to green pine), and Yesilcam produced more than two-hundred films each year, and some claim up to three-hundred or more films in certain years, at Yesilcam's busiest in the mid-to-late 1960s through the early 1970s, making it one of the world's film capitals.
Many Turkish films dealt with the timeless subjects of love, loyalty, place, family, and society; and the tonal palette of the films vary, both hot and cool, with some of the films becoming notorious for their indulgence in emotion. It is sad then that few of its films have been known to most informed filmgoers, that more of us have not had a chance to see some of the country's best work for ourselves, although there have been, and are, festivals devoted to Turkish film in American cities, such as Atlanta and Boston and New York, and cities around the world, such as Berlin and Rio and Sydney. It was a good opportunity for me to see Turkish films in Manhattan, The Prisoners and Love and Honor on June 11, and Bliss and Dry Summer on June 13, especially in light of the decline—often attributed to the popularity of television and video, and fluctuations in the Turkish economy—in the quantity of the country's filmmaking, with now about fifty films produced annually.
The Prisoners (or, Bayrampasa Ben Fazla Kalmayacagim), directed by Hamdi Alkan and produced by Birol Guven, was written by incarcerated men, and is set in an actual Istanbul prison; it was written by the prisoners of Bayrampasa, and, as far as I am concerned, it disappoints any expectations of amateurish production values. The scenario, about a hairstylist and loving family man who is arrested and imprisoned on false charges, offers a critical portrait of the Turkish justice system. (Yet the conditions we see are far more hospitable than that of American jails or prisons; and one does not feel as if a special plea is being made for all prisoners regardless of crimes committed.) I found all the settings, those taking place in the prison, and those taking place on the outside (on the street, in cafes, in a hair salon, at home) to be well-chosen, compelling belief. The cast was itself believable, featuring a diversity of men in terms of physiognomy and temperament. The Prisoners is a beautiful, compelling film.
Love and Honor (or, Kabadayi), written by Yavuz Turgul, directed by Omer Vargi, and produced by Mine Vargi, is a gangster picture with ideas and a moral core, focusing on a retired, once powerful criminal, Ali Osman played by Sener Sen, who visits the woman he once loved and finds he has a son he knew nothing about, a young musician involved with a drug-addicted singer who herself is the obsession of a rising and very violent crime boss. It is a very melodramatic film, and sometimes predictable, but it was, also, very satisfying. The most surprising aspect of the film was its recognizability—it reminded me of the classic 1955 French crime film Rififi, directed by Jules Dassin, about an aged criminal who does one last job and is very loyal, and also of more contemporary American pictures. (I have learned, subsequently, that many Turkish films—its commercial films—have been inspired by Hollywood.) The film Love and Honor's characters are established genre types, if not archetypes; and two of them, the retired crime master and the rising one, are impressive, one suggesting a late-blooming morality, and the other suggesting a pathology tied to purpose that makes him hard to defeat.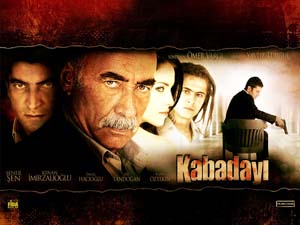 The Prisoners (2007) focuses on a man, Erdem, who sees an old friend on the street, embraces him, they speak and part, and Erdem realizes the friend has dropped something: Erdem meets him to return it, and Erdem is arrested when the police arrest the friend, who has been involved in questionable activity. Watching The Prisoners, I was struck by the bodies of the actors, bodies that carried extra pounds. While the actors and actresses in the film might be defined as attractive, I did not find them beautiful (and the lack of obvious beauty made them unique in cinema; and added to their real world believability). The central character Erdem, played by Vural Celik, does project a charm and decency that draws the viewer to him (he does not belong in prison and his emotions clearly do not fit his circumstances; and as time passes and he remains incarcerated his temperament becomes duller, less mobile). However, there are gorgeous people in Love and Honor (2007), especially with Kenan Imirzalioglu as the murderous young villain, and Ismail Hacioglu as the retired man's musician son Murat and Asli Tandogan as the young woman torn between two men. (Kenan has been a celebrated fashion model.) It was amusing to see certain transnational aspects of "hip" culture in Love and Honor—the clothing, hairstyles, and even attitudes. It is easy to believe that The Prisoners—with its men carrying prayer beads, its communal activities (eating, washing, music-making), and its simplicity—hews closer to daily life, but it has been reported that the country has a fairly healthy consumer culture, making the styles on offer in Love and Honor just as representative.
In The Prisoners, the ill-fated central character Erdem, who is innocent, expects to be released immediately from prison but instead he serves several years, and during that time, becomes more cynical and argumentative than he had been and also befriends some of the other men. There are moments when his sanity is challenged too (someone buries incriminating material under his bunk and Erdem is given solitary confinement). The film does raise the question of the true purpose of imprisonment: punishment or rehabilitation? And the actual effects of punishment: a recognition and acceptance of guilt, or a further ruination of character?
(My understanding of, and enthusiasm for, the film The Prisoners must be qualified by the fact that the film I saw lacked subtitles, unlike the other Turkish films I saw, a mistake: so, there are details given in the dialogue that I missed—though it did not feel that way while watching the film. A March 1, 2008 article, "The Great Escape for Bayrampasa Prisoners," by Emrah Guler in the Turkish Daily News on the film The Prisoners, informs me that the film, though starring a known comedian in Vural Celik, features prisoners and guards in its cast, and was the result of a writing workshop for prisoners organized by a script writers association, which thought a short film would be a good idea until the idea blossomed into a feature film with the support of the ministry of justice. The article, published the Saturday after the week of the film's premiere in Turkey, mentions that the film has been received with some doubt because of the nature of its making, though it's not clear that those with doubt have seen it. Something I did miss—that Erdem uses his son's interest in science fiction to explain his own absence from the family home, portraying that absence as part of a heroic mission. One German web site, Qantara, or, Bridge, inspired by Germany's large Turkish and Islamic population, reports on middle-eastern and related topics and suggested in a report by Amin Farzanefar after a 2007 Antalya film festival screening that the humor in the film, in dealing with a serious subject, may have been an aspect of self-censorship. There have been complaints in the past of ill-treatment in Turkish prisons, including the use of isolation and torture, according to Amnesty International.)
Love and Honor is about family, love, crime and punishment and loyalty and retribution. Can a young man reconcile with a father he has never known? Can he forgive those (family, friends) who contributed to his imperfect life? (His mother had a close gay male friend, Surmeli, an effeminate, fat man whom the boy was fond of, but also ashamed of, a man his father Ali Osman also befriended, who proves to be one of the more dependable males in the film.) Is there honor among criminals? The old man's friends promise to protect his son from violent threat, but as the film continues we see that they are not as dependable as he hopes; however, the old man himself, Ali Osman, tries to be true to others. The son is volatile and his girlfriend even more so (the changes she puts her men through are rather disconcerting, in terms of what such behavior says about both youth and women; she is as unstable as the script needs her to be, a plot device). Like much of art and entertainment, both films, Love and Honor and The Prisoners, are about how a society treats transgression, actual and imagined.
There was a reception on Wednesday, June 11, with wine and finger food between screenings of the two films, The Prisoners and Love and Honor, and the crowd was both friendly and subdued, and I found myself having a few small conversations: one was with a woman who said she had been married for five years to a Turk and that after the marriage ended, she found her affections transferred to Turkish culture. I asked her about sexuality in Turkey, and about the Armenians. She reminded me that the country is Islamic, and that affects its perspective on sexuality; and she said that the Armenian (genocide) controversy was at root a blood feud involving the Kurds and Armenians and blaming the Turks would be like blaming America if blacks and Hispanics began to battle each other—not a perspective I had heard before. (I subsequently learned that many Turkish films have featured explicit sexuality, showing women and men; and that, though not much discussed, homosexuality is legal in Turkey, and the film A Jihad for Love, about Islam and homosexuality, directed by the east Indian muslim Parvez Sharma, was shown at the 2008 Istanbul international film festival, and received great applause.) I had a couple of brief conversations at the reception with a few of the event's organizers, who, of course, hoped to raise awareness of Turkish culture and film. I walked into the theater auditorium while talking with a young man who is interested in distributing film over the internet, something he expects to develop in the next five years and something he hopes will be part of making Turkish film as known as Iranian film now is. Leaving the theater after seeing Love and Honor, I walked into the Manhattan night and heard a young woman talking on her portable phone about the Turkish film screening; and she gushed, "We were the only white people there," an inexact but interesting assertion, suggesting, not for the first time, that being white means being bleached of cultural memory.
Friday, June 13, 2008 Turkish film discussion
On Friday, June 13, at 2pm in Manhattan at the Directors Guild of America theater, there was a panel discussion on the state of Turkish film. The panelists were introduced by a young woman, Ece Manisali, who also acted as translator: Sener Sen, Hulya Kocyigit, Cagan Irmak, Omer Vargi, Mine Vargi, Barry Alexander Brown, Ozgu Namal, Nihat Gul, and Mevlut Akkaya. Mevlut Akkaya directed questions to panelists. The film producer Mine Vargi, a woman who looks professional and fit, even glamorous, defined the sponsoring organization, TESIYAP (the film and television producers foundation), of which she is chairperson, as being a guild for standards, rights, and promotion of Turkish film, with screenings in Washington, D.C., and New York. "Turkish cinema has a beautiful past," she said. (She, like most of the other Turkish filmmakers, seemed unusually soft spoken: it felt as if I was listening to some distillation of spirit rather than a foreign language as they spoke.) The famous actor Sener Sen, featured in The Bandit, Lovelorn, and Love and Honor, wore a light green jacket and dark green sweater, with light (khaki?) pants, and looking jovial, declared: "In the past, many films were produced, like Hollywood—in the 1970s, three-hundred films each year, films the Turkish people saw. Now between forty and fifty films are produced in Turkey's film sector. We can't quite say that Turkish film is an industry of its own. The problems, as elsewhere, are in story, soul, creativity." Hulya Kocyigit, a beloved actress (she starred as Bahar in the Turkish film classic Dry Summer, and many other films), said, again very pleasantly, that even with technical limits, Turkish films had flourished, and there was pride in them. Turkish filmmakers now want to share their works with the whole world.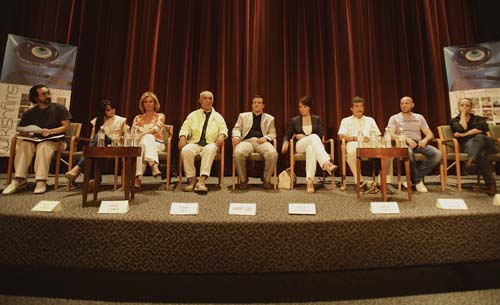 Left to Right: Mevlut Akkaya, Ozgu Namal, Mine Vargi, Sener Sen, Nihat Gul, Hulya Kocyigit, Omer Vargi, Cagan Irmak, and Barry Alexander Brown
Wearing a somber face over a stylish suit, Nihat Gul, of the ministry of culture, said that film is an industry and a form of culture and education. That financial support is important, and goals for Turkish cinema include attracting more international filmmakers and having more studios. But, budgetary constraints exist. He sees the need to develop a legal structure to facilitate those goals. (That the June 2008 Turkish film screenings received the patronage and participation of the country's ministry of culture affirms a certain commitment.)
An American film editor and filmmaker Barry Alexander Brown, someone who has worked with Spike Lee among others, shot his own independent film, Last Looks, a low-budget horror comedy, in Turkey. Why? He needed a boat for the film, one large enough to accommodate cast and crew, and he looked all over for a boat and found one online, apparently a Turkish boat, and also liked the photos of the Turkish coast. Filming in Turkey meant he got the boat, great locations, a good crew, and a lot of equipment, with an easy shoot. He's now planning to translate the two-dimensional film into three-dimensions, so the images will "pop."
Ozgu Namal, a young actress, featured in Bliss as Meryem, surmised, "We do a beautiful job under difficult conditions." Ozgu Namal stated that there are not a lot of high quality films made every year ("there are one or two high quality films made every year, not ten," she said), so a performer has to wait for the right opportunity. She considers herself lucky to work in quality productions, and knows this luck may not last—and feels it important to travel to introduce her work. (On the seminar stage, Namal looks like a glamorous young woman, even casually dressed, even when she slouches, nothing like the innocent peasant girl she plays perfectly in Bliss.) Namal says that she does not dream of Hollywood, but, rather, wants the world to know Turkish film.
Cagan Irmak, the writer and director of The Messenger: he is muscular looking but seems sensitive, and even when quiet appears to simmer with intensity. Cagan Irmak, who is respectfully regarded at different times by the other panelists, states that a problem is that Turkish cinema does not have a place in mainstream cinema, as there are two types of film—art house and commercial—and a lack of a middle ground between the two types, so Turkey loses an opportunity. Cagan Irmak says that the purpose of cinema is not to introduce a country or to make money. Young directors feel compelled to play by established rules, but, a genuinely motivated film—a film a director feels personally compelled to make—will find its audience, he asserted.
Mark Lipsky, a film distributor who arrived late at the discussion (about the time Barry Brown was finishing his comment), says that he worked in the glory days of independent film distribution in the United States, when commercial concerns or expectations did not drive things. There was a sense of discovery about film—it didn't matter what language the film was in. He stated that he is both proud and sad to say he was part of Miramax, but that for the company "more became more"—with an increasing focus on stars, big budgets, financial returns, etc. Now there's an opportunity to reinvent that wheel, to reconnect with a curious and interested audience. Lipsky names the internet as one connection to an audience. (He himself has started a new distribution company.)
In regard to Turkish film, Omer Vargi, the director of Love and Honor, doesn't see a significant increase in film interest or film quality, though he said it is possible to make films of quality. He sees three important categories or sides involving film: business, technical, and creative; and says the people who can balance all three sides will find a place in the film sector. Omer Vargi declared that he wants to make a good film, to balance the three sides of film—and that his primary goal is not to introduce Turkish cinema to the world but to make a good film. (There may have been an element of pride in such an assertion regarding his intentions. Certainly cultivating an audience is part of being an artist: if one does not want to share one's work, one would keep it to one's self; and film, as with live theater, has been among the most public of arts. Yet, the importance of an artist's own imagination, intelligence, and integrity cannot be exaggerated.)
Following the comments from the panelists solicited by Mevlut Akkaya's excellent questions, the audience was invited to ask its own questions. An audience member remarked that there have been Turkish films seen in America for at least the last seven or eight years, and asked if Americans have come to like Turkish films. Mine Vargi, film producer and chair of the Turkish producers guild TESIYAP, answered that it's a question of supply and demand. The festivals exist—and continue—because of interest. She would like films to be distributed outside of festivals; and says it has been easier for such general distribution in Europe, rather than the U.S., but they would like this to change. Omer Vargi mentioned a meeting he had before the afternoon's panel about distributing Turkish film via the internet. Mevlut Akkaya says that the New York Turkish Film Festival has gone on for ten years, and gets about 3,000 attendees, and that it used to be about twenty percent non-Turkish but is now about sixty percent Turkish and forty percent non-Turkish.
A question is asked about Turkish film and the American film industry's academy award (the Oscar), by a dark-haired, petite, quite polished woman who may have been a journalist. Mine Vargi says that twelve years ago a Turkish film, The Bandit, was presented for academy consideration and more recently Lovelorn was (both films were directed by Yavuz Turgul). There was a small budget for The Bandit's presentation twelve years ago and a larger one for Lovelorn and in the interim academy members have become more familiar with Turkish film. Comments were then made by audience members and panelists about the importance and difficulty of language translation for Turkish films (some concepts in the Turkish language, such as a word endowing respect for an older brother, do not have equivalents in English). The film distributor Mark Lipsky confirmed that the audience for independent film is miniscule, very small, in the best of times; and most Americans aren't interested in anything that's not in English. "The problem is not Turkish film, but foreign language film," though it's easier for French and German film to be seen as they have a tradition here.
One audience member, a thin pale woman with long dark hair and bright red lipstick, who claimed she has worked in film, asserted that each medium has its own nature, its own need, and that filmmakers should not be encouraged to compromise their visions, to acquiesce to an internet presentation when what they want is a theatrical presentation. "How to bring the audience back to theater?" is the question distributors should be addressing. Mark Lipsky said he agreed with the discussion attendee but added that the average cost of releasing an independent film is $45 million. I wondered by whose definition such a budget would connote an independent film (as with music and other things, the designation of "independence" seems to have become elastic, having more to due with perceived style than the actual perspective or production of art). Lipsky mentioned as a model Hoop Dreams, a grainy black-and-white film, with an odd screen size, that touched people and was successful, a reference that is old and possibly irrelevant (it was a mid-1990s film that dealt with basketball, ambition, and racial clichés).
An audience member asks about the quality of scripts. Hulya Kocyigit says there is a problem with script quality, that early on there was official censorship and now there's self-censorship; and the younger generation, such as Cagan Irmak, must be encouraged. Sener Sen says scripts are a problem everywhere, that the overall population is high in number and creative persons are low in number.
How to present other cultures, the ideals of other cultures, for Americans?, someone asks. Lipsky answers, Barack Obama. Mine Vargi says, Good scripts, stories, and distribution will help attract audiences. The discussion nears its end, and as with much else in American life, celebrity gets attention. The well-known actor Sener Sen, the star of Those Would-Be Girls, The Golden Prince, The King of the Street Cleaners, Muhsin, and Love and Honor, among other films, whose father was the prolific actor Ali Sen, is asked, Is one born an actor, or does one become one? Sener Sen answers, There may be a natural gift but it requires work. There is a brief break before the late afternoon screening of Abdullah Oguz's film Bliss.
The film Bliss (Mutluluk) by Abdullah Oguz
The film Bliss (2007) is a film of beauty, challenge, emotion, tradition, and truth; and every image in the film is gorgeous. (The screening's printed program gave the film's date as 2006, which may or may not have been the time of its making, but most other sources I have seen list its date as 2007, the year of its release.) Based on a novel of the same name by Zulfu Livaneli, with a screenplay credited to Kubilay Tuncer, Elif Ayan, and Abdullah Oguz, the film stars Ozgu Namal as Meryem, and Murat Han as Cemal, and Talat Bulut as Irfan. The film Bliss (or, Mutluluk) opens with a blue-gray image of a large hill, water, and sheep; and we hear someone's humming; and see someone lying still and silent on the ground: is it a boy, a girl, a man, a woman? There is a pretty—flowery—white sock; and a sheepherder carries the long-haired person into the village. The girl wakes alone in a shed; and a woman carries food in to her, telling her to eat. The woman tells her husband, the girl's father, that the girl says she does not remember what happened to her. In a factory, the matter is discussed with a clan leader, an aga: has the girl been compromised (sexually compromised)? What will they do to her? Apparently death is the punishment: an honor killing; killing to preserve the family's honor. (What is honor but virtue and reputation? Is murder not worse than sex?) The woman—apparently the girl's stepmother—brings her a rope with which she can kill herself. The girl puts a rope around her neck—prays—the woman watches—and the girl does not continue. (Something in relation to the woman stops her? The lack of privacy? The woman's selfish interest?) Because of nearby soldiers—representatives of the law—the clan cannot do what it wants, which is to kill the girl, so it's decided that the girl should be brought to Istanbul and killed there. These talks of murder are casual, oblique.
A man, Cemal, a soldier, returns: he is the son of the factory man, the aga or clan leader, Ali Riza, played by Mustafa Avkiran. Cemal, with his father, the aga (aga is a word for elder brother or spiritual leader), and Tahsin (Emin Gursoy), the girl's father, meet together. It is Cemal's "job" to kill the girl, an assignment that may seem natural to others as he has been a soldier, for which he takes her, Meryem, by train to Istanbul. (She does not have a birth certificate: which means she does not have an official existence.) On the train to Istanbul, Cemal sits with Meryem. Cemal has flashbacks of the war. He's frantic when Meryem talks to someone on the train: he's afraid she is going to inform someone of their mission, though she does not know it all herself. The vulnerability of girls in traditional, extremely religious families is as clear as the fact that ignorance is a weakness. Cemal and Meryem arrive in Istanbul, and take a boat. The coast is beautiful and Meryem is excited to be there, while Cemal is anxious, rough. Cemal talks to his brother, who lives in Istanbul and is, apparently, somewhat estranged from the family. Cemal's brother is appalled by Cemal's task and asks, Which century do you think we're in? It's not like slaughtering a chicken, Cemal's brother says. Do you do everything Dad tells you? In the morning, Cemal and Meryem leave. The brother's wife quietly cries, anticipating what is likely to happen to Meryem.
Cemal takes Meryem high up an outdoor staircase. (The film viewer is nearly dizzy at the height.) Cemal intends to force Meryem, by gunpoint, to jump. Say your prayers, he tells her. Meryem says to tell her father she's done nothing wrong, nothing to shame him—and not to worry about her. Unpredictably, and at the last moment, Cemal stops her from jumping. He's conflicted—between tradition and his own instincts. He goes to his army buddy, Selo, who offers them a place to stay, doing work caring for fish, at a fish farm. Soon, they, Cemal and Meryem, are out in the wilderness, a lush pristine wilderness, working, living simply. Cemal shops wood, she feeds fish and chickens; and she has not eaten fish before. One night Cemal's sleep is disturbed by an erotic dream, for which he blames Meryem, asking if she is a demon that tempts him, and he harasses her. (He has a simple, religious mind, it seems; or reverts to that in times of stress or weakness.)
However, Cemal helps a tourist, Irfan, with boat trouble. The tourist is a man who exudes authority, intelligence, and openness, a cosmopolitan air, but it is not obvious to what uses he has put, or will put, his energies or mind. It is hard to know at first whether this meeting with the tourist will be for good or ill, but after the original fish caretaker returns, Cemal and Meryem leave with the tourist Irfan, who is willing to give them a lift—and then invites them to sail with him as his crew. Meryem is new to a modern kitchen; and there are comic moments in her adaptation.
Unfortunately, Cemal's father, an authoritarian, an ogre, visits Istanbul, confronts his other son. Why is he, the aga, driven to have Meryem killed? (Is he so devoted to tradition? Has he no mercy?) Meanwhile, the tourist, Irfan, confesses to being indiscreet—which creates a sense of foreboding: will he betray Cemal and Meryem in some way, giving information when and where he is not supposed to? Irfan and Cemal talk and drink together; and drink until drunkenness—and that languid drunkenness seems a time of vulnerability. Suspense builds. Cemal's father visits Cemal's friend, and through clues he, the aga, picks up, he gives his associates, two thugs, instructions to find and finish the girl. Tension increases. Yet, Cemal and Meryem work efficiently with Irfan; and there is a sense of refuge, though each is haunted by the past in different ways. (The film's texture is thus an engaging and rich one.) Meryem is upset when Irfan throws a rope at her feet (remembering the suicide attempt, with the rope)—Irfan only wanted to teach her to tie knots, as part of the ship's work, having found her clever and helpful.
One of Irfan's former students visits the boat (she admires his just leaving behind his old, orderly life)—it is how they, Cemal and Meryem, learn he has been a professor. Cemal and Meryem talk under the moonlight, remembering childhood. They all get along well, though the demons of self and society haunt: Irfan gives Meryem a present, a necklace, and Cemal is upset, both out of personal jealousy and apprehensions of how a woman is compromised. Irfan realizes their (Cemal and Meryem's) unequal relation—she is too deferential to Cemal—and Irfan is angry they lied to him about the nature of their relationship. Cemal and Meryem leave the boat. Meryem tells Cemal that Cemal is always angry, that he's sick inside, as they leave the boat. Her analysis of Cemal suggests that she has grown, developed more of her mind. Professor Irfan Kurudal, a spiritual seeker, somehow sophisticated and idealistic, follows them into the nearby port, apologizes, and asks them back to the boat.
A woman finds the professor in port—she is his rich wife, whom he has left for his long boat trip. Irfan and his wife have dinner, a seemingly pleasant and elegant dinner; and she gives him divorce papers. Subsequently, Irfan's wife tells Cemal to watch out for the professor and for the girl (she encourages jealousy: she can only see one way for a man to relate to a woman). Of course, when Meryem goes on a small boat ride with Irfan, the professor, that upsets Cemal, who doesn't know where they are: upon their returning, Cemal attacks them both (the rage of a narrow male mind: crazy). The professor gets Cemal to admit he loves Meryem. Cemal does: it is a moment of honesty and even peace. Meryem is kidnapped by two thugs, not long after; and as they chase Meryem she recalls her assault by the aga: Cemal's father, Meryem's uncle, the clan's spiritual leader, was her rapist. Cemal goes back to the village to accuse his father, but the film ends with Cemal and Meryem together.
Following the screening, the director and producer Abdullah Oguz and actress Ozgu Namal, addressed questions from the audience, helped by a translator, Ece Manisali. I remarked that the film was beautiful and asked about influences on its making. The director said that the book it was based on was popular, beautiful, and offered the chance to show different parts of Turkey and of Turkish culture and personalities. Other questions were asked and answered. There was no love story in the book, Abdullah Oguz said; and Oguz created that. There were fourteen different versions of the script. (If the professor fell in love with Meryem, it would be similar to the uncle's response—a sexual one.) One audience member said she thought that the book is sadder than the film; and that while she told her daughter to wait awhile before reading the novel, she would encourage her daughter to see the film. The film is among the most impressive I have ever seen: it is moving, its memory lingers.
i>Dry Summer, a classic Turkish film from 1964
Dry Summer, directed by Metin Erksan and David E. Durston, is a black-and-white film, with an interesting country setting, small village life, in which simple people live and work and love and fight, people whose changing tones we see: solitary, contemplative, romantic, sensual, contentious, comic, etc. The film Dry Summer (or, Susuz Yaz), released in 1964, won a Golden Bear at the Berlin film festival. In the film, which was inspired by a true story, two brothers work on a hillside tobacco farm, and one, the older brother Osman, wants to block water from going down hill so they'll have more for themselves, for their fields—and that would endanger neighbors' crops. The younger brother Hassan (Ulvi Dogan) is more decent—and doesn't want to do this. The older brother Osman (Erol Tas) does it—and the conflict with neighbors intensifies. The family dog is killed. The brothers stand guard at night, with guns. The neighbors attack—one of the neighbors is killed. The younger brother takes the fall for his older brother's killing of the neighbor—and the younger brother goes to jail, an eight-year sentence. The older brother takes advantage of his brother's young wife, Bahar (Hulya Kocyigit), after telling her Hassan has died. When the younger brother gets out of jail, the brothers fight, and the younger brother kills his older brother. The film's moments, from beginning to end, are vivid: the tilling work the brothers do is hard and necessary, a matter of survival, stamina, and pride; the brother and his girlfriend, before their marriage, have scenes together that are affectionate and sensual, creating a charming rapport; the legal cases involving the brothers and their neighbors are short, and funny with their self-centered arguments and reversals of judgment; and the fight that ends the film feels like a genuine struggle, involving might and truth and anger. Dry Summer—a film about the ownership of a natural resource, water, and familial conflict, and the betrayal of truth—made me wistful: why couldn't more American films, especially African-American films, be as elemental as this?
I imagine that Dry Summer has a place among the world's films that show the rigors and rituals of ordinary life. One of its featured performers, the long-working and much acclaimed actress Hulya Kocyigit, who had participated in the Friday 2pm panel discussion, was a star of Dry Summer in her youth (she says that she simply gave herself over to the director's instructions); and she has made, according to reports, more than one-hundred and fifty films since, and received more awards than any other Turkish actress. Hulya Kocyigit participated in the talk after the Dry Summer early evening screening, assisted by translator Ece Manisali. Hulya Kocyigit is direct, smart, sweet: she, dressed in white, talked about everyone (she and her colleagues) wanting to make an honest film; about one of the producers costarring in the film as the married brother (the producers of the film were Metin Erksan and Ulvi Dogan, and the very handsome Dogan played Hassan; and I would learn subsequently that Esmeralda Santiago wrote a book about Dogan called The Turkish Lover); and Kocyigit spoke about Muslim country women wearing veils to protect/control their hair while they worked at the time of Dry Summer's making—but Muslim women not doing so in cities (doing that in cities became a political/religious thing). The power of celebrity—and its glamour—being what it is (I like it too), someone told Hulya Kocyigit how beautiful she remains after all these years.
I left the screening and talk full: full of ideas and feeling, full of interest, profoundly satisfied. It is hard to imagine that I could have had a better introduction to Turkish film than by seeing The Prisoners, Love and Honor, Bliss and Dry Summer, though I know now there is much more to see. As guides, I can look to the work of Turkish film critic Atilla Dorsay, who has published many books, and that of Turkish film scholar Asuman Suner, who has written on new Turkish cinema, and also to film critics Bilge Ebiri of CinemaScope and Catherine Simpson of Senses of Cinema, among others: the journey has just begun. It is a pleasure to discover new film. I have shared my new interest with some personal acquaintances; and I have asked a few of the attendees of the Turkish screenings for any subsequent thoughts they might have. A week after I saw The Prisoners and Love and Honor, Mevlut Akkaya (of Akaya Films, which unlike his name, has only one k), Akkaya being one of the participants in the Friday afternoon panel, and one of the organizers of the week's events, wrote in response to an electronic mail query I sent to him: "In the last few years, Turkish films have attained both national and international recognition, with filmmakers like Omer Vargi, Cagan Irmak, Yavuz Turgul, and their thriving commercial success in Turkey, and directors like Nuri Bilge Ceylan, Zeki Demirkubuz, Fatih Akin, with their international film festival success. Events such as these, in New York and Washington, D.C., are trying to raise awareness about Turkish films among audiences in the United States. Our agenda is to inform the American film industry and film buyers so that more Turkish films will be released here in the United States. We are eager to collaborate with the international film community and offer resources, and legal assistance, to film investors, filmmakers and distributors." The young man I spoke with about Turkish film and the internet before the Wednesday screening of Love and Honor, a FilmPot representative, answered my query, sent via electronic mail, about the same time, with the e-mail comment, "Due to cultural ties, history and proximity between the two countries, Turkish cinema is often compared to Iranian cinema. Iranian cinema however has been far better known in the west; whereas quality Turkish films have struggled broadening their reach beyond the Turkish audience. Success in recent prestigious film festivals combined with the increased accessibility through digital distribution will help Turkish cinema capture more attention worldwide." One can anticipate the future with enthusiasm.