The Rocky Horror Picture Show (Richard Sharman, 1975)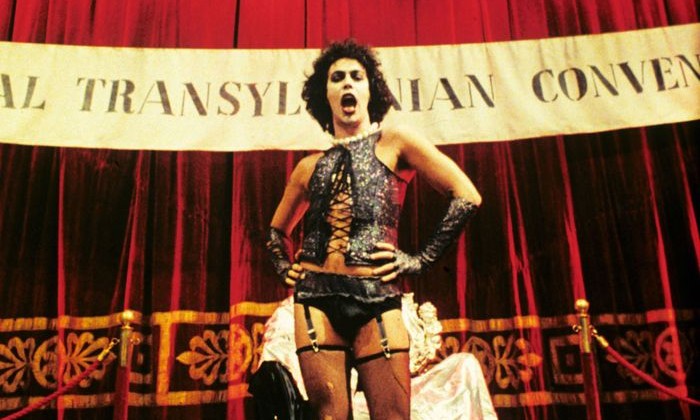 'Straight people think lesbians are nothing but radical castrating dykes who wanna torch every man they see.'
'As if they were that cool!'
-A random, beautiful Facebook post/comment I stumbled across at some point
So what if that hip-swaying, man-hunk-loving, super-hot sweet Transvestite from Transsexual, the corset-wearing diva-crazy Frank-n-Furter (an absolute role of a lifetime for Tim Curry, allowing not only one of the greatest character introductions in the history of musicals, but in the history of cinema!) is a villain? Who cares if his androgyny laden assistants, hunchbacked handyman Riff Raff (the very creator of "Rocky Horror", writer of all the songs, as well as lead performer of one of the most rightly celebrated and wildly joyous catchy-numbers in musical history, "Let's Do the Time Warp Again", Richard O'Brien) and his sister Magenta (Patricia Quinn) turn out to be evil aliens? Or that there's a kinda forced sex (I refuse to call it a rape scene) in which Frank-n-Furter inveigles himself into the guest bed of the virginal Janet (Susan Sarandon, whose perfect figure and breast outline in the scene, even through bra, are one of the plentiful pleasures on display in the film) by first somehow pretending to be her uptight fiancée Brad (Barry Bostwick) only to reveal himself as the crazed sex-fiend he is, and teach her in no uncertain terms just what she's actually been missing out on (then going on to do the exact same thing to Brad, pretending at first to be the scared and impish Janet)?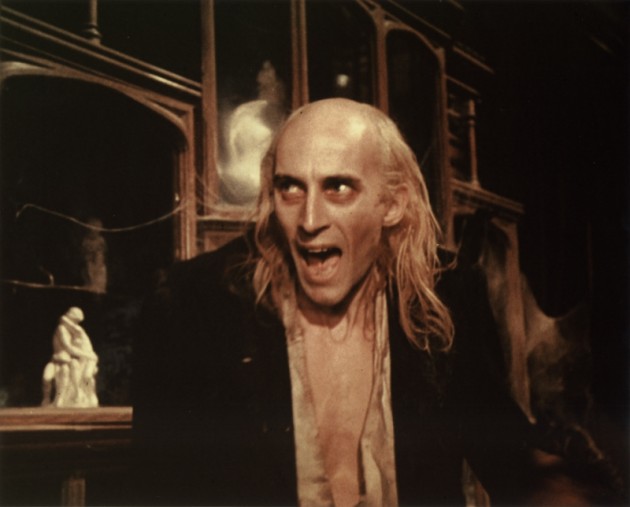 Riff Raff
With its camp, its cleverness, its pure indulgence in sexual ambiguity (never mind Sarandon never looking hotter, but if anyone says they don't feel even a slight stirring at Curry's Frank-n-Furter, I call 'bullshit!'), The Rocky Horror Picture Show is a queer treasure, and one that the many-lettered community, which seemingly (right along with so much of today's culture) seems to have lost its once-beloved sense of irony, irreverence and good-ol'-fashioned sense of danger (with the latter a benchmark for the defiance and eventual rise of any repressed group), needs to look at and learn from.
The cast is marvelous, made that much greater with the presence of legendary character actor Charles Gray, gleefully hamming it up in perfect English style, playing our narrator/criminologist (who also leads us at pivotal moments through the "Time Warp").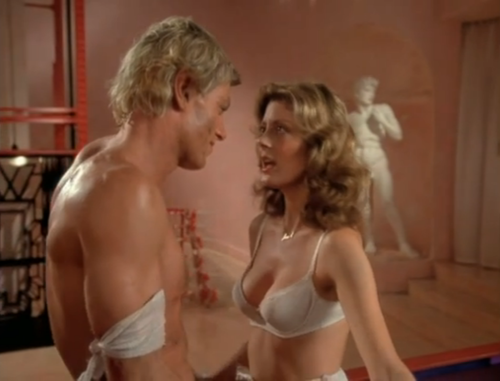 Susan Sarandon
Slowing down on the spewing love-talk for a moment (and I didn't even get around to mentioning all that wonderfully inspired referencing to so many classic sci-fi horror/sci-fi films from the 40's and 50's – I mean, the opening 'lips only' number is a lovely cavalcade of references!)… it must be said "Rocky Horror" does lose considerable momentum starting at about the one hour point (just when the rival scientist shows up and the 'plot' kicks in), to the point where I start to get fidgety in the last fifteen minutes. Like many a Tim Burton film (well, the good ones that is – Edward Scissorhands being the ultimate example), the introduction of the fantastical world is a pure indulgent high… but once the narrative is given the front seat, attempting to resolve the less interesting plot conflicts, the magic dissipates a bit. However, as with the best of Burton (and certainly "Scissorhands"), the gifts of so much pure and perfect magic in the first hour makes forgiveness easier for a few later transgressions.
This was the first time I've seen "Rocky Horror" at the cinema without the usual celebrated interactive component (one of the rare audience participation experiences that doesn't bother me, as it's a meant as pure hallowed celebration of the film, not as a bullying and mocking rejection of it) that has led to the movie screening continuously for the last almost 50 years, including an annual Halloween screening by Le Cinéclub/The Film Society (on 35mm, naturally – unlike the Cinémathèque, the 25+ year old and running film society actually doggedly respects celluloid), and I've recently learned that many of the interactive 'players' have struggled with some of the less acceptable 'terms' shouted during the proceedings.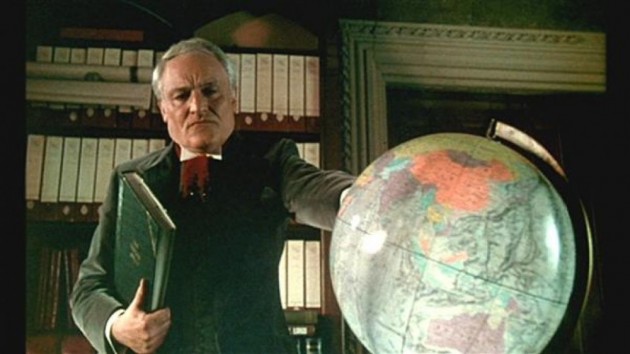 Charles Gray
Egads, man. It's as if these newer generations (queer and otherwise) were raped – oops, I mean, had a slightly forced injection (of the hot beef variety) from Frank-n-Furter himself – only, instead of finding sexual liberation, instead, like a Covid vaccine gone wrong, they've found themselves transformed back to the original frightened and stiff Brad and Janet.
Terrible times is all I can say.
For me? Janet was a slut then, and she's a slut now (and an ecstatic one – totally understandable as it's the first time she's been boned and all – it tends to happen that way), no matter how much the hyper-sensitive, cancel-culture outraged kids wanna rewrite history… and once I get back to seeing it at one of The Film Society's annual Halloween screenings (the one on 35mm), I'm gonna see it as my misson to remind everyone one of that fact every time her name is said on-screen.
Because you know what? As I explain to my daughter, if the mainstream thinks you're dangerous, or is afraid of you? There's a good chance you're doing something right.