The Orphan (aka, Friday the 13th: The Orphan) (John Ballard, 1979) & Ghostkeeper (James Makichuck, 1981)
My latest pilgrimage to New York not only afforded the usual monthly Deuce screening at the Williamsburg Nitehawk (funny how that always seems to happen), but the additional pleasure of a quick trip over to Philadelphia, otherwise known as the Big Apple's much smaller brother (it isn't really called that, I just happen to be a NY sports fan and can't help ribbing my eternal rivals in Philly whenever I get the chance) for one of those genre-happy, exploitation-friendly Exhumed Films' events I'm always enviously reading about and rarely able to attend… with this one taking place in their latest (and coolest) home which I've never been to before, the PhilaMOCA (with the acronym standing for the Philadelphia Mausoleum of Contemporary Art, and the amazing building itself an appropriately ominous and heavy looking structure, built in the 1800's as, even more appropriately, a mausoleum and tombstone showroom!).
I had read about the 'other' Friday the 13th' film (also shot in New Jersey, the same year as the Cunningham classic that spawned a franchise, with Cunningham actually buying the "Friday the 13th" title from them, which is extremely odd, considering how much more appropriate each final title for its respective film is… I mean, I still have no idea exactly what the date of "Friday the 13th" has to do with The Orphan?) at least thirty years ago in an issue of the legendary Famous Monsters of Filmland (it was an issue with a lot of print – including a cover photo of rotted Jason – on the Friday the 13th that was all the rage, in which I came across a side article, presented almost as an afterthought, on this 'other' film) and I, as is my usual wont, was entirely intrigued by the barely talked about existence of this sideshow curio to the main event. And, yet, the film seemed to entirely disappear without a trace (and nary a peep from the horror rags after, at least that I saw), so I was decidedly excited to actually see it screening and finally catch up with it.
Following a wealthy boy (Mark Owens), who loses both his mother and highly idealized father to a tragic shooting accident witnessed by the boy, and is forced to live with his cold and controlling aunt (Peggy Feury), his only escape a growing reliance on increasingly unsettling delusions that begin to include violence and the worship of a stuffed chimp he calls 'Charlie', The Orphan is far more psychological study on a young boy, isolated and bereft of love, deteriorating into mental illness, than slasher film. With the aunt mistakenly killing the boy's dog (and yet showing not a single drop of compassion or regret) and forcing away anyone who the boy connects with (the house help Mary and the African man Akin, who the aunt holds barely disguised racist contempt for, are both summarily fired after the aunt realizes they are forming emotional attachments with the boy), the boy's inner world being to include (understandable) thoughts of murder… against his cruel keeper and those who he believes have deserted him.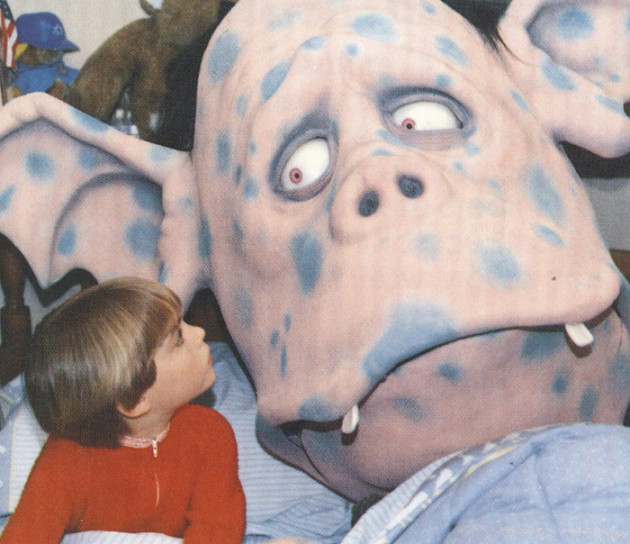 While fairly slow going (and surprisingly bloodless until the end – not that a film has to be filled with bloody murders for me to go goo-goo-ga-ga over it, but when it's named Friday the 13th: The Orphan and has that enticing slasher-y film poster art… I mean… come on! It's like slinking into a triple X theater to discover they're showing softcore! I mean, we all have needs, for goodness sake!), and I can't get as enthusiastic about the performances as Stephen Thrower did in that quasi-religious tome known as Nightmare USA (not that it's bad, it's quite good… in fact, Feury is appropriately monstrous as the horrible guardian, it's just I find the lead boy Owens, while appropriately odd, not quite as cinematically fascinating a face as required for a part in which we spend the entire film with him, descending into his madness – that might be a superficial complaint, but it's reality as far as I'm concerned… a major part of cinema is simply whether the camera makes us fall in love or not with the face, and, in this case, it's not a surprise that he didn't go on to anything else afterwards), The Orphan still has plenty to offer as an intelligent and intimately quirky psychological study on madness.
It's a nicely shot film (including some really cool fish eye lens stuff reinforcing a sense of perversity), presented with the kind of vibe and trajectory that gives the feel of a personal odyssey for the filmmaker, and with it being a period piece (with the boy's parents revealed in flashback as swinging hepcats of the roaring 20's – that is until everyone would go home, and the boy would witness the fragmented, less pleasant reality of their relationship) and filled with levels of cruelty and uncertainty, all from the boy's perspective, it reminds, in a positive way, of Bergman's great culminating epic Fanny and Alexander. The growing fascination with the African artefacts and the stuffed chimp as a desperate attempt to connect to his mythic father, always leaving to exotic locations (to the anger of his wife, leading to the eventual terrible argument and both of their deaths, we'll discover), also had me thinking of another strange little obscure film, a kindred spirit from close to the same time (1978, the year before) also swirling about a descent into madness amongst African artefacts as representations of escape and representations of a missing idealized father, The Mafu Cage (also slow going, but overall more successful, in no small part because the lead is that amazing oddity who came upon us in the 70's known as Carol Kane – like The Orphan, I also learned about this film after reading about it, in this case, many years after it was made, through Kier-la Janisse's deeply appreciative ode to it in her daringly honest and ambitious The House of Psychotic Women, a book that impressively merges admirably honest autobiography with movie reviews of films about females going loopy).
The second feature of the night came out of that strange and prolific Canadian tax shelter period, and like many films birthed from that vibrant cinematic period (for a country, let's be honest, not exactly known as an assembly line for internationally celebrated cinematic visions, beyond the few standouts like Cronenberg and a few Egoyans) Ghostkeeper has unfortunately fallen into relative obscurity… despite the fact that, as with many of the quirky samples from this particular time, it's quite effective and well done.
Following three snowmobilers (two girls and a guy, leading to triangle relationship tension, as the girlfriend grows jealous of the flirting going on between her boyfriend and the other girl) on vacation in the icy mountains who find solace from a sudden raging blizzard in what appears to be an abandoned hotel in a long deserted stretch of trail… only to discover the heat still working, evidence of a family living there (you guessed it, a pretty bizarre and dangerous one) and their snowmobiles sabotaged leaving them stranded, as with The Orphan Ghostkeeper unfolds at a bit of a slow pace (I admit, not the easiest thing for someone a tad hungover who had a two hour drive to get to the screening), but still manages to craft together interesting story elements and a nicely creepy atmosphere to keep me awake.
The Shining influenced ending
Focusing on the tensions between the self-centered and unlikable kids from civilization stumbling into what will be revealed as the First Nations domain of the Wendigo creature (and once I realized it, I knew I had to tell my filmmaking compadre Larry Fessenden, he of one of the great Wendigo films from 2001, the one that actually introduced me to the indigenous mythology, titled, well, aptly enough Wendigo), there is some good performances going on from relative unknowns who mostly remained unknown (Riva Spier as Jenny, the put-upon girlfriend, and most sympathetic of the three, who begins to experience the awakening of a 'calling' from within the hotel, as if she is meant to be there, is certainly a pleasant enough creature to look at during the film's slightly under 90 minute running time).
Well directed and creepy (with a nicely startlingly violent moment), Ghostkeeper did well mining the good stuff from other horror films (with The Shining and Texas Chainsaw Massacre coming immediately to mind, as well as The Haunting, and just about any other unsettling haunted house film you can think of). A lot of the tone and effective unsettling imagery stuck with me, making me appreciate it more in the days that followed.
Headlined by two intriguingly obscure horror features from that gloriously vibrant period between the late 70's and early 80's, both worthwhile to see, with an enjoyably daft 15-minute short There's a Nightmare in my Closet (a 1987 short film about a scared young boy dealing with what turns out to be an equally skittish monster living in his closet), with the tangential connection to the night being that the score was provided by none other than Friday the 13th's own Harry Manfredini (yup, the 'kill ma ma' guy) sandwiched in-between, and a brief array of always welcome old school horror trailers (coupla 60's Hammer films in there) to get the evening off on proper footing (all of it presented on glorious 16mm), the Exhumed's careful choreography for the evening had me musing about them as a sorta Philly version of Montreal's own Cinéclub/The Film Society (though with Exhumed focusing almost exclusively on genre fare… while there has been the occasional jump into the gloriously nastier side at the Cinéclub, with honcho Phil Spurrell having presented films from the likes of Fulci and Carpenter, as well as the notoriously brutal little works of an entirely forgotten film director by the name of Buck, in general, the Cinéclub's tastes lean a bit more towards the civilized… ie, Phil favors the classics).