The Long Day Closes (Terence Davies, 1992)
The Long Day Closes (1992) is a film written and directed by Terence Davies, a Roman Catholic homosexual whose extensive education begins with the successful completion of a drama program at Midlands' School of Drama in England, followed by a diplomat from the National Film School in London. A difficult early childhood with a brutally cruel father has ironically helped to make Davies into a filmmaker who likes to use an autobiographical approach to making movies, especially films that portray children as sensory beings. His favorite form of personal film which we define as the "autobiographical film" is the memory piece (e.g. movie or radio pieces that are narrative constructs set inside The Long Day Closes). This "film-form" is able to capture the strongly emotional moments of personal events of times gone by; particularly, those family moments during the different periods of a child's maturation and development (especially those memories of a child growing up in tight knitted community of a large English city). It is those personal childhood memories that Davies likes to resurrect from the past as he subsequently gives them aesthetic forms in the present within the context of his films. Thus, Davies is able to effectively transform those memories into a "film-form" (as in the case of The Long Day Closes) which positions the process of narration from the point-of-view of the child. In effect, Davies is making film today so that he can cope with the mixed bag of emotions inherited from his childhood; indeed, he comments about his approach to filmmaking by saying: "You do art so you don't go crazy." Briefly, Davies describes his childhood as divided up into three periods: 1) a "horrible" period from 0 – 7 years old, 2) a "ecstatic" period from 7 – 11 years old and, 3) a "painful" period from 11 years old onwards, when the death of his childhood is assumed to occur.
The Long Day Closes is a good example of poetic sensibility in a narrative filmmaking, demonstrating the effectiveness of the creative use of autobiographical rendering of memory pieces in film. Davies' film shows how the director can fashion and mold memories of everyday life in order to make us experience an aesthetic work of art. There are two main POVs in the film: 1) the child's POV and, 2) the director's POV. In the film, Davies attempts to express the experience (pain + ecstasy) of being a child, an emotionally wide opened little human being growing up in a difficult situation, yet during exciting times. Before making this film, Davies had made the painfully depressing and controlled, but non-linear work called "The Terence Davies Trilogy" or simply, "The Children Trilogy," a grim three part story of a boy who passes from youth, then to adulthood, and finally to death. Part one, Children (1976), is followed by part two, Madonna and Child (1980), a stylistically more complicated film piece, and part three, Death and Transfiguration (1983), a film that is much more aware of the human body. After the trilogy, Davies makes Distant Voices Still Lives (1988), a film set in a non-linear time frame, based on a narrative structural strategy of ellipses and slippages of time and memory. It is more optimistic than the trilogy, but still contains a substantial amount of human brutality. The Long Day Closes (1992) follows in the partial autobiographical footsteps of this latter film, as it tries to capture an ecstatically exciting period during Davies' youth; and in fact, it also shows that the boy knows that his world is changing and that he is changing with it, as he discovers that he is gay.
The Long Day Closes works in such a manner that it asks the spectator to do a lot of the work in understanding the nuances that it tries to carry forward into its strongly stylized diegetic world; for instance, Davies holds the shots for a long time on the screen (e.g. the long carpet shot), giving the spectator some time to think about different aspects of the filmic experience. The English director attempts to create, from the aesthetic rendering of his autobiographical film-form, an ecstatic audiovisual experience for the viewer. Moreover, Davies is not making this "autobiographical film" for the benefit of the viewing stranger, but much more so as an expression of his own personal experience as a child; and so, it represents the truest form of artistic self-expression (truly a "gay-guy" saved by his art), abounding with a sense of truthfulness (Davies as a person) and a sense of cinema (Davies as a director).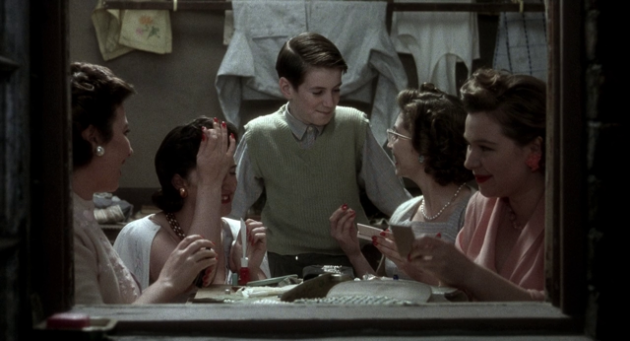 Stylistically, Davies' cinematic world is based on how to create visual and aural "textures" and on how to slow down time so that the viewer can take time to breath, allowing him or her to come to his or her own understanding of the film's material. Terence Davies is interested in the musical and the theater; including Yasujiro Ozu's use of the "empty frame," where static shots can be linked to universal landscapes representing aesthetic spaces. Davies is always trying to create something in his films; and at the same time, he is always trying to create something that is changing.
Davies' cinema is postmodern in its approach since it appropriates film pieces (another form of the memory piece) from other movies. This sensitive director often takes something from somewhere else and then changes it; and as a result, he effectively produces something different, that is, causing it to mean something else. There are several references to well-known films and Hollywood musicals in The Long Day Closes. For examples, Davies uses voice-over film bits from the soundtrack of Orson Welles' The Magnificent Ambersons (1942), including the quote: "In those days they had time for everything," and he also inserts sections from musical pieces popularized during those time periods (1940s and 1950s), with such songs as "At Sundown" (Doris Day); "Over the Bannister" (Judy Garland); and Debbie Reynolds' movie song "Tammy," which brings back a powerful upsurge of emotions in some listeners. Thus, Davies deftly explores the "Art of Memory" through the recollection process of such memory pieces (e.g. radio pieces or movie pieces). He is able to uncover within himself bits of time (as forms of past states of consciousness), temporal fragments that lay dormant as latent memories in his subconscious; and in effect, his recollected memory pieces seem to trigger similar memories within ourselves which resonate in our minds as we watch his film. Moreover, we feel the strong vibrancy of this resonance through the existentially acute sensory "beingness" of Bud (actor Leigh McCormack), as we are allowed to enter into the private life of this English family; and in fact, we can experience as he does, a subtle kind of pain and loneliness, a spiritual suffering that comes from being alone within the company of a family (i.e. as being somewhat different since Bud is slowly realizing his sexual orientation in life).
The Long Day Closes is told poetically with a style of realism which is socially relevant, but it does not mean that the story is true. The meticulously precise personal details and ineffably emotional images unveil certain aspects of Davies' childhood memories which imbue the film with a keen sensitivity to how people live in a society bounded by class. The film is a poignant form of "poetic realism" that is highly stylized with expressive compositions which climax many of the important scenes and carry a balance between a time of joy and a place of daily misery. Davies' images seem almost unforgettably predestined to live on in subsequent generations of movie-goers because they go beyond the still life sensibility of remembrance (i.e. memory-images as frozen moments in time and fate); and indeed, they go beyond painting and photography (just as cinema does), coming to life for us in the present as they convey emotions beneath the surface of Bud's world.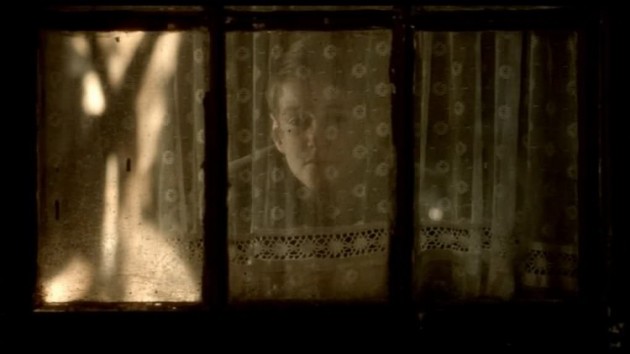 The powerfully penetrating truthfulness of Davies' poetics is beyond compared, as it achieves its cinematic expressiveness through stylistic elements such as the long take moving camera, a cinematography of richly enhanced colors, and an elaborate soundtrack design. Davies' artistry is also seen within his overall compositional structure, including the movements within his compositions, as in the way he portrays the body of Bud's brother which shows us how Bud feels about his own brother, or in the manner he has his characters going off into the depth of the frame while the camera lingers with the boy. His poetics is also seen in his editing style, as demonstrated in a complex montage sequence of extreme high angle (180 degrees) overhead shots, all of which dissolve into different spaces (e.g. family, church, school, cinema, etc.). This form of shot construction tells us how important the community is in the life of Bud; and more importantly, it is telling us that the boy's world is changing too, just as he is. Such 180-degree high angle shots emphasize a growing "distantiation" that exists within the boy as he looks at his world. This montage sequence develops as a long, leftward lateral track, going from a frame full of people and moving into a noticeably empty composition; indeed, it functions both spatially and temporally in a non-linear way and does not represent a real time or place, as it metaphorically expresses both the physical and psychological changes that are occurring within the boy. Moreover, this visual metaphor comes near the end of the film where it ends with the act of looking up toward the sky, an expression of his deep feelings and a representation of the "distantiation" with regard to his friends. The idea of an individual's experience (i.e. Bud) as something that simultaneously reflects in and emanates from a social grouping, a community made up of churches, schools, movie theaters, and especially of families, is an important one in Davies' system of cinematics because experience as a communal life with other people mirrors the things that shape his world.
The Long Day Closes has a "non-linear" quality about it and uses "poetry" not only as a means of expression but also, as a way of investigating the emotions of a moment in time [ref. Maya Deren's Meshes of the Afternoon (1943)]. Davies plays with heighten effects of light and image, manipulating the light from the image in such a way as to exaggerate its duration on the screen, giving it a rich texture and varied contrast within the frame. In fact, this cinematic luminosity is partially what the film is about, that is, the ecstatic quality of the light emanating from tableaus of interrelated images that subsequently allow us the time to appreciate them, as we simultaneously experience the passage of time. For example, the so-called "carpet shot" where Davies holds the camera's gaze on an object (a carpet), doing so long enough as to allow its image to take on added meaning (just as Terence Malick who believes that there is a certain "presentness" with holding the duration of a shot), creating an extended moment in time that fills up with emotions. Interestingly, Davies is showing us something else, while all this stuff is happening in the world, that is, things that he considers too intense to show; indeed, he shows us the "emptiness" of the shot as well as the intensity of the music that accompanies it. Thus, Davies does not think that such a shot is idealized but instead, he makes it very much like a "tableau" that overwhelms the emotions. For example, the "Christmas scene" is an exemplary counterpart of a tableau vivant existing within a film rather than just an idealized situational event; in fact, such a composition becomes something about the "I" of the camera that initiates a greater involvement of the viewer within the scene. Thus, Davies creates a film with "non-linear" qualities as he tries to find ways to generate different POVs (first person and third person POVs) with the tools of image making which have been around for centuries within the domain of literature.