The London Film Festival, 2022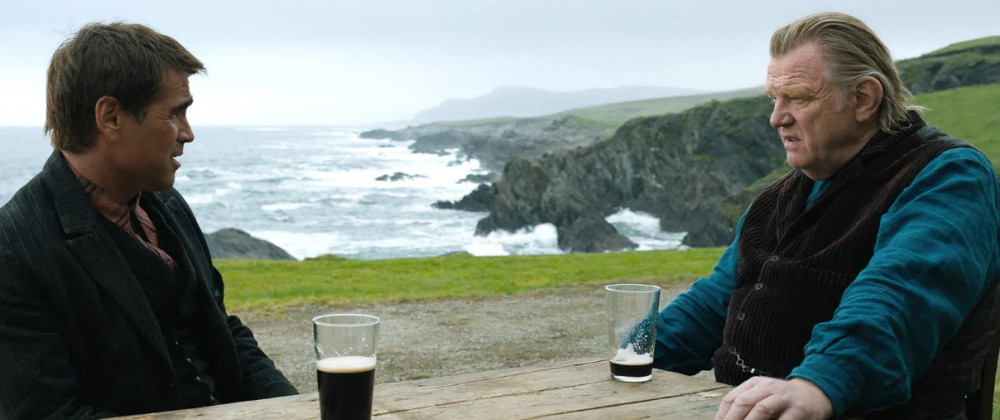 In what has been another challenging and confusing year, it is comforting knowledge that cinema is still in such good shape, and still has such a clear sense of its purpose and position in the world. Like other major film festivals, including the "Big Five" – Berlin, Cannes, Sundance, Toronto, Venice – London Film Festival provides an annual platform for seeing the cinematic calendar's most anticipated films early. This year's London Film Festival saw another eclectic selection of films from new, emerging, established, and legendary directors. Common appearances in 2022's LFF programme included alternative approaches to the horror film, adaptations from both the stage and the page, ambitious documentaries, claustrophobic settings, declining health, unlikable rich people, defiant women, pursuits of justice, murders needing solving, and donkeys. Here are three sentences of notes on each film I personally saw at LFF this year, in an approximate descending order of what stood out the most.
The Banshees of Inisherin (Martin McDonagh)
This might be Martin McDonagh's best film yet (and is even better than the best of his brother John Michael's films): it is destined for "classic" status due to being so malleable in terms of what it is about, and so minimal in terms of what happens (yet these happenings feel so important and moving)… and it recalls Samuel Beckett's play Waiting for Godot in the way it builds frustration into its conceit (ours, the characters') and constantly telegraphs where it is headed narratively. I was impressed by so much in this: the way the "It takes two to tango" joke is so confident that it is good that the actors almost pause for the audience reaction to finish (McDonagh, again, dissolving the boundaries between theatre and film); the close-knit island community and everyone knowing everyone/thing becoming an intelligent device for the film to nudge towards the fourth wall, even if it does not break it; and, of course, all the new Irish slang I learned. The emphases on treating each other better, hermetic communities' narrow mindedness, and feeling like your setting is suffocating you all feel so needed right now, despite the fact that this is set in the past and on a remote fictional island, and despite how secondary this reading is to what is ultimately a really funny (tragicomic), accessible, timeless piece of filmmaking.
One Fine Morning (Mia Hansen-Løve)
Hansen-Løve has built another tender, delicate, warm, often beautiful world inhabited by flawed people and their intersecting existences, which each seek fulfilment – a world filtered through the protagonist Sandra's personal life with intermittent reminders that she is a translator for a living, which requires the tools her romantic and familial relationships could also benefit from: providing words for someone who does not have them (which becomes the case with her father, a philosophy professor who develops a neurodegenerative disease), and learning to see things again after gaining these words (which Sandra must do herself after meeting Clément, who she gives her heart to after grief prevented her from falling in love again for so long). There are moments of genuine hilarity (Sandra's mother's anecdotes of escapades with Extinction Rebellion, and Sandra's exchange with her daughter on film tastes) and profound sadness (a single tear rolling down Sandra's eye as her father struggles to hold his brain together as his dementia symptoms worsen, and the way she must choke an unexpected sob when bumping into one of his students, who asks how he is, unaware of his condition) in equal measure. Sandra's meeting with her grandmother – who is comparatively sprightly, despite being 98 years young – is just one of many unforgettable scenes in this film, but her grandmother's phrasing and its English translation syntax have stuck with me… when talking about how she is glad she does not need a walking stick, because people treat you differently then, she continues to reflect on her own optimism despite the limitations on her health, but touches on something that applies to everyone, in this film and outside it: "everything in need of repair."
All the Beauty and the Bloodshed (Laura Poitras)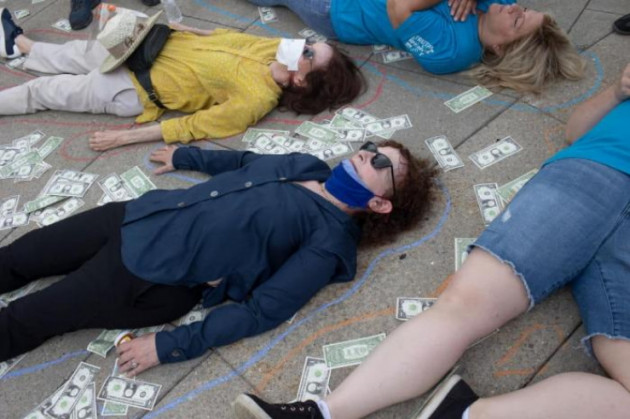 All the Beauty and the Bloodshed
Borrowing the primary subject of this documentary Nan Goldin's own words, this a comprehensive, complex look at "the struggle between autonomy and dependence" – within the context of addiction to the lethal opioid OxyContin, Nan's organisation P.A.I.N.'s activism, but also the fight against the institutional shielding of capitalist murderers more broadly (here symbolised by the Sackler family). The direct confrontation of global art institutions' major role in these crimes forces us to sit back and appreciate Poitras' corrective renewal of artistic principles, as her film unashamedly, unequivocally uses the documentary form as a method of urgent protest. The sheer range of media, the versatility of the discussion, and the narrative/structural ambition packed into these two hours prove, yet again, that Poitras is truly one of the best documentary filmmakers of her generation.
The Wonder (Sebastián Lelio)
This is a fascinating grapple with tensions between silence and speech, secrecy and knowledge, deception and truth. The impeccable design extends these tensions through form – with cinematography that never quite commits to the unattractive, that often looks good but only in an intentionally cold way; with a musical score that plays with the viewer/listener through its inconsistent treatment of volume, presence, refrain, etc. And at the heart of this difficult, vital story of challenging brainwashing and giving women their voices back is a truly outstanding child performance from Kíla Lord Cassidy.
Women Talking (Sarah Polley)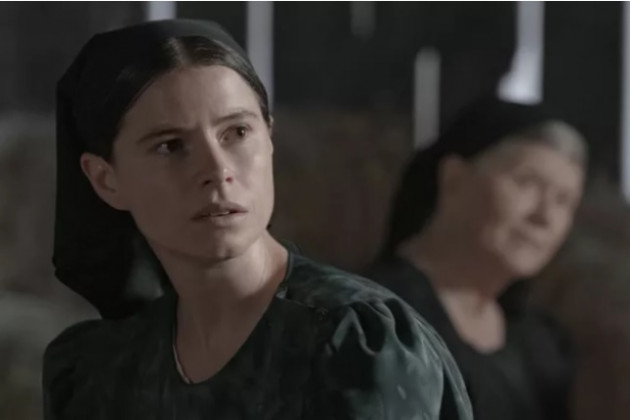 Women Talking
This is excellent, and I particularly loved the not-quite-monochrome/not-quite-colour palette we are given, as well as the stirring but nuanced musical score. Most of the performances in this are very good but Claire Foy's "I will become a murderer if I stay" monologue is arguably the highlight of the many mic-drop acting moments. Director Sarah Polley's successes in general with 12 Angry Men (1957)-style narrative confinement, the necessary reduction of male violence to fragmented, elliptical cutaways (which mobilises censorship of men), the theatrical staging of decisive dialogue exchanges, the spoken and written word as commanding forces, education as salvation… are all really impressive.
Guillermo del Toro's Pinocchio (Guillermo del Toro)
This a blast – it is meticulously made, dynamic in terms of narrative beats and set pieces, and anchored by some clever reworkings of the source material and the 1940 Disney masterpiece. The film's highlights include the handling of Pinocchio's immortality/the design of the afterlife, the specifics around Sebastian J. Cricket's role as narrator, and of course the centrality of war (fascism as manipulation of children) and fighting (its more harrowing distinctions between play and reality, between fake weapons and real ones). I was also impressed by the intriguing, funny ambiguities around how Sprezzatura the monkey is getting the actual puppets to speak and whether or not Geppetto is actually able to see/hear SJC.
EO (Jerzy Skolimowski)
This trades the stripped back naturalism and gentle poignancy of Robert Bresson's Au Hasard Balthazar (1966) – which Skolimowski's film is a conscious reworking of – for something altogether more miserable and brutal. EO's strengths include the red freakout sections and the score, sound design, and occasional huge establishing shots. POV Animal Cinema is such a pure form of emotional storytelling, with such a license to structure narratives ambitiously yet logically… with Andrea Arnold's Cow (2021) and now this, right now it is in good hands, but filmmakers should make more.
The Eternal Daughter (Joanna Hogg)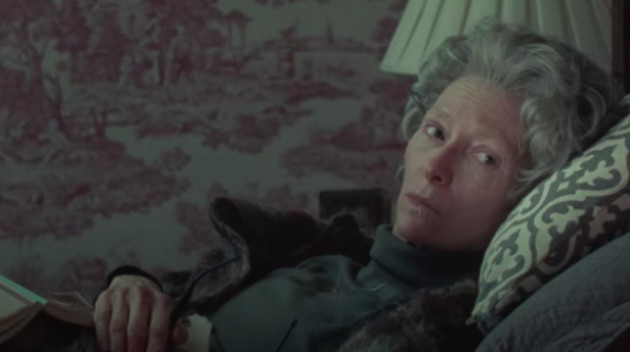 The Eternal Daughter
This impressively deals with style, tone, and weight, and the literalising approach to the supernatural is a clever way to balance humanist warmth with ghost story coldness. I almost wanted it to be more stripped back – for example, the music is only doing the same work as the sound design generally (a constant wind blowing, etc) – but the film's conversation with The Shining (1980)'s vacated hotel/the incongruous need to be creatively productive there, and The Tenant (1976)'s characterisation of an alive, ensnaring setting, is all usefully applied to something genuinely fresh for the horror genre. One of Rosalind's lines about memories being very much alive and the shots where it looks like Louis the cocker spaniel (an awards worthy performance) is walking himself have stuck with me.
More Than Ever (Emily Atef)
This is a really tough but important watch. Vicky Krieps is excellent as Hélène, imbuing her character with the authentic unpredictability that would come with a likely terminal but unspecific diagnosis. Hélène's decline is heart-breaking to watch, but More Than Ever intelligently constructs an equally fluctuating, often surprising narrative around her that variously draws on hope, contentment, fear, and despair.
Decision to Leave (Park Chan-wook)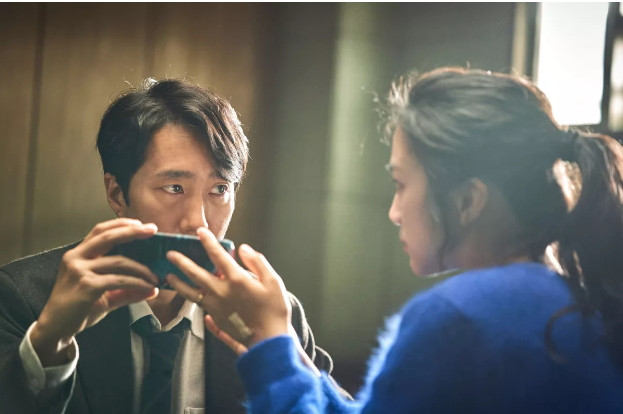 Decision to Leave
Chan-wook's latest film had me hooked from the shot "inside" the dead body's eye (with the fly crawling over the eye/camera) onwards. The eye becomes a recurring image and is often conflated with the camera as Decision to Leave encourages its spectator to look closer, even though Chan-wook's film constantly plays with our expectations and undermines the complex potential of narrative outcomes with answers that were our first assumption, that were hiding in plain sight. All of the disruptions of the realism as the protagonist Soo-wan imagines himself in the room his phone call is being picked up in (or in the room where he is even just being thought about) are moments of magic, reminiscent of the spellbinding The Handmaiden (2016).
Till (Chinonye Chukwu)
This documents important, erased history in an impressive way. There are plenty of show-stopping scenes but the two dream sequences (particularly when Mamie Till visits Carolyn Bryant's shop) are really powerful. The two central moral quandaries are the key to this, I think: whether to privately grieve or sacrifice this in the name of political progress, and saving one child's life and putting your family in danger or trying to save everyone at whatever cost.
Saint Omer (Alice Diop)
This is a strange but compelling piece of work, which buries the possibility of the fantastic/supernatural under a compelling amount of ambiguity. The circumstances leading to the end of one baby's life are coded as doubtful, racialised hysteria, giving the erasure of French migrant communities a new layer of unfair mistreatment. The way the film's dominant perspective Rama is a silent onlooker for most of this, the line from Laurence's mum "I can hear you all smiling", and the look Rama and Laurence exchange towards the end are all highlights in what is a curious, enigmatic film.
White Noise (Noah Baumbach)
As someone who would probably put Don DeLillo's 1985 novel in my top ten or even five favourite books of all time, I am so glad that I liked this, which I think broadly speaking is due to its successful balance of faithfulness and necessary departure from the source material, and of ideas being expressed on the level of verbose dialogue and the advantage taken of the new license of big screen, big budget cinema. Epigrams such as "all plots move deathward", "whatever relaxes you is dangerous", and "family is the cradle of the world's misinformation" particularly work in Baumbach's film. Certain scenes like Babette's meta-confession and the Jack-Murray face-off feel overdone, and the "SIMUVAC" bits during part two and Babette's addiction to Dylar during part one do not get as much coverage as they need, but this film is generally well worth it for the visual scale of "The Airborne Toxic Event", Jack's recurring (anticipatory) nightmares and daydreams, and the amazing credits scene and accompanying new song by LCD Soundsystem.
Emily the Criminal (John Patton Ford)
This is simple, clinical, and effective. It is at its best when individual situations are escalating unpredictably – Emily immediately reversing the theft at her apartment being the highlight – and stepping back from the entire thing I almost feel that it could have covered even less ground, narratively. I was a big fan of the way Emily so easily, inconsequentially tells her big secret at the party, and the use of Aubrey Plaza (who plays Emily)'s offbeat performance style within a less common dramatic context (where it is played as functionally unhinged) is the film's biggest plus.
Bros (Nicholas Stoller)
This is a smart, fun(ny), very well sustained tug of war between not taking things too seriously (as befits Bobby's character) and becoming the kind of film Stoller spends so long making fun of, that is serious, is romantic. The Abraham Lincoln coming out of the closet set piece is hilarious and Bobby's beach monologue is really moving. And, like everyone, now I want to start a new life making and decorating tiny chocolates.
The Son (Florian Zeller)
This is not perfect, but offers an important centralisation of teenage male depression that discusses dangerous hereditary incapabilities of externalising our feelings and talking to other men about our struggles. I like how this is in conversation with Zeller's previous work The Father (2020), particularly the way The Son limits the metatextual relationship to one take-it-or-leave-it scene, as well as it only having a single use of imagined alternative realities compared to The Father's many. I think what stops this from being on the same level as that film, ultimately, is the fact that the three lead performances are not slightly better, rather that being due to the minimal use of formal invention, which is to Zeller's strength this time around.
The Future Tense (Joe Lawlor and Christine Molloy)
Playing a version of himself, Lawlor asks something quite early on that almost feels like a thesis statement for this layered, slippery, difficult-to-define piece of work about art, geography, memory, and meaning-making: "Can you put a feeling on a country?" As a film, The Future Tense expands interests and subjects of Lawlor and Molloy's earlier films – role-playing, performativity, authenticity, truth – while also playing with the expectations we bring to the table as a spectator: of watching things that carry meaning, in how these things can be presented to us, and the specific position of the spectator within the work itself (whether the storyworld is fictive, real, or blurred like this one is). The film's Kidderminster joke (the tiny nowhere land next door to where I grew up, in the West Midlands) left me as the only person in the cinema laughing so loudly and lengthily, but the Aidan Gillen "appearance" in this is also a highlight, and the recurring interview device never gets old.
Enys Men (Mark Jenkin)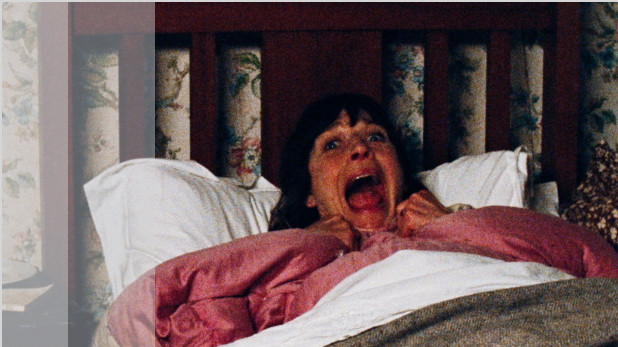 Enys Men
I admire the fact that Jenkin has very clearly and consciously made a different film to Bait (2019), turning that film's approach to noise and colour and temporal structure on its head for what here is a different beast. Enys Men's set design and cinematography are impeccable and in general this film adds new texture and flavour to the legacy of British folk horror. I just wish that it was not quite such a slow burn, and that certain key narrative shifts came earlier, and that its suggestive images were not so many and repeated so often (which threatened to devalue them and lessen their impact).
Sick of Myself (Kristoffer Borgli)
This has an outstanding opening scene, that for a minute it seems as it is going to set up an A History of Violence (2005)-type moral quandary. Generally, Sick of Myself is really successful at balancing big, bleak gags and a sustained deadpan tone – the highlight joke is Thomas describing Signe's imagined funeral to her as dirty talk during foreplay. Other scenes like Signe refusing to show the doctor her skin early on, feigning ignorance when her partner Thomas first notices it, and the support meeting where she gets called out for caring about a visual condition so much are all a little too convenient, and the film drops the ball a bit in its final 15 or 20 minutes, but this a good ride nonetheless and had just enough flashes of greatness.
The Menu (Mark Mylod)
This was a genuinely unexpected selection as this year's festival "surprise film", and it is a clever pick due to the way Mylod's film internalises spectator uncertainty and unstable or illusive narrative trajectories/destinations. I wish it had doubled down on some of the nastier, scarier, or more tense moments, and taken its foot off the gas with the comedy in its later stages, but The Menu is decent. The underpinning idea of cooking as unhinged creative process/the obsessive pursuit of perfection is fertile ground to cover with a Battle Royale (or I suppose Squid Game, now)-esque premise, so this feels genuinely fresh and necessary.
Glass Onion: A Knives Out Mystery (Rian Johnson)
This film festival made me quite bored of unambitious, one-dimensional criticisms of rich people, played for laughs; but here we are, with a closing gala film that does this again. The rug pulling (from beneath the spectator) and play with different tenses do not work as well as they did in Knives Out (2019), and by design this all takes ages to get going, and is too interested in a fairly useless Covid-19 connection in these early stages. To be fair, I did like some of the individual self-reflexive gags about having a big budget – a bigger one than Knives Out – and the introductions all kinds of perks and ridiculous set additions that can come with this.
Triangle of Sadness (Ruben Östlund)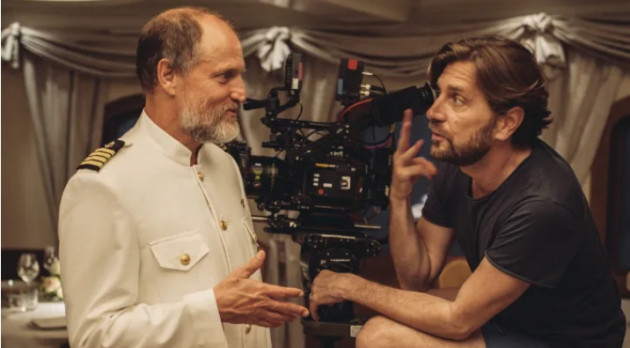 Triangle of Sadness
There are three main reasons this does not really work, for me: the complete absence of any kind of redemptive moral backbone (Abigail looks set to offer an antidote to the rest of the cast's unpleasantness, until she does not), the clumsy handling of needing to be self-indulgent in the service of parodying self-indulgence (this tips massively to one side – capsizing pun intended – and as a film gives us nothing but nihilism, nothing to hope for), and the uneven pacing of things actually happening, narratively (the jump forward from part two to part three is too abrupt, and I am quite sure that part one just does not need to be in the film). Isolated moments such as Dimitry's "Aren't you going to eat that?" line, which undoes the comedic impact of Yaya posing for photographs with food she cannot even eat (the gesture of pushing the plate away untouched did the work; we did not need an explicit explanation), and "In den Wolken" as an undeveloped refrain in the film for the sake of having a refrain… are just annoying, and outnumber much better bits such as Dimitry and the ship captain's communist-capitalist back and forth (from reading famous quotes off phones in a drinking game of "red or black" to slurring nonsense through the ship microphone). All in all, this is quite a bit off what I remember of Force Majeure (2014)'s nuance and suggestiveness (showing rather than telling), and does things the TV series Succession (2018-) and The White Lotus (2021-) have recently done more tactically with irony and spectator critical distance, and fails (where those series have not) to write meaningful characters to compete with the irredeemable ones.
Empire of Light (Sam Mendes)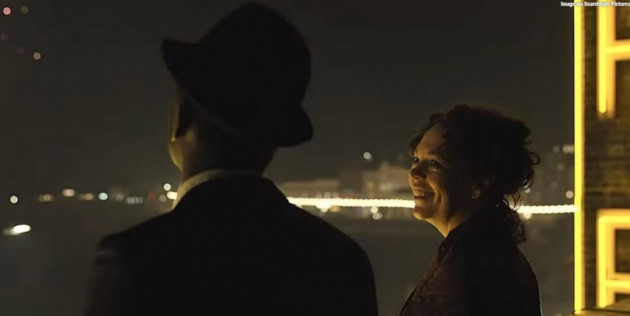 Empire of Light
This flicks between mediocrity and messiness throughout its two-hour runtime, even if it is well intentioned and executes the emergence of the story's central romance between Hilary and Stephen quite well. Moments like the Mr. Cooper chips scene and Stephen's first confrontation with the skinheads (and the way the police conveniently walk into frame and pass by, in what is only a short scene) are very on the nose and undeveloped. Later on, the dramatic swings from skinheads protest to cinema riot to hospital bed, and Hilary's heartbreak to uninvited gala breakdown to "to fuck or not to fuck" rant to conspiracy theory apartment confinement… are just too clunky and unintentionally funny, and betray the nuance and complexity of the important mental health struggle that provokes them.
Inland (Fridjof Ryder)
Inland offers a strange mix of kitchen sink realism and high arthouse. There are episodes when the former spills over into soap opera melodrama and when the latter leans on the horror genre. Overall, this does not completely work but paints an interesting picture of fractured domesticity.
The Whale (Darren Aronofsky)
It is hard to take this seriously and meet it on its own (the lead character Charlie's) terms. The undeveloped "honesty" plea he forces the people around him but also us viewers to listen to actually feels quite hypocritical, given how this film is drowning in overcooked musical cues, how it is obsessed with elevated, unrealistic dialogue, and repeats its vague outlines of (often cliché) character backgrounds. The Herman Melville essay voiceover paired with uplifting music as Charlie finally moves from the sofa to his bed, the binge scene with frantic (dramatic) music, the Thomas/"New Life" plot twist, some of the badly acted Liz outbursts… these are all just so far below what an Aronofsky film is capable of.
Palm Trees and Power Lines (Jamie Dack)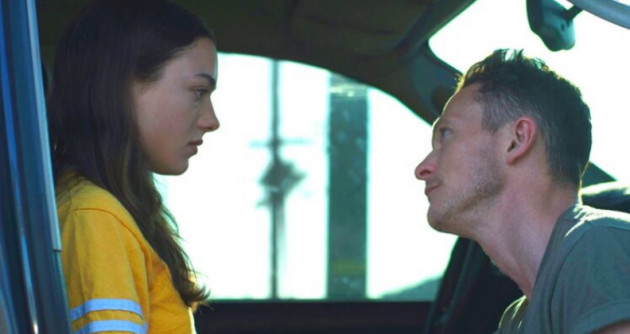 Palm Trees and Power Lines
If I am being completely honest: this rubbed me up the wrong way. It quite lazily simplifies the complex, vital subject of male predators taking advantage of young girls, and stylises its threadbare story about this with well shot, well lit, half-cooked arthouse sensibility, and even has a strange Aphex Twin musical cue. The way it ends, too, is almost a disservice to its central character… but the beauty of film festivals like LFF are that they generate conversations from different angles about our varied responses to ambitious and complex cinema, which is something Palm Trees and Power Lines inarguably does.