The Girl Rebel, the Glamorous Woman: Ava DuVernay's film of a woman's independence, love, loss, and memory, I Will Follow
Everyone makes mistakes, but few are capable of greatness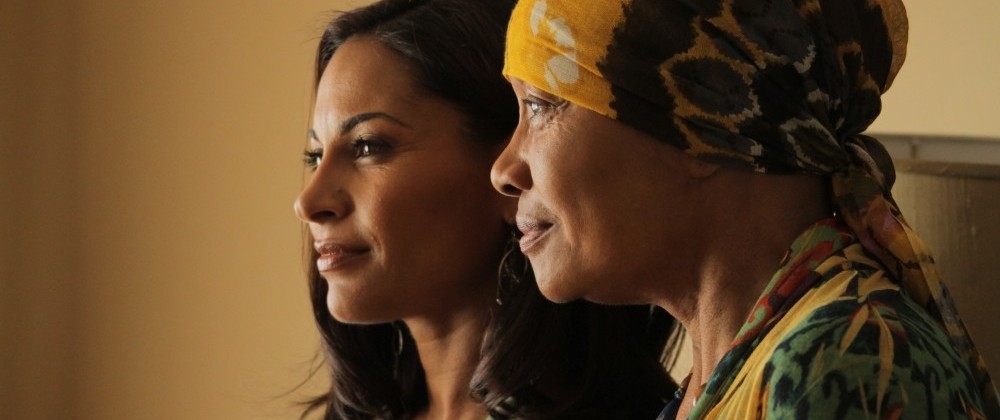 I Will Follow, directed by Ava DuVernay, Forward Movement/Image/AFFRM, 2011
Diana Ross Live in Central Park, directed by Steve Binder, Anaid, 1983/Shout Factory, 2012
It is possible to live going from wound to wound to wound, suffering; but it is possible, as well, to live with ambition, intelligence, and joy; and that last, a pursuit of independence and personal peace, is what the musician aunt and her make-up artist niece have in I Will Follow, before the aunt dies of cancer in their lovely, secluded Topanga Canyon home in Los Angeles. The aunt was a popular sessions drummer who liked and played different kinds of music, including rock, rhythm-and-blues, and disco; and the niece was inspired by her aunt's free spirit, something the aunt's own daughter did not accept. When the aunt no longer wanted to submit to the aggressive medical treatment of her illness, the two, aunt and niece, came to the sun-soaked house surrounded by trees for the aunt's last months. The loss of a beloved presence, and the absence, memory, gratitude, loneliness, and mourning that follow, the grief, form the delicate and touching subject of Ava DuVernay's beautiful, intelligent, surprising small film I Will Follow (2011), starring Salli Richardson-Whitfield, Beverly Todd, Michole White, Omari Hardwick, Dijon Talton, Tracie Thoms, and Blair Underwood.
In I Will Follow is an intimate situation, and a simple story: the niece Maye packs and prepares to leave the shared home and go back to the life she had before her Aunt Amanda became ill and the niece took on the responsibility of caretaker. The niece has hired movers, and has her cousin Fran, her aunt's resentful daughter, coming to help with the distribution of goods and packing; and Maye places a call for help to a tow truck driver, Troy, whom she met and liked, and is surprised by the visit of her business friends, a black gay couple who come to pick up a portrait of African figures and to bring champagne and remind Maye of her professional value. As the niece, a well-intentioned, sensitive, somewhat tense woman, Salli Richardson-Whitfield, gives a great performance: Salli Richardson-Whitfield is a woman with a fine, golden brown heart-shaped face and long curly hair, a woman whose face has beauty and strength, and Richardson-Whitfield, with a casual but elegant manner, projects awareness, charm, force, honesty, and intellect, for a compelling, vivid performance. Salli Richardson-Whitfield appeared in Posse, Antwone Fisher, and I Am Legend, films I saw, appreciating the loving but troubled wife Richardson-Whitfield played in Antwone Fisher, but I felt as if I saw her for the first time in I Will Follow.
Those around Salli Richardson-Whitfield as Maye rise to the occasion, particularly Beverly Todd as Aunt Amanda, and Tracie Thoms as Tiffany, a friend who helps Maye pack and is aware and disapproving of Maye's difficult cousin Fran. Fran is a conventional, hurt, selfish, punishing woman played by Michole White, with Dijon Talton as that resentful, sneaky woman's son Raven, Maye's nephew, who likes basketball and rap and is a little clueless but kind. (There is no hip-hop on the film's soundtrack but there are mellow and soulful songs.) Blair Underwood is Evan, the somewhat shallow lover and professional man Maye left behind; and Omari Hardwick is an attractive, caring ordinary man, Troy, that Maye met in a new, difficult but gratifyingly significant place in her role as caregiver. Those people fill Maye's day and world.
I Will Follow, following a woman's last day in a house of memories, is a very good film. There are a couple of conversations in I Will Follow that seem to carry the most meaning and weight: one is between Maye and her cousin Fran, who had different experiences of Amanda. Was Amanda a good aunt and a flawed mother? Did Amanda prefer creativity and accomplishment and travel to the usual dull conformities of home and office, hoping those around her would be inspired to live full, interesting lives; or did she prefer childish play to mature responsibility? Fran's wound is raw, agitated by feelings of neglect and offense and rage; and she is confidently hateful. Fran's comments are contradictory: she says that her cousin Maye wanted to get inside Fran's mother Amanda's head to control Amanda; and that Maye was Amanda's slavish groupie. Fran, a high-yellow woman with down home ways, accuses Maye of thinking too much of herself. Fran expresses her sense that Maye could have encouraged Amanda to continue the conventional but painful cancer treatments. Fran also says that her mother Amanda too often followed white people: Fran says that of a wild-haired girl and ferocious drummer who became an elder of experience and pride, an eccentric and self-indulgent African-American woman of style. Those comments of Fran are important not because they are true about Amanda or Maye but because they are true to Fran's malice and paranoia; and Fran stands in for a lot of people whose paradigms do not really fit the complexity of the world, but those paradigms are all that they have with which to organize their perception of reality; and those people are usually ignorant, lazy, and mean, the actual embodiment of the worst expectations. Fran does not know what a free person is—nor does she want to know. The freest people in any society are frequently its artists and intellectuals, and yet those are the first ones accused of being manipulated: automatic and conformist responses, responses lacking criticality, responses that seem natural for their lack of thought, are preferred to the conscious ideas and choices of artists and intellectuals, choices rooted in curiosity, discernment, imagination, passion, purpose, and reason. Who else are most likely to resist the thoughtless customs that make convention? The lives of artists and intellectuals are difficult due to the incomprehension and intolerance of others.
The other significant conversations in I Will Follow involve a neighbor Maye does not know but who spoke to Amanda about the dying woman's desire to spend time in contemplation and joy in a landscape she loved, able to come to terms with her own life; and Maye's talk with an honest and sensual young man she thinks she might want to have a relationship with, Troy, through which Maye is reminded that time and lives do not stand still as she finds out that he is dating someone else; and Maye's telephone conversation with another man she had been involved with, someone who did not visit her in the house she shared with Amanda, Evan, someone who says he loves her although he left her to do that hard work alone—and Evan says he could not make the sacrifice of time and effort for Amanda but could make it for Maye. The imperfection of some of those encounters—the actual value of them not only as articulate discourse, but in the demonstration and recognition of the lack of control that an individual has regarding how certain relationships develop—is illuminating to observe. Those imperfect relationships make the communication—the friendship, love, and understanding—between Amanda and Maye even more significant.
I Will Follow, taking place on one important day, from dawn to night, has a natural form, and is a pleasure to watch as the actors are attractive and expressive, and the house and neighborhood are attractive too; and sometimes the story, the film, creates a certain complexity of sensibility by presenting Maye in an encounter that provides new insight intercut with Maye later absorbing that insight, as happens with her conversation with the neighbor; or Maye hearing something and then remembering a past moment with her aunt. The aunt's room—which Maye has not packed as she wants to do that with Fran—has a drum set, a wheel chair, and a wig and wig stand as well as the bed, clothes, and many shoes and other things one would expect. When the long day is done, and Maye rises the next day and walks away from the house, Maye will know that she did what she could for another human being.
Writer and director Ava DuVernay has been well-served by production designer Jennifer Spence, cinematographer Miguel Bunster, editor Spencer Averick, and composer Kathryn Bostic, as the film is a compact, finished whole. "Its elegantly simple structure filled in with startling, understated force, I Will Follow is a modestly framed portrait of grief in its first season," wrote Michelle Orange in New York's weekly Village Voice newspaper (March 9, 2011). Most of the film's reviews acknowledged the drama's respect for its characters' experiences and the sensitive detail of its portraiture, though it is likely the women critics had better grasp of the complexity and import of emotions within the simple scenario. "Writer-director Ava DuVernay has a light, genuine touch, and it inflects everything from Maye's Nas-vs.-Jay-Z debate with her nephew (Dijon Talton) to the high-noon face-off between cousins mourning not just the dead but the years they lost to mutual resentment," wrote Orange. Carrie Rickey, of the Inquirer in Philadelphia, described the film I Will Follow as triumphant, appreciating the film's direction and characters and the actors who brought them to life, such as Aunt Amanda: "Aunt Amanda (Beverly Todd, seen in numerous flashbacks) was a life force warm and golden as sunshine, a flamboyant recording-session drummer who was to rock and jazz what Maya Angelou is to poetry" (March 12, 2011). Rickey commended Salli Richardson-Whitfield for bringing the audience to her character.
After noting its difference from stereotype, the Hollywood Reporter critic Frank Scheck thought the film might be too controlled, too dignified—"low-key" was his phrase—for much dramatic impact; and yet Scheck concluded that "it's the long buried family conflicts and resentments that emerge through the grieving process that form the heart of the drama. Sensitively scripted and well acted by the performers, these often bitter exchanges have the ring of truth while avoiding the trap of succumbing to melodrama" (March 10, 2011). Frank Scheck thought the film transcended melodrama but another writer disagreed: "Played out over the course of a single day, as a young woman takes stock of things after the death of a beloved, cancer-stricken aunt, the movie goes down easy—too easy at times—with overly familiar rhythms and a honeyed gloss of cloying melodrama," declared Michael O'Sullivan of the Washington Post (April 15, 2011). Could the reservations the male writers have be rooted in themselves and their limited preferences rather than in the film? Do men dismiss the value of emotion, of relationship? Are the women writers too sympathetic? Or are those merely the usual differences of critical opinion? In the Washington Post, O'Sullivan states, "There are raised voices, the airing of regrets and the flinging of nasty accusations. It's feels like a passionate—if slightly pointless— exercise, like a dramatic scene in an acting workshop." Worse, he claims: "Compositionally, the film plays like tuneless noodling." Is that merely the view of someone addicted to the false excitement of quick moving, high-gloss Hollywood product? Does he prefer the usual manipulations to the quest for truth? I do not know, as I am not a regular reader of O'Sullivan's work; and in light of his opinion there, would not want to read much more.
In an I Will Follow review in the March 11, 2011 Los Angeles Times, in a far from distinguished article, Mark Olsen dares to say, "Written and directed by Ava DuVernay, her debut feature film shows a certain amount of promise but often falls prey to easy emotional beats and an overall sentimentality when it should push for moments less obvious, more rare, true and insightful." (What might prove more rare and true Olsen does not say.) Then, Mark Olsen betrays his own narrow assumptions: "When the film tries to lighten the mood is when it stumbles most badly. It feels hollow and forced when characters debate the finer points of the discographies of Jay-Z vs. Nas and (somewhat surprisingly, given the film's middle-class African American milieu) the minutiae of U2. (The film's title comes from a song by the Irish rock band.)" Olsen sounds like one of those ignorant people who must be reminded about the roots of the music he claims to know in the work of Chuck Berry, Bo Diddley, and Little Richard, pioneers recognized by the Beatles and the Rolling Stones and the Clash and U2 among others. Of course, there are African-Americans other than Lenny Kravitz, Ben Harper, and Darius Rucker who love rock: and with that assertion, I am not thinking only of Tina Turner, Nona Hendryx, Joan Armatrading, Poly Styrene, or Pauline Black. Would Mark Olsen be surprised to learn that there are African-Americans who like ballet, classical music, literature, opera, painting, and sculpture? There are people, white and black, with no imagination of complexity, not even when considering artists and thinkers, who tend to have special interests. Good criticism of art is not determined by gender or ethnicity, but the failure to produce good criticism is sometimes shaped by prejudice that writers refuse to see or correct.
There are film critics and interpreters I have rated highly over the years—among them, Pauline Kael and Susan Sontag, and James Agee, James Baldwin, Stanley Cavell, David Edelstein, Nelson George, Richard A. Gilmore, Bell Hooks, Stanley Kauffmann, Stuart Klawans, Mick LaSalle, Mark Reid, Jonathan Rosenbaum, Matt Zoller Seitz, David Walsh, Armond White, and Robin Wood. There is a lot of love, energy, and joy in Kael's work, in addition to attention to detail, intelligent and original observations, and surprising wit; and in Sontag's work is an appreciation for how film form and sensibility can embody new cultural attitudes and orientations, a divergent philosophy, with her ability to present histories, ideas, and works whole; and each good critic has something distinct to offer. Yet, it took me a while to appreciate the acuity and generosity of Roger Ebert. In writing in the March 8, 2011 Chicago Sun-Times about Ava DuVernay's I Will Follow, Roger Ebert began by saying, "_I Will Follow_ doesn't tell a story so much as try to understand a woman. Through her, we can find insights into the ways we deal with death. In one way or another, every emotion in this wonderful independent film is one I've experienced myself. Grief, of course. But also anger, loneliness, confusion and a sense of lost direction. Above all, urgent conversations you have in your own mind with someone who is no longer alive. How many people, now dead, have you wanted to ask questions you should have asked when they were alive?"
Those words of Roger Ebert are not false sentimentality; rather, they are an expression of genuine humanity, and honesty, a significant reminder that we are not machines yet, that all is not utilitarian invention and cold technology. Ebert brings imagination and sympathy to his critical thinking, to his work: he does not enter a theater with pride in his indifference or ignorance. Ebert enters the film, and understands what the people there are going through, and brings understanding to everyone, including a woman who seems malicious: "We're familiar with the five stages of grief. Denial, Anger, Bargaining, Depression and Acceptance. Are there also stages of mourning? One of them might be Blame. We feel it's wrong for a person to die, and we want someone or something to blame. It must be someone's fault" (Chicago Sun-Times, March 8, 2011). Roger Ebert's response to the film is that rare instance when an observer's sensibility is actually equal to the spirit of an artist. Ebert recognized, also, Salli Richardson-Whitfield's beauty, charm, and complexity: "For Salli Richardson-Whitfield, the role of Maye is a great performance, as she embodies emotions the script wisely doesn't spell out. I Will Follow is an invitation to empathy. It can't have a traditional three-act structure, because every life closes in death, and only supporting characters are left on stage at the end."
Seeing I Will Follow, and being bothered by some of the reviews, I began to think about some of the work of the past featuring African-American women, and how those films and the artists who made them might not have garnered the appreciation deserved. How do we know? What was actually said about the work of Ethel Waters, Josephine Baker, Lena Horne, Diahann Carroll, Diana Sands, Cisely Tyson, Diana Ross, Angela Bassett, and Sanaa Lathan and other performers? Was it understood that those brilliant women were at once exceptional and part of an artistic and cultural tradition?
In Vincent Minnelli's black-and-white musical film Cabin in the Sky (1943), a play made into film about good and evil, hard times and fantasy, marriage and temptation, the film is so much stereotype and style, but the talents on display—Ethel Waters as Petunia and Lena Horne as Georgia—provided more amusement than one might expect. Waters is the good wife, and Horne her tempting rival, with Petunia's husband, Joe the gambling man (Eddie Anderson), in between them. Yet, what may be most telling about the film is that with the presence of both Waters and Horne the film does not offer only one image of a woman of color: that is an instructive, if not subversive, fact.
Ethel Waters is a fascinating figure for her popular appeal and her transformations, and it is sad that she is not as known now as she once was. Lena Horne, a woman of glamour and song, has been celebrated for a long time and requires less of an introduction or explication—listen to Stormy Weather, The Lady and Her Music, and We'll Be Together Again and see Death of a Gunfighter and The Wiz; and Horne, who recognized Waters' difficult personality, also reported her essential significance. One of the best articles about Ethel Waters was by Gene Jones and appeared in Harlem Speaks, edited by Cary Wintz (Sourcebooks, 2007); and in it Jones paints a portrait of a Waters as a talented woman whose hard life and struggle sharpened her mind until it hurt others: Ethel Waters, the child of rape, a poor girl reared by her grandmother, and a talent contest winner, a maid, a skinny vaudevillian sometimes forced to sleep in stables beside horses, a successful young woman recording artist, an acclaimed actress on stage and film, and an elderly, plump gospel singer, Waters inspired rather than helped those who came after her. Her early twentieth-century, subtle singing style—with distinctly clean, clear diction, intonation, and phrasing—inspired a long tradition of modern singers, black and white. The funniest report in the Gene Jones article is that performer Bill Robinson taught his dog to growl at the mention of the name Ethel Waters, whose public reputation was better than her private one. Ethel Waters appeared as a grandmother of a biracial child (Jeanne Crain) in the motion picture Pinky (1949), with Ethel Barrymore; and Waters, while getting great reviews in a role as a housekeeper on Broadway in The Member of the Wedding, played a maid on television in the 1950s situation comedy "Beulah." It may be an irony that a woman who was respected and could be imperious in her own personal life and behind the theatrical curtain was expected to appear as a servant in her public work. Could that have been part of her anger?
Josephine Baker, a woman of comedy, glamour, eroticism, and will, a dancer, actress, and activist, an international success, was featured in the 1930s films Zou Zou and Princess Tam-Tam. I loved Baker's voice—some of her singing is quite beautiful, elegant: silvery, light, precise, soaring—and I recall seeing one of Baker's films and being surprised by how overt were the issues of culture and ethnicity. Josephine Baker was a master of parody, flirting with and mocking expectations. When biographer Phyllis Rose talked to some intellectuals about Josephine Baker for the New York Times (March 10, 1991), including Hazel Carby, Deborah McDowell, Robert G. O'Meally, and Cheryl Wall, the professor Robert G. O'Meally said of Baker: "She invented herself as part of a complicated tradition," a performance tradition of movement, ritual, rhythm, and thought, and Baker "bootlegged traditional black dance moves onto a broader stage. The people she was dancing for didn't know the tradition she was part of, but looking back now, we can appreciate it." That last statement is a great, recurring matter: often, the mainstream observers do not know the roots of what they are seeing—that the energy and spectacle are not natural or strange personal behavior but part of an artistic form, influenced by Africa but expressing the American experience.
The actress Dorothy Dandridge may have been born too soon in a still brutal world, and her own ambition and sensitivity betrayed her into danger in an America that was not changing fast enough. Dandridge, who as a girl had been in the 1937 Marx brothers film A Day at the Races, was featured in Otto Preminger's 1954 film treatment of the Hammerstein-Rogers musical play based on Bizet's ninetieth-century opera, transposed to black life: Carmen Jones. The title character is a flirt, stringing several men along. Was she using the only kind of power she had, the power of sex? Has the sexual woman been dangerous, always, for that reason, for her seductive power? That seduction has been her exercise of power, her rebellion. Glamorous and sensuous, a genuine beauty, Dorothy Dandridge became a star with the part of Carmen, a woman who comes between a soldier, Joe played by Harry Belafonte, and his girlfriend, Cindy Lou played by Pearl Bailey; and for her Carmen, Dorothy Dandridge received an Academy Award Best Actress nomination, losing to Grace Kelly. Empire magazine's summary by David Parkinson of the film stated: "Where Carmen Jones was concerned, many were outraged by the stereotypical depiction of the African-American characters, while others lamented the fact that so many principals had their vocals dubbed" (article accessed online 2012). Dorothy Dandridge's songs as Carmen were sung by someone who would become a legend, the great young opera singer Marilyn Horne, and the handsome folksinger Harry Belafonte's songs by La Vern Hutcheson, with the singing assigned to Joe Adams performed by Marvin Hayes. Was Carmen amoral, a sexual tramp? She was seen that way by some. How do you impress people while playing a stereotype? Is that because of, or in spite of, the stereotype? The complicated woman and actress—famous and private, shy and demanding, distant and sexual—Dorothy Dandridge made other films, Island in the Sun (1957) and Porgy and Bess (1959), but died with only a few pennies in her bank account; and it is probable that she did not get a part equal to her own complexity.
Diahann Carroll, an actress and singer, had better luck, and more lasting appreciation. She seemed impeccable. She was able be a lady. I think Diahann Carroll may have appreciated the work as much, or more than, the glamour: and Carroll has produced a respectable oeuvre, though glamour tends to broaden the range of social movement while narrowing artistic offers; and Carroll's films include Paris Blues and Hurry, Sundown and The Split, Claudine, The Five Heartbeats, and Eve's Bayou. Carroll seemed to have a sense of humor too. (I liked her television variety show and her presence in the television film Sister, Sister.) Diahann Carroll's performance as the loving but tough mother in John Berry's Claudine (1974) remains memorable, and earned her an industry nomination for Best Actress; and I think it was Carroll who called herself the "first black bitch" in the 1980s nighttime soap opera, "Dynasty," in which the gowns got more attention than the dialogue. Diana Sands made an impression in A Raisin in the Sun and The Landlord, as did Cisely Tyson in the theatrical film Sounder¬ and the television drama The Autobiography of Miss Jane Pittman.
Diana Ross might have had a more significant film career: she made the theatrical films Lady Sings the Blues, Mahogany, and The Wiz in the 1970s, and the television movies Out of Darkness and Double Platinum in the 1990s, as well as music videos in the 1980s for "Swept Away" and "Eaten Alive" and other songs. There had been talk of Ross making various films—among them, A Star is Born and The Bodyguard, as well as biographies of entertainer Josephine Baker and trumpeter Valaida Snow—and it is sad that they were not made. Of the films Ross did make, Lady Sings the Blues and Out of Darkness are probably the best, but I have a special fondness for Mahogany, in which Ross is a fashion designer and model, and for Double Platinum, in which Ross is a popular singer, as I think they come closer to representing the kind of ambition and success that Ross herself has had—which is to say that I think they represent something more true. In 1975's Mahogany, directed by Berry Gordy with a script by John Byrum, Diana Ross is Tracy, an ambitious Chicago secretary taking a class in fashion illustration, and Tracy has a relationship with an activist turned politician, Brian, played by Billy Dee Williams; and there is much talk about individual purpose versus communal purpose, but Tracy goes to Rome and finds admiration and fame as a model, and her designs are funded by an aristocrat. "Meanwhile, we're getting confused about the meaning of it all, because Mahogany has two themes that never are resolved. The first, forcibly articulated by Miss Ross, is that her responsibility is to herself, her talent and her career. The second, just as convincingly articulated by Williams, is that her place is in Chicago with the brothers and sisters, helping to build the community, instead of in Rome with a gaggle of omnisexual perverts," wrote the Chicago Sun-Times film critic Roger Ebert, who had approved of various aspects of the film: "The movie's got rich costumes, romantic music, decadent playboys, socially redeeming values and a fable of rags to riches. Why should it have to make sense?" (January 1, 1975). Mahogany garnered very mixed reviews—and Vincent Canby had nice words for Ross, and Pauline Kael found that Ross's performance, a tour de force, was not properly shaped—but its story is of greater interest than those in most of the films that African-American actresses get offered; and its allowance of its heroine an assertion of individuality as well as proven success remains admirable.
More recently, Dan Callahan in the online Slant magazine (May 1, 2007) offered a sympathetic read of Mahogany, appreciating the performances of Ross and Williams and the film's look, though Callahan found dread and regret in the introduction of the conflicted photographer played by Anthony Perkins. Dan Callahan stated, "If Lady Sings the Blues proved a disgracefully inauthentic version of Billie Holiday's life that found some virtues in the pairing of Ross and Williams, Mahogany is on firmer footing as a popular entertainment with realistic edges breaking into its wish-fulfillment fantasy, festooned with Ross's melancholy, aspirational hit song 'Do You Know Where You're Going To?' The film is an enjoyable guilty pleasure in its first half because the chemistry of the leads is so potent. Ross is tiny, nervy, and funny, while Williams is big, smooth, and slightly dangerous; they work together visually and emotionally, and the cold Chicago milieu adds a lot of gritty pep to their interplay (there are a few sharp digs at that city's rigid racial divisions)."
Of course, if one wants to see Diana Ross in her full glory, an observer could do little better than to watch the documentary of her famous summer 1983 Central Park concert in New York, directed by Steve Binder with Ross as executive producer: the digital disk package Diana Ross Live in Central Park includes the first night, July 21, when the show was stopped by a rainstorm, and the second night, July 22, during which the entertainer offered a complete program: Diana Ross is charming, comic, intelligent, lithe, lively, protective, sexy, tough, and in mostly good voice, though there are moments of strain. Diana Ross sang "Home" and "Let's Go Up" and "God Bless the Child" and "Mirror, Mirror" and "Upside Down" and "Ribbon in the Sky" and performed celebrations of music from the 1950s and 1960s, as well as "Endless Love" and "All for One." Ross moved with eloquence; and the show was aided by choreographer Michael Peters and the Bernice Johnson dancers, especially the first night's opening, which featured little girls performing in an African style, followed by Ross in matching multicolored garb, her face obscured, before she emerged in an orange body suit. It was wonderful to see Diana Ross's connection to Africa. The large audience—estimates range from 400,000 to 800,000 people—was what one might expect in a cosmopolitan city, attentive and joyful and mostly young but really quite diverse. I was there in that great park both nights, so I know there are a few things not shown in the filmed record: one, during the tremendous rainstorm, after continuously asking the crowd to leave calmly and slowly, and to help each other, Diana Ross—realizing some of us would stay as long as she was on stage—saying, "I thought you said you love me," to which the crowd roars a response, before Ross declared, "Then get out the goddamn park." We awakened from our trance—and left. The next day, Diana Ross wore, by turns, a glittery purple bodysuit, red tights with a fringe top, a billowing red and yellow Issey Miyake one-piece with sleeves and legs, and a shiny, slinky white teddy, and a silvery white gown with white fur sleeves; and Ross, between songs, read some of the words of the prophetic poet Kahlil Gibran from a large book, a reading not included with this edition of the film concert (though there are montages created with images from the previous night's show, featuring a dance duet and shots of Ross's response—sensuous, wise—to the sheets of water flowing from the sky). And later, at the concert's end when Diana Ross thanked the city's mayor, Ed Koch, there was some fervent booing. Both nights, in different ways, were great performances, great experiences, with an exceptional woman—and yet a woman who is part of a tradition.
Diana Ross, more than any of the women thus far named, became an idol of the people and a millionaire, and inspired controversy for her perceived ambition and self-regard, as if any accomplishment could be had without mind and will in a competitive world, a world created by people who did not look like Ross or expect her success; and Ross paid for that love and treasure with the resentment of peers and press and with contrived scandals. I have been an admirer of Diana Ross since I was a boy, but I sometimes have been ambivalent about her too: at the time, I thought of her Manhattan park concert as her self-chosen coronation. (I have a theory that some of the muggings after the concert reminded some that Diana Ross is black, journalists among them, inspiring more skeptical coverage.) Sometimes I, watching Ross on television in the 1980s, referred to her as Black Barbie; and, while I thought Why Do Fools Fall in Love and Swept Away were strong albums, I thought most of her 1980s RCA albums were not equal to her fame—but that much of her 1990s Motown work, with her return to the company as an equity partner, did not get enough attention. Diana Ross, like Streisand, is one of the few people of her generation in popular music with an evolved sensibility, with an articulate, comprehending mind and significant taste; and that is a complicated thing for someone whose work—which has included traditional and new popular music, rhythm-and-blues, disco, country music, and live performances with top jazz and classical European artists—is work intended to reach the masses. Consequently Diana Ross, as an exemplary diva, honored at the Kennedy Center and the recipient of a Grammy Lifetime Achievement Award, has been inspiration and warning to the women who came after her, such as Whitney Houston and Mariah Carey: the confusions and pressures of life apparently drove singer-actress Houston to drink and drugs, but Carey, thus far, has broken music sales records, made films, and has a stable home life. I am reminded that the lesbian feminist poet Audre Lorde had a poem, a litany for survival, about people who were never meant to survive—and yet they do, living, loving, and working. Everyone can make mistakes, but not everyone can do something great.
Whoopi Goldberg, Angela Bassett, Halle Berry, Sanaa Lathan, and Nia Long have received panoply of roles, each woman building a respectable body of work, especially Goldberg and Bassett and Berry. Whoopi Goldberg, a comedian, actress, author, and talk show host, a recipient of an Oscar, Emmy, and Tony, has starred in The Color Purple, Jumpin' Jack Flash, Clara's Heart, The Long Walk Home, Soapdish, Sister Act, and For Colored Girls. Angela Bassett has starred as the wife of Malcolm X, as Tina Turner, and in Music of the Heart and Jumping the Broom, and she has claimed the future by being in science fiction films—she has been a formidable friend in Strange Days and an authority figure in Contact. Halle Berry, an ambitious and talented woman and possibly a peerless beauty, has starred in Losing Isaiah, in which Berry was an irresponsible girl who became a disciplined mother of a little boy, opposite Jessica Lange's adoptive parent, and Berry's role was that of a singer and demanding widow in Why Do Fools Fall in Love?, and she appeared in Monster's Ball, Their Eyes Were Watching God, Things We Lost in the Fire and Cloud Atlas. Halle Berry won the film industry's highest award for an actress, the Oscar for Best Actress, for her performance—controversial for an explicit scene of sex—in Marc Forster's Monster's Ball (2001). Sanaa Lathan has been in comedies, dramas, and science fiction; and I found her entertaining in the 2006 interracial comedy Something New, in which Lathan is a professional black woman, Kenya, who has trouble finding a man, until she starts dating Brian, a blond, sensitive laborer played by Simon Baker, a film the Boston Globe_'s critic Wesley Morris found too crude for its social assumptions. I liked Nia Long in _Love Jones (1997), and Long's performance in Alfie (2004) is touching as a woman who is frustrated with her boyfriend and becomes involved with a playboy, her boyfriend's best friend, played by Jude Law, an affair that leaves an unexpected trace in betrayal and new responsibility; and that in a film that mixes American and British aesthetics and presents a varied view of women. By participating in films with interracial romances, Lathan and Long defy a cultural taboo. Progress is dangerous. One hopes African-American actresses will have the opportunity equal to their ambition and potential, equal to a spirit of change and progress.
"For some reason, most movies aimed at African-American audiences tend to be either over-the-top comedies or morality plays too melodramatic in tone to be taken very seriously. Flying in the face of that trend is I Will Follow, one of those refreshingly rare treats which simply presents black folks in a recognizably realistic fashion, ala such similarly understated classics as Eve's Bayou (1997), Nothing But a Man (1964) and The Visit (2000)," introduced Kam Williams on the online News Blaze site (March 8, 2011). Kam Williams detailed the plot regarding the ill aunt, her caretaker niece, and the need to close the house upon the aunt's death; and Williams noted the central argument between niece Maye and daughter Fran: "'She wanted trees. She didn't want to fight, or chemo,' Maye matter-of-factly, responds. But her heartfelt explanation falls on the deaf ears of a witch who insensitively demands, 'I want my mother's stuff!' before storming out." Kam Williams noted that the performance of Maye is a career accomplishment for its lead actress, Salli Richardson-Whitfield, and applauded the director, Ava DuVernay, for all she was able to do in a few weeks on a small budget.
Ava DuVernay's film I Will Follow did not have to exist: DuVernay, with discipline and money and passion and time, called it into being. The film is evidence, in its existence and in its content, that artists can seem crazy and perverse simply because their imperatives are their own: idea, insight, inspiration, and introspection: the inner life that others cannot see without the aid of metaphor, ritual, or story is what drives artists. Of course, artists do not always get the encouragement, support, and understanding they require and that can be maddening—but usually the passion for the work illuminates and sustains. In the film, Maye lets affection and understanding, and culture and sports, be connecting tissues with the people she meets or likes. There is something other than the chaos of personal feeling and social confusion that can be the subject of conversation. Both Maye and her Aunt Amanda knew that. The beige stone house in the leafy canyon neighborhood has been a kind of Eden for Maye and her aunt, a place Maye's cousin Fran does not like, a place of nature, reflection, solace. Fran (Michole White) lives with her own conflicts but she does not understand them: Fran does not want to be in her mother's room to go through Amanda's things, but, later, when things are packed without her, Fran, without warrant, complains that the best things have been taken. Fran even asks aloud, "Why am I doing this? I said I wouldn't do this." Sometimes, there is no good cause for a charge or complaint, and no answer, except a woman or man's quality.
Maye's responsive friend Troy, a muscular, sensual man, arrives after his work day, at night, to help, and he calls the house incredible, a word that used to mean lacking credibility but now—through perpetual use—is taken to mean enormously impressive. Troy asks Maye questions, probing what she does not know about him, proof of what they did not know or say to each other when they had spent time together. Maye, now, not then, wants sex and something more than sex. Maye and Troy, Salli Richardson-Whitfield and Omari Hardwick, are shown dressed and lying down side by side on a mattress, looking beautiful and weary; a portrait of friendship, rest, and sadness. "I'm with somebody now. I can't stay tonight Maye," Troy says. The opportunity for love between them has been found and lost. When Maye speaks with Evan (Blair Underwood), the man she had been with before, she says, "I would take care of you because you're mine. Whose gonna take care of me?" To that, Evan says, "I'll be there." Is that true? It is another story.
Ava DuVernay has gone on to make Middle of Nowhere (2012), a film about marriage, family, and a husband's incarceration, an intimate portrait of responsibility and self-sacrifice and rebirth. It, like I Will Follow, has been showered with some appreciative, thoughtful words of welcome, noting the newer film's detailing of a woman's ideals and self-effacement and the inevitable decision regarding whether to change her life, a state captured in the closest looks and gestures. DuVernay produces work—fundamental, intelligent, observant—that makes a site for truth. On the evidence of I Will Follow and Middle of Nowhere, it seems that Ava DuVernay is committed to giving the film audience perspectives and portraits of African Americans of a greater precision and poignancy than it has had before. She is making films worthy of established American and international film favorites. It is impossible for the alert and caring viewer not to salute her.
I will be able to recall Ava DuVernay's work with the same admiration and fondness that I do beloved films of the past, not only the films of Diahann Carroll and Diana Ross and Angela Bassett and Halle Berry, but also Ali, Antwone Fisher, Away We Go, Before Night Falls, Bella, The Best Years of Our Lives, Bobby, Boomerang, The Boys are Back, Brokeback Mountain, Camille, Cat on a Hot Tin Roof, Chameleon Street, Cold Fever, Constellation, The Constant Gardener, Dark Matter, Daughters of the Dust, Devil in a Blue Dress, Don't Let Me Drown, East of Eden, Edge of the City, The Exploding Girl, Fighting, Flirt, Ganja and Hess, Get on the Bus, Glory, The Great Debatersv, _Happy Together, Heaven's Gate, I Confess, The Last Kiss, Local Color, Losing Ground, Margot at the Wedding, My Beautiful Laundrette, My Own Private Idahov, _One Night Standv, _The Pursuit of Happyness, Remember Me, The Rules of the Gamev, _Sankofa, Sidewalk Stories, A Soldier's Story, Six Degrees of Separation, The Stoning of Soraya M., Those Who Love Me Can Take the Train, Who Loves the Sun, and Wild Strawberries. I can watch the amusement and wariness of Salli Richardson-Whitfield in I Will Follow, and then think of what Richardson-Whitfield shares with Kate Winslet and Rachel Weisz—beauty, intellect, passion, strength, understanding—but regret that Salli Richardson-Whitfield, who gives herself fully to her character Maye in gesture and inflection, is not likely to get as many chances to display her talents.
Ava DuVernay's I Will Follow is a modern picture of African-Americans—aware, passionate, going through what everyone goes through, life and death and grief. For the significance of its subject, the eloquence of its script, the firmness of its form, the fine choice of its location, the vibrancy of its performances, the crispness of its cinematography, the ease of its editing, and its thoughtfully bittersweet effect—a sense of melancholy wisdom and wonder, and a feeling of grateful pleasure and pride—_I Will Follow_ is a film of weight and value that can be seen again and again with ever deeper regard.
(Article submitted December 2012)