The Fool Killer (aka, Violent Journey) (Servando Gonzalez, 1965)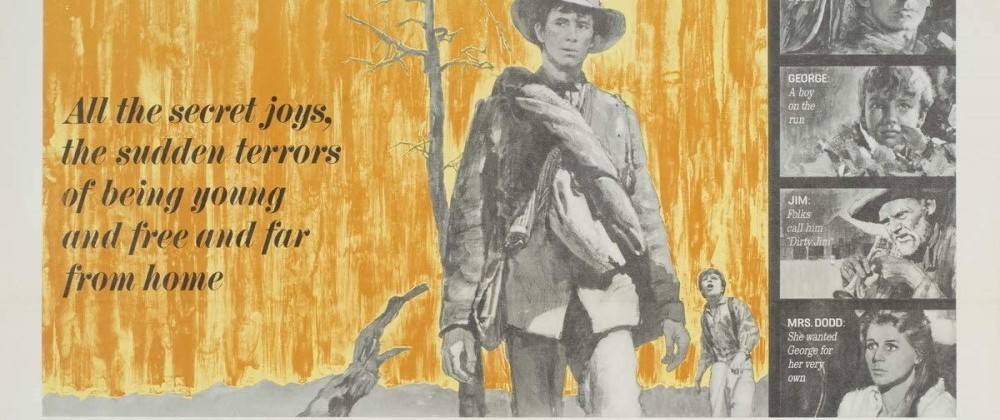 "Strange cities and strange houses are the places of my enemies…"
-wandering soldier Milo (Anthony Perkins), a fool killer at heart
Along with the simple, near primal pleasure of watching those flickering images playing out magically in the dark, another added benefit of being granted admittance to the occasional private screening night at Le Cinéclub/Film Society HQ isn't just, say, the opportunity to re-watch a classic, or to knock one off the list of must-sees (pretty worthwhile reasons on their own), but the chance to catch up with an actual obscurity (something increasingly rare to find these days), with the curio "The Fool Killer" being exactly that; a film I'd surprisingly never heard of before, especially coming as it does with good pedigree in cast and decent budget… yet which has been tossed into the bins of the forgotten after whatever theatrical release it had (I see some distributors tried to rename it Violent Journey at some point, trying – unsuccessfully, I'm sure — to figure out the best way to market a film which swerves between being a young adult child's adventure, loopy characters and all, or a more adult moody elegy, with sudden swerves into straight horror movie territory). As far as I can see, it has since only been available in the VHS medium… as well as, thankfully, on at least one 16mm print that the good folks from this long-standing Montreal film preservation society have gotten their greedy little mitts on.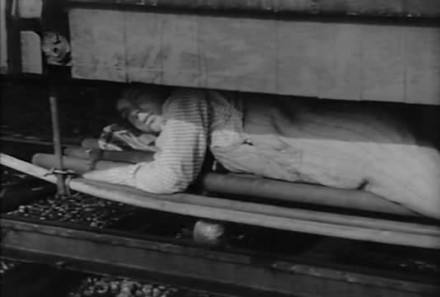 Train Hopping
Overall, The Fool Killer follows the freight-train hopping post-Civil War adventures of 12 year old George Mellish (Edward Albert) escaping from his brutal foster parents to traverse the rural landscape of the deep South, stumbling across a series of colorful characters along the way, such as alcoholic hermit-like reprobate Dirty Jim (the aged, yet still potent, legendary Henry "Werewolf of London" Hull), living in his filthy hovel home in the woods — and the first to tell the impressionable wide-eyed boy of the scary lore of the giant axe-wielding titular boogeyman said to stalk the countryside, the kindly and modest Dodd family (with the Missus played by the intriguing Salome Jens, most memorable for her role as the fantasy hippie wife to Rock Hudson's post-surgery Tony Wilson in John Frankenheimer's brilliant 1967 scifi film Seconds, and the stern, yet fair patriarch being long-time familiar character actor Dana Elcar) where George gets his first kiss from their peculiar young daughter, and, finally troubled drifter Milo (Hopkins), a Civil War vet whose wounds have left him wandering aimlessly about the countryside with no memory of who he was, who the boy forms an unlikely alliance with, even as his unsettling fear grows that there might be a connection between this tormented man-child, and the nightmarish figure of The Fool Killer that has captured his imagination from the moment Dirty Jim described him.
While its pacing may be too lackadaisical to truly be gripping cinema, there is a mountain of qualities to The Fool Killer to make it a film more than worthy of re-discovery. Photographed in moody black and white, it's a child's journey that ends up capturing, at its best, an at-times powerful evocation of the awe – and terror – of the imagination, with the losing of child-like innocence.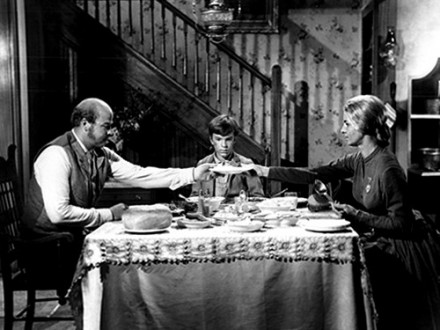 Finding a brief home with the Dodds
Directed by a Mexican filmmaker with a rare English-language opportunity (at least according to his imdb credits), the film remains one of those strange (and relatively rare for the time) cinematic creations formed outside of the Hollywood system, produced under who knows what circumstances that arose to cough up the production money (it's listed as a Mexican-USA production). While it occasionally falters in certain scenes – usually in the indoor dialogue moments — into a practical functionality that speaks to the level of 60's television mediocrity (with incongruously odd inclusions such as clunky sting sounds used to reinforce when something unexpected happens to the boy), those moments are considerably outweighed by the multitudes of inspiration spread throughout the film; there's the feverishly realized scene in the revival tent, of the fanatical Reverend (Arnold Moss) whose orgiastic energy sweeps up the desperately listening townsfolk – George included – into physical ecstasy, screaming in repentance, all as Milo watches resentfully from the back. And the moment of the anguish-filled Milo spinning around on the ground, the camera whirling with him, acting as a visual representation of his PTSD.
It's a film that not only evokes the 'journey of the fantastic' in even its most realistic scenes (helped along, in the case of "Killer", by inspired devices, that somehow work almost despite themselves, such as having George occasionally breaking the fourth wall, suddenly turning to the camera, continuing his voiceover narration by speaking the words directly to us in the audience) but eventually – especially in its later sequences, through the powerful use of shadows, stark compositions and severe camera angles – that of the horror film.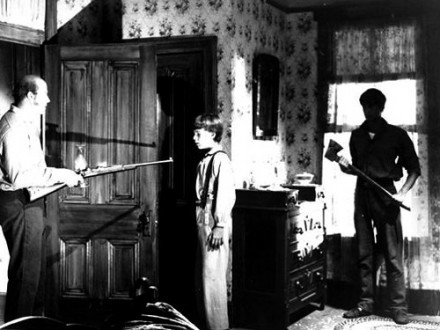 Descending into horror film
Before this film I only knew of Edward Albert as the less celebrated acting son of the television star Eddie Albert. Having a quasi-androgynous pretty-boy quality as an adult (with a journeyman career that did manage to include a number of fun genre titles), not only had I no idea that Albert was once a child actor – but that he had such a striking look during those years; his ethereal presence works wonders for the part of George. Anthony Perkins might have been typecast after playing Norman Bates for Hitchcock, but with Milo he shows yet again how many different shades he was able to put on this kind of recurring 'crazy' part. He makes his mark even if he isn't even in that much of the film (he doesn't appear until more than 30 minutes in, and goes in and out of the narrative from there, continuously disappearing back into the woods, almost as if a figment of George's imagination).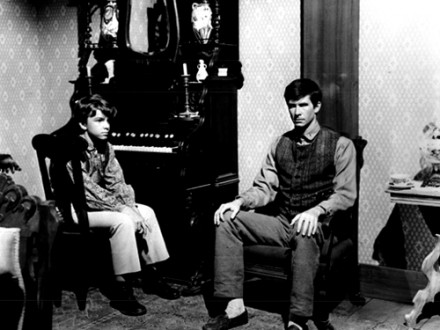 Huck Finn Meets Norman Bates
And while it's not on the unforgettable level of Charles Laughton's 1955 masterpiece Night of the Hunter (I mean how many films are?), The Fool Killer, when operating at its best, does draw parallels to that essential film – certainly in reaching for a similar kind of haunted elegy of rural Americana, captured through the fantastical perspective of a child. It plays as a kind of fable; it's Huckleberry Finn meeting Norman Bates.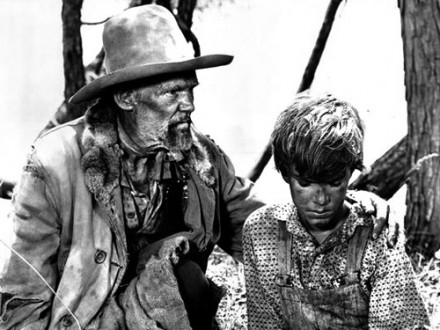 Meeting Dirty Jim
Do yourself a favor, fond reader (if you exist), if the world ever does go back to normal and we're allowed back out to play (and do things like actually earn a living again), if you find yourself with the rare opportunity of it screening at your local rep house, or as part of one of Montreal's own Le Cinéclub/Film Society's programs while you're in town, do yourself a favor… catch up with it. It's more than worth the look.