The Festival of New Cinema (FNC) 2016: A Preview
The 45th edition of the Festival of New Cinema (FNC) is upon us soon, October 5-16, 2016. The 45 years makes the festival the oldest in Montreal, and perhaps all of North America. With about 380 films (138 features and 170 shorts) and related events spanning the 12 days it is impossible to exhaust the selection. Instead, the wise attendee will select according to taste, word of mouth, and circumstance. What follows are my own suggestions for the screenings and selections that pique my curiosity.
First off, the FNC has always prided itself on rejuvenation and maintaining a forward looking perspective on the moving image. This is a point the programmers made several times during the press conference. One of these innovations for this year appears to be an added focus on music, with special film theme related concerts (often in conjunction with a screening) every night at the festival head quarter, the Agora Hydro-Quebec du Coeur des sciences de L'UQAM. The 'new media' aspect of FNC continues to be one of the ways the festival keeps ahead of the curve, which can be seen in the increase outdoor screenings and Immersive & Interactive and Virtual Reality film in a new section entitled FNC Explore. Young Indigenous filmmakers are showcased in the Wapikoni Mobile's short film series. Indigenous filmmaker Zacharias Kunuk gets the prestigious closing film slot with his The Searchers inspired latest film, Maliglutit. Television and Web Series' are featured in " FNC Séries". The old showcase for experimental and avant-garde work, FNC Lab, is given a rethink under the section title "Les Nouveaux Alchimistes". Forging ahead with another strong looking program is the standby section, Temps O, curated by former Fantasia programmer Julien Fonfrède. On now onto some specific titles that caught my eye (or that I've already seen and would like to promote).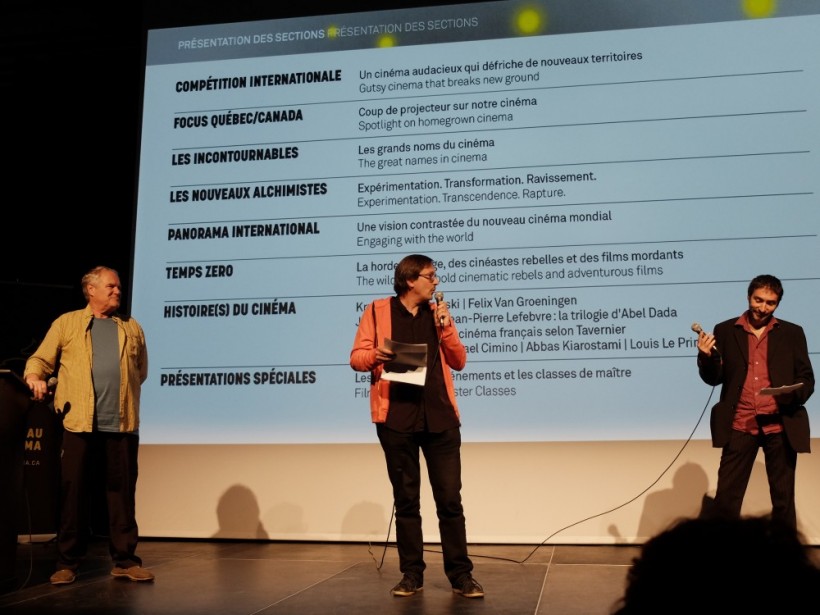 Programmers Claude Chamberlan, Philippe Gajan and Julien Fonfrède at the FNC Press Conference [photograph by Randolph Jordan]
Any opportunity to see Murnau's sublime late silent/early sound hybrid Sunrise (1927) on a big screen is an event, and FNC is making it just that with their cine-concert presentation of the film accompanied with live music by French guitarist and composer Olivier Mellano. Mellano's percussive guitar playing style can be sampled if you search his name on YouTube. I am curious as to how he will adapt his rhythmic style to the more languid lyricism of Murnau's imagery. A couple of titles caught my eye in the "Les Incontournables" section (which breaks down to established name of contemporary film). Kiyoshi Kurosawa made two films in 2016. His fascinating serial killer film Creepy just played (July 26) at Fantasia the other, Daguerreotype plays at the FNC. Daguerreotype marks Kurosawa's first feature in a foreign language, French in this case, and a return to his slow burn horror. The film also signals a return (from Creepy) to Kurosawa's favorite theme of the supernatural within technology, which was present in Seance (sound), Pulse (internet), Doppelganger (scientific technology), and Daguerreotype (photography). I was able to catch and will highly recommend British director Andrea Arnold's foray into North America, American Honey (2016, Andrea Arnold), where she continues her interest in young people (Fish Tank, Wuthering Heights). Arnold's teen road movie is like a 21st century version of the Maysles Brothers 1968 verite classic Salesman, only a motley dirty dozen (or so) teenagers selling magazine subscriptions replacing the Bible selling middle age white male. Arnold continues Maysles' use of camera intimacy with a boxy 1.37:1 aspect ratio that is constantly moving and close up to the characters. A good description of this blend is Harmony Korine meets John Cassavetes, with a touch of Terrence Malick thrown in for Arnold's penchant for wondrous shots of Nature inserted into the daily grind. The wall to wall thematically placed music (heavy on rap and hip hop) sets the tone and mood of the piece, and holds together the episodic structure which alternates between engrossing and tense and languid and laconic. In the tradition of the aforementioned directors, Arnold makes great use of non professional actors, including Sasha Lane as the quixotic 18 year-old Star and model turned actress Riley Keough, granddaughter of Elvis Presley, as the taskmaster/owner of the magazine enterprise, Crystal. Arnold seamlessly weaves a litany of engrossing themes –race, sexual identity, class, work– into her journey across the mid-west, without stridently calling attention to any one. One senses that Arnold had Jack Kerouac's On the Road and Studs Turkel's Working stuffed in her back pocket during the filming. Also in this section two films by two grand masters who have made films on the same subject, the differences between men and women, Wim Wenders, The Beautiful Days of Aranjuez and Hong Sang-Soo, Yourself and Yours. Fellow South Korean auteur Park Chan-wook presents a twisted tale in the tradition of the ero guro, a 1930s Japanese literary art that blended the erotic (ero) and the grotesque (guro), which was strongly felt in the pinku eiga films of the 1960s and 1970s, The Handmaiden.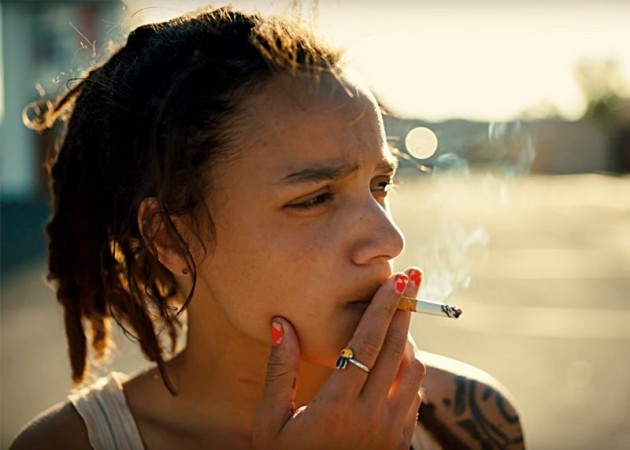 Sasha Lane as Star
One of the standout events in the Special Presentations section is the full length (720 minutes) screening (across four nights) of Germany's great iconoclast Ulrike Ottinger latest diary film Chamisson's Shadow. Ottinger was a featured guest at a recent academic event at Concordia University (where I teach) organized by professor Rosanna Maule, "Women, Film Culture and Globalization", which ran on September 2-4, 2016. I had the good fortune of meeting Ottinger (very briefly mind you!) at the event. The 73 year-old lesbian activist and documentarist was a spirited participant at the panels, engaged with papers delivered (some on her work) and introduced two screenings of her films, including her 1978 Madame X. With Chamisson's Shadow Ottinger takes her ethnographical eye to the landscapes, wildlife and peoples along the Bering Sea. In the same section is the like-minded (in feminist spirit) work of filmmaker-activist Jennifer Reeder. Along with a Master Class, Reeder will be attending a program of her short films curated by Emile Mannering. Recalling Andrea Arnold's American Honey, Reeder's works focus on the youth and coming of age genre.
The section "Temps 0" is always one of my favorites of FNC. This edition's highlights include Lucile Hadzihalilovic's long awaited follow-up to her mesmerizing first feature Innocence (2004), Evolution (2015). Evolution has been garnering good press along the art house circuit and seems a like-minded follow-up to Innocence, in that both films center on closed communities and youthful protagonists, express meaning through imagery rather than dialogue, and are structured to produce enigma and ambiguity over clarity and resolution. The two most influential franchises in J-Horror history, Ringu and The Grudge, face off in what seems like an odd attempt to kickstart a pretty moribund cycle, with Sadako vs. Kayako (2016, Koji Shiraishi). One can only hope the film's merits rise above the surface attempt to exploit past successes. One of Japan's most irreverent and unpredictable directors Sion Sono is featured in two films, one as the subject of the documentary The Sion Sono, by Arata Oshima, and the other Sono's homage/appropriation of the Roman Porno genre, Anti-porno (2016). Advance notice on this is that it is Sono back to his wildest and most flamboyant. Porno is also the subject of the Italian documentary about the 1970s Italian porno film, Porno e Liberta by Carmine Amoroso.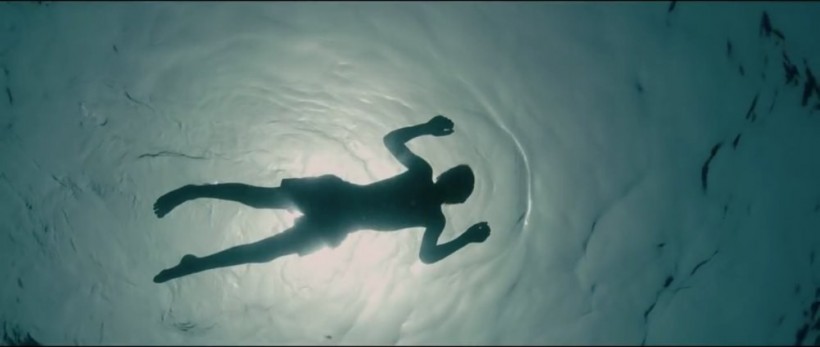 Evolution
As noted earlier, FNC has a healthy focus on music, through concerts taking place around the festival site, and in the film programming. Two music documentaries seem like stand outs, Jim Jarmusch's doc on Iggy Pop, Gimme Danger (funny enough Iggy Pop performed at the Montreal Pop festival a few days before the start of the FNC) and American Epic, a BBC series that charts the evolution of modern music. Electronic music is also the subject of Touche Française, a webseries about the French electronic musical scene, featuring performances by Laurent Garnier, Daft Punk and Air. The blooming local Montreal music scene is well represented with a special live show music and film projection performance by composer Radwan Ghazi Moumneh (of "Jerusalem in my Heart" and composer of the soundtrack to Desert City), joined by members of "Im", "Thee Silver Mt. Zion Memorial Orchestra" and "Suuns". Montreal experimental musician-poet and performer Bernardino Femminielli brings his retro brand of melancholic electro dance pop to the FNC's new section that links music to cinema with concerts and events. This music-film-performance section surely ups the FNC's hipness factor with a varied multi-media platform that brings together (and usually on the same stage) filmmakers, celluloidists (hurrah, film is still hip!), DJ's (many), dancers, artists, video artists, samplers, and in an homage to the 100th anniversary of the Dada movement, a cabaret of "festival gatherers".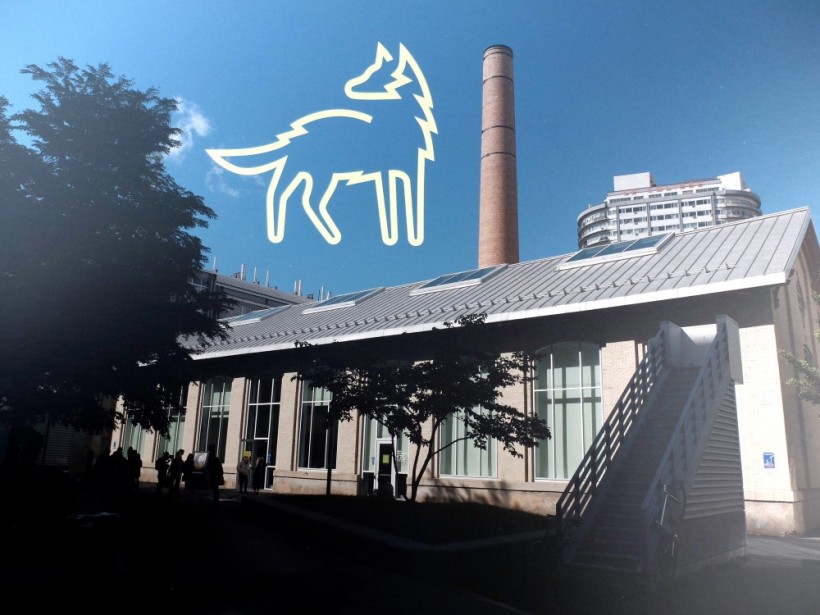 The Agora, FNC headquarters and home to nightly music-film concerts [photograph by Randolph Jordan]
In an attempt to play down my own hipness factor, I aim to bring my six year old son to as many of the kid friendly programs, "Les P'tits Loups", as possible. I especially will not want to miss the screening of the first two films by those famous hipsters Wallace & Gromit, A Grand Day Out and The Wrong Trousers (1993).
I'll fittingly conclude my pre-festival wrap with the section entitled "Films on Film," a hodgepodge of documentaries on fascinating subjects, plus a tribute to the late Michael Cimino in the form of a screening of the full version of Heaven's Gate (though I'm not sure how that fits in with the section theme???). One of the films I am most anticipating is a film essay (or Kino-Essay as director Ross Lipman calls it) on a film (or not film) that has always fascinated me, Samuel Beckett's only film, Film (1965) starring the great stone face Buster Keaton. One of the oddest couplings in film history, the great absurdist dramatist Samuel Beckett and silent cinema's grand poet, Buster Keaton. A film that reinvents the chase film, with a camera's eye, Beckett's (or official director Alain Schneider's), 'chasing' a frightened subject whose eye does not want to make contact with the camera eye, Buster. A film preservationist and now filmmaker named Ross Lipman has been obsessed by this film, studying it and decomposing it for years, and making his own account of his hunt with the kino-essay Notfilm. The result, from what I have gathered reading about it and viewing mini docs, reminds me of another recent reflexive masterpiece, Rodney Ascher's Room 237, an account of how five intelligent critics have been obsessing over Stanley Kubrick's The Shining. Room 237 is an illuminating example of a new brand of film criticism, or filmed criticism, what Chuck Klusterman calls "Immersion Criticism". It is a result of what happens when someone views a film so much, so intently, so obsessively, that it informs not only what they see but how they read the film. They see elements that no one else has seen, or could possibly see, after only one or two viewings. It seems to me this is what has conditioned Lipman's experience of Beckett's Film. A similar history may also be behind another fascinating sounding documentary, The First Film by David Wilkinson. The subject of Wilkinson's historical-intellectual mission if you will is well known to me as I came across this quasi-hidden bit of film history many years ago. The subject in question is inventor Louis Augustin Le Prince and the issue at stake is the founder of moving pictures. Though there is no one single person who is named as the 'inventor' of cinema –an invention which was arrived at simultaneously by many people across many countries, United States, England, Germany, France– there is someone whose name is conspicuously missing when in fact it could or should very well be a name at the very top of the list: Frenchman Louis Augustin Le Prince. History tells us that the first moving images ever imprinted on celluloid where taken in 1888 by Le Prince, several years before the noted pioneers Edison, August and Louis Lumiere, Robert Paul, William Dickinson–and there is proof, so much that it can be seen on YouTube, if you search for " Roundhay Garden Scene" or "Traffic Crossing Leeds Bridge" by Louis Le Prince. That his images are the oldest ever committed to film is irrefutable, but where the mystery starts is in the series of subsequent events that kept Le Prince from competing with the aforementioned other pioneers to stake a claim in the 'race to invent cinema'. The facts are that between the years 1886-1889 Le Prince was travelling to and from New York and Paris and London working on his film camera and negotiating patent requests for his invention. His wife claimed that his travels were often to avoid industrial spies who were after his invention. The story goes, "On Monday, Sept. 16, 1890, Albert Le Prince placed [his brother] Augustin on a train headed for Paris, where Augustin's good friend, a Lloyd's banker named Richard Wilson, was waiting for him at the Gare de Lyons. The train arrived in Paris, but Le Prince did not. The police scoured the countryside between Dijon and Paris but, to this day, not a trace of the inventor or his personal effects has been found. All that survive are two movie cameras and three strips of film, from his workshop in Leeds, England." Le Prince's family believe strongly that agents working for Edison were behind the mysterious disappearance of Le Prince. Director Wilkinson's The First Film is a documentary investigation of Le Prince's legacy and the mystery surrounding his life and death. This fascinating part of film history has already been covered some 26 years before Wilkinson's film in a biography of Le Prince by Christopher Rawlence, entitled The Missing Reel: The Untold Story of the Lost Inventor of Moving Pictures (1990). It is perhaps ironic that one of the great forms for the expression of fiction, cinema, has in its own shadowy history, a reality that is, as they say, stranger than fiction. Stay tuned at the FNC to see the latest account of this 'strange' reality.
Featured Image from Kiyoshi Kurosawa's Daguerreotype