The Dark Eyes of London (aka, The Human Monster) (Walter Summers, 1939)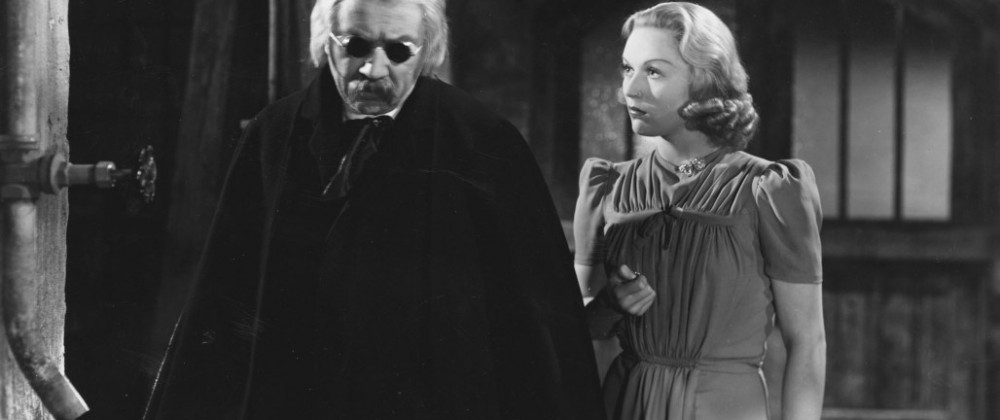 A series of seemingly random bodies fished out of the River Thames leads meticulous Scotland Yard inspector Holt (Hugh Williams) onto the trail of the sinister Dr. Orloff (Bela Lugosi), owner of the life insurance company that each of the dead had a policy with, with the sole benefactor being the Dearborn Home for the Blind, the charity home that none other than the good doctor himself sponsors and serves as medical advisor for.
Bear with me here (if you're one of the few, if any, paying attention in the first place) as the set of circumstances that led me to watching this decidedly satisfying (and nicely nasty-minded, fortunately made during that brief period in 1939 when the Hayes Code got unaccountably lax on horror films) little programmer is almost as labyrinthian (and perhaps unnecessarily byzantine, dictated as it all is by my obsessive nature) as the winding and shadow-laden Mabusian world that started it all.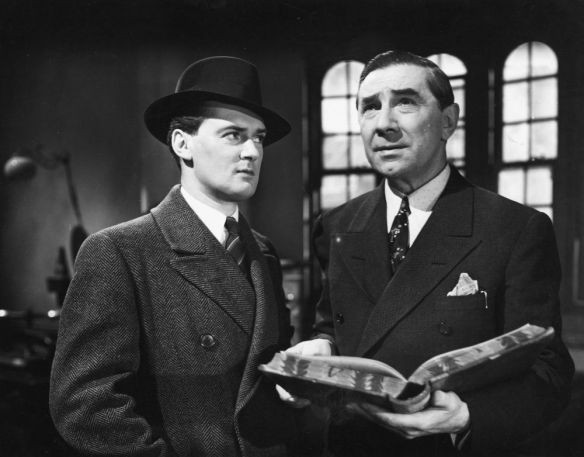 Inspector Holt and Orloff, Dark Eyes of London
Speaking of my continuing retrospective of the unlikely, over six-decade spanning "Mabuse" films, which follow the outrageous schemes of the nefarious, identity-shifting megalomaniacal doctor, to realize his anarchic dream of a world dominated by crime, utilizing everything from mass hypnosis to massive death rays, has led me to the first color entry in the "Mabuse" fold. And while the prolific output of the second wave of Mabuse films, kicked off in 1960 after an almost 30-year absence by heroic German producer Artur Brauner and the mad doctor's original Frankenstein-ein cinematic creator filmmaker Fritz Lang, started out with a bang – namely, Lang's inspired 1,000 Eyes of Dr. Mabuse — as the decade progressed, while still enjoyable and having its moments, the series' output began to creatively suffer (while inversely turning increasingly wonky, with a growing reliance on absurd James Bond style gadgetry); alas, it was falling victim to that all-too-familiar case of diminishing returns.
Saying that, my interest peaked back up again (not that I wasn't enjoying going through these films anyway) with this first color entry in the "Mabuse" series (the last in the 'official' cycle, though with a few more 'unofficial' entries still up on the docket), known as The Vengeance of Dr. Mabuse… as this one was likely gonna be even more eccentric than usual (and that's saying something for this strange series), considering it was directed by none other than that most anarchic, free-wheeling and wildly prolific (hell, I got more films of his on my shelves back there than any other filmmaker – including Hitchcock, including my beloved Bergman — twenty-seven titles, to be precise, to which I mostly blame Severin films for, with most currently unwatched, clearly pointing me towards an eventual massive rabbit hole of a retro) filmmaker of soft- and hard-core erotic genre films extraordinaire, the late auteur Jess Franco.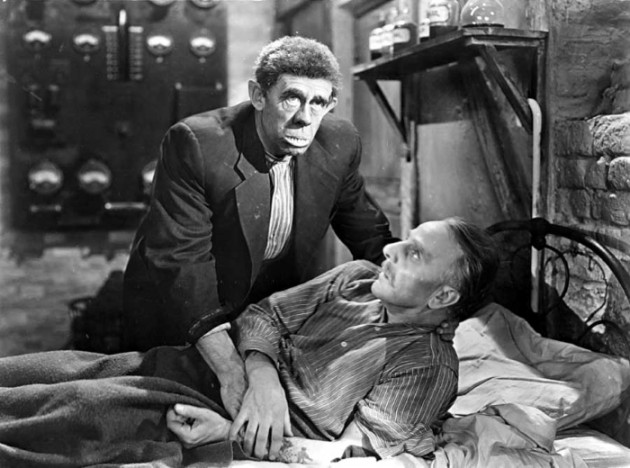 The deformed Jack thinking of turning against Orloff
A little reading up on Franco's "Vengeance", before diving in for a viewing, led me to uncover that, not only was the film a sort of remake of the Spanish director's first (and one of his few) financially successful works, The Awful Dr. Orloff (a film he apparently kept sequeliz-ing and remaking all throughout his career), but that… for "Orloff", Franco's cinematic influences were the stunning, equal parts ghastly and visually poetic Georges Franju Eyes Without a Face and… yes, of course (with the name of Lugosi's doctor pretty much cementing it)… the 1939 British horror/crime film known as… The Dark Eyes of London (or The Human Monster with the USA title placing the film's shameless trading on Orloff's deformed, teeth-jutting henchman Jake as the 'monster' of the film even more upfront).
So, I figured it was time to backtrack and entertain a few viewings before jumping into Franco's "Mabuse" film (research, you know).
And "Dark Eyes" was certainly worth the effort (ringing it at an easy 75 minutes), revealing itself as another on the list of films I can't believe isn't more celebrated – especially with Lugosi so well-used at its core, with the film managing to craft the actor's strange, deliberate delivery and peculiar, striking appearance into one of his too rare worthy performances. What struck me most about the film was just how connected it is to the Mabusian world, both within the text and out.
Lugosi's oft-hammy qualities lift his presence to not just a Mabusian villain, but to a literal Mabuse (a character who becomes less an actual person than a shadowy identity-less ideological figure anyway as the series moved on). If the hints at menacing mind-control abilities (which might just be Lugosi over-acting, but it works anyway) and the underground criminal network spidering all over the city that Orloff has amassed (with some wonderfully clever conceits such as a blind violinist ostensibly begging for change on the street corner outside Orloff's office window revealed as actually there as an operative, with a change in his tune warning the doc to the arrival of the police), or the fact that Orloff runs his entire enterprise (with many of those involved not even aware of who it is that's in charge) through Mabusian fear weren't enough, the good doctor's bold masquerading (in completely Mabusian white hair, no less) as another character (with the disguise brilliantly handled, as I didn't even realize it until almost the end of the film) pretty much cements it.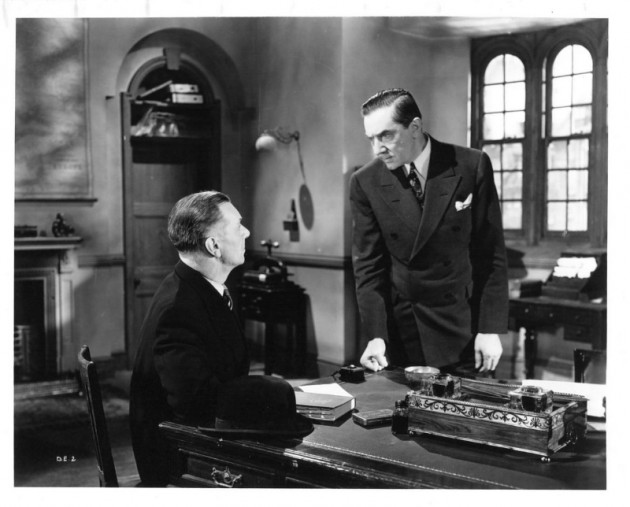 Lugosi's grand Mabusian presence
There's the entire home for the blind (some real, some pretend), which operates as a front for Orloff's murderous activities, seemingly lifted (including very similar shots) directly from the blind home in one of the Lang "Mabuse" films, with the handicapped used to covertly operate Mabuse's counterfeiting operation.
On top of all that, "Dark Eyes" is based on a book by the influential urban crime writer Edgar Wallace, whose work would eventually be a leading beacon in the prolific German "krimi" films, which the Mabuse films were tied together with in spirit (in fact, one of the 60's second wave Mabuse films, Scotland Yard vs. Dr. Mabuse, was based on a story by Bryan Edgar Wallace, the original Wallace's son, who had taken up his father's mantle).
So, Franco's first internationally successful film The Awful Dr. Orloff was influenced by an earlier film that was openly influenced by (to the point of stealing from) the Lang Mabuse films… long before Franco knew he'd actually direct an official "Mabuse" film which would be a remake of his own "Orloff" film. The mind reels at the Mabusian-like labyrinth of complexity.
Dark Eyes of London, despite a fleeting moment or two of goofy humor centered about the crass conceptions of the American officer (who, for instance, simply can't take it serious when he actually sees a female British police officer), was a pleasure to discover (including some really nice set-pieces, such as the river of mud with which Orloff has the deformed Jake throw his victims into, and to which he naturally ends up as well, eventually betrayed and attacked – again, in Mabusian fashion — by his own underlings).
Let there be no doubt… officially sanctioned or not… as far as I'm concerned? Orloff is Mabuse (with Lugosi as another perfectly realized representation of the mad doctor). And "Dead Eyes" is a worthy Mabuse film.
As an aside, I've also discovered that this "Dark Eyes" was even remade in Germany during the 60's Krimi period as Die Toten Augen von London (ie, Dead Eyes of London). Now I'll just have to see if I can't get my mitts on that one as well…