Tales from the Darkside: The Movie (John Harrison, 1990)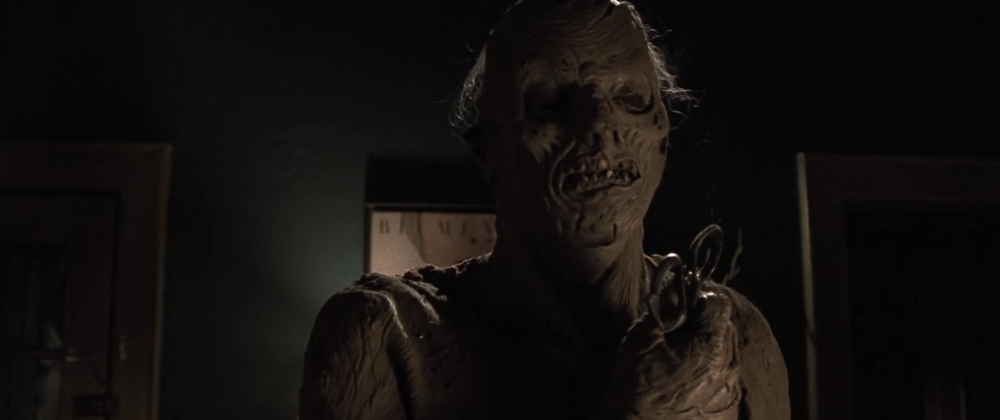 With the 1980's theatrical adaptations now in the rear-view mirror, the Stephen King retro continues (daughter in tow, natch) with a final stab at the anthology format (in the feature film realm, anyway – there's still some television series eps upcoming on the S King docket). With an EC Comics morality-style narrative, an unabashed horror film attitude and a tongue in cheek approach (including the rubbery gooey gore gags, which I will take any day of the week over the far more inorganic digital ones that began their unfortunate ascent in the 90's), the horror anthology was a big part of the 80's horror cinema scene, in no small part due to the contributions of one late, great George A. Romero and his mighty Pittsburgh filmmaking cabal… and while Tales from the Darkside is lit in a sleek style that speaks more to the decade ahead, its storytelling gives a last gasp look at the Romero-owned decade before…. and, overall, it manages to succeed.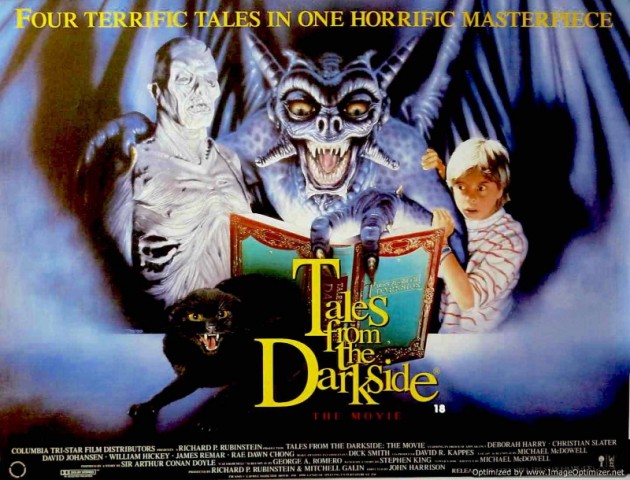 The film takes its cues (and title) from the Romero-created four-season television series of the same name — one which included a King short story, "Word Processor of the Gods", that I'll eventually get around to checking out on an upcoming viewing night or two of all the episodic King television tales (I'm telling you, this retro is ambitious!) — presenting three horror tales (with the welcome addition of R-rated grue and cuss words), woven together through a fairly innocuous modern 'Hansel and Gretel'-riff wraparound, enlivened by the presence of Blondie herself, Deborah Harry, as the evil suburban witch looking to cook up the young neighborhood boy she's captured as her entrée for the night's dinner party, with the boy desperately doing his best to keep the pleasant cannibal housewife distracted from her preparations by reciting stories from the book of short horror stories he was reading – titled, of course, "Tales from the Darkside" (no reason to go subtle with these kinda things).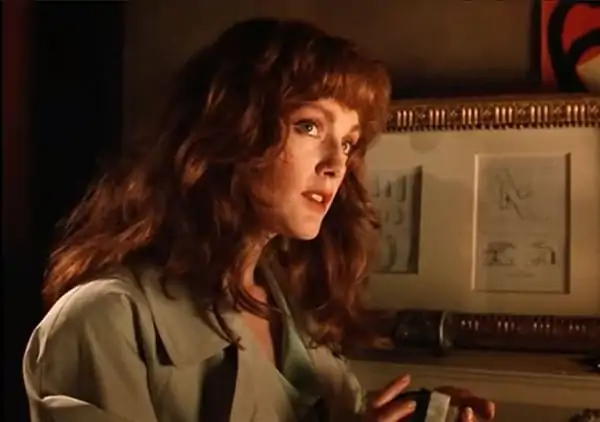 Julianne Moore
The first ("Lot 249"), dealing with an ancient mummy resurrection by an eager and slightly demented college student, is adapted from a somewhat unexceptional Sir Arthur Conan Doyle tale; it's the broadest in execution of the cinematic triptych and definitely the lesser of the three… which isn't to say it isn't without its charms. Screenwriter Michael McDowell (who also wrote the third segment "Lover's Vow" – an original for the film, and my favorite – with the middle tale being a Romero adaptation of a Stephen King short – hence, the inclusion on the night's viewing block) updates it to modern day and manages to wring a bit more excitement out of Doyle's tale — doing it in true Romero-esque fashion, in fact — by giving us a look at the exclusive private school students as awful little elitists, with revenge now part of the mummy's murderous mission… allowing for (unlike in the Doyle tale, where no one even dies) some amusingly garish EC-style gory comeuppances (of just the kind that the amoral deserve!).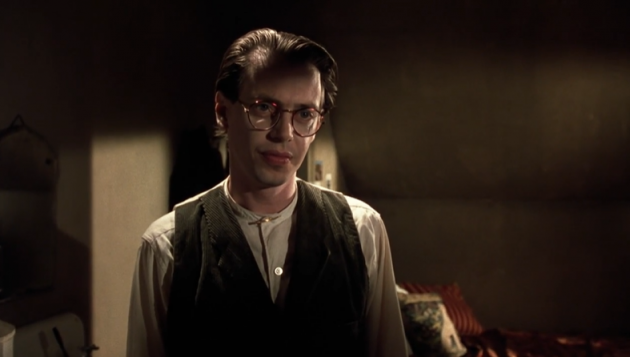 Steve Buscemi
Perhaps the most pleasing element of the entire segment is the casting (an impressive part of the entire film, in fact); in this case, two up-and-comers who would soon become major players of the 90's Sundance/Miramax indie set – Steve Buscemi (as the brilliant yet vengeance-minded Bellingham) and Julianne Moore (as a cold-hearted scheming bitch, a fun character addition entirely for the adaptation), both clearly relishing in their parts, diving in with nary a hint of condescension – and eventual Hollywood bad boy Christian Slater, about a decade away from crashing and burning, leaning a bit too broad at moments, as the actor was already beginning to ape the infamous persona of the Hollywood legend of who he looks like a young version of – Jack Nicholson.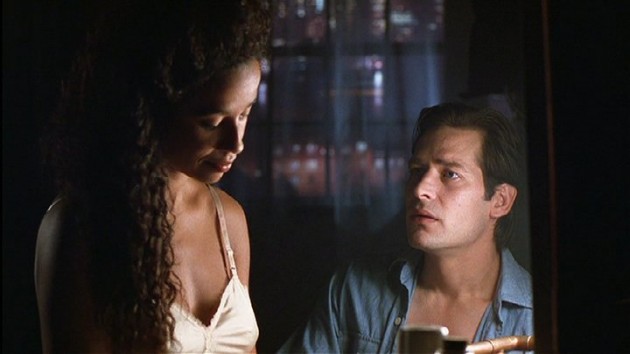 Rae Dawn Chong
Next up was the Romero-written King adaptation, "The Cat From Hell", the blackly humorous and grizzly fun chamber piece set in a mansion, starring long-time famed acting coach William Hickey (who already looked old and sickly long before he actually became old and sickly) playing Drogan, a wheelchair-bound (old and sickly) uber-wealthy former pharmaceutical company owner, and infamous New York Dolls performer David Johansen (right in the middle of making a splash at the time as Buster Poindexter revitalizing classic Eric Burdon/Animals songs like "We Gotta Get out of this Place") as the hit man Drogan hires to take out the titular phantom-like feline he believes has appeared to exact vengeance upon him for his company having callously killed thousands of cats in the pursuit of oodles of wealth in serum-making. Shot with a monochromatic look that makes it almost appear black and white at times, as well as having some really nice transitions between locations and settings done practically through some cleverly used set lighting and scrims, "Cat" is executed with admirable flair, and the over-the-top gore gag finale (lifted directly from the original King story) – while I have no idea why it's happening or what exactly it's supposed to mean – remains startlingly jaw-dropping (and throat-clutching – definitely throat-clutching), a sort of grand and irreverent exclamation point on the (Romero-led) 80's horror anthology film.
The last episode, the most melancholic of them, by McDowell, "Lover's Vow", dealing with a struggling New York artist (James Remar) who one dark night finds his great love and muse in the beautiful and mysterious Carola (Tommy Chong's grown-up daughter Rae Dawn Chong) just after witnessing a terrible murder by a winged gargoyle creature, isn't exactly full of surprises story-wise (I mean you can already guess the twist in this little summary I just wrote), but what really elevates it is the performances (as well as some impressive city landscape shots done through mattes and opticals). It's nice seeing Remar get a chance to reach outside of the usual role's afforded him (not that I don't love him as a sociopath in all those Walter Hill films!) and him and Chong seem to have a genuinely erotically charged chemistry together (with the achievement of that kind of sensual feeling not something particularly common to those horror films of the time – certainly not the Romero ones – even if it feels on occasion a bit too reminiscent in style of a Skinemax film). Witnessing how much the camera loves Chong, creating a sense of mystery around her in the moody lighting, made me wonder, with all she had to offer, why she didn't become a somewhat bigger star in the 90's. Filling out the cast with another familiar face is comedian Robert Klein, as the artist's opportunistic, yet not all bad, agent (side note: Klein was also in "Wordplay", an amusing episode of the 80's "The New Twilight Zone", the underrated first revamp of the unsurpassable Rod Serling-created original). And if that's not enough, "Lover's Vow" is nicely punctuated with some juicy gore gags, and excellent monster effects to boot.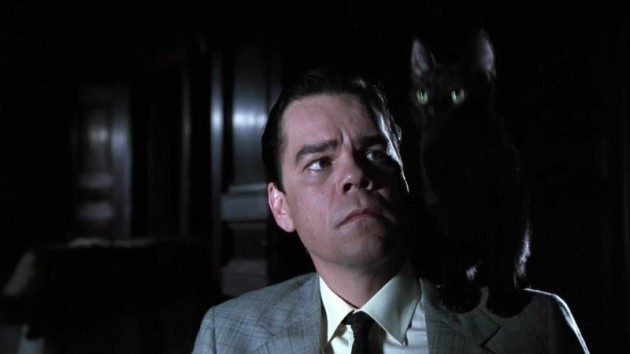 David Johansen
As done previously on Creepshow 2, with Romero's oft-cinematographer Michael Gornick handpicked to direct that worthy sequel, another member of master George's clan was chosen this time around – in this case, his regular film composer John Harrison… and, just as with Creepshow 2, the filmmaking newbie proved himself up to the task (in fact, ironically, Harrison's effort is a lot more impressively cinematographically ambitious than Gornick attempted).
There you go, another quality entry in the King/Romero canon, with the even better news that there's still one more collaboration left coming up just a bit later in the 90's.