Visual Style in M. Night Shyamalan's "Fantastic" Trilogy : The Long Take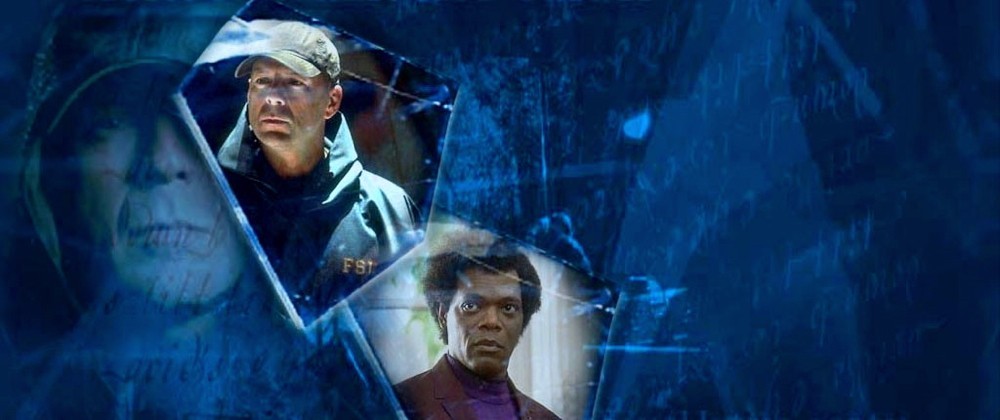 Introduction
With his three feature films The Sixth Sense (1999), Unbreakable (2000), and Signs (2002), the India-born, US director M. Night Shyamalan has established the difficult feat of achieving remarkable success (in his time) on both the critical and commercial levels. 1 For starters, Shyamalan is one of the rare filmmakers in the US who has achieved the enviable pole position of being writer, director, and, in the case of Unbreakable and Signs, co-producer. An important component to this dual success is that Shyamalan knows how to craft a story that contains layers of meaning and subtext alongside plot and character. And to his credit, these "layers" are usually expressed through the film's form and style (Signs is an exception in that it relies more heavily on dialogue for its meaning and subtext). Shyamalan uses the whole gamut of cinematic potential to build his layers of plot, meaning, and subtext, including music, sound, color, performance, and mise en scène. Doing complete justice to all areas of Shyamalan's style is beyond the limits of even a long essay. The elements of this cinematic potential that I will restrict myself to is Shyamalan's visual style, and in particular, his use of the long take (in Part 1) and the following aspects of his mise en scène, his use of 'reflected images' and mirroring effects (in Part 2).
Shyamalan is fairly classical in terms of the stylistic approach he uses to shape his material. There is nothing unusually radical or 'subversive' about his work. Above all else, Shyamalan constructs a believable fictional world with believable characters and events, even if the genre he loosely defines himself in deals with unbelievable events. But what makes Shyamalan so interesting, apart from his willingness to deal with serious moral and philosophical issues, is that he revels in stretching, updating, or adding a new twist to the classical model. Like, for example, the classic shot-counter shot editing pattern, which he often reconstitutes through camera movement or framing (I'll give examples of this later). Narrative credibility is of extreme importance for Shyamalan in terms of formal expressiveness, as opposed to the type of formal expressiveness that stems from beyond the strict narrative or dramatic moment. Although the primary importance is that the formal expressiveness serve a pragmatic (i.e. narrative, dramatic) function first, Shyamalan does not shy from touches of formalism that go beyond narrative motivation and signal the hand of an auteur playfully gesturing with the 'cinematic possibilities.' (An example here is his use of the color red as a signifier for dread or danger in The Sixth Sense.) I would characterize this overall approach, respectful of verisimilitude but not averse to touches of formal bravado, as 'expressive realism.'
My initial reaction was to refer to these three films as Shyamalan's "spiritual trilogy," since in interviews he has not held back his conscious desire to deal with issues of the human spirit (profound identity crisis, faith, the power of human agency, chance and fate). With the exception of Unbreakable, the other two films are loaded with religious imagery and metaphysical symbolism, in the case of Signs, these are no longer subtext but text. Although I think this would have been a valid formulation, I have opted for the more general (and generic) title of "fantastic trilogy." By fantastic I am here distancing myself from Tzvetan Todorov's use of the term, but simply mean that each film depicts an event which has occurred within the diegesis of the film that is unexplainable by the laws of science and nature. In The Sixth Sense characters have a preternatural ability to 'see' and interact with ghosts (as the young central protagonist Cole (Haley Joel Osment) says in the film's highly quoted line, "I see dead people"). In Unbreakable a seemingly ordinary man, David Dunn (Bruce Willis), slowly discovers that he is physically indestructible and learns to accept that he is a living 'superhero.' In Signs an imminent apocalypse in the form of a global extraterrestrial invasion infiltrates the lives of a simple farming community with ultimately life-affirming consequences. As I noted earlier, my approach in this two-part essay will be to concentrate on the following aspects of Shyamalan's visual style, the long take (including camera movement) and two general aspects of his mise en scène, reflected images and mirroring effects, to explore a style I refer to as 'expressive realism.'
One of the most striking aspects of Shyamalan's expressive realist style, with respect to how his films 'feel' compared to other mainstream, popular American films, is their pacing. There are many factors at play in what affects a film's pacing, including the amount of dialogue and plot information, the number of central characters, the level of character/subject and camera movement and kineticism, and, of course, the editing style. With respect to editing style, Shyamalan sets himself apart from most of his popular contemporaries with a more measured, relaxed editing style that is statistically confirmed by the average shot lengths (ASL) of each film. An important feature of this more relaxed pacing is Shyamalan's controlled and methodical use of the long take. Of course many contemporary directors employ the long take, which can be briefly defined as a shot which goes on for a considerable amount of screen time before a cut occurs, but in the majority of cases it is used sparingly as an emphatic device (to open or close a film for example), or as a device to 'energize' a scene by accentuating the 'spectacular' side of cinematic technology (steadicam, cranes, or other camera mount apparatuses) or high production value. Of course this is a generalisation, but one never gets this sense with Shyamalan's long takes.
The dependence on the long take in all three films is confirmed by the average shot length of each film, especially when contrasted with the majority of mainstream and popular US films. In his essay "Intensified Continuity: Visual Style in Contemporary American Film" David Bordwell notes a steadily increasing average shot length (ASL from this point on) in American cinema since the 1970s. 2 The ASL in the years between 1930 and 1960 ranged between 8 to 11 seconds, and A-budget films with an ASL of less than 6 seconds were extremely rare. In the 1980s the ASL dropped to around 5-7 seconds, with many films cutting as quickly as 3-4 ASL. By the late 1990s/early 2000 the ASL dropped further to 3-6 seconds, with many major and big box-office hits having ASLs as low as 2-4 seconds. According to Bordwell, the fastest cut Hollywood film he encountered in his research was The Dark City, with an astonishingly fast ASL of 1.8 seconds! Concurrently, Bordwell notes that the top range of shot totals for films also increased, moving from 1500 shots in the 1980s, to 2000-3000 shots in the 1990s, to the 3000-4000 shot range by the end of the century (Armageddon, 1998, Any Given Sunday, 1999). name="_ednref3"> 3 By contrast Shyamalan's ASL and shot totals for his three films, according to my statistical analysis, are: The Sixth Sense (686 shots = 8.7 ASL), The Unbreakable (322 shots = 18.7 ASL), and Signs (574 shots = 10.3 ASL).

Aerial Angles in The Sixth Sense, Unbreakable, and Signs.