Our Passion Is Our Task: Sexual Ethics in the films Splendor in the Grass And The Paperboy
Pleasure versus Virtue, an ongoing struggle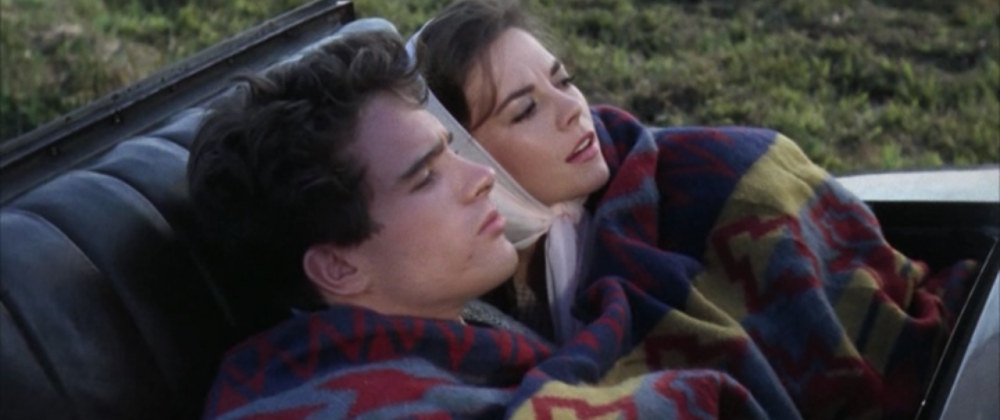 Splendor in the Grass
Directed by Elia Kazan
Warner Bros., 1961
The Paperboy
Directed by Lee Daniels
Millennium Films, 2012
Sexual ethics does change, though we are not always aware of it: sometime the change is due to modern knowledge, or greater social opportunity, and sometimes it is due to chaos in society that makes it difficult for the old values to be policed and promoted. There could be other reasons. Splendor in the Grass is a film with a story about frustrated young love that is set in 1928, not long before the financial crisis in the United States, a story that continues on for several years, and the motion picture was made in 1961, about thirty years after; and The Paperboy is a film with a story about a journalistic investigation into a murder trial, and a young man's infatuation with a woman who is herself enamored of an imprisoned man, a story that is set in 1969, continuing for several years, and that film was made in 2012, about thirty years after. Both cinema works look back at a time when sexual ethics began to change. In Splendor in the Grass, a young Kansas couple become miserable and separate when the morality of the time—as expressed by forbidding parents and authority figures—discourage sexual consummation; and in The Paperboy, a middle class Florida boy becomes infatuated with an older, promiscuous woman and he learns that his older brother's sexual life is marked by sexual practices considered deviant, for which that older brother feels shame. Both scenarios, in terms of repression and shame, would be much more difficult to imagine as happening today, in 2013.
The young Warren Beatty stars in Splendor in the Grass. Warren Beatty, a tall, dark, handsome man, a celebrated actor and a mystery, someone who was active at the center of the culture and on its margins, making movies and raising funds and organizing for George McGovern and Jimmy Carter, appeared as a coolly pragmatic criminal in Bonnie and Clyde; and as a rather sweet brothel-owner with affection for the shrewd madam who ran the place in Robert Altman's McCabe and Mrs. Miller, a vision of an emerging, dangerously laconic American western town; and Beatty was a hedonist hairdresser in Shampoo, the comedy-drama of class and sex; and Beatty gave several generations a lasting and ideal portrait of radical journalism and politics in Red, the story of John Reed and Louise Bryant and their friend Eugene O'Neill, a story of adventure, bohemian experimentation, intellectual excitement, political fervor, sophistication, and international reach; and Beatty's film Bulworth was a funnily tart assessment of how politicians are bought by special business interests and sold to a luckless public, with one senator finding redemption soon after giving up all hope. Warren Beatty became known for intelligent and iconoclastic films and for an enviably seductive way with the most beautiful women (he did not cut a wide swath among them: he decimated whole forests). It is difficult to remember that Warren Beatty's public image began very differently, as a young man whose observance of conventional morality causes him to forfeit sexual pleasure and a significant first love—in film and theater director Elia Kazan's lush midwestern melodrama Splendor in the Grass , written by playwright William Inge from a personal memory at Kazan's request. Elia Kazan directed On the Waterfront and East of Eden, and Inge wrote the plays Bus Stop and Picnic; and Kazan's cinematographer for Splendor in the Grass was Boris Kaufman, production designer Richard Sylbert, set director Gene Callahan, editor Gene Milford, and composer David Amram.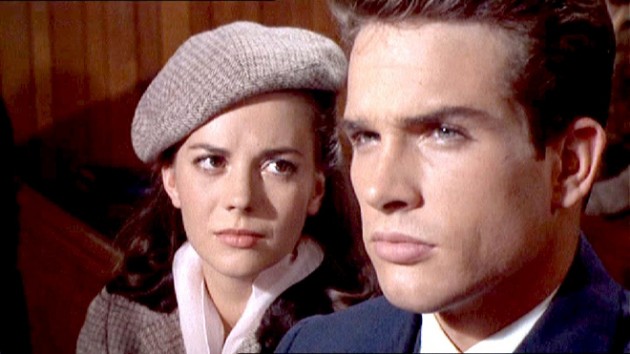 In Splendor in the Grass, nature, social institutions, family, and materialism all play a part in the story: it is a story of desire, desire frustrated, and the consequences of that frustration and the alternative paths taken. In the film, nature is a location in which erotic impulse is given some expression, with young couples kissing feverishly in cars parked outside town, within or near wilderness, near a great waterfall; however, home and school and church are places in which sexuality is controlled, repressed. The high school sports star Bud Stamper (Warren Beatty) has a wealthy oil-driller of a father who warns Bud against sex with Bud's girlfriend Deanie Loomis, least he have to marry her; and Deanie (Natalie Wood) has a mother who warns her that a decent man wants a nice girl and will not marry a girl with whom he can have sex. The hugging and kissing of Bud Stamper and Deanie Loomis get them all hot and bothered but the words of their elders, with predictions of dire consequences, are pails of cool water. Bud's father Ace Stamper (Pat Hingle) wants Bud to go to Yale and become someone important, and not get tied down to a grocer's daughter. The division between good girls and bad girls is treacherous, as it denies natural impulses (Deanie's mother Frieda Loomis states plainly that sex is more important to men than women—that women simply endure it for the sake of having children). The young are dependent on the adults for guidance, and the guidance here is controlling and dishonest.
Bud's sister Virginia is an object lesson: Ginny became the lover of a fortune-hunting young man, and pregnant, and her family intervened, annulling the marriage and insisting on an abortion. Consequently, the sister is in open rebellion, angry and sexual, criticizing her family and its home and the town, and flirting with a wide range of the wrong men. Bud's sister Virginia, something of a flapper, is an embodiment of the modern spirit yoked to an old way of living; and she is a study in hysteria. Bud's father and Bud's doctor—who is cowered by an old female nurse—offer very little honesty or help when Bud seeks it. Work, money, rigid morality, and family are the standards. The moral and social repression works on the minds and nerves of Bud and Deanie, with the young man suffering a physical collapse and the young woman suffering a nervous breakdown. The melodramatic film can be terrifying—or hilarious—to watch, depending on one's perspective. The materialism of Bud's father is preached against in a minister's Sunday service, but the father compliments the service without hearing it, and his materialism is relentless though understandable, and is checked by the Wall Street crash—but that comes toward the end of the film: the father's crisis occurs after the father insists that Bud go back to a school, where Bud does not want to be, and the father insists Bud become acquainted with a nightclub dancer the father says is no different from Deanie. Ace Stamper does not recognize the individuality of Deanie or Bud. Bud's mother likes Deanie and wants them to marry, but Mrs. Stamper is a weaker presence. "Neither of my children gets any real nourishment," Mrs. Stamper says plaintively when Bud, despite her protest, rushes out for school without sitting down to eat breakfast. Deanie's own father Del Loomis is well-intentioned and practical but he seems to leave the parenting to his small-minded wife, Frieda.
In high school an assigned Wordsworth poem is read, and the poem—inflected with thoughts about idealization and reality, past and present, and the facts of change, memory, and acceptance—offers Deanie a moment of reflection (and the film its title)—but other than that, it is hard to see if these young people ever think of educated culture as recourse for experience and information. Could books or music or theater offer insight? Bud's sister Ginny uses music, a loud music box, as an irritant, a weapon against her father; and Bud and Deanie use music, a parlor piano, to disguise their genuine intentions, to hide from Deanie's mother their attempt to be together. Was there something during the jazz age by writers F. Scott Fitzgerald or D.H. Lawrence that Bud and Deanie might have read? Deanie's mother Frieda mentions Freud dismissively—the one man who might have been of definite use before the intense disturbances caused the young people.
However, until Deanie, after trying to commit suicide near a waterfall, has a certifiable psychological condition and is sent to a sanitarium, there is no significant recognition that her personal concerns actually matter—and should be respected. Even when Deanie is confined to a facility, her mother insists that Deanie is fine (the insistent claim of mental health is the sickest thing of all). The mother stares at the distorted angles of a cubist painting in the sanitarium, wondering how Deanie and her family are being interpreted by the doctors. Yet, it is here where Deanie is listened to, and given therapy—which includes painting. There is a failure by her parents Frieda and Del Loomis to recognize that Deanie is a woman, and that she has been disturbed and why. Finally, two years later, Deanie leaves the hospital, with the intention of marrying a young Cincinnati man she met there, someone sent around the bend by his own father's insistence that he become a surgeon—though he does not want to cut human flesh; and Bud, having left college following his father's death, has married a waitress and is working on the family ranch, which is where Bud wanted to work all along. Bud and Deanie meet again and still like each other but they can no longer speak of the love and possibility of happiness that they have lost. The performances of Warren Beatty and Natalie Wood are admirable, as are the rest of the cast, including Pat Hingle, Audrey Christie, Barbara Loden, and Zohra Lambert; but, with Beatty and Wood, and the aspects of idealism and naturalism—handsome/pretty star personas and conflicted, honest emotion—in their performances, the Beatty and Wood performances bear something of the shift from one mode of theatricality to another. A new sense of truth was breaking through. The film is a trace of when, in the last century, sexual tensions and social morality began to be intolerable, insupportable—it is about the early twentieth century, but it also is about the mid-to-late twentieth century, the time of rock-n-roll and the civil rights movement and other manifestations—feminism, gay liberation, drug use, the generation gap, the increasing acceptability of slang speech, casual clothing, long hair—of greater cultural looseness and individual liberty. All kinds of personal impulses could be admitted and pursued. The mid-century inspired, or required, a look at an earlier time when things had begun to shift, an earlier conflict, and an earlier modernism as a light for contemporary liberalism.
Most of what the young couple in Splendor in the Grass is hesitant to talk about is blatantly, vulgarly said and done in The Paperboy: The Paperboy is a provocative, lively film starring Zac Efron, Matthew McConaughey, Nicole Kidman, and Macy Gray, written by Pete Dexter and Lee Daniels, based on Dexter's novel and directed by Daniels. It begins, after a recounting of a hateful sheriff's 1969 murder, with a young white man, Jack, a college exile in tight white briefs (Zac Efron), talking and joking about masturbating with the black maid, Anita (Macy Gray), who is trying to clean his room, which has a peace symbol and a get-out-of-Vietnam sign on the walls. During the film, we will see a woman and man masturbate in public, and get the news that a white woman has had sex with a black man for strategic reasons, and that one of the characters has homosexual inclinations. If at all imaginable by the people in Splendor in the Grass , the story in The Paperboy would have seemed pornographic—and, possibly strangely, it is not. The Paperboy, focused on a murder investigation in a small Florida town, is a work of character and situation, of time and place, of act and consequences—and while presenting characters that are rudely sexual and can be hard to like or respect, the film has some depth, even redeeming value. I had not liked Precious, the previous Lee Daniels film, finding its pathetic extremities repulsive—and, although I admired several of The Paperboy 's stars, I had assumed I would not like it, but I liked The Paperboy very much, with some reservations. Lee Daniels has created, with writer Pete Dexter and cinematographer Roberto Schaefer, production designer Daniel Dorrance, costumer Caroline Eselin-Schaefer, editor Joe Klotz, and composer Mario Grigorov, a thoroughly engaging, possibly revelatory film. In The Paperboy, produced by Lee Daniels and Hilary Shor among others, the character Charlotte Bless, an Alabama woman, gets the Miami journalists Ward Jansen and Yardley Acheman to investigate how a murder trial was conducted in the south Florida town of Lately in Moat County, and, subsequently, she meets Ward's younger brother Jack in Lately, back in Ward and Jack's boyhood home after Jack was thrown out of college for a prank. There are family conflicts and social conflicts in the late 1960s/early 1970s American south, navigated by a young man, Jack, who acts as a driver for Ward and Yardley and begins to realize who he is, what he wants, and what he is capable of.
The cast of The Paperboy is remarkable, beginning with Zac Efron, a sublime expression of musical muscle, a gifted swimmer and dancer, a down-home American Adonis: Zac Efron's acting was earthy, sweet, and shrewd as a spiritual young man who befriends Josh Radnor's returning college graduate in Liberal Arts —and Efron executed strangely dynamic poses in Liberal Arts, a film that affirms the humanities; and here, in this Lee Daniels film as Jack, Zac Efron is tougher, but perceptibly conscientious— and, again, he moves beautifully. (Efron's Jack walks around in his briefs, as if he were still a boy; and, after offending the maid Anita with a racial comment addressed to a visitor, Zac apologizes and hugs her, again, as if he were a boy.) Matthew McConaughey has thinning greasy hair and the suggestion of a belly as a dedicated and recognized journalist, Ward, who has a black co-worker—the brash, well-dressed, short-cut taking, and teasing Yardley, an immediately impressive but imperfect professional played by David Oyelowo. Macy Gray as Anita Chester is the hard-working but temperamentally irreverent maid, who helped, with brother Ward, to raise Jack—does she smoke marijuana in her off hours, or merely drink?—but Anita, a caretaker, a confidante of Ward, and the film's narrator, miscalculates when she underestimates Jack's father's new girlfriend. The father, W.W. (Ward Ward, played by Scott Glenn), a local newspaper publisher and a past skirt-chaser, is almost an irrelevance as a parent; providing no guidance that is heeded and allowing himself to be directed by his narrow-minded, writer-editor woman lover of middle-age, blue eye shadow, and vexing attitudes. Nicole Kidman as Charlotte has butter-yellow hair, false lashes, and clinging clothes and is a woman who corresponds with many imprisoned men but decides one, Hillary Van Wetter, is innocent, and her true love. Dedicated to him, Charlotte does legal and media research before getting the attention of the investigative journalists. Charlotte, who has sex out of love, lust, and calculation, says that having sex with a man is the most natural thing in the world. Kidman, like McConaughey, has courage, takes chances, and allows herself to be seen in harrowing and intimate ways, with a sexual specificity that is rare for a performer of this magnitude. (I wonder how many recognize a naughty joke: Charlotte says that Hillary in imagining and preferring her fellatio to his cunnilingus, unlike other prisoners writing her, offers psychological proof of his innocence: later, when free, Hillary performs cunnilingus.) Hillary Van Wetter was an alligator skinner, who had a machete to gut gators; and the murdered big-bellied sheriff, Sheriff Call, had been gutted, a fact that brought suspicion to Hillary: Hillary is the convicted man, the fetish object, the subject of investigation, and the figure of darkest impulse; and John Cusack as Hillary has not appeared on film in this way before—as an angry, bloated, desperate, dirty and violent man whose desire to be free does not incline him to restrain his rage, something that should be instructive for those around him, but is not. Hillary's Uncle Tyree may offer a belated alibi. The film's characters are a wild, disreputable bunch; and together they create a story with the wildest life—at first it seems preposterous, and then as it proceeds, as the investigation continues through prison visits, court offices, and excursions to a swamp dwelling, it is like an explosion of the truth of human nature.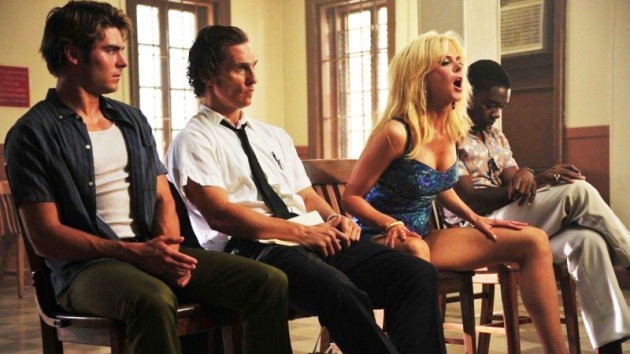 Charlotte says that she, like Ward, has a dark side; and Jack quibbles with that, thinking people cannot be split into parts. Yet, discernment and discriminations like that are important aspects of the film. Charlotte draws a distinction between the life at stake and the story the journalists want to write, preferring the life; and Yardley further makes a distinction between the story of injustice he wants to tell and some of the facts that he thinks it okay to leave out. (Charlotte, who has had sex with Yardley to gain his interest, looks first pleased then dismayed to hear Yardley's elaborate explanation of his investigation and exoneration of Hillary, her fancy: she, like Ward, suspects it is a lie—too complicated and practiced a lie.) Sex is one of the things that brings people together—and rips their lives apart. There is something that Pauline Kael said years ago that seems to have been controversial, and which was misunderstood: she talked about Last Tango in Paris as being a significant milestone in the presentation of sex in cinema—as actor Brando and director Bertolucci used sex in the film not simply as an expression of eroticism, not simply for the presentation of beautiful bodies and the suggestion of pleasure and viewer titillation but as the expression of character, as the expression of the hunger and rage and despair and imagination of particular people. That is what Lee Daniels does in The Paperboy: the expression of sexuality is the signature of these people's psyches. Ward and Jack's mother, who abandoned them, used to tell the boys not to have sex with a woman until marriage, prohibitive advice that many of their contemporaries reject. Each person in The Paperboy is different; and the sexuality of each is different: while one person is sexually wanton, another feels a lethal amount of sexual shame—the kind of shame it would take a social movement and decades to exorcise. However, just as conventional morality seems to play too large a role in Splendor in the Grass, sexuality in The Paperboy seems to play too large a role. One wonders about the significance of culture and thought. Sex is an animating energy, but film director Lee Daniels may see it as disproportionately true: he would not be the first black gay or bisexual artist to have made that mistake. There are other sources of human personality, and of cultural vitality; and other sources of human corruption and weakness. Does Daniels know that? What does thoughtful conversation and literature and philosophy and theater and film and serious music and painting have to offer these characters? (The one book we see Jack read is Lolita.) Have these people made some sacrifice of emotion and thought? Are their mistakes the result of a lack of significant thought? Are they pursuing pragmatism at the cost of reflection? Are they pursuing impulse at the sacrifice of virtue? It is easy to argue that their great public purpose—investigating what may have been misconduct in court—is admirable but that much else in their lives is deplorable.
Most of the characters in The Paperboy are driven by ambition, brutality, convenience, delusion, dishonesty, habit, lust, prejudice, rage, sex, shame, and snobbery. Yardley Acheman is a figure of ambiguity. Yardley, who was not black in Pete Dexter's original book, is slippery; and the sensitive actor playing him, David Oyelowo, has been in Small Island, a Caribbean immigrant story, in Britain, and in Red Tails, a Tuskegee airmen story, in the United States. Whereas, we can observe something of the context in which Ward and Jack Jansen have lived, we know less about Yardley. Anita Chester, the longtime housekeeper, is also a visitor to the Jansen home—she can be, and will be, fired. Whereas we know that Ward has a high regard for the facts, for the fundamental requirements of journalism, an integrity that has won him rewards, we do not know as much about Yardley. With all the lies—official and social—that have been told, past and presently, in the American south by Americans of European descent, it is an irony that the most expert and prominent lie in The Paperboy is told by a black man, a lie that will exonerate a crude white racist that has insulted him. Hillary has mocked Yardley as someone who thinks he is Martin Luther King or Muhammad Ali—but Yardley reminds this observer, your writer, of a Sidney Poitier character but without that Poitier character's integrity. Yardley might be the less ideal—more real—man that some people wanted Poitier to embody. If anyone wants to know why the careers of Sidney Poitier and Denzel Washington and their heroic characters have special value, all they have to do is see Will Smith in Six Degrees of Separation and David Oyelowo here, in The Paperboy: the appearance of an attractive black intellectual or professional who turns out to be a fake is not merely disarming, disappointing, or discouraging, it is painful—painful, painful. That is why some African-Americans spoke of an organized, public boycott of Denzel Washington's performance as a drunken pilot in Robert Zemeckis's Flight, a performance that brought Washington an Oscar nomination. When I heard of the proposed boycott I thought it an extreme and provincial response, but it is discomforting to see Washington, again and again, guzzle liquor and snort cocaine in Flight, a tale of agony, self-deception, and redemption. A people's hopes, as well as its public representation, are carried and smashed by these performers. One accepts Yardley and the sleepy-eyed Anita and the fat, vulgar black woman watching soap operas in Charlotte's apartment because almost everyone else in the film is no better.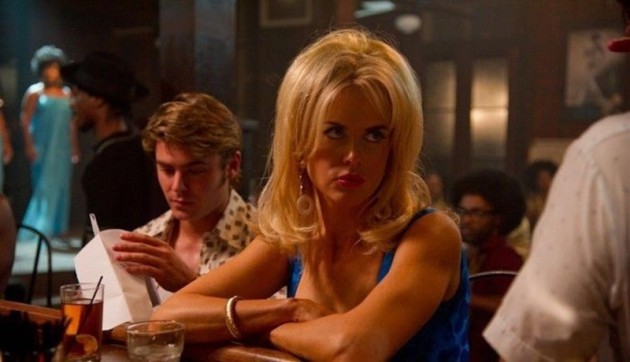 Forms of ignorance, cruelty, dishonesty, and injustice exist because people accept them; however, to reject vice is not to eradicate it—one must, no matter what else one does, work daily on cultivating virtue. What wisdom that exists in The Paperboy seems to come from the women: the Congresswoman and presidential candidate Shirley Chisholm is seen and heard on television speaking against the encouragement of social divisions; Charlotte remarks that prison is full of boys who lost their temper one day; Anita warns Jack against using racist language that can inspire punitive violence; and Ward, who is shown walking away several times, walking into the future or receding into the past, remembers his mother saying it is better to be late and right rather than first and wrong. Each actor has expressive, revealing moments—for two instances, Kidman's talk and expressive hands as she sits outside of the prison during her first visit there, and McConaughey's roving eyes and fascination when he speaks with Hillary alone. Their characters are excited by danger, by their drift far away from order and purity, an order and purity that Jack still has, though Jack is dreaming, and dreaming anxiously, of leaving that purity behind: is that purity conscience, or goodness, or simply a lack of experience? The quirky characters are believable together; and their impulsive decisions are fateful. In an age when the United States has an African-American president, with more social integration and opportunity for blacks and greater sexual freedom for all, including the broad debate over the possibility of gay marriage, The Paperboy looks decades back at a time—a time of social change, the late 1960s and early 1970s—when, despite attempts at progress, social divisions were more hatefully volatile. What will our liberal times look like to someone thirty years from now? Will that critical viewer see ignorance and prejudice and fear? Will subsequent citizens and film viewers consider the slander and suspicion that surrounded Barack Obama, and the facts of negative African-American public imagery and black unemployment and incarceration? Will they receive accounts of public indifference to the poor, of distrust of Latino immigrants, and religious ideology and intolerance involving sexuality and reproductive rights?
The language of the film The Paperboy is sound, expressive of character and custom; and the film is beautiful, with crisp framing, vivid production design, and lively action, with fitting rhythm-and-blues songs. It is hard to remember a film production with more bristling energy, or a more compelling pace, with a natural evocation of a recent historical period. The mastery of Lee Daniels is confident and mature; and the only time I questioned its technique was during two montages—one montage seemed to be Jack's dream, which—in addition to envisioning Charlotte and his father's fiancée, oddly seemed to contain an element of his brother's sexual life; and the other occurred when the meeting of Charlotte and Hillary—with their frantic pummeling copulation; sex as the obliteration of tenderness and thought—is intercut with shots of the swampland to which Hillary wants to take her: was it too direct a connection of Hillary with wilderness, animality, danger? Thinking more, I found the editing acceptable, for the first montage inclusion could have been Jack's half-conscious premonition of a sexual secret; and the second, while foreboding, was entirely accurate, true. There is another montage, featuring Jack's face (Efron), while the talented swimmer sits alone on a beach with Charlotte (Kidman)—it is a thing of glory. Before the end of the film, Jack and Ward (McConaughey) are on their way to find Charlotte and confront Hillary (Cusack), to what may be a savage destination, and Jack kisses his brother, kisses of acceptance and affection; and we learn later that Jack becomes a successful writer, all the experiences we see part of his complex education. I wish the characters in The Paperboy had been better people, but that would be a different story; and this is a truly remarkable film. Looking at Splendor in the Grass, with its wealthy and middle-class characters who are trying to keep passion at bay, restraining themselves from what makes them feel most alive, and The Paperboy, with its working class and poor characters chasing passion with all they have, demanding the thrill of being alive, it is natural to wonder where the center of the culture is. That is the most illuminating thing, and the most dangerous thing, about The Paperboy .
(Essay submitted April 12, 2013)
Paperboy trailer: