Secret Rites (Derek Ford, 1971), The Wormwood Star (Curtis Harrington, 1956) and Invocation of my Demon Brother (Kenneth Anger, 1969)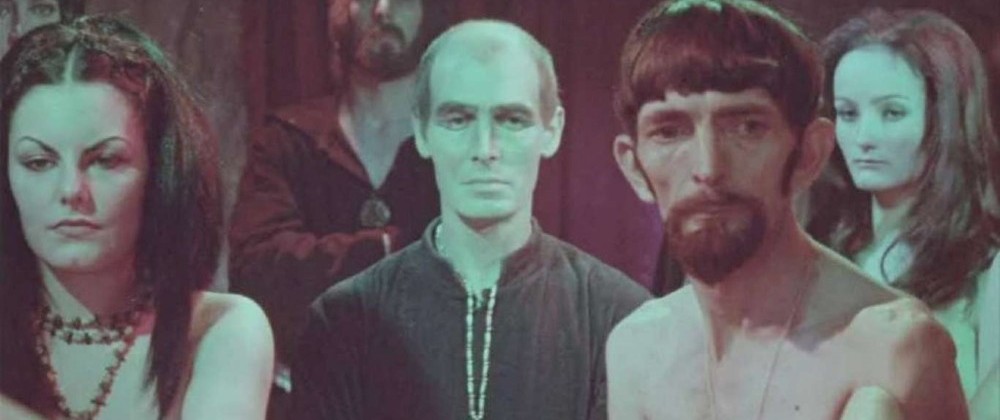 A mere subway ride away from my temporary Brooklyn abode, the calling to the Anthology (once dubbed 'the prison', for its imposing brick facade and once, but no longer, formidable programming that only the most limited hardcore art-house audiences would go see, which was basically founder Jonas Mekas style experimental shorts playing night… after night… after night…) for another little selection of satanic offerings, this time a look at three views, one more-or-less mondo-style and the other two short evocations, of that sensational period of Satanic Panic following the founding of the Church of Satan in 1966 (with the bolder homosexual contingent of the Hollywood set gleefully whooping it up with the notoriety that included, as indicated with directors Harrington and Anger's inclusion herein).
Secret Rites
Secret Rites purports to be an insider-style investigation into the satanic rituals and rites of initiation led by real-life occultist Alex Sanders, but proves to be, no surprise, much more mondo than doc, showing lots of nude flesh (though, true to its mondo roots, not always in the most flattering light) and colorfully presented incantation scenes (that feel, oft equally as true, suspiciously choreographed for camera) in the womb of Sanders' evocative English castle, intercut with lots of not particularly insightful dialogue from the completely narcissistic and seemingly bored (while somehow remaining fantastically flamboyant) androgynous Sanders himself. There may not be a lot to be gleaned from Secret Rites on the pull of witchcraft and black magic, but for anyone with a bit of fascination for those sensationalized false exposés big at the time, mixed in with scenes of satanic conjuring, it's a quick satisfying visit, clocking in as it does at less than an hour.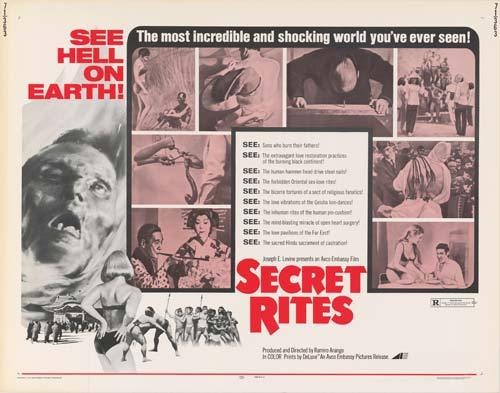 Harkening back to the ol' Mekas days of the Anthology, were the experimental shorts from two of the underground Hollywood figures who enjoyed dabbling, often together, in matters occult; that being offbeat horror filmmaker Curtis Harrington (who I'm tempted to proclaim as underrated, off of quietly admired works like the atmospheric Night Tide and the two scifi films he made intercutting cool footage from Russian space films, namely the noted Alien inspiration Queen of Blood and Voyage to the Prehistoric Planet, but I guess I need to see them first… though I already have a deep affection for them without even seeing them!) and bad boy queer icon Kenneth Anger, still kicking Angrily about at age 93, he of many a Hollywood scandal told, in his amusingly gossipy style, prioritizing entertaining sensational luridness over much required facts.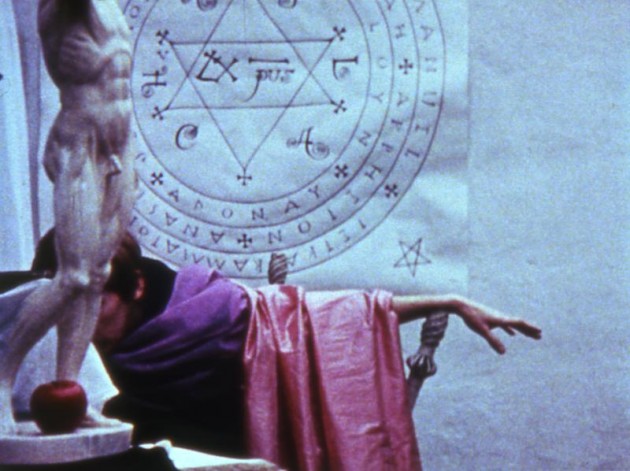 The Wormwood Star
As told to us by the night's host, filmmaker Jacqueline Castel, who did a nice job putting the night's screenings into context (as well as spoke a bit how the various filmmakers and characters within the films intersected), Harrington's The Wormwood Star celebrates the works of avant-garde poet, actress, occultist and, no surprise, Harrington- and Anger-friend Marjorie Cameron, with most of its 9 minute running time spent roving over her splashy, oft-jagged artwork (surrounded by flashy curtains and a man frozen in place, dressed up in Roman attire) accompanied by an interesting cacophonous jazzy score and occasional poetry snippets read in serious tone by what I assume was Cameron.
In true Anger style came his 11 minute Demon Brother, shot in San Francisco, a vibrantly colorful, exceedingly sensual and openly queer (in all its male idolatry and multi penis-wagging glory) experience. With a score by none other than Mick Jagger, creating some impressively moody and ominous sounds from a Moog synthesizer, over a jumble of fascinating images crashing together in wonderfully inspired experimental style (with lots of double exposures and other cool, yet simple effects on top of it) around everything from a satanic funeral (apparently for a cat), a spiritual pot smoking ritual, skulls, naked young males lying about in casual display, knives, Vietnam war and Rolling Stones concert footage, Anger's film provides a nice time capsule, hinting at a the tumultuous period of social unrest, while also revealing tantalizing glimpses at some of his more famous compadres at the time, like the Stones, of course, and his Satanic Majesty himself, Anton LaVey (naturally playing the part theatrically full tilt, dressed in black garb, bathed in an appropriate red hue)… and also, none other than musician Bobby Beausoleil, listed as Lucifer in the credits, who would soon be sentenced to life imprisonment for a murder he committed as a member of the infamous Manson Family. Invocation of my Demon Brother was the best of the night, creating an aura of things dangerous and scary, while also giving the feeling of Anger relishing in his role of filmmaking incantation-ist, dressing up the proceedings to feel like the bad boy.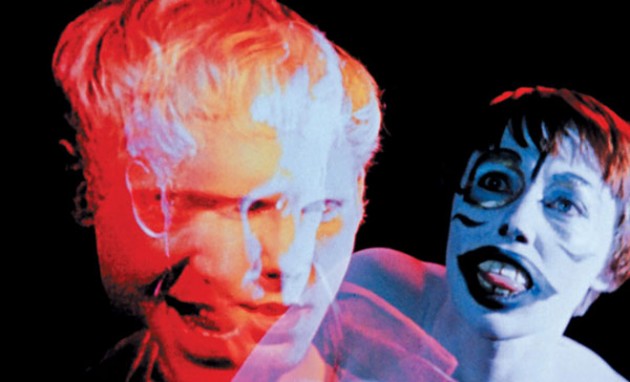 Invocation of my Demon Brother
I came out of the night's viewings with the perception of the satanic thing as a kind of low grade opulence, an indulgent, counter-culture queer movement (when movements like that were actually cool); an allowance for dressing up in fabulous makeup, getting naked, having polymorphous sex, smoking up and playing fey devil worshippers, with Satan the ultimate scarecrow to ward off the straights. Sounds like it was a pretty rockin' party to me.
PS: Featured Header Image from Secret Rites.