Seconds (John Frankenheimer, 1967) and Point Blank (John Boorman, 1968)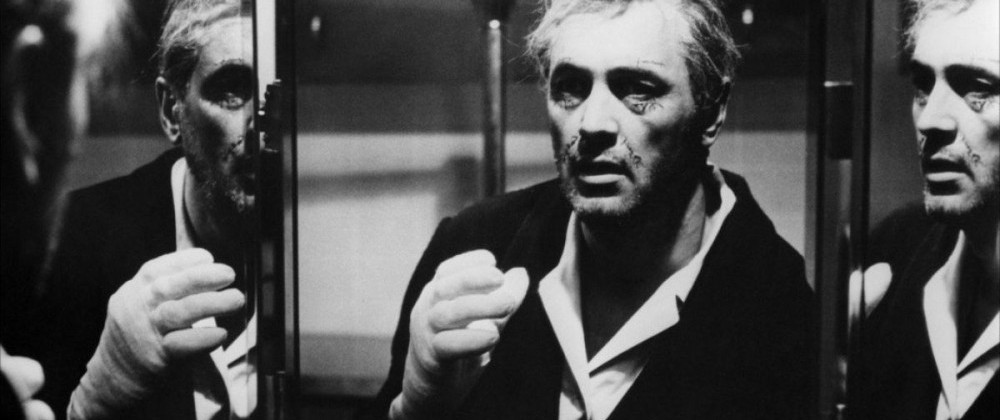 Watching these two films, vastly different aesthetically in so many ways (one in subdued black and white, the other draped in the boldest of gaudy color schemes, one centering about a haunting and thoughtful performance, the other driven by a brutally steel construct of pure primal vengeance), yet near equals as far as being audaciously experimental (directed by the two Johns, one in Frankenheimer an early-television and film vet, the other in Boorman a brash newbie-on-the-block, with both clearly inspired by all those super-cool, early-hipster French New Wave guys everyone was fawning over and that were enviously getting all the chicks – and who, ironically, had gotten their own inspirations from the grand ol' seductive magic of the movies of earlier Hollywood) reminded me yet again while the box office success of Bonnie and Clyde in 1967 and Easy Rider in 1969 tend to get all the props for ushering in that great cinematic period of 70's New Hollywood and all those young auteur directors, that daring and innovative cinematic works by filmmakers with modern visions were clearly bubbling up all about the film scene in the 60's… and, man, Seconds and Point Blank are right there on the front lines of that movement.
While still holding firm to the anxious imaginings of mysterious unknowable authoritarian systems that control and destroy us (likely the element that allowed our prof to include the film in his weekly online neo-noir series I'm currently taking for fun, as a panacea against the insane reality that I've been ex-communicated from the Montreal rep cinemas for my refusal to submit to the double jab), the last (and best of a very good lot) in Frankenheimer's unofficial paranoia trilogy moves away from the political conspiracies of his The Manchurian Candidate and Seven Days in May towards something far more intimately existential (as well as wildly scifi speculative), an angst-ridden musing on the fragile construct of the male identity (and who better to meta-represent than Rock Hudson, a hunk of cinematic masculinity who – in real life – was forced to hide his homosexuality from the world – I mean, talk about angst!).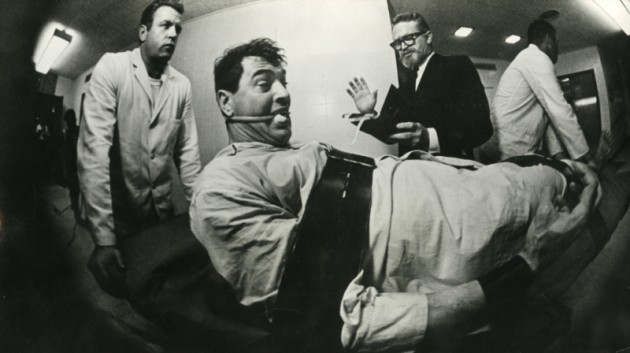 Seconds
Right from the start, with the camera literally strapped onto our main character (initially played by the much older and more ordinary, yet just as perfect, John Randolph), with a segment of his face in close-up as he walks through a jam-packed Grand Central Station on his way home from work (creating an absolutely riveting feeling of both paranoia and something being terribly 'off'), the film announces its outright experimentation (that is, coming right after the equally compellingly odd opening credit sequence of strange out-of-focus and roiling disembodied flesh that reminded me of Polanski's fascinating opening eye image in Repulsion from the year before… in fact, a lot of Seconds reminds me of the best of Polanski's 'paranoid' work, namely the aforementioned Repulsion and a work to soon come, Rosemary's Baby). This then gets followed up with another equally daring, if far less expressionistic, scene, now in the bedroom between Randolph's quietly unhappy suburban man and his aging wife, which captures a profoundly sorrow-filled moment of unrequited intimacy between average aging people that cinema, in general, has little interest in exploring… and it's handled beautifully.
On the other end of the existential spectrum is the locomotive train known as Point Blank, a film that, while equally as experimental (the editing of this film is pure stimulating joy, as is the overtly coordinated primary color scheme of the whole enterprise), is driven by a brutal character's singular motive of vengeance. Point Blank gets its power from iconic representations (and wild filmmaking derivations off of)… and, of course, great performers filling in those spaces (just as Seconds is loaded with great character actors all over its playing field).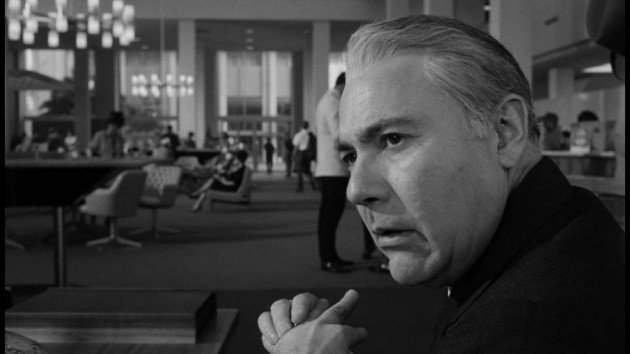 Seconds
Not only does each have a great score, with Seconds punching in with gothic horror-movie-like stings (the better to reinforce its standings as a horror movie, which is what it is in my mind, much more than a neo-noir). Both films are flawless in formal execution (with one exception in my mind, coming from Seconds – I just have never gotten used to the Dionysian grape-stomping fest scene, which comes across uncomfortably like an old man filmmaker not quite up for capturing a young swingers' bacchanalian orgy – made especially awkward in contrast to how forward-thinking Frankenheimer's vision comes across over every other part of the film).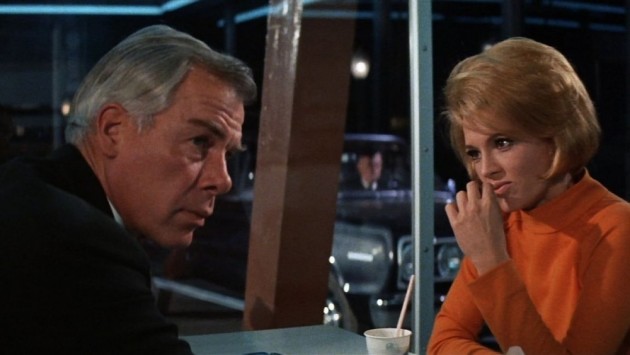 Point Blank
As the films were paired up for discussion in the neo-noir course, I started trying to look for shared thematic concerns, and I realized both are parables on wish fulfilment, with Seconds being a cautionary Twilight Zone-like tale of Beware What You Wish For (with the startlingly fetishistic wallowing on the Hudson character's muffled screamings and desperate attempts to get away, roped to a gurney and wheeled through corridors into a surgery room as ominous figures coldly study him, having a harrowing in-your-face modern horror film approach that likely freaked out an unprepared audience at the time, while eventually influencing later brilliant filmmakers like Darren Aronofsky with his similarly captured gurney/hospital moments for his garishly stylish Requiem for a Dream) and Point Blank being a realization of Wish Fulfilment; a fantasy of revenge (the opening of the film makes a pretty strong argument, for those paying attention, that the entire carrying out of the death of his betrayers, as well as getting his stolen money back, for Walker is the mere musings of a dying – or perhaps already dead – man).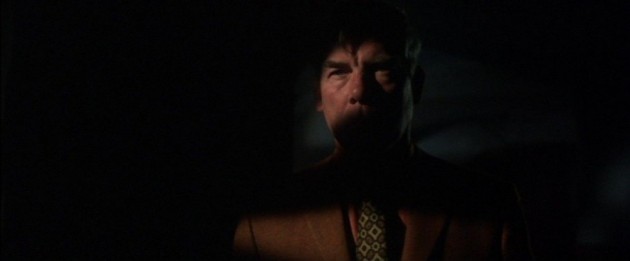 Point Blank
Seconds is Frankenheimer's greatest film, and I'd say the same for Boorman with Point Blank, created during a time when wild artistic inspiration and innovation was bubbling up and miraculously actually finding its way into Hollywood films that, up until then, had been controlled by much-more risk adverse (and aging) studio execs. There was also a challenging social consciousness growing – i.e., a recognition that fighting against the 'Man' was the right thing to do – something the 'Man' clearly learned from and has since figured out how to turn today's society into quiet little blatting sheep happy to comply with their orders. How today's suicidally materiality-obsessed culture could use a healthy dose of the perspectives of these films of yesteryear.
A great time in cinema it was. And two great films they remain. Never forget.