Rambo: First Blood Part II (George P. Cosmatos, 1985)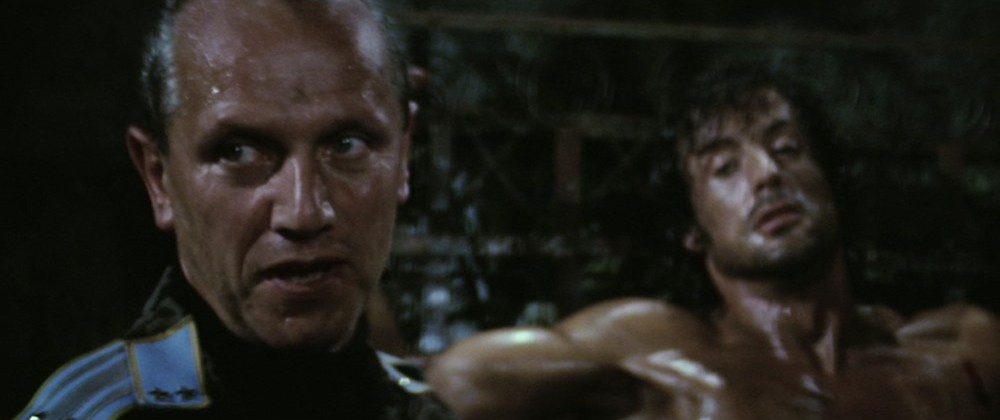 "Sir… do we get to win this time?'
'This time it's up to you.'
- uber-man, soldier's soldier (excusing the long hippie hair) John Rambo, about to head back into 'Nam and his Doctor Frankenstein-like creator, Col Trautman
If Ted Kotcheff's First Blood, the powerfully-realized film that first brought us that now iconic cinematic incarnation of David Morrell's weary, violent yet noble Vietnam vet John Rambo (ie, hang-dog, impressively physiqued Sylvester Stallone), acted as a generational bridge, straddling between the cynical and gritty auteur cinematic storytelling of the 70's, towards the far more muscular, jingoistic Ronald Reagan 80's action fare, well… a mere three years later, with Rambo: First Blood Part II (why in God's name they didn't go with the far less unwieldy "Second Blood" is anyone's guess… it finally took a Kuwaiti Rambo rip-off from 2016 to use the title), that bridge has not only been crossed, but the path behind it obliterated, with a spray of Russian- and Cong-seeking AK-47 bullet fire.
With the help of Trautman (Richard Crenna, back at it), Rambo is granted a reprieve from his hard time prison sentence, his punishment for having destroyed the town in the first film (and, man, with that chiselled bod, healthy presence and free-flowing quaffed hair, hammering away endlessly at rocks under the blaring sun seems to provide a perfect fitness program), has him sneaking back into not only his old Vietnam stomping grounds, but the very camp where he spent years being tortured before escaping, to see if there are any POWs left back there, with the single caveat being if he does find any, this perfect fighting machine is ordered to not engage to help any of them escape, no, but instead to only take photos to bring back to the shifty-eyed bureaucratic Major Murdock (Charles Napier) in charge of the clandestine operation.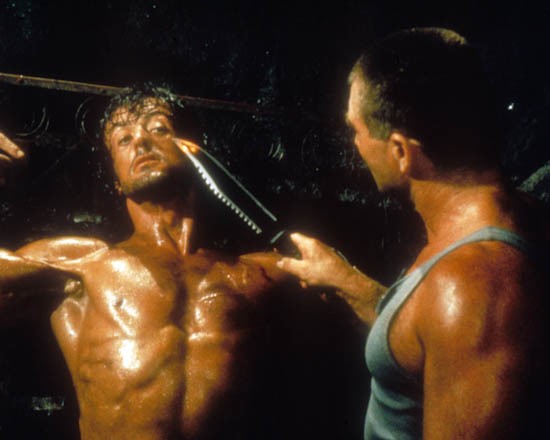 While our huggable hero's origin tale (cuz every superhero has an origin) had us bear witness to only a single death (an accidental one, no less), with the loss of genuinely thoughtful filmmaker Kotcheff for this second go-round (and remainder of the franchise), replaced by action-minded, second-tier 80's filmmaker extraordinaire – and, no surprise, eventual favorite of Stallone – George P. Cosmatos, Rambo was steered directly into the heart of much more overtly right-wing, audience-cheering, death-dealing terrain.
As he cuts through the jungle, determined to save lives, re-win lost wars and, of course, obliterate great swaths of smug Russian villains (led, in this case, by noted theatrical actor, playwright and director Steven Berkoff, who, with his ability to perfect a fake sneering Russian accent, found himself playing a lot of super-villains, including megalomaniacal General Orlov in James Bond's Octopussy) and (clearly lesser) primitively cackling Cong, with the stunningly gorgeous Vietnamese aide Co (Julia Nickson) – you know, the usual modelesque type you find when traipsing about the barely civilized jungle wilds of 'Nam — at his side, listening in wide-eyed fawning wonder at the stoic Hollywood star's amusingly faux-deep proclamations like 'To survive war, you gotta become war', First Blood Part II is just the type of simple-minded, nationalistic propaganda that arose seemingly in direct reaction against the anti-authority cynicism of the previous decade; and while it might have risen in tandem with the unfortunate massive empowerment of the pro-military complex headed by Pres Ronnie Reagan and his neo-con ilk (the President even began to name Rambo as a personal hero), it doesn't make the film any less of an excitingly executed action pic!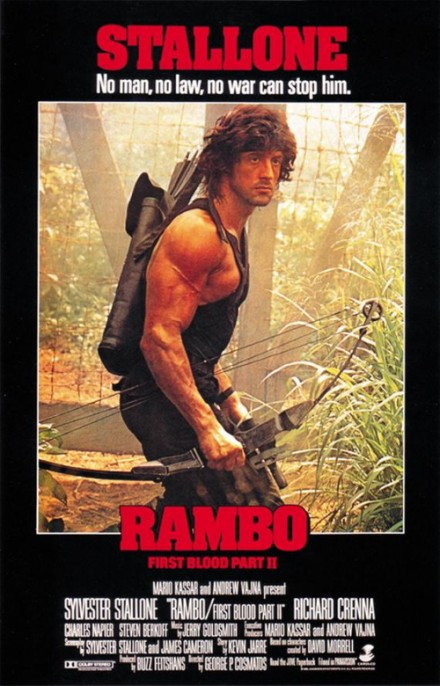 From the fast storytelling pace, the great jungle and waterfall location shooting, the constant bloodletting (shed almost entirely by Rambo, naturally), explosions and exciting chases, over cliff and by helicopter, First Blood Part II is a kind of shining jewel of the no-frills, action-packed, low-brow cinema that the 80's offered up for a whole new box office audience. Gone were those dour 70's auteurs with their critical views of society, replaced by a technically proficient (for the 80's anyway… the impressive scale and execution of action sequences would grow with each decade), more uniform style of cinematic excitement that technical craftsmen like Cosmatos and Joseph Zito could consistently deliver, with almost impossibly buff, genetically superior male physiques like Stallone's now on display, in favor of the old everyman looks of those previous males who owned the theater screens – the Hackmans, Nicholsons and DeNiros. Social realism was out, and delusional magical jingoism, working to make the audience feel good (as a means to empower the military state, naturally) was in.
Still, with First Blood Part II, I admit, from today's perspective, I find myself a bit warm and nostalgic about it. Like many of these 80's action propaganda pieces, ones that wore their dumb and muscular ideologies proudly on their bare chests, when you compare them next to today's slick corporate faux-left superhero movies, it's something akin to Luke Skywalker against the Death Star, only the Evil Empire's orb is insidiously disguised much more effectively, with its pro-corporate, -consumer and -military agendas hidden behind a singular spurting happy face, with the cinematic family masses, their greedy mouths open wide, sucking it up in great semen-like gobs, convinced they're getting messages both liberal, and good.
As the above quote from the film references, First Blood Part II might have started a subgenre of return-to-'Nam actions films that relied on the notion of America getting a chance to re-claim victory over a war they lost, but at least there is a recognition, as convoluted and wrong-headed as it was, of a sort of painful grappling with the destructive effects of that war (or conflict – America never officially called it a war because – surprise, surprise – they were there entirely illegally), because by the aughts, with awful fare like the 2002 Mel Gibson-starrer We Were Soldiers, you would almost believe by watching it that America had won that war… er… conflict.
Crenna's Trautman is back, acting as the narrative's Rambo chorus, delivering those carefully articulated one-liners even more consistently from the first film, this time to the frightened Murdock (last time it was through Brian Dennehy's Sheriff Teasle), singing of how mythic and unstoppable Rambo is. Stallone is even more absurdly ripped to the muscular core, a physical realization of that obviously obsessive single-minded pursuit he had to be an 80's action star. And Roger Corman- and Jonathan Demme-regular Charles Napier delivers his usual colorful and enjoyable performance, this time as the sweaty, shifty awful Murdock, an obvious representative of the compromised and uncaring 'political' establishment that the American Right always blamed for losing in Vietnam (never admitting the obvious that the US had no right being there in the first place, or really ever understood the landscape in which they fought).
David Morrell's original First Blood novel, unlike the Kotcheff film from which it was adapted, already had Rambo acting as a full-on killing machine, and it worked (in a decidedly nihilistic context, as relative innocents died with the guilty – so much so, it had me momentarily imagining a William Friedkin version). Morrell had a reverse relationship with the second and third films in the Rambo series, novelizing original screenplays (which is a bit odd, considering the author had to pretend he didn't kill the protagonist at the end of his first book) and, while I was under the impression there were substantial differences between each film and novel (apparently with the author adapting very early screenplay versions), for this second Rambo effort, I can't say — other than some added inner monologues from Rambo on the Zen approach he learned through war, the introduction of an additional villain for Rambo to blow up in spectacular fashion (one of the camp's Vietnamese baddies is presented as one of Rambo's original torturers during the 'Nam days), filler on character and details to add to the page count, and a few minor narrative shifts here and there – that there were many major differences to highlight (okay, there was one grand exception — the leech-filled slime pit that Rambo gets dunked in in the film is far more horrifyingly memorable in the novelization, as it is described in great morbid detail how the grotesque pit was formed, with Rambo eventually killing one of the main baddies by throwing them in it, in the book only). Other than that, the novelization didn't really offer all that much. Ah, I'll probably still give Morrell's novelization of the third Rambo flick a whirl regardless.