Private Worlds (Gregory La Cava, 1935)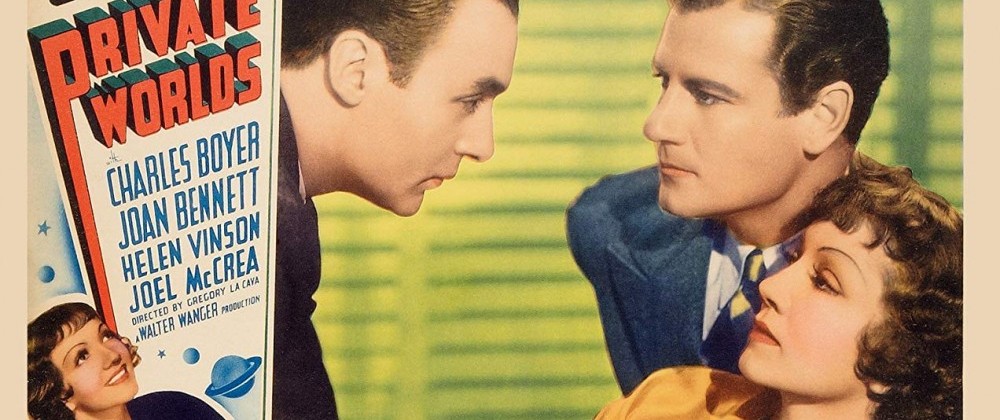 Tensions quickly develop between the staff at a mental hospital with the arrival of a conservative-minded new supervisor Dr Monet (Charles Boyer), and his immediate discrimination against the successful and caring psychiatrist Dr Everett (Claudette Colbert), simply because he doesn't believe a woman should be in such a high position in the field. While the level-headed Everett is willing to play along, her fiery and hubris-ridden male colleague, Dr MacGregor (Joel McCrea), who also lost out on the supervisor job to Monet, will have none of it.
With Everett harbouring secret desire for her main professional obstacle the sexist Monet, MacGregor having an affair with Monet's self-destructive wild-child sister (Helen Vinson) as a way to get back at the supervisor for getting the job he wanted, MacGregor's long-time self-sacrificing wife Sally (Joan Bennett, so baby-faced and surprisingly blonde-quaffed, I barely recognized her, already rolling at the beginning of an almost fifty year career, that included among other things, saving the career of the brilliant filmmaker Fritz Lang by convincing her husband/producer Walter Wanger to work with the tyrannical director that no one else in Hollywood would go near anymore, tapped off with a final appearance as headmistress – and witch – Madame Blanc in Dario Argento's 1977 swirling dervish of the fantastique Suspiria) having dealt not only with the exceedingly close working relationship between MacGregor and Everett, but now suffering with her husband's open affair, and the hands-on-hips, battle-axe of a matron at the mental hospital (Esther Dale) standing in staunch judgement of them all, against a backdrop of a mental hospital that, nothing for nothing, could easily have been played for wacky laughs (hey, it's the way Hollywood rolled at the time and they were good at it!), Private Worlds has just the pedigree for one of those classics of the wildly amusing screwball comedy.
Alas, the chosen melodramatic route taken allows no one to really flourish. It's as if the actors, as well as director La Cava himself (all of who, as many other films showed, more than adept at delivering comedy) felt the missed opportunity as they made the film. While the kind of romantic entanglements played around with in Private Worlds can end up joyfully amusing in the skilfully clever milieu of the screwball comedy, where the characters almost uniformly feel self-empowered based on performance delivery alone (marking it as a truly ahead-of-its-time feminist genre), here it feels written and forced.
The look into the goings on at a mental hospital, allowing glimpses at some of the madness that lies within it, was obviously ahead of its time (as well as a story dealing directly, in a dramatic way, with Colbert's character having to overcome overt sexism in the work place) which I assume is what led to Colbert's Academy Award Best Actress nomination, however, it's one of those films that simply doesn't hold up to age (something much more common to the dramas of that time then the comedies, which remain eternal).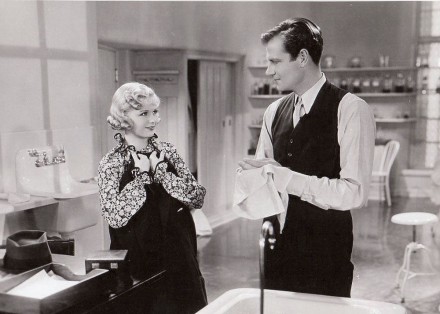 There is a single stand-out scene in the film; when Bennett's fragile Sally is driven to emotional despair (and self-destruction) after being unable to reach a deeply disturbed young female mental patient she was sure she could help (and prove her own worth at the same time), the film's aesthetic suddenly veers into a subjective, haunted, more expressionistic style that includes Bennett hallucinating; while perhaps not up there with the greatest of hypnotic imagery in early Hollywood cinema (40's film noir took that to another level), it's the moment that the film comes truly to life, as if La Cava found something to truly be inspired with in his directing.
While I always enjoy seeing a cast as jam-packed with memorable talent as Private Worlds is, I can't say it's anywhere up there with the best that any of them brought to the screen. They should have gone screwball with it.