Preview of the WFF 2013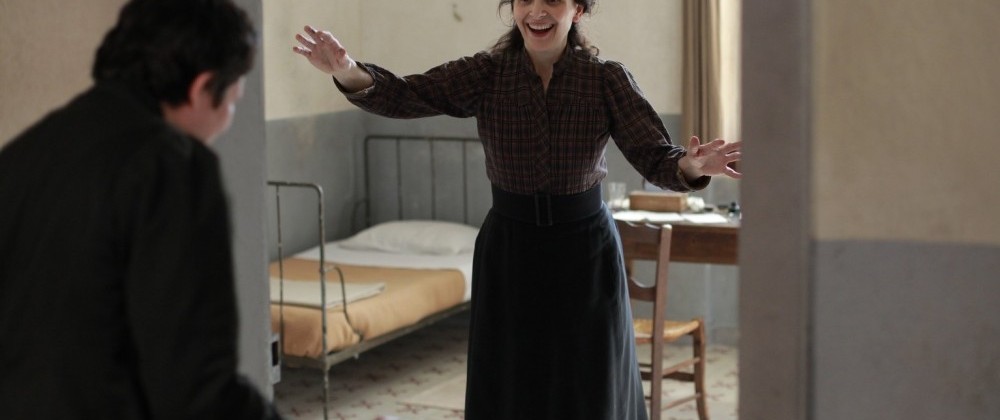 It is that time of year again when we try and help you make your picks for films to see at the 37th edition of the World Film Festival/Festival des Films du Monde, here in Montreal, from 22 August to 2 September. Films will be shown at the Cinéma Impérial, the Théatre Maisonneuve of Place des Arts (competition only) and in nine of the screening rooms of the Cinéma Quartier Latin complex. This year, for the very first time, there will be no 35mm or 16mm prints shown; everything will be digital! Only archival festivals it seems are still showing real/reel films/pelicules. Too bad!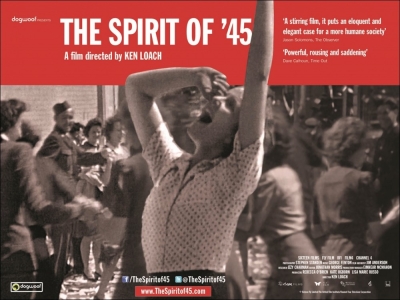 1. Pride of place has to go to the middle of three segments of 3X3D (Portugal), directed by nouvelle vague survivor, Jean-Luc Godard, showing in the Hors Concors (HC) section. By most accounts, Godard's piece is a remarkable essay film on the 3-D medium and one of the best ever uses of the format. The other two segments are directed by Peter Greenaway and Edgar Pêra.
2. My first choice of the work I've already seen is Ken Loach's documentary (DOC), The Spirit of '45, looking back on the first post-World War II Labour government of Clement Attlee (1945–51). Clearly nostalgic for the community spirit that existed then, Loach manages to pass over the problems the Labour party faced under leader Harold Wilson in the 1960s and 1970s. But, I have to admit, that as a child growing up in socialist Great Britain of the 1940s, I feel extremely close to the views being expressed in this film. The director cleverly uses black and white contemporary interview footage to match that of old newsreels, and the transition to colour late in the film is lovely.
3. The one film that is bound to sell out—there is only one screening, at the Imperial on 28 August (19h00)—is Bruno Dumont's Camille Claudel 1915 (France), with Juliette Binoche as Ms Claudel, which is (apparently) a major departure from the director's previous, very austere work. If we don't manage to get in—I haven't seen it either—it will be released, shortly.
4. I am a great admirer of Brazilian Lúcia Murat's films, especially Quase Dois rmãos (Almost Brothers, 2004) that revisits her own experiences as a political prisoner (while a member of a student resistance group in Brazil, 1971–73) and also addresses problems of class and race. I am looking forward to seeing her new film, A Memória que me Contam (Memories they Told Me, Brazil/Chile/Argentina) that won the FIPRESCI critics prize at the recent Moscow International Film Festival. It is showing in the "Focus on World Cinema/Regards sur les cinémas du monde" section (REG).
5. One of the two films showing at Cannes as a tribute to 100 years of Indian cinema was Amit Kumar's Monsoon Shootout and it is also showing here. This could be a really popular choice, and it is only 88 minutes long! There are three other Indian films showing this year in the REG section and all are less than two hours long. (Unfortunately, this means that probably none have hot musical numbers!)
6., and 7. Surprisingly, there is a special section devoted to films from the Republic of Korea (aka "South" Korea): eight features, one medium length film and nine shorts. I notice that one of the shorts, Jury was directed by Kim Dong-ho, the amazing retired head of the Busan (formerly Pusan) International Film Festival (BIFF, formerly PIFF), who was on the main jury here last year, and is probably responsible for selecting these films in celebration of the "Year of Korea in Canada" and 50 years of diplomatic relations between the Republic of Korea and Canada. There was a press screening of My Paparotti, which seems amusing enough, but, I am recommending two films, sight unseen: Jiseul, directed by O Muel, won four awards at Busan last year, and the World Cinema Grand Jury Prize at Sundance this year; Namyeong-Dong 1985 (National Security), directed by Chung Ji-Young, which, according to Korean film expert Darcy Paquet) was the best Korean film of 2012 (although it is tough to watch at times). Both films would appear to be historical reconstructions, with Jiseul being set in 1948.
8. Dark Blood (Netherlands, HC) is a curiosity. An unfinished film in 1993, when one of the stars, River Phoenix died with ten days of shooting left, director George Sluizer recently decided to try to put together an almost-finished feature. In a prologue, he says that he now considers the film to be like a chair with three legs rather than two—his reconstruction at least allows the chair/film to stand, although not properly without the fourth leg which can never exist. He narrates the missing bits, and it is also interesting to see Judy Davis and Jonathan Pryce play Hollywood stars on the run (from their own marriage and the movies), and morbidly curious to see the recently deceased Karen Black in a major role late in her career.
9. There were two Argentine films at Cannes this year, and, both of them are showing at the WFF. Most people would probably pick Lucia Puenzo's Wakolda, but I have been under-whelmed by her two previous features, so, I will go out-on-a-limb and recommend Agustín Toscano and Ezequiel Radusky's first feature, Los dueños (The Owners, REG).
10. Unfortunately, my sight-unseen picks of films in both the World Competition (COMP) and First Films/premières œuvres World Competition (PRE) in past years have not been successful, so I will resist this year. I have seen Las distancia mas larga (The Longest Distance, Venezuela/Spain, PRE) directed by first-timer Claudia Pinto Emperador, and, for me it was worth seeing for its views of La Gran Sabana and the spectacular Mount Roirama (the magical inspiration for at least two Hollywood movies, the silent film, The Lost World and the recent feature animation, Up) but the characterizations were far too reminiscent of telenovelas, not my favourite genre. A better bet is the first feature directed by two Uruguayan women, Ana Guevara and Leticia Jorge, Tanta Agua (So Much Water, Uruguay/Mexico/Germany/Netherlands), an interesting examination of a teenage girl's relationship with her father, while they are caught in persistent rain, on holiday. Tanta Agua is one of many films showing at the WFF that also showed at the Berlin International Film Festival.