Plunder of the Sun (John Farrow, 1953)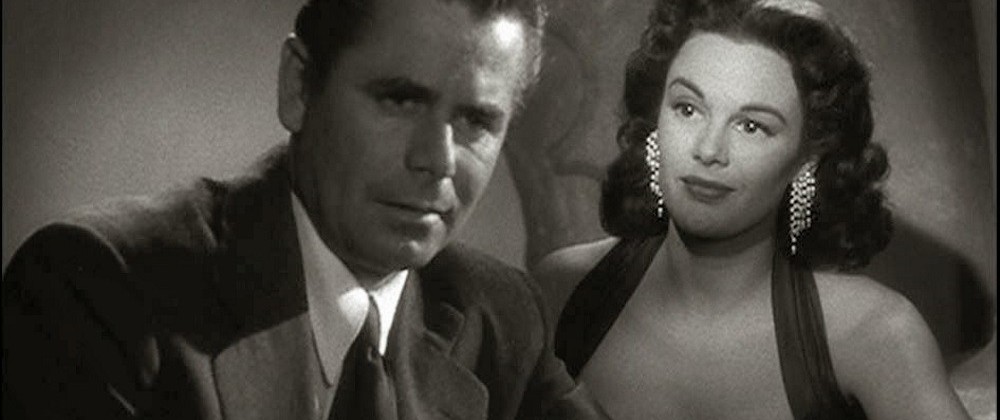 Al Colby (Glenn Ford), a down-on-his-luck insurance adjuster floating around the seedy dive bars of Cuba (though as filled with dangerous characters as they may be, these noir ones always enviably look a lot more rife with possible hot romantic entanglements than any I know of) waiting for a check that never comes (hate when that happens), is reluctantly hired by the invalid antiquities collector Thomas Berrien (Francis L. Sullivan), who is wheeled around in his chair by his alluring, yet awfully suspicious (and soon to be one of those aforementioned entanglements who naturally had a lot to do with Colby taking the gig in the first place) daughter Ana Luz (Patricia Medina), to help illegally smuggle a parcel to Mexico. Death on the freighter ship they travel together on ensues, with Colby quickly learning that along with the package containing clues to a hidden treasure amongst the ancient Aztec ruins, also (tadda) Ana Luz isn't quite what she's been claiming to be. Colby's gonna have to be at his street-smart best if he wants not only to get those old language documents translated, but to outwit a lot of other interested (and dangerous) parties who keep popping up in Mexico, including the shifty, sunglass-wearing (whether he needs them or not) Irishman Jefferson (Sean McClory).
Along with watching tons of rep films (which any of the people who even cursorily notice my posts – as well as the overworked Offscreen editor who heroically sorts through what must at times feel like never-ending, somewhat carelessly thrown together cinematic pontifications – are well aware), another savoury little habit I've picked up recently that equally tickles my nostalgic funny bone is pouring through the hardboiled crime offerings from the imprint Hard Case Crime, which alternates its almost monthly 200-odd page paperback releases (the perfect size to fit into the breast pocket of that target audience guy on his way to work in the subway) between brand new and re-releases (with the original cover illustrations!) from great pulp novelists, such as Donald E. Westlake and Lawrence Block. The latest that past through my greedy paws (there's a few hundred out there at this point and I've read maybe twelve) was David Dodge's surprisingly exotic (as in, it's the first one not located within a familiar urban noir milieu) original 1949 release, Plunder of the Sun, which followed (in first person form, naturally) cynical, world weary American private investigator Al Colby (raised in Mexico, with a pension for diving into trouble in Latino countries).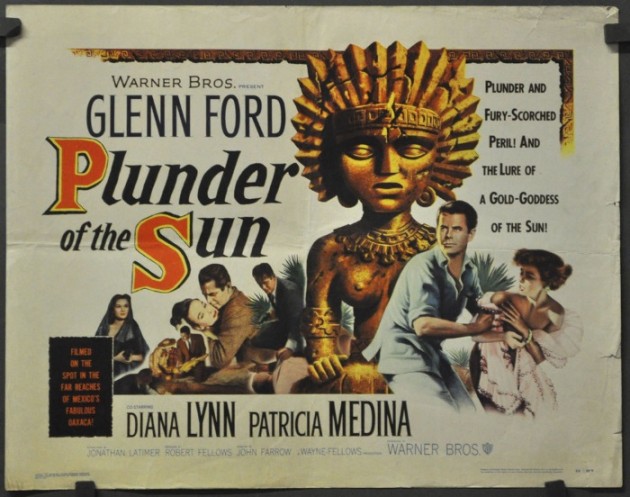 The novel opens with Colby stuck in Chile after his last rough case (Plunder is the second of a trilogy of Colby adventures, all written by Dodge) where he's talked into a smuggling gig (ala, as detailed above) of a parcel into Peru. As oddball a Hard Crime effort as it is (more an action-adventure tale than noir/crime), Dodge's muscular, no-nonsense straight-shooting writing style is engaging (similar to the best of the bunch, making it easy and exciting reading for the daily commuting crowd, with just enough depth of despair, complexity and existential angst to keep it memorable for the academically minded as well) and the tale moves along in a satisfying manner (if not to its conclusion however, as the last twenty or so pages drags unnecessarily, as our hero Colby having recovered the treasure and wrapped up the loose ends, spends a long time on the trail of the on-the-run main antagonist Jefferson, with the help of the local police).
So when I noticed a movie adaption of the novel had been released just four years later, starring the handsome (yet not so rugged he couldn't be considered a pretty good everyman) noir-favorite Glenn Ford as Colby, I thought I'd give it a look.
Even with the novel's setting transported from South America to Cuba and then Mexico (where the film was actually shot, the hidden treasure moved from the Mayas to the Incas), Colby now an insurance adjuster rather than a PI and a number of the lesser characters dropped (as well as the relationships of some of the surviving ones slightly revised), the film's narrative remains, in schematic form, quite faithful to the book. It's fast paced and directed well enough by Farrow, with lots of elements and style familiar to noir (though not sure how I feel about Colby always in a dark suit amongst these surroundings — not exactly as described in the novel — even when trundling through the ruins), with a nice touch of having the film open on Colby being held by the Mexican authorities explaining the events in flashback (allowing for the cynical narration, similar to the first person perspective of the book).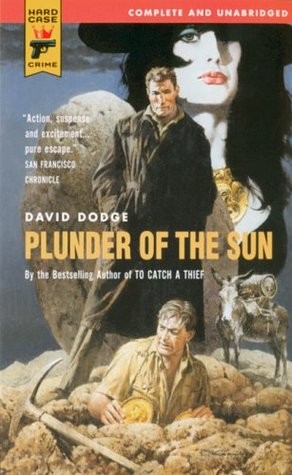 While I wouldn't call either version particularly great, they are nice compliments to each other. McClory stands out in the role as the twitchy, always scheming Jefferson (made me wanna know if there are any meatier roles the actor got up to I can check out) and the film also cleans up the lagging end of the novel (operating within a very short B-feature running time of 80 plus minutes). Overall, however, the movie lacks some of that tough world-view grit brought out in Dodge's prose, as well as some additional character shadings that got lost in translation; making the book, ultimately, more rewarding.
The most significant difference is, with Colby revealing a chivalrous side, eventually fighting for Ana Luz's freedom in both versions, he's left without the girl at the end of the novel. I guess you could argue it's easier for this to happen and still work commercially when the story is part of a trilogy (as the reader is assured his adventures will continue — he's not meant to settle down at this point – there's still plenty of female entanglements ahead!). With the movie, on the other hand, being a one-off it requires a greater sense of closure.
Yet… it's that pang of romantic sadness, the pining for something tragically unrealized, with Colby alone again, that has the greater emotional resonance… and certainly works better from the dark, pessimistic perspective of noir.