Peter Tscherkassky: Films From a Dark Room (INDEX 008)
Found Footage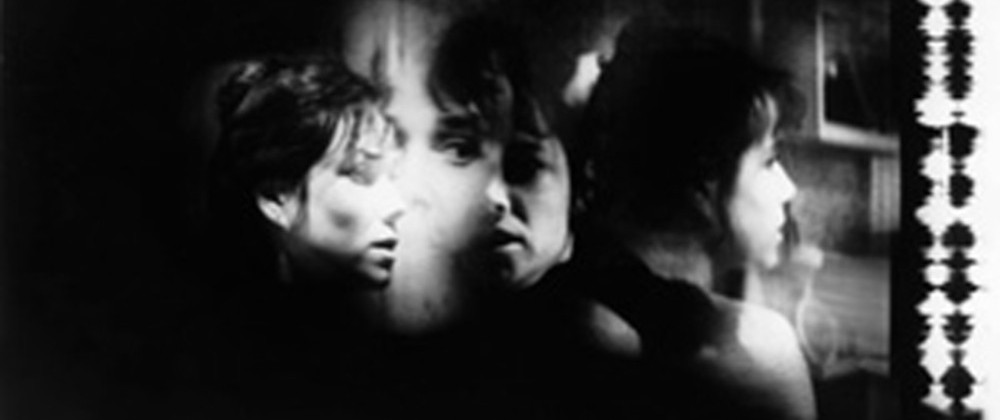 How many doctors of philosophy do you know who are also accomplished filmmakers? One such person is Austrian-born (1958), Peter Tscherkassky. He lived in Berlin (1979–84) where he studied philosophy at university. He wrote his doctoral thesis on "Film as Art: Towards a Critical Aesthetics of Cinematography," and he teaches filmmaking at the Academies of Applied Arts in Linz and Vienna.
I first encountered Tscherkassky's work earlier this year (January 23, 2005) when Brett Kashmere and Astria Suparak curated a series of short films, entitled "Trouble: Hollywood Viewed by the Avant-Garde Cinema" at Cinémathèque Québécoise to accompany the art exhibition "INDUSTRIE/INDUSTRY: Oeuvres récentes/Recent works by Richard Kerr." Fully half of the eight films programmed were Austrian (and one German), and the show climaxed with the "angst, spectacle and barrage" (to use Suparak and Kashmere's words) of two 35mm works, Kerr's collage d'hollywood (2003, Canada, 8 min.), and Tscherkassky's incredible Outer Space (1999, 10 min.), in black and white and cinemascope.
Outer Space samples a sequence from a 1981 Hollywood film, starring Barbara Hershey, which was made in widescreen, but in colour (rather than black and white). This film is The Entity directed by veteran Canadian-born filmmaker Sidney J. Furie, which, unfortunately, I haven't seen.* The internet movie database "tagline" certainly suggests that The Entity is indeed the film that is being sampled: "Something evil is after Carla Moran, and it will stop at nothing to get her." The IMDb "plot outline" begins "Supposedly based partially on a true story, a woman is tormented and molested by an invisible demon." Simultaneously, Tscherkassky reduces the original work by subtracting the colour, but adds so much more, by reworking it, superimposing images, fragmenting through rapid montage, and creating a new, highly aggressive soundtrack.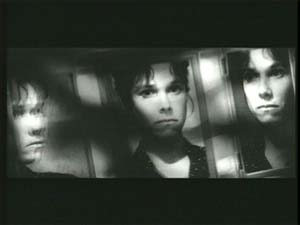 In the beginning, on a night-time exterior shot of a single story house, a flicker-effect, produced by Tscherkassky encourages blackness to predominate, as the camera (in the original film which is being sampled) gradually approaches the house and reveals Hershey's figure, seen from behind. There is no sound and flashes (apparently of the same shot) are intermittently superimposed. With the camera now stationary, she moves towards the house, and a noise is introduced (which sounds like something going wrong with the projection), accompanied by a breaking-up of the image. Then a series of shots, probably replicating the point-of-view sequencing of the original version, takes us and Hershey into the house. The superimposition now becomes a constant effect, initially of lights flickering over images of her moving through the house, and later to provide multiple images of her face as she talks (to an unseen character) and screams. Instead of voices, we hear an increasingly loud cacophony of scratching and percussive sounds. At this, the midpoint of the film, additional sounds, including that of glass shattering, and fragments of music and voices which cannot be discerned are introduced, while the image, predominantly of her upper body trying to escape, viewed in rapidly-moving camera shots, completely breaks up. Images of lightning bolts are superimposed, negative stock dominates over positive, and white over black. We glimpse sprocket holes and as the work becomes increasingly reflexive, the sampled film disappears completely from view. We return to the outside of the house and when we re-enter it, crossed bars and Venetian blinds create an even more rigorous, vertical and horizontal segmentation effect. With the dominating sound of splintering glass, the Hershey character, invariably seen next to an omnipresent table lamp, appears to be beaten. But, she fights back, and her physical gestures and cries are repeated. (Throughout the film, we become intensely aware of repetition and variation being used as a central structuring device). At the end, Outer Space turns quiet both visually and aurally, on the impression that she has died. The last multiple images of her appear to be of a framed photograph.
Outer Space has gained a reputation over the years as being a key "experimental film" to see in an era when the golden age of the formal and textural experimental film in North America has long since past—the age of "high modernism" and of "lyrical" (e.g., Stan Brakhage) and "structural" (e.g., Michael Snow) film during the 1960s and 1970s. It also stands as an example of how Austria may well have become the centre of such experimental filmmaking in the last two decades, a situation that was recognized in Paris in 1996 with the Centre Georges Pompidou mounting a major retrospective entitled, "L'avant-garde autrichienne au cinema: 1955 – 1993." Certainly, Peter Kubelka, who made the groundbreaking "flicker film" composed of only clear and black leader, Arnulf Rainer in 1960 has inspired new generations of his Austrian compatriots to follow his truly independent model of experimental filmmaking. And, we can understand that Outer Space is also representative of a new kind of cinematic experiment in returning to a reflexive exploration of the film medium itself (a "modernist" tendency), while sampling and reworking an existing film (a "post-modernist" tendency), and, most excitingly, perhaps, engaging the audience in a visceral theatrical experience: big screen and even bigger sound. I am persuaded that it is the last of these three tendencies that has brought this particular film a relatively extensive audience and appreciation—in 1999 and 2000 alone it was shown in 43 film festivals, world-wide.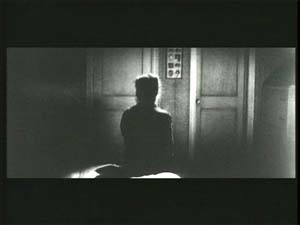 Outer Space is one of seven filmworks to be included on the DVD, "Peter Tscherkassky: Films from a Dark Room" in the excellent new series of PAL, region free discs published by INDEX in Austria. The others include a 16mm film, Motion Picture (La Sortie des Ouvriers de l'Usine Lumière à Lyon), black and white, silent, 3 1/2 minutes (1984), and all-but-two of his 35mm films: his first, Manufraktur (Manufacture), black and white, 3 mins. (1985), L'Arrivé, black and white, cinemascope, 2 mins. (1997/98), Get Ready, the 1 minute, black and white trailer for the "Viennale" International Film Festival (1999), and Dream Work, black and white, cinemascope, 11 min. (2001). As a "bonus track," a 16 minute, Super-8 film mixing colour and black and white footage shot by Rolf-Peter Bascke, Anne-Claire Martin and Tscherkassky, and with a soundtrack by Thomas Kapielski, Miniaturen – Viele Berliner Künstler in Hoisdorf (Miniatures – Many Berlin Artists in Hoisdorf, 1983), provides an early work for reference. This "semi-documentary" was shot over a single weekend when a large group of Berlin artists visited a small village in Schleswig-Holstein in order to give the residents a taste of the Berlin avant-garde. Even here, in observing how Tscherkassky has rephotographed the footage, sometimes using multiple projectors to produce a composite image, and including reflexive shots of Martin shooting with her super-8 camera, while choosing the sound of a film rewind mechanism to accompany a variety of shots, one can discern the roots of Tscherkassky's more recent work.
In an interview conducted by Anthony Wagner with the filmmaker for the DVD, "The Man Without a Movie Camera," Tscherkassky noted that with the exception of Miniaturen, he only included films "he created in the dark-room: films created by direct exposure of the film material without using a camera. Children of the darkness, as it were." For the first of these, Motion Picture, he took a single frame from the Lumière brothers famous film and worked on it in such a way that a film was made up of mere particles of the source, rendering it unrecognisable.
With Manufractur, a film which was made only one year later, the title says it all: making something new through reprocessing found footage, with a high degree of fragmentation. It was here that Tscherkassky fell in love with black and white orthochromatic film stock: the kind of material that Hollywood stopped using in the 1920s! I refer the prospective viewer to the interview in the accompanying booklet where the director talks at length about his work with orthochromatic stock and how his use of it is integral to the way his work has progressed. Tscherkassky's second homage to the Lumière brothers, L'Arrivé sets the pattern for all of his most recent work in being made in cinemascope and provides what the director calls "an exact summary" of where "cinematography" has brought us, post Lumière, "to our visual environment: violence, [and] emotions." (From the film notes in the DVD booklet) Dream Work, the third film in Tscherkassky's self-titled "Cinemascope trilogy," which takes its name from Sigmund Freud and hence attempts to represent "displacement and condensation" on film, is also dedicated to Man Ray for his "rayograph" filmmaking technique of "exposing the image by shining light through physical objects onto the film stock" (in Tscherkassky's words). With a music track composed by Kiawash Saheb-Nassagh and in its addition of eroticism and a floating sensation to the fragmentation style of the earlier works, Dream Work is arguably the most complex film included on the DVD.
Unfortunately, the DVD was authored before Peter Tscherkassky completed Instructions for a Light and Sound Machine (2005), another ten minute tour de force in orthochromatic black and white cinemascope, which rephotographs no less an oeuvre than Sergio Leone westerns, since he now claims that this will be his "final film." Of course, these incredibly dynamic, viscerally affective films are by their very nature, "spectacular" and should be seen in 35mm original prints, on a big screen, first of all. Anthony Wagner asked the director that since he always makes "film as film," doesn't making his work available on DVD "contradict" his "concerns as a film artist?" Tscherkassky replied that, in fact, for one of his major works, Dream Work too much detail may indeed be lost on a video monitor (and I personally regret missing the opportunity of seeing this one as a film); but, for people who have never had an opportunity to see his work, at least they can get a good sense of what an important film artist Peter Tscherkassky is (or was) by purchasing the DVD "Films from a Dark Room." In recognizing that one of his films shows somewhere in the world every day, he hopefully suggests that the "DVD version … [is] an invitation to go see the film on a large screen.
To purchase this, or other Austrian avant-garde DVDs, please visit the Index website.
The only credit on the film Outer Space is "Peter Tscherkassky." Interestingly, there is nothing on Tscherkassky's own website (which has not been updated in five years) to indicate that The Entity is the subject of his film. I surmised this through searching IMDb and had my notion confirmed through reading articles posted on the excellent online journal Senses of Cinema, including "Outer Space: The Manufactured Film of Peter Tscherkassky," by Rhys Graham (No. 12, 2001) and a number of pieces in the special section on "Peter Tscherkassky & the Austrian Avant-Garde" Issue No. 28 (Sept.-Oct. 2003). Accessed Dec. 16, 2005.