"Nikkatsu Action" at Fantasia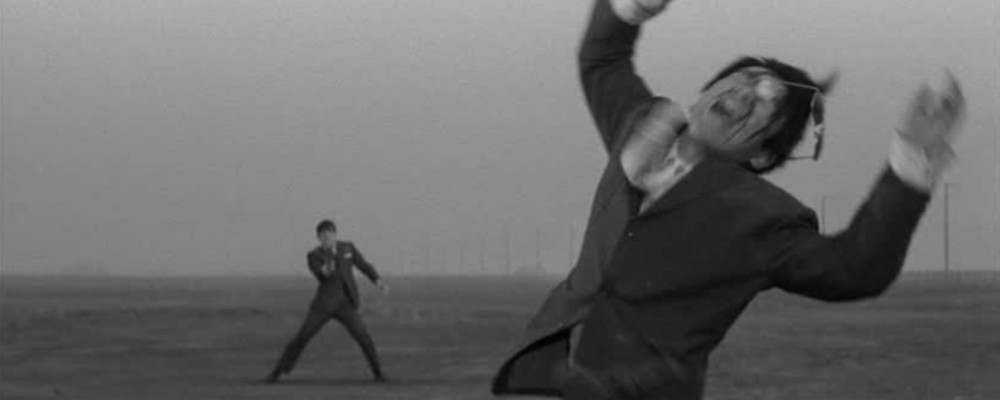 Montreal's best and most popular film festival, FanTasia continues to be the only local film festival to completely fulfill its mandate, to show the "good, the bad, and the ugly" of genre films. This year, its slate of Asian films included a mini-retrospective of the Japanese Nikkatsu studio's "B-movie" production of the late 1960s. Part of a traveling nine film package touring North America, the FanTasia team brought in Marc Walkow to introduce and simultaneously cue sub-titles for three 'scope prints. As Walkow noted, audiences outside of Japan are only familiar with Nikkatsu genre films directed by the maverick auteur Seijun Suzuki, and few of the films not directed by him have ever been shown in North America or released on video. In fact, in Montreal, as far as I know, none of Seijun Suzuki's films have ever been screened in one of our theatres. So, these screenings marked a local premiere for "Nikkatsu Action."
Originally, 16 1 films were screened at the Far East Film Festival, in Udine, Italy in the Spring of 2005, under the heading "No Borders, No Limits." The series was curated by U.S. born, Tokyo resident Mark Schilling, who also wrote a book of the same title, published by the festival in Italian and English. For the current series, Schilling revised the text and regular FanTasia attendee, Harvey Fenton published it in English as No Borders, No Limits: Nikkatsu Action Cinema in FAB Press' "Cinema Classics Collection."
Two of the films shown in Montreal were directed by Toshio Masuda, Kurenai no Nagareboshi (Velvet Hustler, aka "Like a Shooting Star," 1967) and Burai Yori Daikanbu (Gangster VIP, 1968), while the other, Colt wa Ore no Passport (A Colt is My Passport, 1967), which was shown twice at the festival, was directed by Takashi Nomura. The 200-seat Cinéma De Sève at Concordia University was nearly full for all four screenings, and Marc Walkow did a great job of contextualizing each film and fielding questions afterwards, not to mention triggering the 1000-odd sub-titles per film from his laptop, which were digitally projected over the 35mm prints.
Marc Walkow introducing at Fantasia
Velvet Hustler starred Tetsuya Watari as an impudent young hoodlum named Goro, whose first act is to steal a red sports car and whose second is to shoot and kill a yakuza boss on the highway, all while whistling the film's musical theme. Allegedly modeled on Jean-Paul Belmondo's role in Jean-Luc Godard's À bout de souffle (Breathless, 1959), Watari's punk is always smoking and wears a fedora, the brim of which is tipped so far down that he has to poke a flap in it in order to see his pursuer or next potential victim. On more than one occasion, the high angle camera captures Watari's eye, framed perfectly by the hole in his hat brim. Most of Velvet Hustler was shot on location in the port city of Kobe, and its appeal is derived mainly from Watari's devil-may-care, highly stylized performance, which includes, especially, his hip, comic, slow, shuffle step, anti-dance movement in a night club which generates lines of teenage followers. Takeo Kimura's brightly coloured sets enhance the overall stylized look of the film—he was best known as Suzuki's art director/production designer—but Masuda's direction is also very visible. Apart from the Godardian, nouvelle vague connections of youthful, anti-traditional pretensions, genre-mixing (gangster, road movie, musical, "youth" film), and on-location vitality, one is struck by the Antonioni-esque shooting style of long takes, which oscillate between extreme-long shots and 2-shot close ups. Even the action (mostly fist fights) was filmed in long takes, and, perhaps most strikingly, scenes of Goro (with or without a female companion) walking around Kobe, were invariably filmed with the camera tracking backwards to lead his movement towards the camera. Again, a comparison with Godard/Belmondo is inevitable, but, I was also reminded here of the current Hollywood practice of "walk and talk" which goes back to 1970s Woody Allen practice.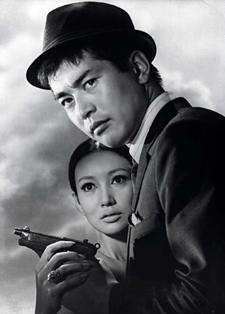 Velvet Hustler
Marc Walkow reported that the most popular film in the current series with American audiences has been A Colt is My Passport, and, consequently, this film was screened on two occasions in Montreal. Walkow suggested that, like other black and white films, this one had a lower budget than the two directed by Masuda. It certainly doesn't look like a "B-movie," and, presumably, one of the reasons for its success on this continent is that it is relatively "realist," with the only stylized elements being the star, Jo Shishido's silicon-enhanced cheeks, the musical score and its violent finale staged in a deserted, wide, barren landscape that looks like a "wasteland." 2 Shishido's hit man character, Kamimura is hired to eliminate a rival yakuza boss, a task which he accomplishes with a high powered rifle, complete with telescopic site. He and his sidekick attempt to escape by air, but are discovered at the airport, and they have to hideout at a trucker's inn. The interior, claustral space of the inn, is well-used, visually as a suspense filled hide-out, and Kamimura manages to save his younger sidekick (played by Jerry Fujio) and the "angel" of the truck-stop (Chitose Kobayashi), with whom he has developed an unrequited love relationship. Another escape plan, at Yokohama harbour, is aborted but, Kamimura brilliantly schemes to blow up the car loaded with yakuzas, by digging a ditch filled with explosives. At the end, in a typical "Nikkatsu action" conclusion, Shishido's "good" yakuza, whose "ninkyo" (chivalry) is misplaced in traditional terms—he favours his young friends over senior bosses—is shot up, but still walking. It is hard to believe that he will survive, but the film audience can still be hopeful. He has certainly defeated the villains.
If Harumi Ibe's music for A Colt Is My Passport is memorable, then one could say that the horn-laden motif composed by Naozumi Yamamoto for Gangster VIP is unforgettable. Indeed, I was sure I'd heard it before—perhaps during one of the 42 Tora San films, for which he scored the music? This is just one of the many surprising elements which make this "youth action" film, a revelation. Based on the public confessions of ex-gangster Goro Fujita, Gangster VIP was the first in a series of six Nikkatsu films, and it is interesting to compare it with Kinji Fukasaku's absolutely brutal recounting of Goro's life, Jingi no hakaba (Graveyard of Honour, 1975). Here, the charismatic Tetsuya Watari plays Goro as a "lone wolf" young punk, with a sense of honour, who is jailed for three years for almost killing a former friend, Sugiyama (Kyosuke Machida), a man, whom he eventually teams up with again as a yakuza "brother." It is probable that this film (as much as the real life story) influenced Fukasaku's later work, especially in director Toshio Masuda's decision to shoot the two key battles in a relatively realistic fashion. The first of these is filmed in a rainstorm, where the predominantly high angle camera sometimes views the chaotic blood fest at a critical distance. Remarkably, the second of these, the climactic swordfight, where Goro attempts to take revenge over the death of Sugiyama, is shown silent, scored to a romantic love song delivered by a woman in a nightclub adjacent to the hallways, dressing room, and alleys of the fight.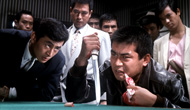 Gangster VIP
Whereas Graveyard of Honour provides a background to Goro's life of crime through documentary interviews and news clippings, Gangster VIP begins even more strikingly with a rapid sequencing of black and white, dramatized episodes from Goro's childhood, where he witnesses the death of his mother, followed by his sister's illness and death, and, after stealing a bun, he is sent to reform school. He is then seen escaping on foot, where the camera tracks back to follow Goro and Sugiyama's escape. The back-tracking camera, mostly filming Goro's movements, but also used to trace other characters' walking or running, becomes a key visual motif in Gangster VIP, adding a dynamism to scenes where there is no action, per se, and providing greater emotional involvement of audiences with the film's protagonists. Indeed, on the evidence of both Velvet Hustler and Gangster VIP it would seem to me that Masuda's work as a director is due a re-evaluation. It is unlikely that he will ever be recognized as Seijun Suzuki's equal in terms of being a great visual stylist, and, his career took a puzzling turn to low-grade, sci-fi, anime after his work on Tora! Tora! Tora! (1970). But, as a director of youth-oriented genre films at Nikkatsu in the mid- to late-1960s, Masuda may have had no peer, anywhere in the world.
Apparently the Criterion company is planning to bring some of the Nikkatsu action films out on DVD in the not-too-distant future, including Gangster VIP. In the meantime, Nora Neko Rock: Sex Hunter (Stray Cat Rock: Sex Hunter, 1970), starring Meiko Kaji, of Lady Snowblood and Female Convict Scorpion fame, and Koiki Boryoku: Ryuketsu No Shima (Bloody Territories, 1969), starring Akira Kobayashi, Nikkatsu's biggest action star, are both available on DVD from Home Vision Entertainment. Used VHS copies of Velvet Hustler can be found online, and I purchased three CDs of Nikkatsu music from CD Japan, including "Joe Shishido", which contains the theme from A Colt Is My Passport. Clearly, I have become a fan…
Notes
The original book listed 16 titles, and Mark Schilling confirmed this in an interview conducted by New York City's Japan Society in 2007. But other sources cite only 13 films. In any event, only one existed in a print with English sub-titles, Ore ni Sawaru to Abunai ze (Black Tight Killers, 1966). ↩
Both Schilling and Jasper Sharp, on the Midnight Eye website's "Round-Up" (08-25-2005) refer to this location as a "beach," which would certainly make sense, since the truck stop is in the port city of Yokohama. But, I'm not sure that it is. ↩