Nanjing! Nanjing! (City of Life and Death)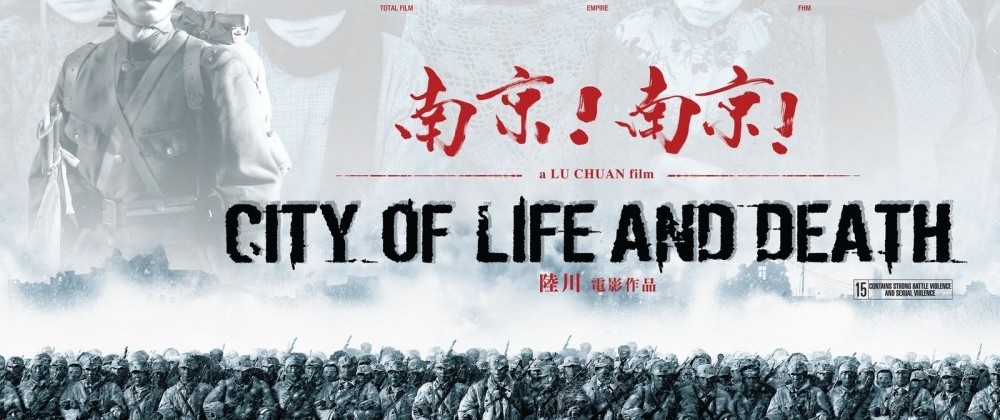 We have waited a long time for the most important yet highly controversial feature film on the Nanjing massacre of 1937–38, also called the "Rape of Nanking," to reach our screens. City of Life and Death is one of four feature films made to commemorate the 70th anniversary of the tragedy in which between 200,000 and 300,000 Chinese soldiers and civilians were killed—the others are the Hollywood docudrama, Nanking (2009) directed by Bill Guttentag and Dan Sturman, based mainly on letters and diaries written by Europeans and Americans in Nanjing, The Children of Huang Shi (2008), an Australia/Germany/China co-production, directed by Roger Spottiswoode, and made primarily in English based on the exploits of British journalist George Hogg (Jonathan Rhys Myers) who saved 60 orphans from conscription into the Chinese Nationalist army, and, John Rabe (2009), a Germany/China/France co-production, which, to my knowledge has never been shown in Montreal. Having seen Nanking, and The Children of Huang Shi, I am confident that City of Life and Death is the best of the four films. In as much as it is impossible to make an accurate, retrospective film on armed combat and any kind of massacre, it seems to me that it is also ill advised. I have problems with almost any realist depiction of war, partly because even if the intent is to make an anti-war statement, some audience members will still be excited by the violent action. I was shocked to learn that U.S. army recruitment was effectively carried out following screenings of Stanley Kubrick's Full Metal Jacket (1987), a film with as strong an anti-war stance as one can imagine in situations of combat! As for the depiction of atrocities, one of the worst examples is surely the work of Mou Tun-fei (aka T.F. Mou), including two Hong Kong productions, Hei tai yang 731 (Man Behind the Sun, 1988) on biological experiments carried out by the Japanese on Chinese and Russian prisoners of war, and, Hei tai yang: Nan Jing da tu sha (Black Sun: The Nanking Massacre, aka Men Behind the Sun 4, 1994). Both are unrelenting exploitation films, where shocking events are represented as grotesquely as possible in order to make more money at the box office, and where the latter even splices in documentary footage. [click here for an Offscreen interview with T.F.Mou]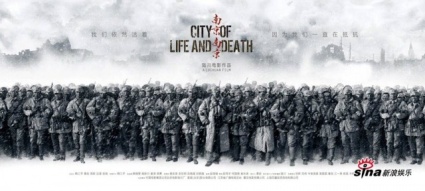 I think the most harrowing reading experience I've ever experienced was struggling to get through Iris Chang's book The Rape of Nanking: The Forgotten Holocaust of World War II (1997), for which she had definitively researched the diaries of John Rabe, a Nazi party member who was responsible for saving the lives of up to 200,000 Chinese, and the U.S. missionary Minnie Vautrin, as well as interviewing Chinese survivors and reading accounts by Japanese veterans. The book is initially structured like Akira Kurosawa's film Rashomon (Japan, 1950) where the events are told from three different and often contradictory perspectives—the Chinese victims, the westerners who tried to save them and the Japanese army—in a search for the truth through various subjective realities. Although praised by most critics, Chang's book was also criticized for stereotyping the Japanese as being driven by the cult of the sword (bushido) even though numerous Japanese liberals, then and now have attempted themselves to find the truth of the massacre. Tragically, both Minnie Vautrin, who witnessed the rape and mutilation of women and girls, and Iris Chang who was hounded by hatred and haunted by the evidence she found, committed suicide, Ms. Vautrin after she returned to the U.S. in 1941, and Ms. Chang in 2004.
Thankfully, City of Life and Death doesn't show examples of all of the worst atrocities that were committed, and following Chang's example it shifts its perspective from Chinese soldiers and civilians, to Japanese soldiers and officers and, to John Rabe and his followers who try to negotiate with the Japanese after setting up the demilitarized Nanking Safety Zone. Most interestingly Lu Chuan chose to focus on a "good" Japanese sergeant Masao Kadokawa, who falls in love with a Japanese prostitute ("comfort woman") and who eventually helps a lone surviving Chinese soldier and a little boy, who is shown at the beginning of the film to be carrying and supplying ammunition for the few surviving Chinese soldiers. It is extremely difficult to build a narrative using multiple characters, who are only seen intermittently, but Lu does a good job of keeping things coherent. He smartly chose to employ black and white film stock, perhaps inspired by Steven Spielberg's Schindler's List (1993), suggesting documentary reality while downplaying the violence and horror. The film also seems indebted to Spielberg's feature in the invention of a scenario where individual men headed for execution are saved near the end, and the vision of a destroyed Nanjing inside the city walls looks a lot like towns turned into war zones in World War II films such as Spielberg's Saving Private Ryan (1998). City of Life and Death has polarized critics, including the most knowledgeable, such as Shelly Kraicer, arguably Canada's expert on Chinese film, and his fellow programmer for the Vancouver International Film Festival, Tony Rayns who is the "dean" of East Asian film. Kraicer panned the film in cinema scope magazine; and then Rayns replied in a "Letter to the Editor." Both pieces make essential reading on the film, although Rayns' attack on Kraicer is harshly hyperbolic.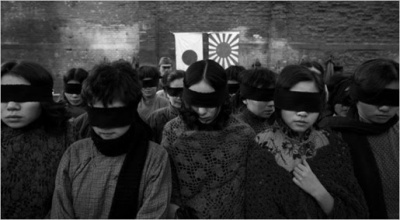 Needless to say the film was heavily criticized, almost banned in China, and, it hasn't been released in Japan. It took 253 days to shoot, beginning in October 2007, and then post-production took a further nine months. It wasn't approved for release by the Chinese censors, after some cuts, until April 2009. It was a very big hit with the public in China and won the top prize at the San Sebastián International Film Festival in the summer. After festival screenings in North America, including Toronto, it was slated for release in April 2010 after being picked up by National Geographic. But, …, nothing happened. Did the Chinese government (or, the Japanese authorities) intervene? In any event the highly independent New York City based distributor, Kino International picked it up, and it will be released on Friday, June 24 in Montreal, at Cinéma du Parc, in a very good digital, scope copy.